---
Crew
Directors – Rob Letterman & Conrad Vernon, Screenplay – Jonathan Aibel, Glenn Berger, Maya Forbes, Rob Letterman & Wallace Wolodarksy, Story – Rob Letterman & Conrad Vernon, Producer – Lisa Stewart, Music – Henry Jackman, Visual Effects Supervisor – Ken Bielenberg. Production Company – DreamWorks Animation.
Voices
Reese Witherspoon (Susan Murphy/Ginormica), Seth Rogen (B.O.B.), Hugh Laurie (Dr Cockroach Phd), Will Arnett (The Missing Link), Kiefer Sutherland (General W.R. Monger), Rainn Wilson (Gallaxhar), Stephen Colbert (President Hathaway), Paul Rudd (Derek Dietl), Julie White (Wendy Murphy), Jeffrey Tambor (Carl Murphy)
---
Plot
In Modesto, it is the day of Susan Murphy's wedding to tv weatherman Derek Dietl. Derek then announces that he will have to cancel their honeymoon to Paris because he has a job interview in Fresno. As Susan stands outside the church, she is hit by a meteorite. She emerges unhurt but as the ceremony gets underway, she starts to glow and then grows to giant size. She is immediately captured by the military and taken to a top-secret facility where she is told by General W.R. Monger that she will have to remain there for the rest of her life. She befriends the other monsters that are also held in captivity, who include:- B.O.B., a gelatinous blob without a brain; Dr Cockroach Phd, a mad scientist who emerged with a cockroach's head after an experiment went wrong; The Missing Link, an aquaphibian humanoid; and the giant-sized Insectosaurus. Earth is then invaded by a giant alien robot sent by the evil tyrant Gallaxhar who is searching for the element quantonium that was in the meteorite. General Monger approaches The President with the idea of unleashing the monsters against the alien threat. Set free in San Francisco, Susan suddenly finds her true calling as Earth's saviour against the alien threat.
---
Monsters vs Aliens was the fifteenth animated film from DreamWorks SKG (now its own separate corporation DreamWorks Animation) and follows hits like Antz (1998), The Prince of Egypt (1998), The Road to El Dorado (2000), Shrek (2001), Spirit: Stallion of the Cimarron (2002), Sinbad: Legend of the Seven Seas (2003), Shark Tale (2004), Madagascar (2005), Over the Hedge (2006), Bee Movie (2007), Kung Fu Panda (2008) and the subsequent How to Train Your Dragon (2010), Megamind (2010), Rise of the Guardians (2012), The Croods (2013), Turbo (2013), Mr. Peabody & Sherman (2014), Home (2015), Trolls (2016), The Boss Baby (2017), Captain Underpants: The First Epic Movie (2017) and Abominable (2019), as well as sequels to several of these.
Monsters vs Aliens has an appealing premise. It reminds of the cute Claymation film Mad Monster Party? (1967), which took the Famous Monsters of the 1930s and threw them together with comedic effect. Monsters vs Aliens essentially does the same for monsters from 1950s science-fiction films – it is similar to The League of Extraordinary Gentlemen (2003) in bringing together familiar fictional characters from a particular era as heroes on an adventure.
These include:- B.O.B. who is clearly a cute and cuddly version of The Blob (1958) – there is even an identical shot of him oozing out of a cinema as there was in the original; Dr Cockroach Phd is a variant on the title creature in The Fly (1958), albeit with a work over as a mad scientist; The Missing Link is a variant on The Creature from the Black Lagoon (1954), while its origin story is filched from The Beast from 20,000 Fathoms (1953); at the end, the Insectosaurus turns into a moth creature modelled on Mothra (1962); while Reese Witherspoon's Susan is clearly a modern take on the Attack of the 50 Foot Woman (1958), although is only 49 feet tall, and undergoes a near-identical realisation of her own self-worth to cast off her useless self-serving fiancee just as Allison Hayes did in the original.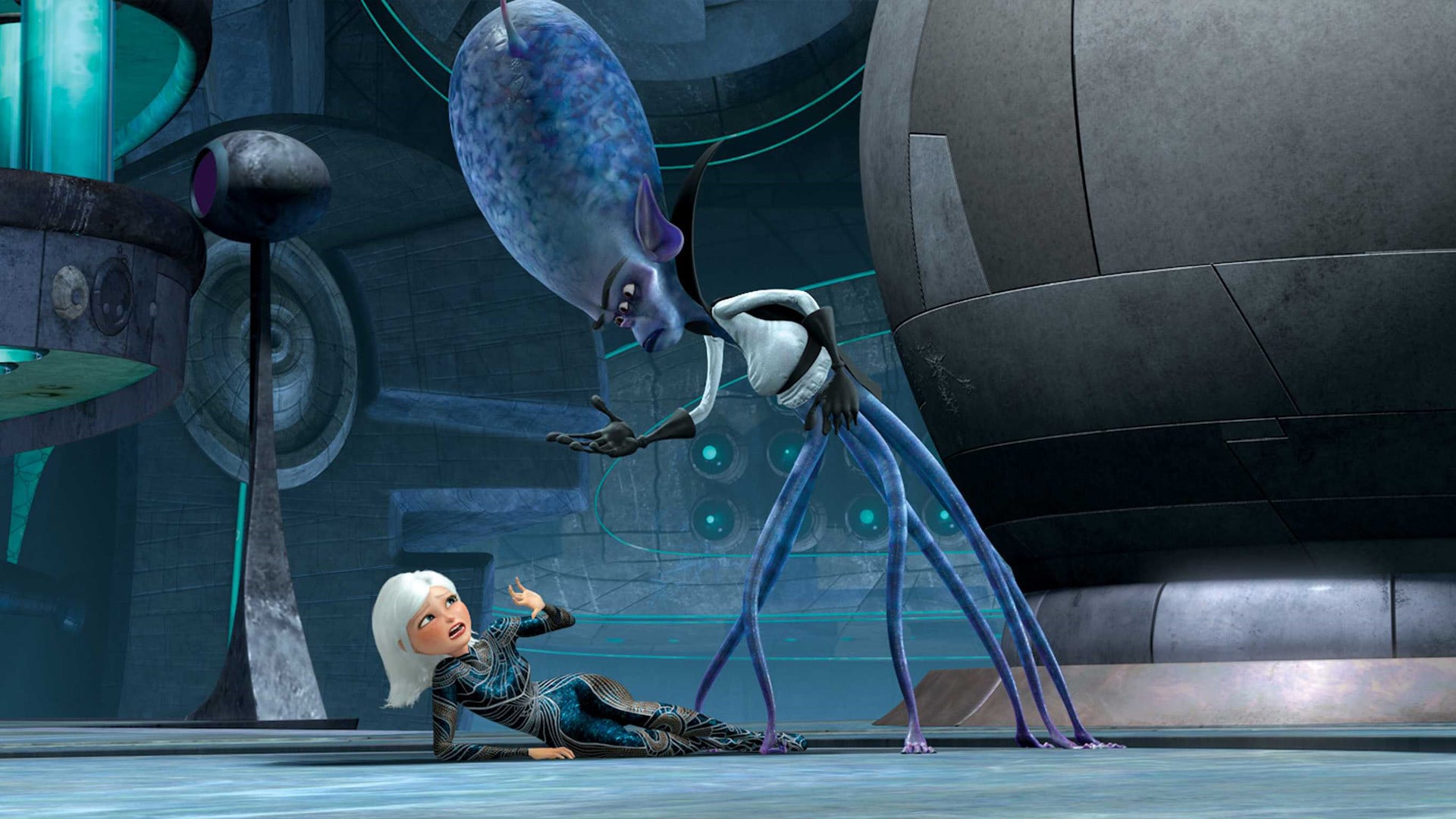 For someone (such as this author) who is a fan of classic science-fiction and monster movies, the film comes with a good many sly in-jokes and references – even musical quotes from Close Encounters of the Third Kind (1977) and E.T. – The Extra-Terrestrial (1982); not to mention the military conference room modelled on the scenes in Dr Strangelove or, How I Learned to Stop Worrying and Love the Bomb (1964) to name but a few.
As such, Monsters vs Aliens works well – indeed, it is a film that one needs no particular awareness of old monster movies in order to enjoy on its own terms. The adult in one cannot help but laugh out loud at some of the jokes and slyly witty lines, like where the Missing Link notes upon being released from captivity for the first time in fifty years: "Has the Earth got warmer? Someone should tell people. That'd be a convenient truth." Many other Dreamworks animated films – the Shrek sequels and Shark Tale being particularly notable offenders – are overrun with annoyingly intrusive pop culture gags. Monsters vs Aliens is not free of this but the gags have a cleverness that is pitched to the adults rather than the constant do-anything desperation to get easy laughs from the kids in the audience that these others do.
The characters are appealingly voiced. Reese Witherspoon is perfectly suited as Susan; Seth Rogen manages to get the lion's share of the laughs with the highly likeable B.O.B., while High Laurie does a marvellously dotty English-accented variant on Vincent Price. Everything is delivered with a sparkly and winning level of humour. The action comes at a fast pace and there is never a single moment where things are in danger of slowing down.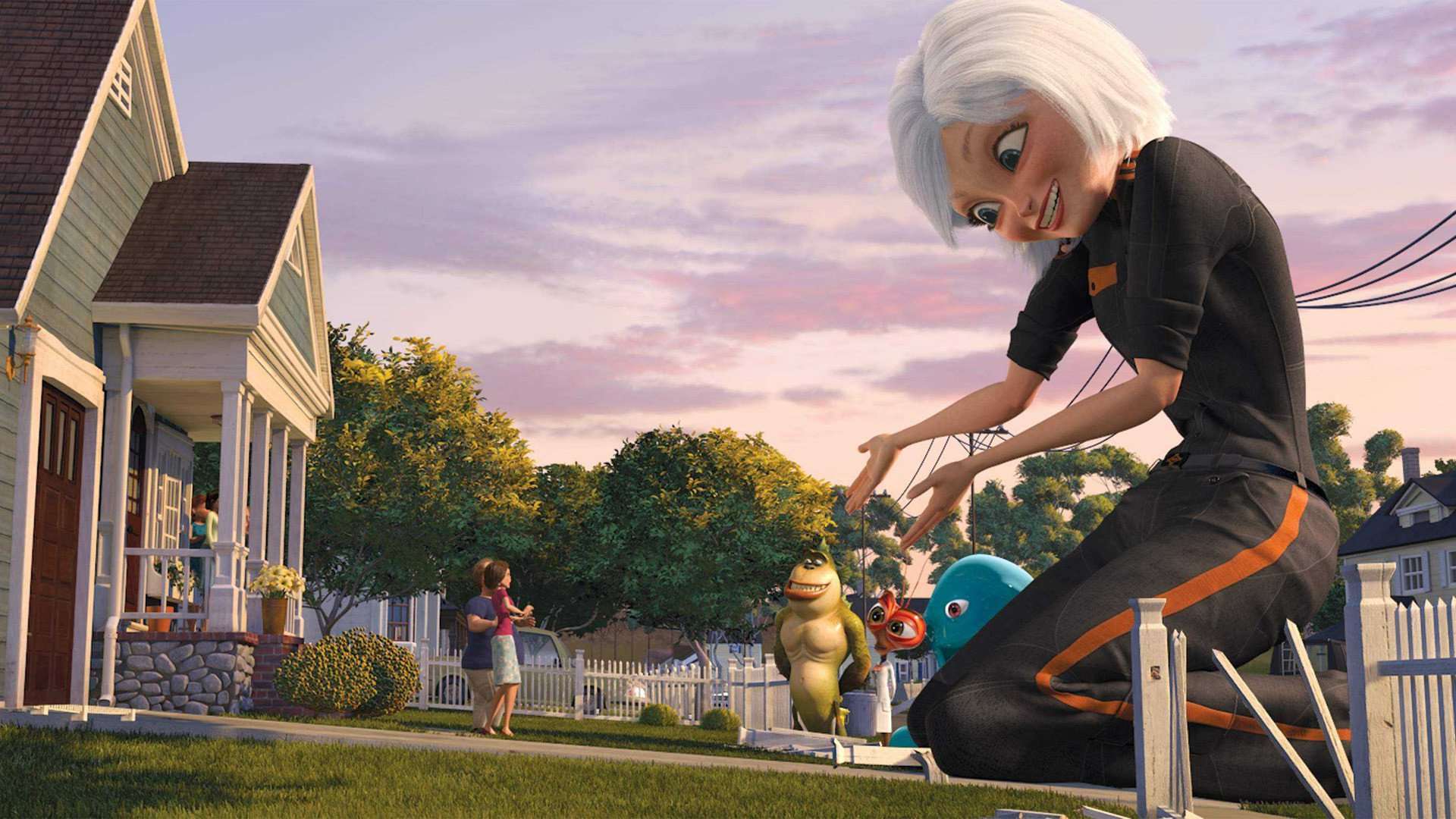 The film's standout set piece is the sequence in the middle with Susan skating through the streets of San Francisco using two open-top cars as skates and then a big fight between the robot and the monsters that wrecks the Golden Gate Bridge. The film was shot in 3D, but seen flat (as part of my refusal to pay for over-priced Real-D tickets) is perfectly engaging and with the 3D rarely ever distracting. Monsters vs Aliens is not a film that is going to break major ground but what it is is a likeable hour-and-a-half's animated entertainment.
Rob Letterman had previously co-directed DreamWorks' Shark Tale and went onto make the live-action Gulliver's Travels (2010), Goosebumps (2015) and Pokemon Detective Pikachu (2019), while Conrad Vernon had co-directed Shrek 2 (2004), as well as worked as a voice actor on a number of their animated films, and went on to co-direct the notorious Sausage Party (2016), plus the animated revivals of The Addams Family (2019)) and Addams Family 2 (2021).
All of the voice cast returned for a short Halloween special with Monsters vs Aliens: Mutant Pumpkins from Outer Space (2009). This was also followed by an animated tv series Monsters vs Aliens (2013-4).
---
---