---
Crew
Director – Neil Israel, Screenplay – Neil Israel, Monica Johnson & Michael Mislove, Adaptation/Based on the Play by Peter Bergman & Philip Procter, Producer – Joe Roth, Photography – Gerald Hirschfeld, Music – Tom Scott, Special Effects – Special Effects Unlimited, Production Design – Stan Jolley. Production Company – Lorimar.
Cast
Harvey Korman (Monty Rushmore), John Ritter (President Chet Roosevelt), Peter Riegert (Eric McMerkin), Fred Willard (Vincent Vanderhoorf), Zane Buzby (Mouling Jackson), Richard Schaal (Jerry), Nancy Morgan (Lucy Beth), Chief Dan George (Sam Birdwater)
---
Plot
It is 1998 and America has been brought to a standstill by the Energy Crisis. President Chet Roosevelt has been forced to borrow four billion dollars from footwear manufacturer Sam Birdwater to keep the country afloat. Birdwater then announces he is going to foreclose on the loan in thirty days unless the government pays up. And so Roosevelt decides to hold a telethon to raise the money. However, the United Hebrab Republic – the alliance formed between the Arabs and Israelis – are determined to do all they can to make sure the telethon fails so they can buy out the US. They determine to sabotage the telethon by ensuring only the worst acts in the world are booked to perform.
---
A film about a telethon composed of the most boring acts available is a type of comedy that requires some real talent to make it funny. Director Neil Israel and his co-writer had just come from the successful Tunnelvision (1976), which was a similar satire on television set in the future, and was quite funny.
Alas, Americathon lacks any of that essential talent and dies a prolonged 90 minute death on screen – there seems no noticeable difference in tone between its deliberately bad telethon skits and the actual comedic contrivances of its story. The Weird Al Yankovic vehicle, UHF/The Vidiot from UHF (1987) did what this is aiming at far more successfully.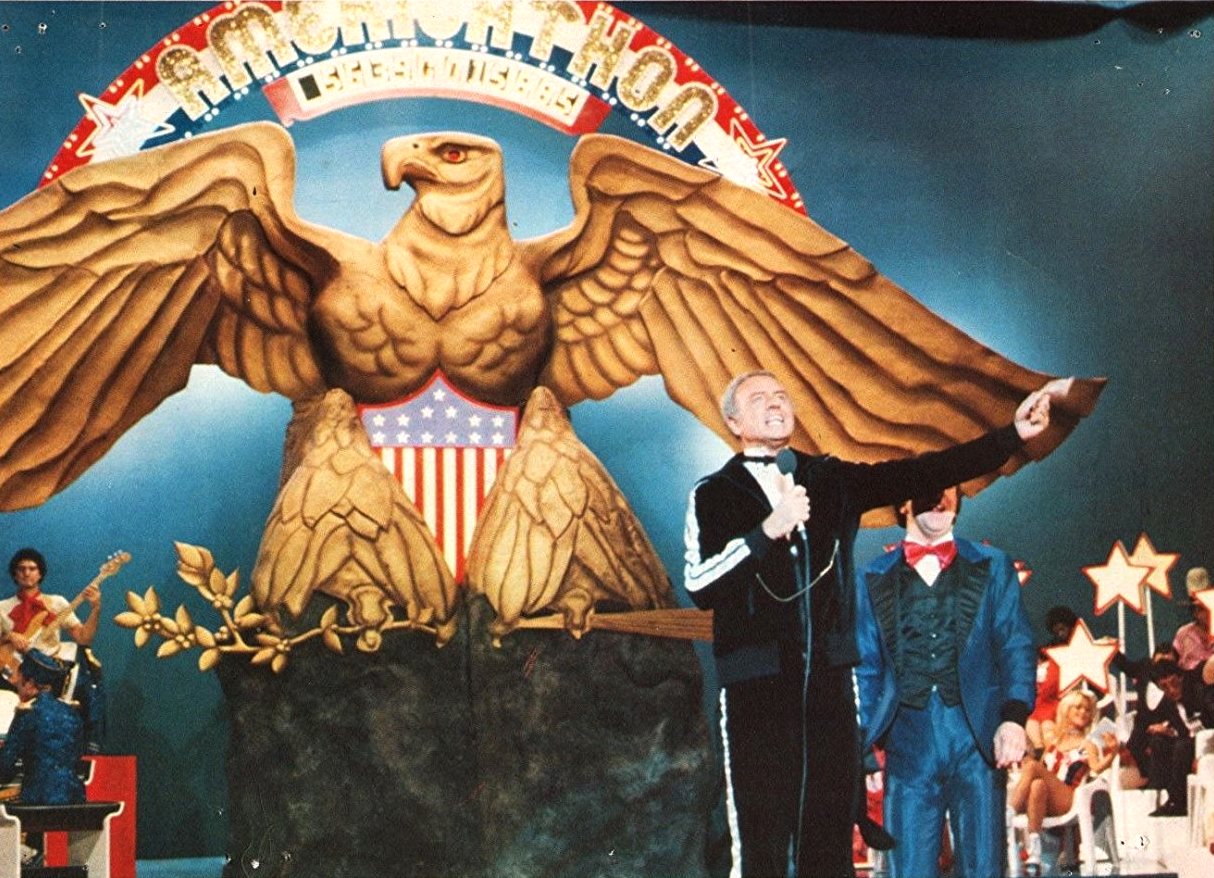 There is some social humour to this film that is sometimes even funny in a brain-dead kind of way. Although the most striking aspect of the satire is not that it is funny – it isn't  – but that it offers an uncanny time capsule in on the 1970s – on jogging fads, the energy crisis, Jimmy Carter, the Middle East, est, the national debt, the start of the fads for condos and saunas. The central idea is played so stupefyingly one wonders what kind of mental injury it takes to fumble an opportunity for merciless satire so resoundingly. The Americathon audience's excuse for watching was because they were bored – it takes a good deal more for a cinema audience.
John Ritter goes through all the familiar hapless, aghast shrugs of his face in a performance so mellowed out he seems in imminent danger of fading away. Zane Buzby does her shrieking, wide-eyed animal thing – she's awful but even so she's the most alive thing the film has.
---
---