---
Crew
Director – Andrew Bellware, Screenplay – Ralph Boswell, Guacamo Chuffasmith & Austin Lacher, Story – Nat Cassidy, Producer – Laura Schlachtmeyer, Music – Prague Spring, Visual Effects Supervisor – Henry Steady, Visual Effects – Ian Hubert, Dolf Veenvliet & Nathan Vegdahl, Production Design – Joe Chapman. Production Company – Pandora Machine.
Cast
Virginia Logan (Karen Foxwell), Jeff Wills (Rathbone), Sarah-Doe Osborne (Yurra-1), Joe Chapman (Hammermill), Thomas Rowen (Tango), David Ian Lee (Colonel Bellware), Nat Cassidy (Pontz), Juanita Arias (Cage), Rebecca Kush (Arkady)
---
Plot
It is the year 2352. Civilisation has fallen and humanity is at war with the artificial intelligences. Karen Foxwell heads a team of mercenaries who specialise in eliminating robots. After suffering losses, she and the remains of her troupe are sent into the ruins of Yonkers by her superior. They are given orders to retrieve androids from a facility where people were negotiating with the A.I.s but from which signals have now been lost. Foxwell is not happy about having to retrieve rather than eliminate machines. Immediately after they enter the complex, they come under attack by robots guided by the facility's A.I.. They retrieve a single android Yurra-1, although, as their numbers are eliminated, they cannot be sure whether they can trust it or not.
---
A while back, I discovered the name of Andrew Bellware via a low-budget science-fiction film Clonehunter (2009). The film reeked impoverishment but had ideas that showed a promise that made we want to check out some of Bellware's other films. He has made a surprising number of these, including Hamlet, Prince of Denmark (1997), Apostasy (1998), Millennium Crisis (2007), Alien Uprising (2008), Angry Planet (2008), Battle, New York, Day 2 (2011), Earthkiller (2011), Prometheus Trap (2012), Robot Revolution (2015) and Carbon Copy (2017).
On the other hand, while Clonheunter showed potential, Android Insurrection, which was made a mere three years later, feels like Andrew Bellware's promise has regressed. This, by contrast, feels more like the ingenue film made by amateurs aiming for vastly higher ambition that their budget ever stretches to covering. Clonehunter strained to fill the cracks but didn't quite succeed; Android Insurrection simply fails to do so at all. It feels like no more than an amateur film that has received a commercial dvd release.
Android Insurrection has clearly been intended as a low-rent copy of Resident Evil (2002). It features essentially the same plot set-up where a team of mercenaries headed by a woman are sent into a laboratory complex after an artificial intelligence goes amok where they are left having to shoot-off not hordes of zombies but robots animated by the A.I.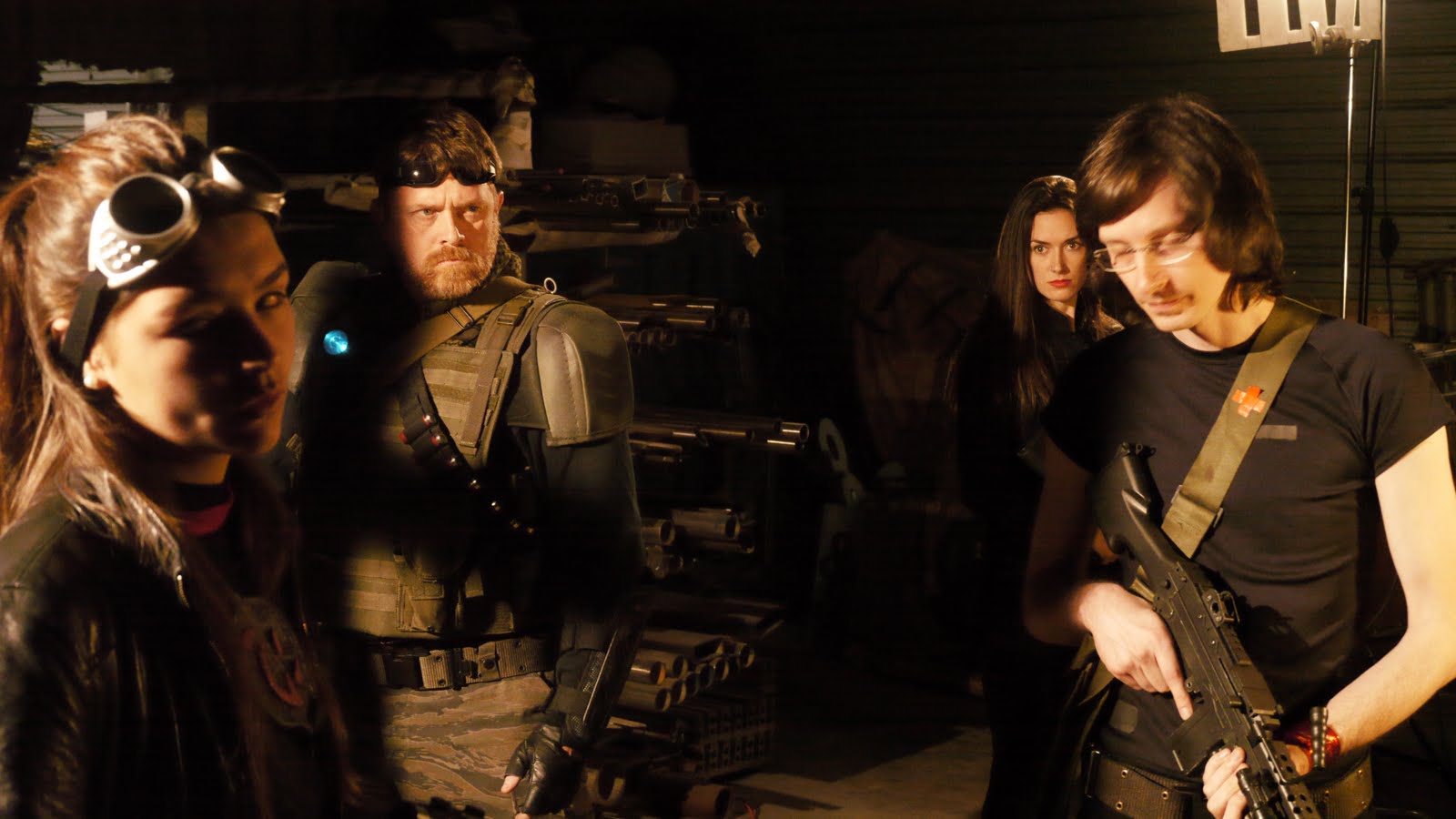 The effects in the opening scenes of the team of mercenaries fighting off a giant robot that is built like a wheel are not too bad. However, once we arrive at the laboratory, the robot effects become particularly cheap and unconvincing. The end credits indicate that these are visual effects that had been previously created by other artists from around the world and brought under creative commons licence and composited into the film. As a result, we get action scenes where what the soldiers are shooting at is off-screen and rarely seem to be in the same frame as they are. Worse though, the film radiates its utter impoverishment when it comes to the sets for the laboratory, which seem to involve the soldiers fighting in and around a thoroughly mundane set of office cubicles, a garage and machine workshop.
The cast are adequately competent, apart from Sarah-Doe Osborne cast as the android they rescue who gives an irritating performance where she seems to have decided to play the entire part as a complete space cadet. There is a groan-worthy Philip K. Dick-ian discovery of the true identity of the lead character, while the end offers a slightly more interesting twist with the machines triumphant and parroting a sinisterly distorted version of Isaac Asimov's Three Laws of Robotics.
---
---