---
Crew
Director/Screenplay – Joss Whedon, Based on the Comic-Book Created by Jack Kirby & Stan Lee, Producer – Kevin Feige, Photography (3D) – Ben Davis, Music – Danny Elfman & Brian Tyler, Visual Effects Supervisor – Christopher Townsend, Visual Effects – Animal Logic (Supervisor – Paul Butterworth), Black Ginger, Blur Studio, Cantina Creative, Capital T, Crafty Apes, Double Negative (Supervisor – Ken McGaugh), Framestore, Gradient Effects, Industrial Light and Magic (Supervisor – Ben Snow), Lola VFX, Luma Pictures (Supervisor – Vince Cirelli), Method Studios, Prime Focus, Rise Visual Effects Studios, The Secret Lab, Soho VFX, Technicolor VFX, The Third Floor, Trixter (Supervisor – Alessandro Cioffi), Virtuos & Zoic Studios, Special Effects Supervisor – Paul Corbould, Production Design – Charles Wood. Production Company – Marvel Studios.
Cast
Robert Downey, Jr (Tony Stark/Iron Man), Mark Ruffalo (Bruce Banner/The Hulk), Scarlett Johansson (Natasha Romanoff/Black Widow), Chris Evans (Steve Rogers/Captain America), Chris Hemsworth (Thor), Jeremy Renner (Clint Barton/Hawkeye), James Spader (Voice of Ultron), Elizabeth Olson (Wanda Maximoff/Scarlet Witch), Aaron Taylor-Johnson (Pietro Maximoff/Quicksilver), Paul Bettany (The Vision/Voice of Jarvis), Samuel L. Jackson (Nick Fury), Don Cheadle (James Rhodes/War Machine), Claudia Kim (Dr Helen Cho), Cobie Smulders (Maria Hill), Andy Serkis (Ulysses Klaue), Stellan Skarsgård (Erik Selvig), Linda Cardellini (Laura Barton), Thomas Kretschmann (Baron von Strucker), Anthony Mackie (Sam Wilson/The Falcon), Idris Elba (Heimdall)
---
Plot
The Avengers recapture Loki's sceptre in a raid on a Hydra base in Sokovia. During this time, they come up against two Hydra operatives with great powers, twin brother and sister Pietro and Wanda Maximoff. Back at Avengers Hq, Tony Stark is given two days to analyse the sceptre before it is returned to Asgard. He discovers that it houses a highly sophisticated A.I. He hatches a plan to give the A.I. life, something he refers to as Ultron, and believes has the power to render The Avengers useless by controlling all of Earth's defences against any threat like the Chitauri. However, Ultron quickly gains its own life, builds itself a mechanical body, easily avoids all their attempts to stop it and departs, developing into a powerful consciousness that takes over the web. Ultron then forces a Korean geneticist to build it a body out of vibranium but The Avengers foil this. Tony comes up with the idea of replacing the A.I. matrix in the vibranium body with Jarvis. As everybody tries to stop him creating another catastrophe, Thor comes with an Infinity Stone, which brings the android body to life as a new entity that calls itself The Vision. Joined by the defecting Maximoff twins, The Avengers head to Sokovia where Ultron is planning to decimate all life on Earth by raising the country's land mass to a great height and then dropping it.
---
Fairly much any film that comes out with the Marvel Comics name attached to it is going to be a massive runaway juggernaut. You could film an actor reciting the telephone book, slap the Marvel name on it and it would break box-office records. Other film companies should just give up and hand everything over to Marvel and let them produce it. Indeed, anything I have to say about Age of Ultron is completely superfluous – the film is going to be a massive success no matter what any critic might say.
Avengers: Age of Ultron is a sequel to The Avengers (2012), which became the third most successful film of all time at the box-office. It in turn is part of Marvel's policy of turning all their characters into a grand unified vision with shared continuity, including them crossing over and making cameo appearances in each other's films. It follows on from the wave of Marvel films that began in 1998 and has included Blade (1998), X-Men (2000), Spider-Man (2002), Daredevil (2003), Hulk (2003), The Punisher (2004), Elektra (2005), Fantastic Four (2005), Man-Thing (2005), Ghost Rider (2007), Iron Man (2008), Captain America: The First Avenger (2011), Thor (2011), Guardians of the Galaxy (2014), Ant-Man (2015), Deadpool (2016), Doctor Strange (2016), Black Panther (2018), Venom (2018), Captain Marvel (2019), Black Widow (2021), Eternals (2021), Shang-Chi and the Legend of the Ten Rings (2021) and various sequels to these, as well as the tv series' Agents of S.H.I.E.L.D. (2013-20), Daredevil (2015-8), Agent Carter (2015-6), Jessica Jones (2015-9), Luke Cage (2016-8), The Defenders (2017), Inhumans (2017), Iron Fist (2017-8), The Punisher (2017-9), Runaways (2017-9), The Falcon and the Winter Soldier (2021- ), Hawkeye (2021- ), Loki (2021- ), WandaVision (2021- ), Moon Knight (2022- ), Ms Marvel (2022- ), She-Hulk: Attorney at Law (2022- ) and Secret Invsion (2023).
Joss Whedon is back as director. Before the Avengers films, Whedon was best known as the creator of tv's Buffy the Vampire Slayer (1997-2003) and its spinoff Angel (1999-2004), as well as the short-lived space opera tv series Firefly (2002-3), which has developed an enormous fan following despite being on air only for a single season. On television, Whedon also created the less popular Dollhouse (2008-10), as well as the quirky web series Dr Horrible's Sing-a-Long Blog (2008), and has written the screenplays for a variety of genre films including the original Buffy the Vampire Slayer (1992), Toy Story (1995), Alien: Resurrection (1997), Titan A.E. (2000) and Atlantis: The Lost Empire (2001). Whedon made his directorial debut with the big-screen Firefly spinoff Serenity (2005). Elsewhere, he has produced the fandom documentary Comic-Con Episode IV: A Fan's Hope (2011), wrote/produced the horror film The Cabin in the Woods (2012), wrote/produced the psychic film In Your Eyes (2014) and wrote and performed uncredited directing duties on Justice League (2017). He also directed a modernised film version of Shakespeare's Much Ado About Nothing (2013).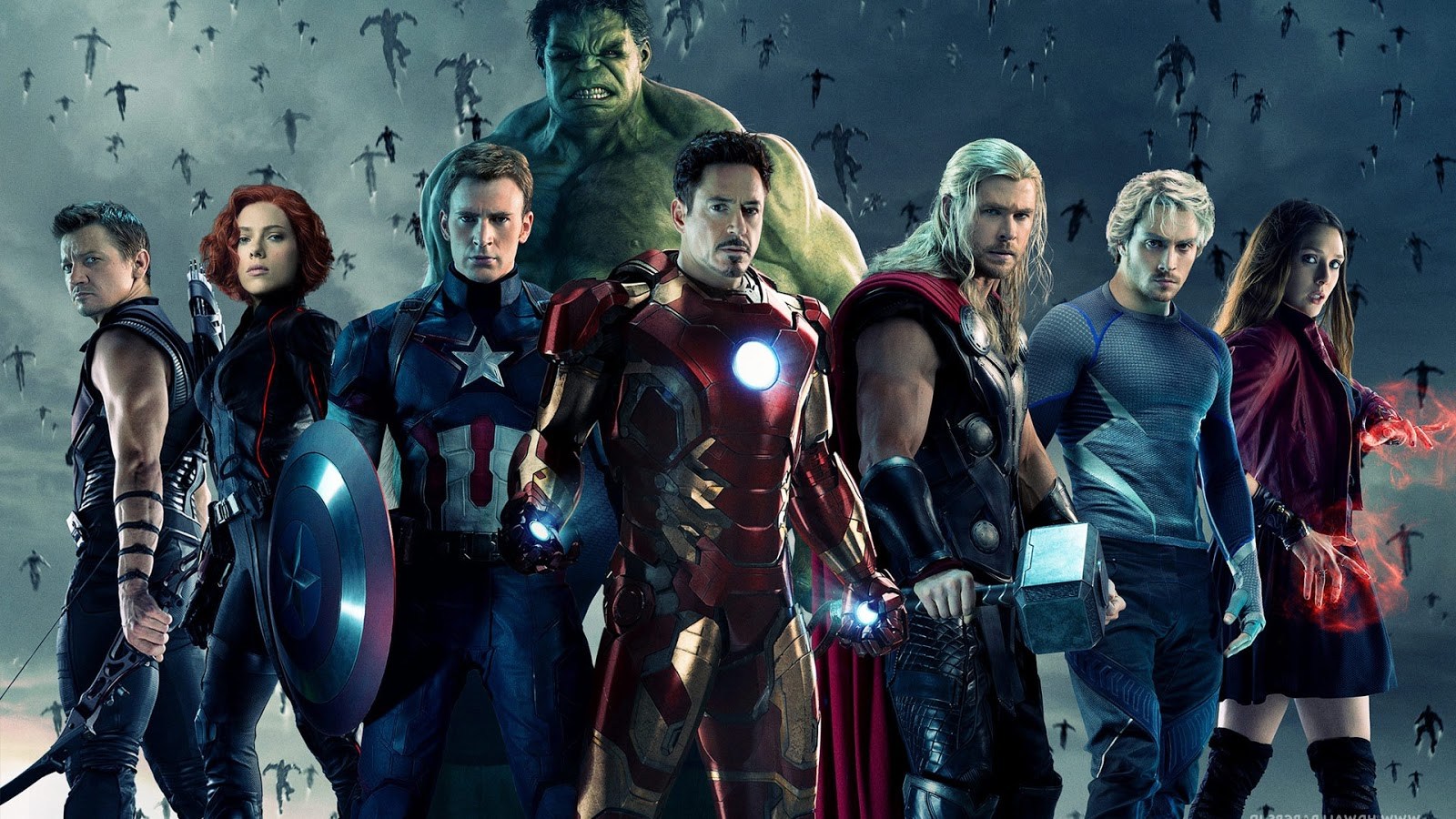 Going back to by comments on Marvel and the telephone book, it feels that whatever I say is redundant. Nevertheless, as a small and insignificant voice among the throng, I have to admit I found Age of Ultron a disappointment. The pleasure of The Avengers was in seeing the characters that had built up through the other films come together and play off each other. This came with a great deal of wry humour on the part of Joss Whedon and the various actors, most of whom used the opportunity to polish their roles to the point of perfection. Whedon did reasonably well with the action and effects but this was not the prime focus of the film. However, the failing of Age of Ultron seems to be that this balance has been reversed.
Joss Whedon leaps into the action from the highly adrenalised opening scene where we see The Avengers demolishing a Hydra army guarding the castle in Sokovia. Whedon's camera is in the midst of the action in an enthralling way, moving around the battlefield in 3D, whipping from one Avenger in action to another in a series of unbroken shots. The film is filled with these set pieces – Tony Stark battling the Hulk in the massive Veronica suit; action aboard a runaway train in Seoul; the massively scaled battle with the robots and attempts to rescue the people of Sokovia as Ultron lifts the vast island of earth up into the clouds; and various other battles between superheroes and robots or each other seemingly about every two seconds. All of these are impressive and exciting set-pieces.
On the other hand, we are by my reckoning at about the 32nd film of the modern Marvel renaissance and the moves are starting to blur into much of a muchness. You keep thinking – isn't the train sequence just a variant on the one in Spider-Man 2 (2004) or the street battles not too different from the sequences in Captain America: The Winter Soldier (2014)? The film keeps you in a state of perpetually charged excitement with so much happening but the next day as I am writing this up, I am struggling to think of which scenes here were standout. The film (and most of its contemporaries) seem to have made the superheroic so routine that now you don't even bat an eyelid at seeing scenes with Chris Evans ducking between colliding and overturning vehicles on a highway whereas only a few years ago such an action sequence would have been a riveting masterpiece.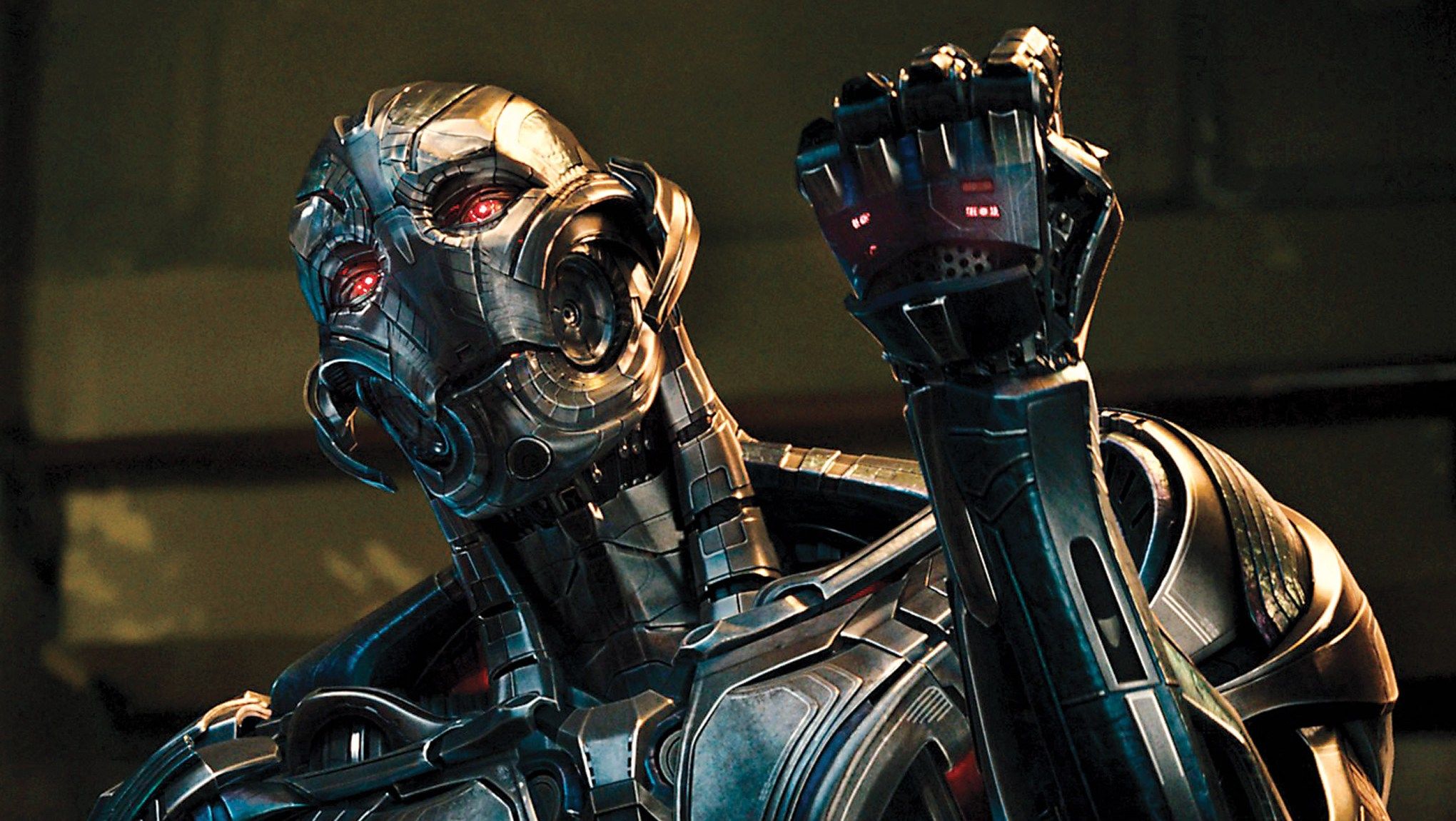 Joss Whedon is such a fan favourite and an astute and genre savvy director that it feels like heresy to say that he has misconceived what made The Avengers work. To me, what made the first film wasn't a breathless wall-to-wall barrage of action but the wit and interplay of characters and the way that Marvel had built a massive anticipation in its audience in finally seeing them come together. That anticipation is not fresh and original this time – moreover, is one where Marvel has not done as much to build up to through their last few releases. It is also one where the character interplay feels somewhat flatter this time. The fun of the first film was in seeing the characters play off each other and reveal new facets. The failing here is that it feels like they are now just a well-rehearsed team so there is no new ground, just more adventures with the same people. We get some wry commentary made about the constant braggadocio among the guys of the group and there is an amusing gag about the attempts to lift Thor's hammer but the sparkle the first film gave such scenes seems only there in occasional moments.
The major character development this time is spinning out a romance between Black Widow and Bruce Banner. As on-screen romances go, this feels about as unconvincing a pairing as the one between Odo and Major Kira back in Star Trek: Deep Space Nine (1993-9). I mean, remember the lethality with which Scarlett Johansson demolished a group of Russian thugs while tied to a chair in The Avengers and contrast that to the scenes here of her getting all maudlin over wanting to have a relationship with the nerdy Banner who keeps rebuffing her and say that this is not an emasculation of her character. The one who comes out the best of the show is Jeremy Renner's Hawkeye, who is probably the most underdeveloped character of the entire Marvel cinematic line-up. Here we get to visit his homelife, which works okay, although you wish that Joss Whedon hadn't portrayed it in such wholesomely winsome terms, surrounded by a lovingly anxious wife, eager kids and an archetypally Midwestern American country farm.
The new characters offer some interest. It is confusing when you realise that the Quicksilver played by Aaron Taylor-Johnson we have here is supposed to be the same character that we saw played by Evan Peters in X-Men: Days of Future Past (2014), albeit with a different origin story, most notably Peters being an All-American kid and Taylor-Johnson adopting an East European accent. (The problems of copyright on Marvel characters being held by different companies). Peters was one of the standout parts about Days of Future Past and Aaron Taylor-Johnson stands very much in his shadow here. Faring better is Elizabeth Olsen as Scarlet Witch. Scarlet Witch has been a character who first appeared in the X-Men in 1964 where she and Pietro were actually the children of Magneto. (The film here avoids giving the two of them any backstory or explanation of their powers whatsoever). Her powers have tended to waver from writer to writer as to whether she is a mutant or is using magic. This kind of vagueness continues here, nevertheless Elizabeth Olsen gives an appropriate mystique to the character. The other new addition is Paul Bettany, finally getting to turn up on screen as an actual character after being stuck as the voice of Jarvis for several films. The Vision is one of the more original characters and offers an otherworldly perspective on the rest of the troupe.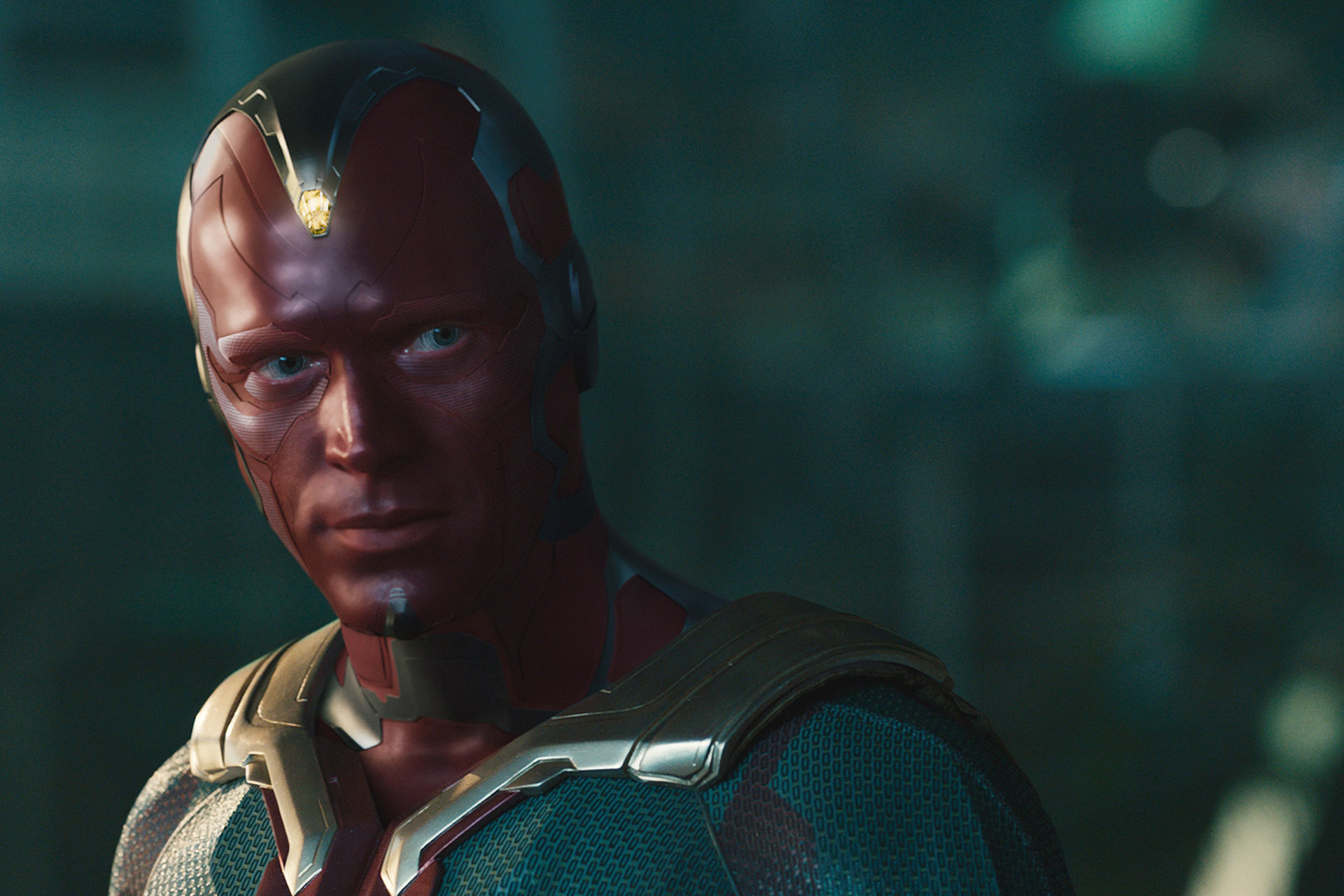 The Marvel films have never been that great at incarnating memorable larger-than-life super-villains, Loki, Ian McKellan's Magneto and especially Vincent D'Onofrio's Kingpin and David Tennant's Killgrave in tv's Daredevil and Jessica Jones being the notable exceptions. Ultron here is given a decidedly arch reading by James Spader who, as recent shows like tv's Boston Legal (2004-8) and The Blacklist (2013– ) has shown, at the same time as he can own the show in a grandiloquent performance also has an undeniable tendency towards campiness. On the other hand, compared to the resurgence of A.I. themes in the last couple of years – Her (2013), The Machine (2013), Chappie (2015) and Ex Machina (2015) – Ultron fails to stand as a character of any substance. Ultron had incidentally previously turned up on screen as the nemesis in the animated Next Avengers: Heroes of Tomorrow (2008).
With the apparent departure of The Hulk at the end of the show – another character whose copyright is held by another company – and Tony Stark driving off saying he has other things to do, just as characters like War Machine and Falcon fly in to join the troupe, you can see that Marvel is now facing Sean Connery Syndrome. And that is the question of what to do when trying to continue a popular franchise when the central actor tires of the part (as happened with Connery and the James Bond films in the 1960s) or reaches the end of their contract and demands bigger fees. This seems to be the downfall of the Marvel films – in turning out an episode once every 2-3 years, they are stretching storytelling that is usually limited to once per month on the comic-book page out over a decade or more, requiring quite a commitment on the part of any actor. Is the future of The Avengers dependent on inveigling an aging Robert Downey, Jr back to the part? As we emerge into the next phase of the Marvel Cinematic Universe, it is either that or recasting the role – and yet it is hard to imagine anyone else playing the part so distinctively. It is either that or shuffling Iron Man off to the side as a character and being dependent on B-list characters in the Marvel pantheon.
This was followed by Avengers: Infinity War (2018) and Avengers: Endgame (2019).
(Nominee for Best Special Effects at this site's Best of 2015 Awards).
---
---