---
Crew
Director – Jay Oliva, Supervising Director – Gary Hartle, Screenplay – Christopher Yost, Story – Greg Johnson & Craig Kyle, Producer – Gary Hartle, Music – Guy Michelmore, Animation – The Answerstudio Co, Ltd. (Supervising Director – Shinichi Suzuki). Production Company – Marvel Studios/MLG Productions 5, Inc.
Voices
Noah C. Crawford (James Rogers), Brenna O'Brien (Torunn), Aidan Drummond (Pym), Dempsey M. Pappion (Azari), Adrian Petriw (Hawkeye/Francis Barton), Tom Kane (Iron Man/Tony Stark/Ultron), Shawn MacDonald (Vision), Ken Kramer (Bruce Banner), Fred Tatasciore (Hulk), Nicole Oliver (Betty Ross), Michael Adamthwaite (Thor)
---
Plot
It is twelve years after most of The Avengers have been killed by Ultron. Their various children – Captain America and Black Widow's son James, Thor's daughter Torunn, Black Panther's son Azari, and Pym, the son of Ant Man – have been raised in a compound by the aging Tony Stark. They are startled when the damaged android Vision abruptly bursts through the forcefield. The children discover the secret headquarters that Tony keeps beneath the compound but in exploring it they accidentally activate the Iron Avengers, robot replicas of their parents. The robots head into action but are promptly taken over by Ultron and sent back against them. Tony is captured but urges them to flee to safety in Ultra City, Ultron's capital, where they join forces with Hawkeye's son. The children realise it is necessary for them to go into action and defeat Ultron. And so they set forth on a quest to find the aging Bruce Banner and persuade him to become The Hulk once again and join the fight.
---
Next Avengers: Heroes of Tomorrow is one of the Marvel Animated Features. Others among these include Ultimate Avengers (2006), Ultimate Avengers II (2006), Doctor Strange (2007), The Invincible Iron Man (2007), Hulk Vs (2009), Planet Hulk (2010) and Thor: Tales of Asgard (2011). Unlike DC, who have had great success with the DC Universe Original Animated Films based on their superhero properties, these have failed to come anywhere near the success that Marvel has been enjoying on the big screen in live-action during this period.
Next Avengers was clearly an attempt to repackage The Avengers to a younger demographic. It should be important to note that the idea of the Next Avengers is one original to this film and none of the characters have appeared on the comic-book page (unless you want to count Ultron and the older versions we get of classic characters like Tony Stark and The Hulk). The film is often confused with A-Next, also known as Avengers Next, a comic-book title that ran between 1998-9 and was then revived in 2007, which features older versions of The Avengers and various of their children, although none of these have any correspondence to the characters that appear here.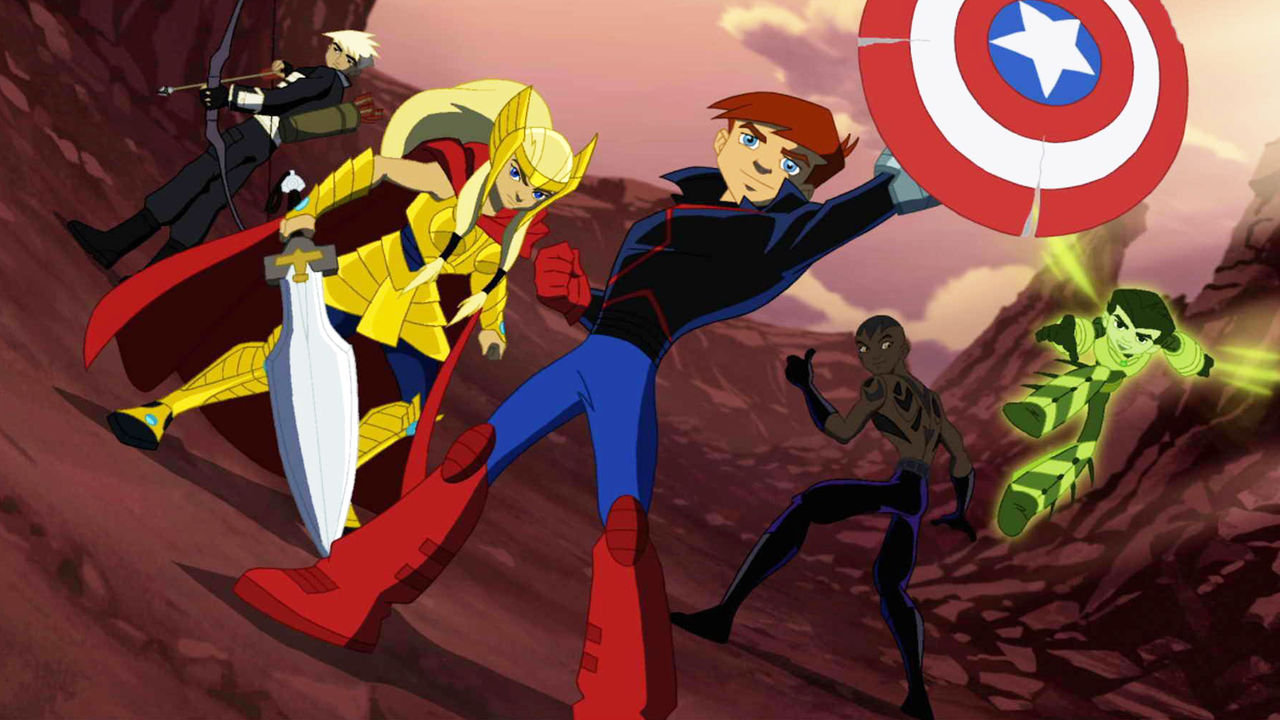 The set-up we have here – kid versions of The Avengers – almost kills Next Avengers: Heroes of Tomorrow off before you sit down to watch it. It is so blatantly a pitch for the junior demographic that it makes watching the film unappealing. Unlike the above-listed comic-book, there has been little imagination go into the characters such that all we have is little more than the familiar grown-up Avengers being played as kids. Even more disappointingly, in an astonishingly casual wipe of all that has gone before, we are told the majority of the classic Avengers were all killed off by Ultron.
On its own terms, Next Avengers: Heroes of Tomorrow is passably lightweight. It is directed by Jay Oliva who went onto become one of the most active directors in the DC Universe Original Animated Films. As such, Oliva does the superheroic action well. All of the team go into action and we see them coming into their abilities throughout the course of the show. Some of the other Marvel Animated Features have been decidedly lacking in the superheroics department but Oliva manages to deliver a reasonably rousing show here.
---
---