---
Crew
Director/Screenplay/Producer – Michael Paxton, Photography – Alik Sakharov, Music – Jeff Britting, Narrator – Sharon Gless. Production Company – A.G. Media Corporation Ltd/Copasetic Inc.
Featuring
Dr Michael S. Berliner, Dr Harry Bimwanger, Sylvia Bokor, Daniel E. Green, Cynthia Peikoff, Dr Leonard Peikoff, Al Ramius, Dr John Ridpath, Mike Wallace
---
If this documentary is to be believed, its' subject – writer Ayn Rand (1905-82) – was one of the great philosophers of the 20th Century, is someone who sells quarter of a million books a year even in posthumity and whose work Atlas Shrugged (1957) was voted the second most influential work of the 20th Century next to The Bible. These claims seem to be on the overly enthusiastic side and one frankly has their doubts – after all Ayn Rand's work does not exactly stick out on the best-seller shelves in bookstores. Exactly who voted Atlas Shrugged the second most influential work, for instance, is something that the documentary never specifies.
Nevertheless, Ayn Rand was an important and more so a controversial figure. She only produced four books in her lifetime – We the Living (1936), a novel about Soviet Russia, the influential The Fountainhead (1943) and two works of science-fiction, Anthem (1946) and Atlas Shrugged (1957). Philosophically, Ayn Rand was an ardent advocate of libertarian capitalism. She believed that American capitalism and self-determination provided the greatest freedom and potential for individual growth, and was a bitter opponent of the evils of 'collectivism' and socialism, which she saw as impinging on the individual's right to self-determination.
At two-and-a-half hours, Ayn Rand: A Sense of Life is quite long for a documentary. It seems like this is the case because the filmmakers were so enamoured of their biographical subject that they could not leave any precious detail of her life untouched. Sometimes they are tediously literalistic about it too – when it is mentioned that Rand was inspired by films like Siegfried (1924) and The Mark of Zorro (1920), we get extended cuts away to clips from these films; we get blow-by-blow details of her romance with her husband. It is a ploddingly reverential work at times.
Some of the narration is terribly written: "She did hold the conviction that there was a battle she must fight, a battle for a truth that was as clear to her as the red flags and bloodstained streets of her native St Petersburg, a battle to hold the individual spirit about the dark, murderous horde that was enveloping her country" or "Like a ferocious angel, she fought. And from the tattered pages of her book that have been read over and over again are the men and women she created."
Nevertheless, when the details of Ayn Rand's life begin proper, many of the stories that emerge – her plays, the studio battles over the script for the film of The Fountainhead (1949), details of how she formed anti-Communist guidelines for the early MPAA (which were far more extreme than the ones eventually enacted), even footage from her testimony on Communism in Hollywood before HUAC – are fascinating. When we do get to see film footage of Rand herself, she emerges as a sharp, intellectually predatory old bat whose presence is far more vital than the film's banal hagiographic treatment of her. The ideas she holds forth are horrid, but she puts them across with enormous force and articulation.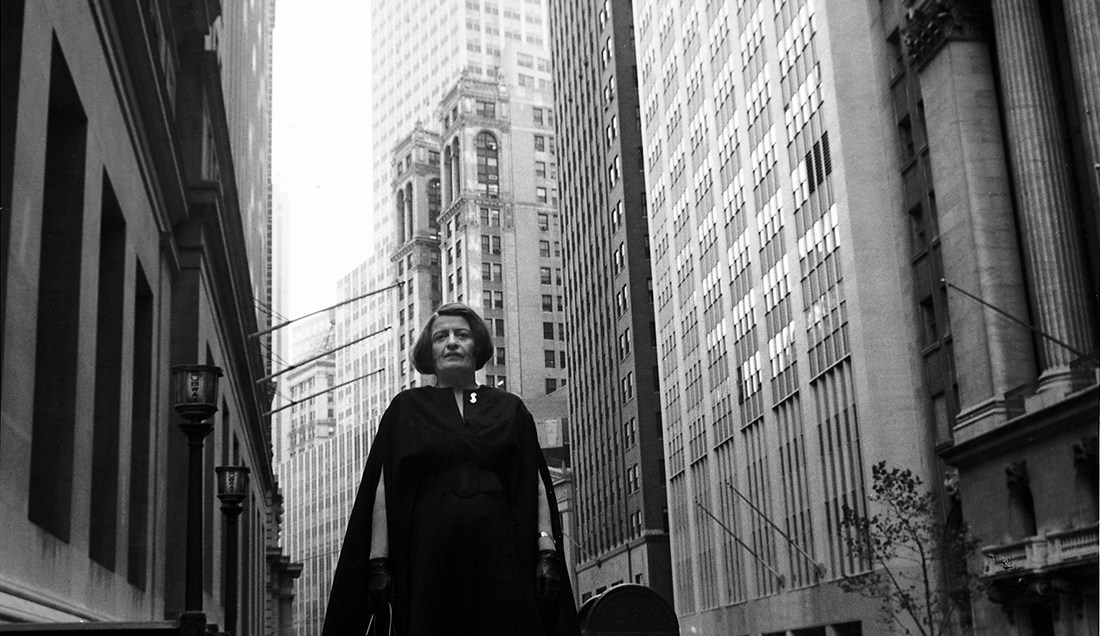 Ultimately, Ayn Rand: A Sense of Life is too enamoured of her as a subject to find any critical distance. There are evident contradictions in what Rand preaches – we see her speaking out against love and dependence on another person, yet later we see her falling into a depression as a result of her husband's death. Most of all, the documentary fails to pinpoint just how much her ideals were formed by her childhood in the early years of the Soviet Union. It becomes abundantly apparent that Ayn Rand embraced capitalism and American-styled democracy as the opposite of Communism and its' stifling of individualism so eagerly that in her ecstatic acceptance she lost all critical/moral ability to question and became an unabashed apologist for unrestrained capitalism.
Rand died in 1982 but it would have been interesting to see what would have happened if she had lived to see the harsh realism of the effects of her ideas as enacted by Ronald Reagan and successors throughout the 1980s, 90s and especially during the recession of the 00s. The irony that history has left us with is that the unrestrained capitalism that Ayn Rand advocated ended up not producing greater freedom but rather the same lack of individuality and crushing of the spirit that Rand sought to escape.
What Rand failed to see was that beneath its promises of great freedoms, capitalism is always dependent on an exploited underclass and that given the greatest freedom to do what it wants, capitalism will exploit as much for itself as it is possible to get away with. What it promotes is not mass freedom but individual selfishness. It is after all only the advocates of the altruism that Rand condemns – the opponents of slavery and child labour, the unionists – that have historically fought to stop Those Who Have from exploiting Those Who Haven't.
Ayn Rand: A Sense of Life was surprisingly enough nominated for Best Documentary at that year's Academy Awards, although did not win.
Ayn Rand has also been the subject of several other films – the documentary Ayn Rand and the Prophecy of Atlas Shrugged (2011) and the biopic The Passion of Ayn Rand (1999). Elsewhere, Rand wrote two other screenplays Love Letters (1945) and You Came Along (1945), while the films Night of January 16th (1941) and Ideal (2004) were based on her murder-mystery plays; her classic novel has been made into a three-part adaptation Atlas Shrugged (2011), Atlas Shrugged II: The Strike (2012) and Atlas Shrugged III: Who is John Galt? (2014); and two films versions were made of her anti-Communist diatribe We the Living, an unofficial two-part Italian version in 1942 and the modern remake We the Living (1986).
---
---