---
Crew
Director – Hilla Medalia, Screenplay – Hilla Medalia & Daniel Sivan, Producers – Yariv Horowitz & Roy Lev, Photography – Oded Kirma, Music – Jonathan Bar Giora. Production Company – Multicom Entertainment Group/Noah Productions/kNow Productions/Other Angle Pictures/ARTE/Cofinova 10.
With
Menahem Golan, Yoram Globus, Yehuda Brakan, Boaz Davidson, Billy Drago, Michael Dudikoff, Yehoram Geon, Lea Globus, Neomi Globus, Orly Globus, Ram Globus, Rachel Golan, Ruth Golan, Andrei Konchalovsky, Sam Perlmutter, Tom Pollock, Eli Roth, Joel Silberg, Jean-Claude Van Damme, Jon Voight
---
Menahem Golan and Yoram Globus became some of the top film producers of the 1980s via their Cannon Films production company/distribution chain. After a career as filmmakers in their native Israel beginning in the 1960s, the two cousins purchased Cannon Films in the US and began a prodigious output of Hollywood films. In a short period of time, the two began to have massive success with in particular their Charles Bronson and Chuck Norris action films, along with a good many others including Tobe Hooper's Lifeforce (1985) and the remake of King Solomon's Mines (1985). By the end of the decade, Cannon Films had financially collapsed and the two parted ways.
This is a documentary about Golan and Globus. It came out the same year as Mark Hartley's Electric Boogaloo: The Wild, Untold Story of Cannon Films (2014). You get the impression that the two films were in competition with each other – that The Go-Go Boys was possibly made as Golan and Globus's response and an attempt to set the record straight after news of Hartley's film got around – and premiered four months apart. Four months after The Go-Go Boys came out, Menahem Golan passed away.
Hartley's film was focused on some of the more notorious and legendary stories surrounding Golan and Globus. By contrast, The Go-Go Boys is more of a biography about the two. Hartley interviews a whole swathe of directors and actors who worked for Cannon but not Golan and Globus themselves. The Go-Go Boys interviews primarily Golan and Globus, along with various family members, business associates and only a handful of actors but barely scrapes the surface of the names that Hartley obtained face time with. This film is made in Israel, where both Golan and Globus returned in later years, and has been made as a work highlighting local cultural arts – the dialogue, for instance, switches and changes between English and Hebrew.
Hartley's approach was more anecdotal, whereas The Go-Go Boys is biographical. We get to see more of Golan and Globus's early days as successful Israeli filmmakers, which Hartley only glossed over, and a number of clips from these films and interviews with the Israeli actors who appeared in them. The film follows their move to Hollywood and tentative attempts to break into the industry – both Golan and Globus tell how Globus had to drag Golan back from trying to jump off a roof after the disastrous premiere of his English-language directorial outing, the notoriously bad SF film The Apple (1980).
Electric Boogaloo and The Go-Go Boys chart fairly much the same territory when discussing Golan and Globus's successes. The Go-Go Boys is often more focused on the business end of things and doesn't detail individual films as much as Hartley does. The filmmakers here are also far more enamoured of Golan and Globus's accomplishments whereas Hartley gains more amusement out of their often hucksterish business practices. There is the odd anecdote that Hartley overlooked – both Golan and an interviewed Jean-Claude Van Damme tell how they discovered him and subsequently cast him in Bloodsport (1989) after Van Damme impressed Golan while working as a waiter in a Hollywood restaurant and managed to sweep his foot up in a kick over Golan's head without spilling the plate of soup he was holding.
The fact this is a work that is sponsored by Golan and Globus is never more than evident during the scene where Golan is questioned by the interviewer about his failures. He immediately becomes defensive and asks why he would want to talk about his failures in a film about his life (ie. a work that is being made as a tribute to him). The interviewer pushes him to talk about the notorious Superman IV: The Quest for Peace (1987). Golan then changes tack and says he never thinks about the films that failed, he always looks on to the next.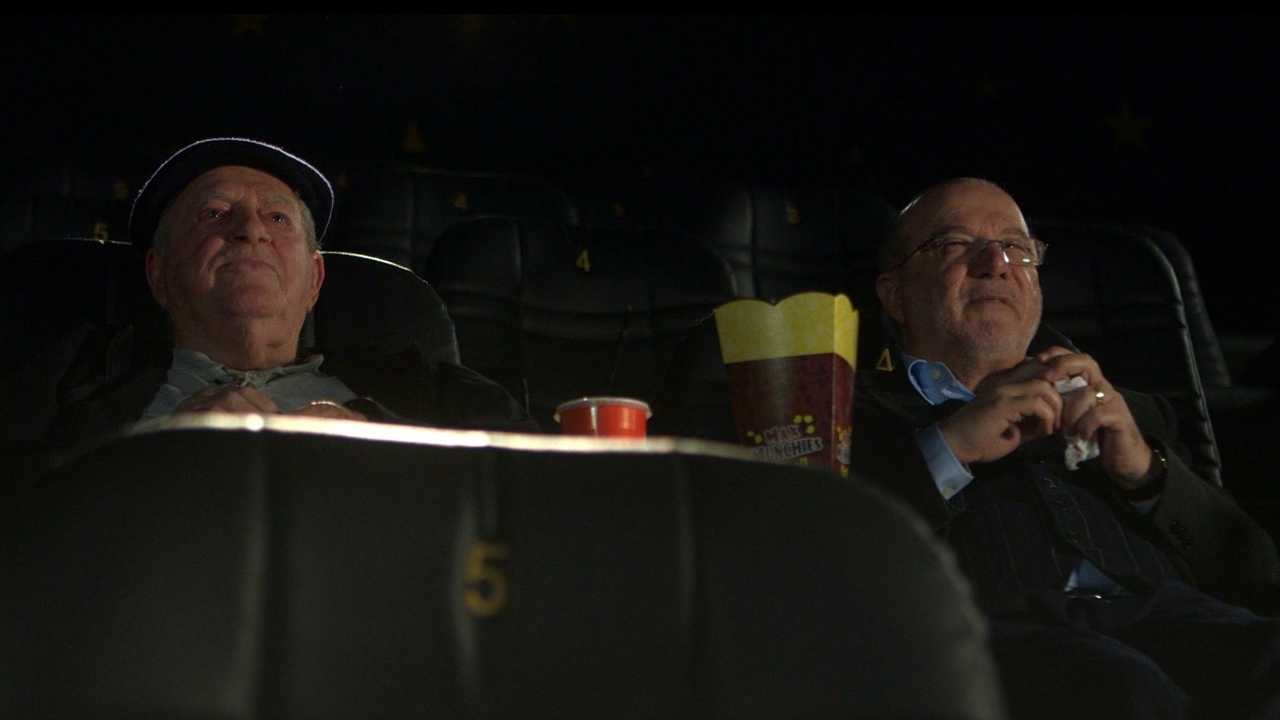 What also comes through here far more than Hartley's film is the personalities of either. Globus seemed the brains and the money man, constantly making the deals to keep everything afloat, whereas Golan loved living the gregarious and larger-than-life role of the movie mogul and was constantly excited by throwing himself into new productions. As is revealed here, this differing approach was what eventually torpedoed the company when Golan redlit far too many productions and simply overran the amount of money they could raise to pay for them all, leaving them with a whopping $80 million dollar loss in a single year. Eventually they declared bankruptcy and there was an SEC investigation into their accounting practices.
This also takes their story beyond the end of Cannon Films, which Hartley never did. It becomes apparent throughout that the reason for the split was Globus not wanting to go along with Golan's financial impulsivesness anymore. We do see some archival footage of Golan with his subsequently formed 21st Century Film Corporation where he made several films in the 1990s, although it is clear without Globus's backing that this was nowhere near a success. The far most interesting story is when Globus became the head of MGM and the mind-boggling revelation that subsequently came out about his Italian business partner Giancarlo Peretti who joined the MGM takeover as a way of laundering Mafia money.
The film follows through to the present. Both returned to Israel in later years. They meet up again on camera after it is not clear how long where Golan is immediately trying to sell Globus on doing another project – "It's the best script ever." The end of the film is the rather touching scene of the two of them now well into their eighties sitting in a theatre eating popcorn together and watching a montage of their old films, lamenting that they were so busy making them that they never actually had time to slow down to enjoy them.
---
Trailer here
---