---
Crew
Director/Producer – Stephen La Riviere, Music – Barry Gray, Visual Effects/Animation/Design – Justin T. Lee, Additional Visual Effects – Lev Bravo. Production Company – Network Productions Ltd.
With
Dee Anderson, Gerry Anderson, Jamie Anderson, Sylvia Anderson, John Blundall, Denise Bryer, Robert Easton, Lou Eaton, David Elliott, Jill Freud, David Graham, Brian Johnson, David Lane, Elizabeth Morgan, Nicholas Parsons, Alan Pattillo, Alan Perry, Arthur Provis, John Read, Shane Rimmer, Desmond Saunders, Judith Shutt, Mike Trim, Ken Turner, Mary Turner, Shaun Whittacker-Cook, Keith Wilson, Hugh Woodhouse, Roger Woodburn, Matt Zimmerman
Puppet Sequences
Written by Stephen La Riviere & Andrew T. Smith, Photography – David Graham Hicks, Puppets – Barry Davies, Sets – Andy Rolfe.
Puppet Voices
Sylvia Anderson, David Graham, Shane Rimmer
---
Filmed in Supermarionation is a documentary about producer Gerry Anderson (1929-2012). Anderson gained a cult following for his puppet tv shows – something he called Supermarionation. Anderson's Supermarionation tv shows consisted of Torchy the Battery Boy (1957), The Adventures of Twizzle (1958), Four Feather Falls (1960), Supercar (1961-2), Fireball XL5 (1961-2), Stingray (1963-4), Thunderbirds (1965-6), Captain Scarlet and the Mysterons (1967), Joe 90 (1968) and the part-live, part-puppet The Secret Service (1969).
In many ways, Filmed in Supermarionation feels like it has been made more than a decade too late. Certainly, the majority of the original Anderson team are reunited and there is interview footage with Gerry himself, which was clearly shot before his death in 2012. However, everybody else present is well into their seventies and eighties – on the visit to the old studio, some of them have to be wheeled around in wheelchairs. There's an interview with Gerry's wife and creative partner Sylvia Anderson who looks fully her 86 years old (she died two years after the film was aired). You feel that if the documentary had been made twenty years earlier it might have been able to get in interviews with some of the key names that have now passed away such as Derek Meddings, Lew Grade, Stanley Unwin and Ed Bishop.
The documentary starts with Anderson's early days where he was trying to make it as a filmmaker and accepted an assignment from children's writer Roberta Leigh to make two tv series based on her children's books with The Adventures of Twizzle and Torchy the Battery Boy, which they won solely through being the cheapest bidders and despite Anderson and his team having no experience with puppetry. Anderson's dislike of working with Leigh led to his creating his first original series, the gonzo Western Four Feather Falls. These three earliest shows, Twizzle, Torchy and Four Feather Falls, are some of the rarest to find in the Gerry Anderson oeuvre and it is fascinating getting the glimpses we do – we even get behind the scenes footage of the team at work on these shows.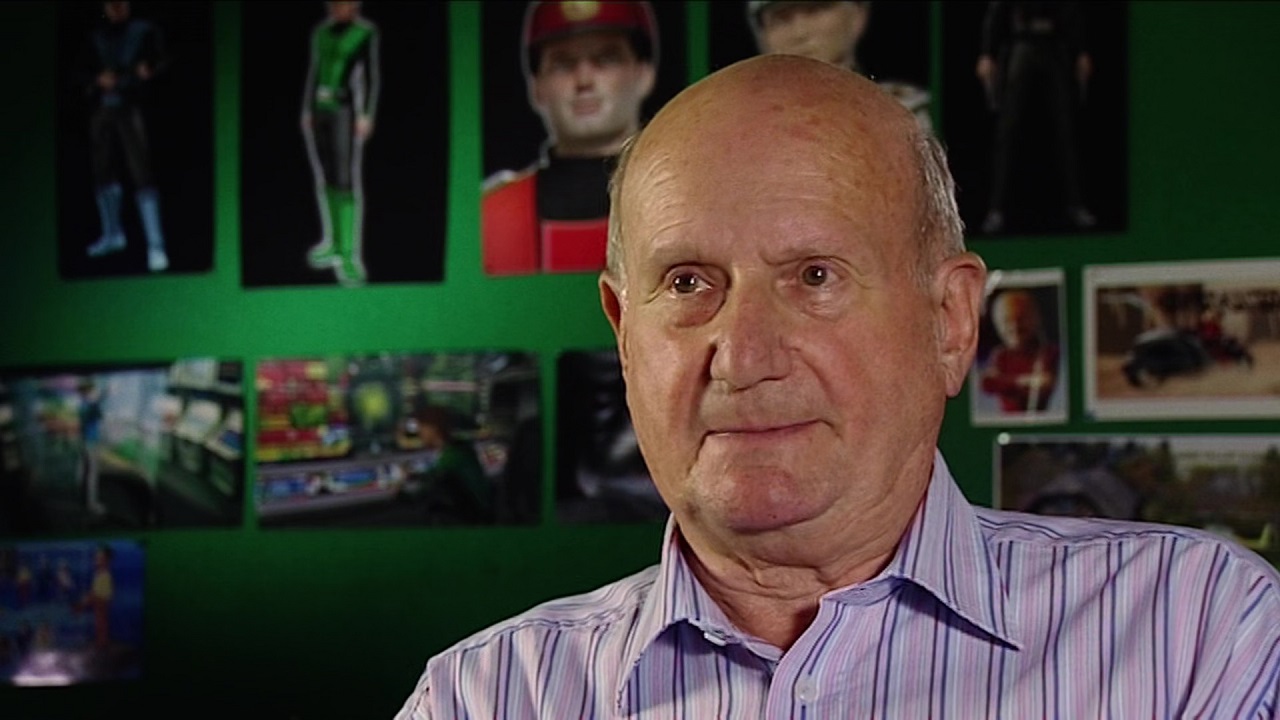 This led to the Andersons' first full Supermarionation show with Supercar and then the more substantial success of Fireball XL-5. This in turn led to Stingray, their first major hit, which became the first colour show aired in Britain (even before tv broadcasting in the country was in colour). And with the enormous international success of Thunderbirds, the rest became history.
The puppeteers go into some detail about the difficulty of making the puppets move while operating the wires from above (later Gerry came up with the idea of installing a video monitor on the camera) and of the difficulty of making the puppets appear to walk and their habits of swinging when moving. Anderson's son Jamie makes the interesting comment that his father didn't much like working with puppets (even though they became his signature creation).
The history of Thunderbirds is charted in some detail. Tribute is paid to Derek Meddings whose ability to blow up model sets was the highlight of any Anderson series – Meddings' associate Brian Johnson, who later went on to supervise effects for Alien (1979) and The Empire Strikes Back (1980), even creates a Meddings-style model set and blows it up for us. The surprise that several interviewees voice is that Anderson's financial backer Lew Grade declined to renew Thunderbirds for a third season. Anderson discusses the failure of the feature film Thunderbirds Are Go (1966) with some rue, speculating that maybe people just didn't want to see something they could on their tv screens, although not much time is devoted to the sequel Thunderbird 6 (1968).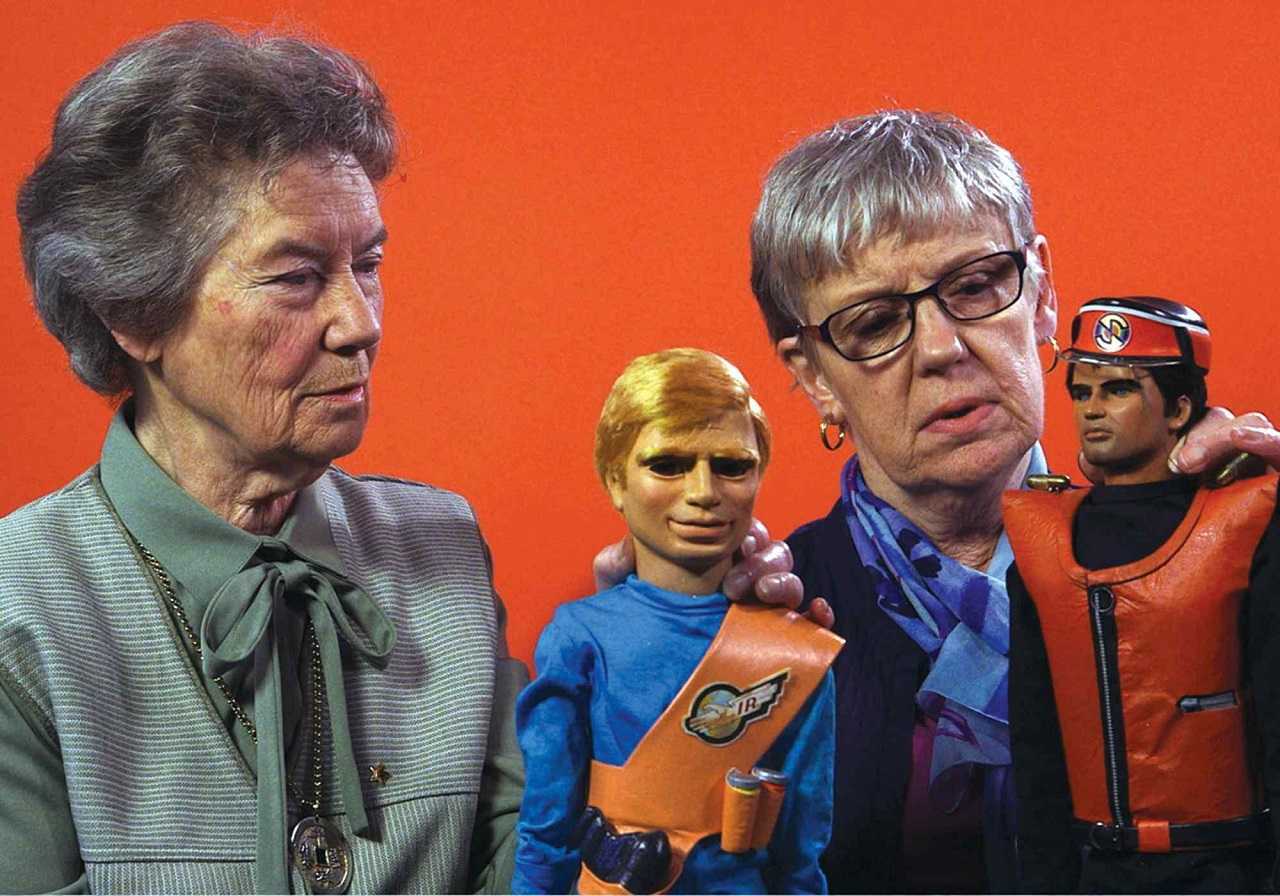 Each of the subsequent series – Captain Scarlet and Joe 90 – are gone into in some detail, including discussions about the difficulties that Anderson's insistence on more realistically-proportioned puppet heads presented to the puppeteers. Not to mention how the premise of Joe 90 with a father sending an underage child into spy combat situations reads as abusive these days. We also see some scenes from another rare Anderson series that is not widely circulated The Secret Service where Anderson tells how Lew Grade instantly cancelled it after hearing Stanley Unwin's nonsensical babble.
There is almost no discussion of Gerry Anderson's subsequent ventures into live-action. The film Doppelganger/Journey to the Far Side of the Sun (1969) is briefly discussed and the tv series UFO (1970-3) gets a mention but there is nothing of Anderson's other live-action tv series The Protectors (1972-4) and his magnum opus (in my opinion) Space: 1999 (1975-7). The film gives the impression that Anderson's interest in puppetry ended with the conclusion of the Supermarionation series in 1970 and no mention at all is made of his return to puppet shows several years later with the modest hit of Terrahawks (1983-6) and subsequent series such as Dick Spanner P.I. (1986), Space Precinct (1994-5) and Lavender Castle (1997).
The documentary comes with a rather cute wraparound where it is introduced by the characters of Lady Penelope and Parker from Thunderbirds, while the more technical sections are narrated by Brains. In these scenes, the puppets are all voiced by the original voice actors – Sylvia Anderson, David Graham and Shane Rimmer. The scenes get appealingly meta with them discussing the nature of Supermarionation and where they come in.
The Gerry Anderson story was also covered in a further documentary Gerry Anderson: A Life Uncharted (2022).
---
Trailer here
---