---
Crew
Director – Chris Windsor, Screenplay – Chris Windsor, Lawrence Keane & Phil Savath, Additional Screenplay Material – Giselle Villeneuve, Producer – Lawrence Keane, Photography – Doug McKay, Music – J. Douglas Dodd & David Peterson, Special Effects – Iain Best, Jim Bridge & Michael Dorsey. Production Company – BCD Entertainment.
Cast
George Dawson (Bob Sanderson), Big Miller (Abdullah), Andrew Gillies (Jan Wyczinski), Stephen Dimopoulous (Josef Wyczinski), Howard Taylor (Mayor Carmine Rigatoni), Ida Carnevali (Babushka), Georgina Hegedos (Rosa Wyczinski), Heather Smith-Harper (Mayor's Secretary)
---
Plot
The town of Burquitlam in the 1950s. When Carmine Rigatoni, the town's Mafia Mayor, fires the town hall's boiler attendant Abdullah for leaving the boiler turned up during a meeting, Abdullah retaliates by pushing Rigatoni's hand into the fanbelt of a car and killing him. Rigatoni's corpse is then resurrected by alien invaders who replace the missing hand with an egg beater. They need the resurrected Mayor to help them demolish the butcher shop of Bob Sanderson (who has invented a universal language) because they need the baloneum fuel that has formed in the shop's septic tank to build a landing site. Meanwhile, teenage inventor Jan Wycinski is trying to steal money to make the down-payment on a job with his father so that he can get the money to buy the radioactive ingredients to fuel the rocketship he is building in the back of his car. In the process, he gets wind of the invasion and singlehandedly sets out to stop it.
---
In the late 1980s and the 1990s, parodies of B-budget sf and horror movie became so prevalent they became their own sub-genre. At the outset of this fad, many of these films became cult items through their parodies of conventions and their cameos and in-jokes for genre fans. Eventually though, the cycle degenerated into cheesy cynicism thanks to a number of filmmakers pumping out badly made films featuring only cheap creature effects, scantily clad women and a faux 1950s bad sf movie title where the fact that the film was being cynical about being a bad movie was meant to cover any faults. Big Meat Eater however was one of the first of these parodies and remains one of the most enjoyable.
Big Meat Eater is an almost indescribable junket of lunatic parodies of splatter films, gangster films, East European art house movies, teenage backyard inventors of pulp juvenalia and the Plan 9 from Outer Space (1959) school of filmmaking. It is a film that overflows with deadpan absurdities – the monsters are Japanese toys that speak with subtitles; after a crucifix fails to drive away the zombie mayor, a can of meat tenderiser succeeds. There is an hilarious scene where Big Miller drags a young boy's dalmatian away behind the butcher shop and is seen a few minutes later serving up spotted meat.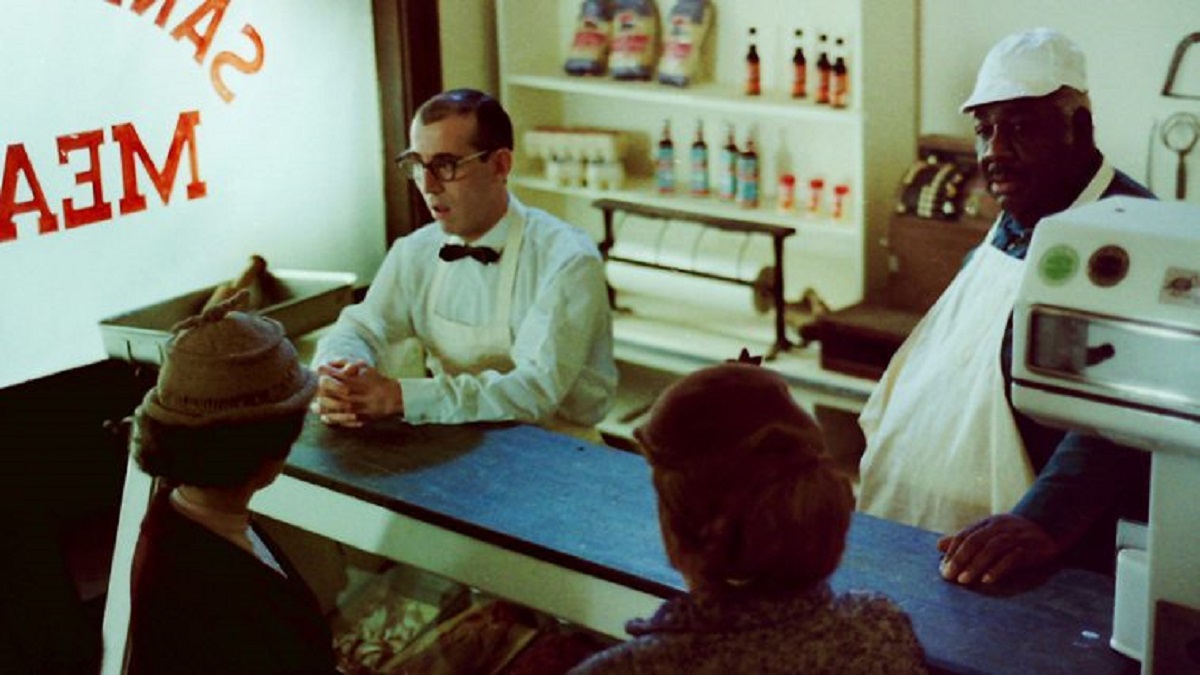 To cap it off, the film is also a surprisingly good musical, with music that runs the gamut from big, brassy Louis Armstrong parodies to frenzied hard rock. It is a film full of visual inventivity – and the great shame of it is that Chris Windsor, and indeed anybody associated with the film, have never been heard of again.
There is some great casting in George Dawson's wide-eyed deadpan mugging and of mute 300+ pound Big Miller (in reality a well-known Canadian jazz singer) as the titular Big Meat Eater, who gets some of the film's funniest black humour gags – like the title song wherein he splatters a shop while trying to wrap meat up in itself. This should be a cult film, although few people seem to have heard of it.
---
---