---
Crew
Director/Producer/Visual Effects/Animation/Makeup Effects – Steven Kostanski, Screenplay – Jeremy Gillespie & Steven Kostanski, Photography – Adam Brooks & Steven Kostanski, Music – Brian Wiacek, Additional Music – Jeremy Gillespie. Production Company – Astron 6 Video International
Cast
Matthew Kennedy (Manborg), Conor Sweeney (Justice), Meredith Sweeney (Mina), Ludwig Lee (# 1 Man), Adam Brooks (Dr Scorpius/Count Draculon), Jeremy Gillespie (The Baron), Andrea Karr (Shadow Mega), Mike Kostanski (Little Guy/Hobo), Ivan Henwood (Sarge), Kyle Hebert (Voice of # 1 Man)
---
Plot
In the future, the Earth has been overrun by the forces of Hell led by Count Draculon. A soldier is killed on the battlefield during the conflict but is resurrected as a cyborg. It takes the name Manborg. Captured, Manborg is placed into the arena where various human survivors are made to fight for the amusement of Earth's conquerors. Manborg manages to master the weaponry that has been attached to his body to triumph in the arena. Together with fellow prisoners Justice, his sister Mina and Manborg's sidekick # 1 Man, they make an escape and attempt to overthrow the invaders.
---
Manborg is an independently produced, zero budget homemade film from twenty-six year-old Steven Kostanski. In his day job, the Toronto-based Kostanski does makeup effects and has worked on Canadian-shot films such as The Divide (2011), Resident Evil: Retribution (2012), Silent Hill: Revelation (2012), Pacific Rim (2013), The Mortal Instruments: City of Bones (2013) and Crimson Peak (2015). He is also part of the Astron-6 collective made up of six Canadian filmmakers who work together on each other's projects (see below). Manborg is a film that Steven Kostanski has made at home (literally – shooting much of it in the family basement in Winnipeg) over a six-year period where he fulfilled most of the functions behind the camera himself. Kostanski claims that he made the entire film on a $1000 budget.
Steven Kostanski has deliberately made Manborg with the feel of a 1990s B-budget science-fiction film. Print it on videotape and it could easily sit alongside any of a dozen cheap clones of The Terminator (1984) and RoboCop (1987) – see the likes of Mutant Hunt (1986), Roboforce/I Love Maria (1988), Cyborg (1989), Class of 1999 (1990), Eve of Destruction (1990), Steel and Lace (1991), Project Shadowchaser (1992), Cyborg Cop (1993), Knights (1993), Mandroid (1993), Nemesis (1993), Cybertracker (1994) and so on. The creature effects and costumes all look like typical work from the late 1980s – the character of Justice (Conor Sweeney) even comes with a mullet.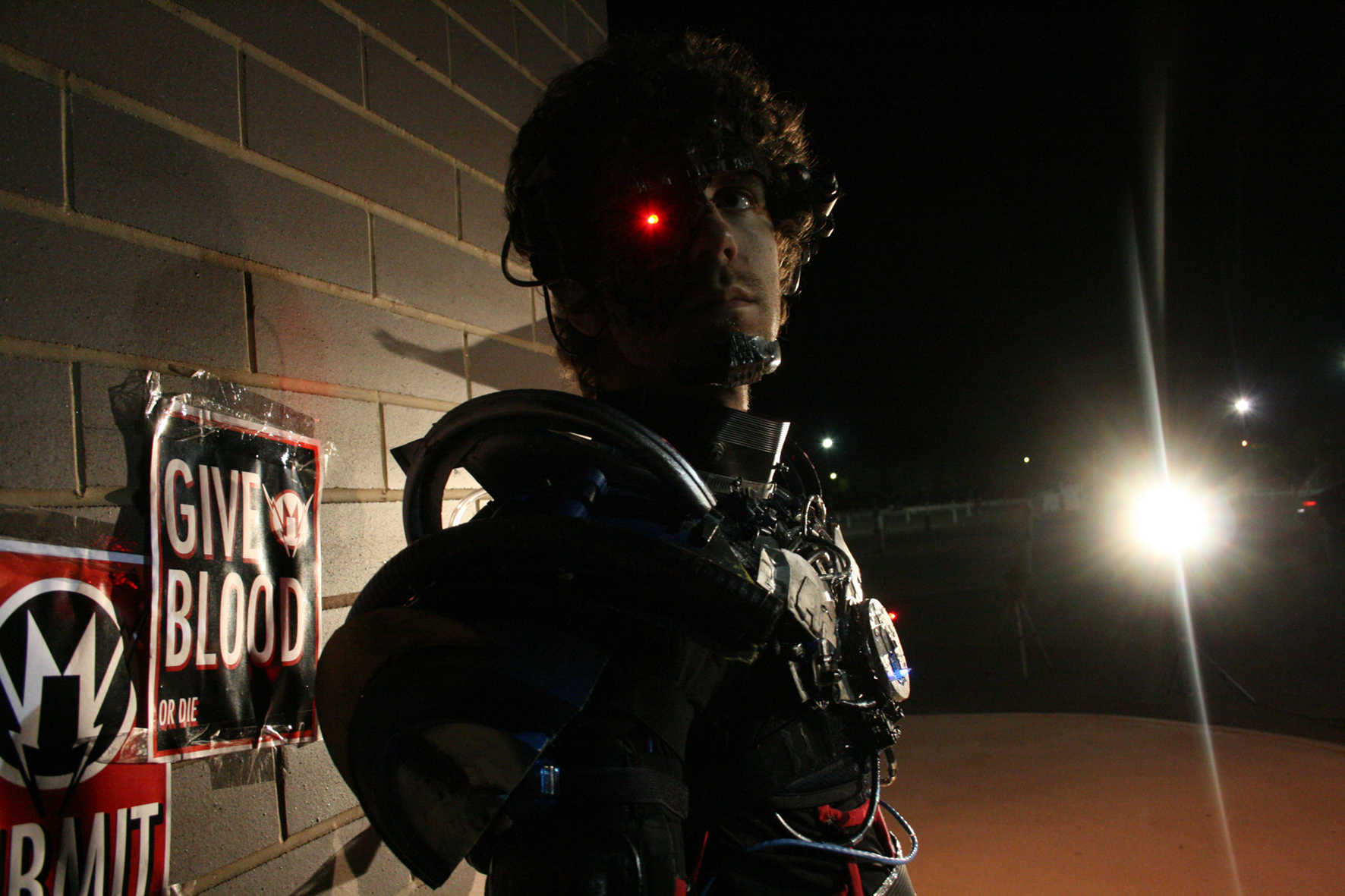 It is worth comparing Manborg to something like Star Wreck: In the Pirkinning (2005), which was made in very similar circumstances in its creators' apartment using home computers to create most of the sets and effects. Where Star Wreck deliveredeffects work that could easily sit alongside the more accomplished product being turned out by studios like Industrial Light and Magic, Steven Kostanski has gone for a deliberately scrappy look. The killer cyborgs in the arena are made to look like amateur stop-motion effects and are surrounded by grainy matte lines even though the facility would surely have existed to deliver these at a much more accomplished level. The sets and backgrounds inserts have the look of obvious blue screen.
What may be missed is that amid the film's self-conscious low-budget look, Steven Kostanski has made a work that houses a great deal of creativity. When you consider that the film was shot in his parents' home and the basement of a neighbouring store, the ability to create battlefields, arenas filled with thousands, giant alien machines, a post-holocaust terrain and people it with all manner of creatures and action scenes, what he has produced here amounts to a genuine miracle of no-budget filmmaking. It is a film constantly filled with texture, background detail and something happening in the frame – all of which has been digitally inserted. You only need contrast Manborg to one of the genuine Z-budget films from the era it seeks to emulate such as R.O.T.O.R. (1989) and see just how much creativity has gone into this work, even though that film probably had a far larger budget.
Not merely a homage to a genre, Manborg comes with a sense of deadpan humour that is often side-splitting. Watching the evil skull and mutant-faced Baron (Jeremy Gillespie) nervously trying to romantically woo Meredith Sweeney is some of the funniest things I have seen in genre cinema in a while. Or the way tiny Asian # 1 Man (Ludwig Lee) delivers all his lines in a theatrical (overdubbed) voice booming with gravitas. Equally, Steven Kostanski has a great ear for absurd dialogue cliches of the era and peppers everybody's lines throughout with these. All of the cast play with an admirable sense of straight face.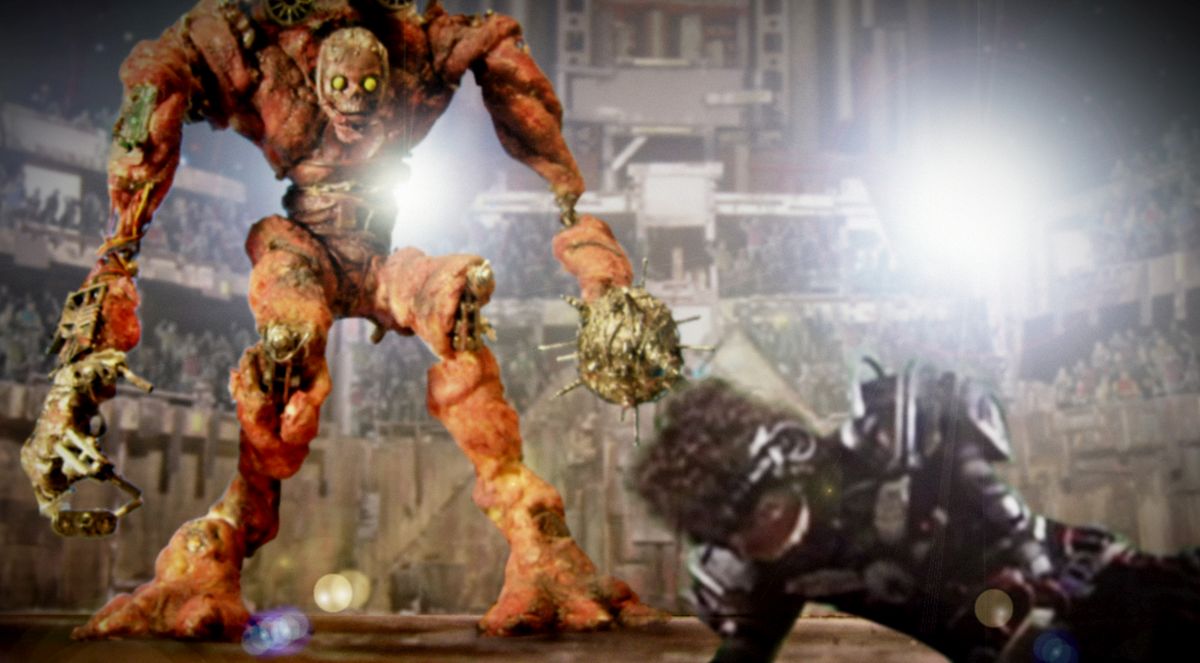 The film is also worth watching until after the credits for the trailer for Bio-Cop – not to be confused with the Hong Kong film Bio-Cops (2000). This is not a real film but a mocked-up trailer that Kostanski made in order to bring Manborg's running time up to feature length for release. This proves to be a highly amusing two-three minute piece about a suicidally inept zombie police officer where Kostanski has fun referencing other 1980s films such as The Toxic Avenger (1984), Dead Heat (1988) and Maniac Cop (1988).
As part of Astron-6, Steven Kostanski also co-directed the Troma film Father's Day (2011). He next went onto make the W is for Wish segment of ABCs of Death 2 (2014), co-directed the H.P. Lovecraft homage The Void (2016) with Jeremy Gillespie and then solo directed Leprechaun Returns (2018); P.G. Psycho Goreman (2020), another 80s homage where kids befriend an intergalactic dark lord; and The Veggie Masher episode of V/H/S/94 (2021). Other Astron-6 members subsequently went onto make the giallo homage The Editor (2014).
---
---