---
Crew
Director – Julien Temple, Screenplay – Julie Brown, Charley Coffey & Terrence E. McNally, Producer – Tony Garnett, Photography – Oliver Stapleton, Music/Songs – Julie Brown, Charley Coffey, Peter Afterman, Stewart Copeland & Nile Rogers, Visual Effects – DreamQuest Images, Makeup – Frank Carriosa, Alien Design – Bob Clark, Production Design – Dennis Gasner. Production Company – Earth Girls Are Easy Productions.
Cast
Geena Davis (Valerie Dale), Jeff Goldblum (Mac), Damon Wayans (Zeebo), Jim Carrey (Wiploc), Charles Rocket (Ted Gallagher), Julie Brown (Candy Pink), Michael McKean (Buddy)
---
Plot
San Fernando Valley manicurist Valerie Dale is feeling down because her live-in boyfriend Ted does not seem to want sex anymore. She throws him out after finding him with a nurse. She mopes in melancholy, until she is interrupted by three horny aliens from the planet Jhazzala who crash their spaceship in her swimming pool. She is at first overwhelmed by their bizarre imitative abilities. After a depilatory makeover, the aliens are able to pass for human where their mimicry and zany innocence make them the hit of the Valley party scene. Valerie finds herself starting to fall for the group's leader Mac.
---
Earth Girls Are Easy makes no excuses about itself – it has no other purpose than to have a party. It is a manic, madcap, wilfully insubstantial piece of self-conscious pop culture. It was made by Julien Temple, an acclaimed music video director who had made a number of famous cutting-edge MTV clips for artists such as Blur, David Bowie, Culture Club, Depeche Mode, Janet Jackson, The Rolling Stones, Sade, Van Halen and Neil Young, among others. Theatrically, Temple premiered with the cult Sex Pistols documentary The Great Rock'n'Roll Swindle (1980) and his previous venture out onto cinema screens had been the visually inventive quasi-fantastical Absolute Beginners (1986).
Earth Girls Are Easy plays like a much better version of Voyage of the Rock Aliens (1984), an obscure and completely terrible effort from a few years earlier. Julien Temple designs Earth Girls Are Easy as series of giddily effervescent song-and-dance numbers and slapstick sketches. Everything takes place in the glossy primary-colour pop wonderland of tv commercial reality.
One or two of the sketches go on a little too long but most are a delight – like Geena Davis's doleful song-and-dance orgy of destruction through her house with a golf-club after she kicks boyfriend Charles Rocket out. Or the manically choreographed antics of the aliens, devouring goldfish, mimicking tv ads and answering machines, and interpreting Geena Davis's screams and gape-jawed expressions as a form of communication.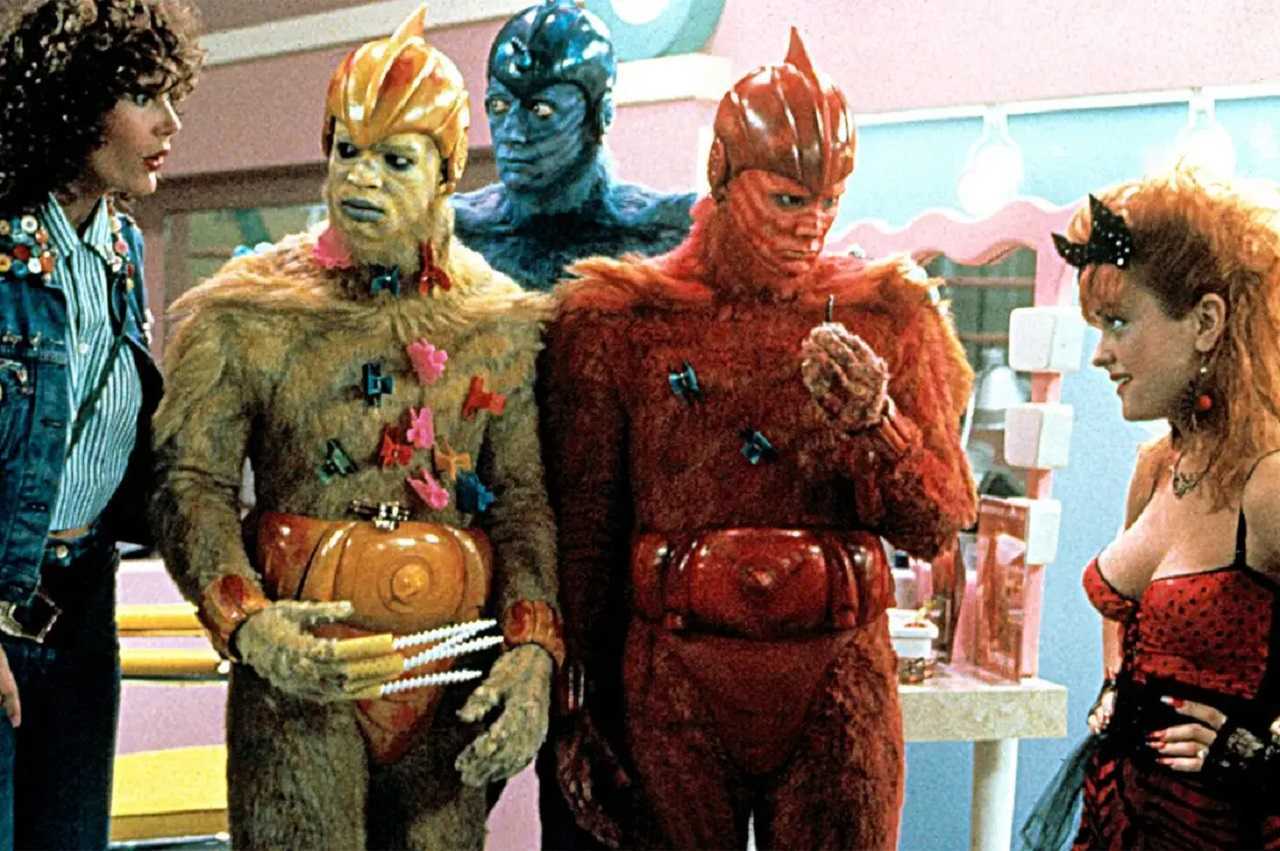 Geena Davis and Jeff Goldblum, then a married couple in real-life, give a pair of nicely twinkling performances. As the other aliens, the film features both Jim Carrey and Damon Wayans, before either appeared on the stand-up show In Living Color (1990-4) and broke through to the big-time as major comedy stars. Particularly funny is Julie Brown (upon whose wittily parodistic musical material the film is based) and her songs, which include one wonderfully malicious number entitled Cause I'm a Blonde. Brown had originally conceived the film to star herself but with the entry of Julien Temple and it getting a decent budget, she lacked a marketable name and so sold it with her as the best friend (much to her regret).
The soundtrack is eminently listenable. A black-and-white dream sequence features guest appearances from Forbidden Planet (1956)'s Robbie the Robot, several creatures from The Outer Limits (1963-5) and the tin-hatted robots from the Captain Video (1951). The opticals are somewhat flat but this is a film where such could be entirely deliberate and would only add to the fun.
Julien Temple has had a sporadic film career since Earth Girls Are Easy, mostly working in documentary or music video. He has made a handful of other films but none have received a wide release. Julie Brown (not to be confused with MTV dj and sometimes actress Downtown Julie Brown) makes various acting appearances, and also produced the tv series Clueless (1996-8) and wrote/appeared in the spoofs Attack of 5'2″ Woman (1994) and Plump Fiction (1997).
---
---