---
Crew
Director – Rupert Wyatt, Screenplay – Erica Beeney & Rupert Wyatt, Producers – David Crockett & Rupert Wyatt, Photography – Alex Disenhof, Music – Bob Simonsen, Visual Effects Supervisor – Eric Pascarelli, Visual Effects – Atomic Arts (Supervisors – Justin Cornish, Brooke Lyndon-Stanford & David Shere), FuseFX (Supervisor – Aldo Ruggiero), Jellyfish Pictures Limited (Supervisor – Luke Dodd), Special Effects Supervisor – Ryan Steinhouse, Makeup Effects – KNB EFX Group Inc. (Supervisors – Howard Berger & Greg Nicotero), Production Design – Keith P. Cunningham. Production Company – Lightfuse & Gettaway Productions.
Cast
John Goodman (Commander William Mulligan), Ashton Sanders (Gabriel Drummond), Jonathan Majors (Rafe Drummond), Vera Farmiga (Jane Doe), James Ransone (Patrick Ellison), Alan Ruck (Charles Rittenhouse), Madeline Brewer (Rula), Colson Baker (Jurgis), Ben Daniels (Daniel), Kevin J. O'Connor (Kermode), Kevin Dunn (Commissioner Eugene Igoe), Caitlin Ewald (Anita), Lawrence Grimm (Evan Hayes), Guy Van Swearingen (Eddie the Priest), Elana Flores (Flores), D.B. Sweeney (Levitt)
---
Plot
Chicago, the year 2027. It is seven years after aliens have invaded and Earth has surrendered to them. The Legislators, as they are called, have established a walled-off Closed Zone in the centre of Chicago. Teenager Gabriel Drummond is involved with the resistance. His older brother Rafe has become a folk hero after being killed in the fight. Gabriel is sent in to the ruined neighbour of Wicker Park only to discover that Rafe is still alive there, leading a ghost existence as he organises the resistance. Gabriel is drawn into becoming part of a resistance plan to assassinate a high-ranking politician. However, his activities are being closely monitored by the district's police commander William Mulligan, the former partner of his late father, who is determined to stamp out the resistance.
---
British director Rupert Wyatt first emerged with The Escapist (2008), a modest prison escape film that came with a strange fantastical twist ending. Wyatt gained wider attention with Rise of the Planet of the Apes (2011), the first in the reboot series of the classic films. Wyatt also made the non-genre Mark Wahlberg film The Gambler (2014) and directed the pilot/executive produced the tv series The Exorcist (2016-8). He co-writes Captive State with his wife Erica Beeney.
Captive State is an alien invasion film, although it is very different to standard alien invasion efforts like The War of the Worlds (1953) and Independence Day (1996), which chart the mass destruction and social chaos caused by the arrival of aliens. Here the alien invasion is over and done with in the first five minutes and its depiction consists of no more than a family fleeing through a tunnel encountering something coming towards them. Rather Captive State concerns itself with the more unusual perspective for an alien invasion – it takes place several years later with Earth under alien occupation and concerns the efforts of a resistance to fight back. Not too many films have taken this perspective before – it has previously been represented by less-than-stellar efforts like Battlefield Earth: A Saga of the Year 3000 (2000) and the tv mini-series V (1983) and its subsequent tv series V (1984-5), although there was also the quite good British tv series The Tripods (1984-5).
This does make for an alien invasion film (or perhaps you could more correctly call it a post-alien invasion film) that is distinctly odd. For one, the aliens rarely feature. We do get several appearances throughout of things that sprout long black bristles all over (whether this is natural or protective armouring is never made clear) but any more details about them are non-existent and the shots in which they appear are kept brief. There is only a single shot of one without its facemask on. There are one or two shots of their ships, which look like giant upturned rocks that skim low across the water. And that is about it – mostly the aliens exist as a presence denoted by their control of society and the monolithic walled-off neighbourhood where they sequester.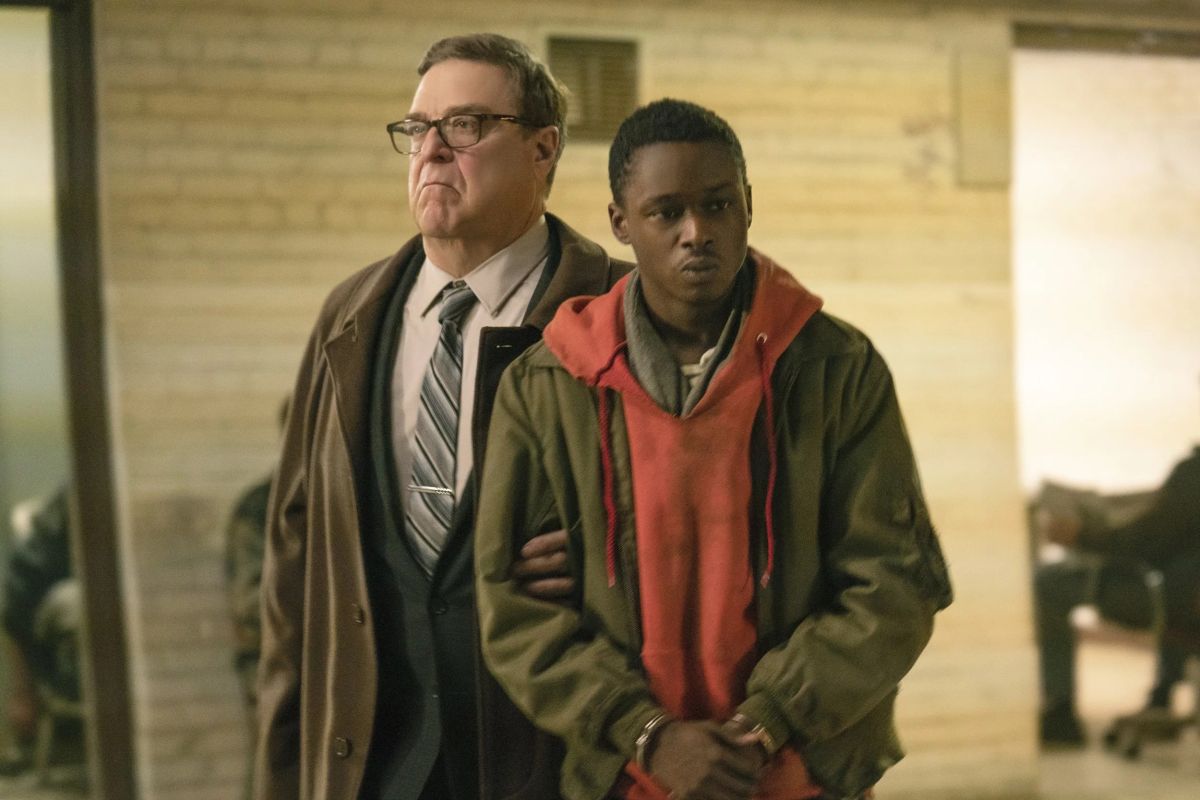 The main problem is what we end up with is not much of a science-fiction film at all. What it feels like for about the better part of the first hour is a 'hood drama about young juvenile delinquents in a rundown neighbourhood of Chicago on the run from police and engaged in various criminal doings. Even when the resistance comes together to mount an operation to assassinate a public figure, the film is still not so much an SF film as it is a caper film. Not to say that Rupert Wyatt doesn't stage everything as dramatically engaging at times – but it just isn't an SF film. In that much of the details about the aliens are kept vague and unstated, it is also not entirely clear what the objectives of the resistance are – although this does all pull together rather nicely at the end.
Even if Rupert Wyatt fails to make a very interesting film, the one thing you do have to commend him for is making a highly politically charged one. Cinematically, the alien has always come to represent The Other in terms of the things we fear or the things we wish for writ large – it is a Rorschach blot that filmmakers can project whatever they like onto. For 1950s, the alien was the imminent fear of threat by the Soviet Union and of atomic war; in the 1960s as entente kicked in, Star Trek (1966-9) made the issue less black-and-white and favoured diplomacy; for Steven Spielberg and Close Encounters of the Third Kind (1977), E.T. – The Extra-Terrestrial (1982) and the films that followed, the alien was a best friend, the healing hand for emotional hurts for the Me Generation; for Roland Emmerich and Independence Day, the alien was a call to arms for national (American) unity under the flag of a weakened nation once again.
If that is the case, then Captive State is surely one of the most potent allegories for Donald Trump's police state America that we have had so far. Far more than it has any interest in aliens, Wyatt fills the film with images of ominous mass surveillance by authorities, police in riot gear bursting down doors and lining people up and suspension of habeas corpus. The opening credits are a montage of scenes of the American flag being lowered over the White House, and captions about how the aliens are exploiting earth's natural resources, expanding the gap between rich and poor far more than ever before, while issuing deportations. It is all fairly blatantly stated with captions like "The alien forces have taken control. They are now our legislators" (ie. control the government). It is more a political statement than it is a science-fiction film.
---
---