(Shang Hai Bao Lei)
---
Crew
Director – Teng Huatao, Action Director – Zhang Peng, Screenplay – Hang Jinglong, Jiang Nan & Teng Huatao, Story – Jiang Nan, Producers – Shan Tam & Wang Chen, Photography (3D) – Ip Siu Ching & Geoffrey Simpson, Music – Lee Dongjune, Visual Effects – Beijing Phenom Films Co., Ltd. (Supervisor – William Chen), Bottleshop VFX Ltd. (Supervisors – Martin Naydenski & Hristo Velev), CGF (Supervisors – Pavel Bezborodov & Andrew Evkodimov), Digital Idea Co., Ltd. (Supervisor – Yang Si Eun), Macrograph Inc., Territory Studio (Supervisor – Simon Carr), Wuxi Phenom Films Co., Ltd. (Supervisor – Liu Xiaoqi) & WYSIWIG Studios Co., Ltd., Special Effects Supervisor – Wei Xincai, Production Design – Chong Chileung Thomas & Joseph C. Nemec III. Production Company – HS Entertainment Group Incorporated.
Cast
Lu Han (Jiang Yang), Shu Qi (Lin Lan), Leon Shi Liang (General Shao/Shao Yiyun), Geoffrey Gao (Yang Jiannan), Wang Gongliang (Zeng Yu), Wang Sen (Pan Hantian), Sun Jialing (Lu Yiyi), Matile Vincent (Chief Committee Member)
---
Plot
In the future, the world has been transformed by the discovery in space of a cheap source of energy known as Xianteng. However, this has attracted the attentions of aliens who have arrived and are attacking each of the cities that are equipped with Xianteng energy shields and taking the energy. The only remaining city to hold out is Shanghai. A defence force has been formed among a young elite who pilot  remote-controlled drones. They are now called into action as the city comes under the full onslaught of the alien invaders.
---
Shanghai Fortress was a big-budget Chinese science-fiction film. It was clearly intended to be the next big success following the international hit of The Wandering Earth (2019), which had been released seven months earlier, but failed at the Chinese box-office amid bad reviews, earning only the equivalent of $10 million in returns on a $79 million budget. Both Jiang Nan, the popular fantasy author who supplied the script, and the director ended up apologising to fans.
Shanghai Fortress wants to be a big spectacular effects-driven alien invasion film in the same vein as Independence Day (1996) and its most likely source of inspiration Michael Bay's Transformers films. On the other hand, it seems so concerned with maintaining a broad appeal – young handsome leads including a local pop star cast as the lead hero, a touch of romance – that it disappears into its own carefully test-marketed blandness. All of the non-effects scenes between the characters make it seem exactly like another romantic film, of which China churns out bucketloads.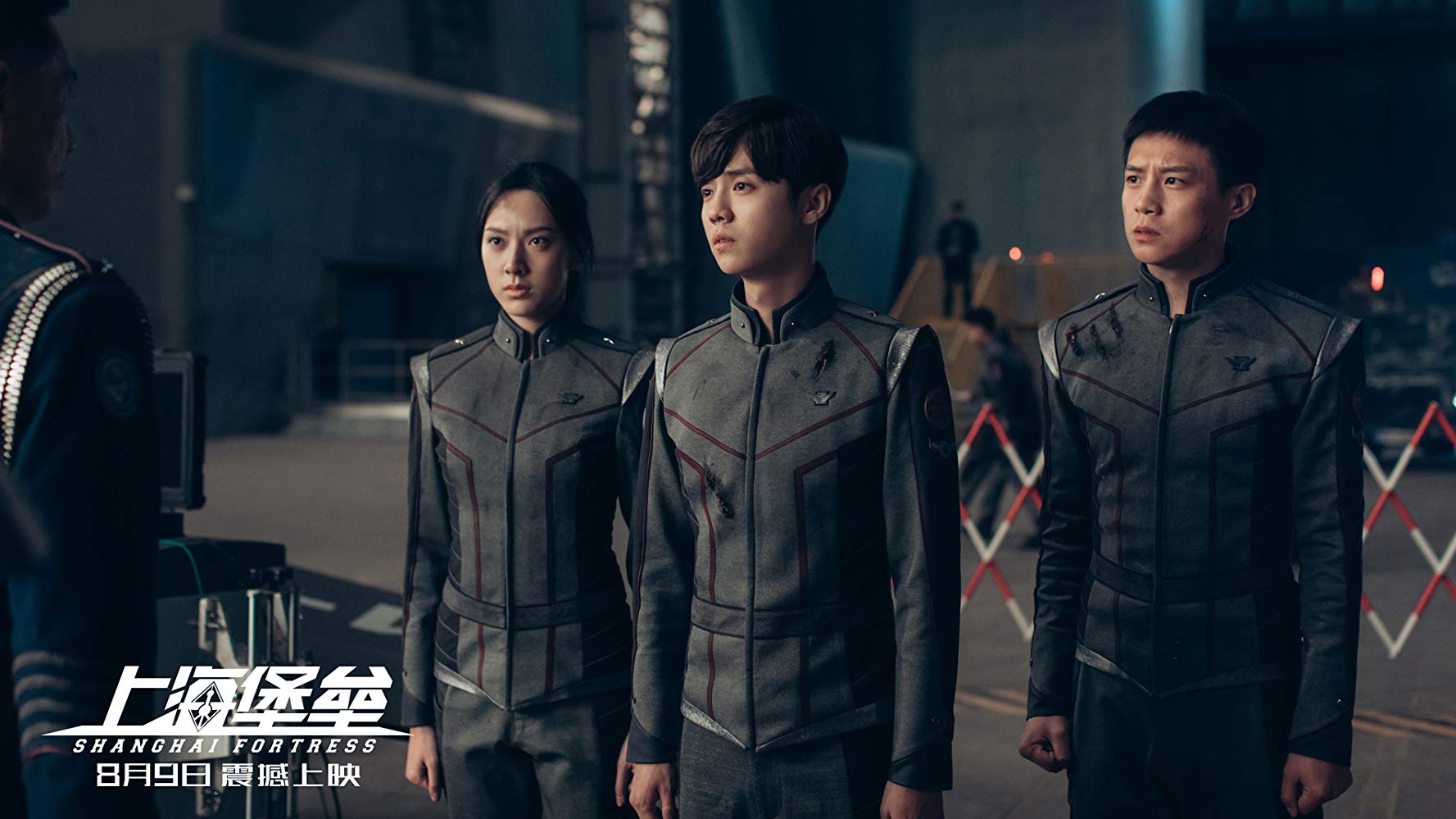 The special effects are reasonable without being anything standout, the best sequence being one where the Predator drone invades the control room of the city. On the other hand, there is surprisingly little in the way of the mass destruction sequences one expects of a film like this. A viewing of the trailer (see below), which essentially highlights all of the effects scenes, makes you think you are in for far more of an epic effects and mass destruction vehicle than what we get.
More to the point, it feels like a film where the Chinese government has had a strong hand in the mix, trying to pitch elements like duty and sacrifice, not to mention a healthy dose of nationalist pride, to the intended youth audience. Compare Shanghai Fortress to Michael Bay's Transformers films. Both are infected with the same adolescent fantasy of militarism but Bay's films have a cocky individualism whereas the heroes here just disappear inside bland sentimental cues.
---
---