---
Crew
Director – Jeremiah Chechik, Screenplay – Don MacPherson, Based on the TV Series Created by Sydney Newman, Producer – Jerry Weintraub, Photography – Roger Pratt, Music – Joel McNeely, Avengers Theme by Laurie Johnson, Visual Effects Supervisor – Nick Davis, Digital Effects – Cinesite (Supervisor – Joss Williams), Miniature Effects – The Magic Camera Co (Supervisor – Jose Gravell), Production Design – Stuart Craig. Production Company – Warner Brothers.
Cast
Ralph Fiennes (John Steed), Uma Thurman (Dr Emma Peel), Sean Connery (Sir August de Wynter), Jim Broadbent (Mother), Fiona Shaw (Father), Eileen Atkins (Alice), Patrick MacNee (Voice of Colonel Invisible Jones), Eddie Izzard (Bailey)
---
Plot
John Steed, an agent for The Ministry, is assigned to keep an eye on Emma Peel, a lithe and beautiful meteorologist who is suspected of breaking into The Prospero Program – something that she denies. Together Steed and Mrs Peel form a partnership to take on the crazed Sir August de Wynter, a Scotsman who has harnessed the Prospero Program and is creating havoc with the weather to force the nations of the world to each give him ten percent of their GNP.
---
The tv series The Avengers (1962-9) – not in any way to be confused with the Marvel Comics superhero team and the film version of this with The Avengers (2012) – was the height of 1960s chic. It jumped on the vogue for spy films started by the James Bond series but provided its own surreally droll British manneredness – with its two agents engaged in deliberately unreal adventures where they seemed more concerned about the champagne getting above room temperature than they were about imminent danger.
The Avengers began less flamboyantly in 1961 as a routine black-and-white policier called Police Surgeon, where Patrick MacNee's John Steed was only the sidekick to Ian Hendry's title doctor. The show was killed off due to a union dispute. However, in mid 1962, Patrick MacNee was promoted to the star of the show, the series was renamed The Avengers and the rest is history. The first few seasons, which paired Patrick MacNee with Honor Blackman (and for about six episodes at the very beginning nightclub singer Venus Smith played by Julie Stevens), were still standard police stories.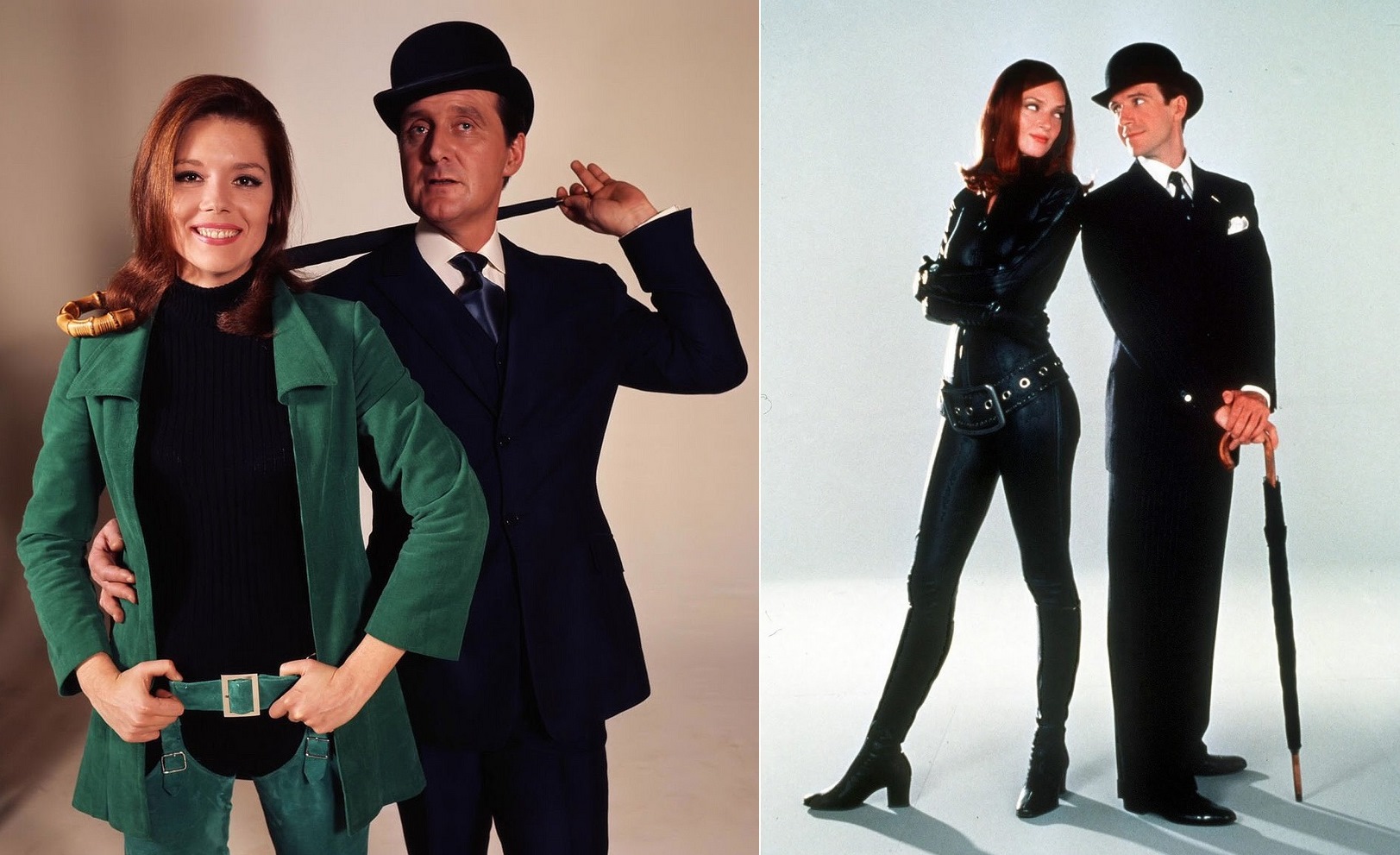 It was not until the arrival of Diana Rigg in 1965 that the series became what it is known for today with the police stories supplanted by a surreal, cartoon universe of mad scientists, eccentric spies, British imperturbability and Diana Rigg outfitted in leather bodysuits and mini-skirts, a combination that turned the show into a cult phenomenon. The series was killed off in 1969 with Diana Rigg's departure and her disastrous replacement by Linda Thorson who substituted Rigg's sly flirtatiousness for a vacant airheadedness. The series was briefly revived as the underrated The New Avengers (1976-8) with a leggy Joanna Lumley making for a lithe and sexy agent that rivalled Diana Rigg for on-screen class.
Three decades later and The Avengers became yet another show that was revamped in the 1990s fad for big screen revivals of 1960s tv series, along with the likes of The Addams Family (1991), The Beverly Hillbillies (1993), The Fugitive (1993), Car 54, Where Are You? (1994), The Flintstones (1994), The Brady Bunch Movie (1995), Flipper (1996), Maverick (1996), Mission: Impossible (1996), Leave It to Beaver (1997), The Saint (1997), Lost in Space (1998), The Mod Squad (1999), My Favorite Martian (1999), Wild Wild West (1999), Charlie's Angels (2000), I Spy (2002); Scooby-Doo (2002), Starsky & Hutch (2004), Thunderbirds (2004), Bewitched (2005), The Dukes of Hazzard (2005), The Honeymooners (2005), Miami Vice (2006), Transformers (2007), Get Smart (2008), Speed Racer (2008), Land of the Lost (2009), Star Trek (2009), The A-Team (2010), Yogi Bear (2010), Dark Shadows (2012), The Sweeney (2012), 21 Jump Street (2012), The Equalizer (2014), Jem and the Holograms (2015), The Man from U.N.C.L.E. (2015), Dad's Army (2016), Baywatch (2017), CHiPs (2017), Fantasy Island (2020) and The Munsters (2022)
One could sense for a long time in advance that The Avengers big-screen project was shaping up to be a disaster in the making. First, there was the initial planned castings of Mel Gibson as John Steed and Nicole Kidman as Mrs Peel. (Is there any actor whose persona is less suited to the part of the perfectly mannered gentleman Steed than Mel Gibson? One's personal dream casting would have been Charles Dance and Emma Thompson in the parts).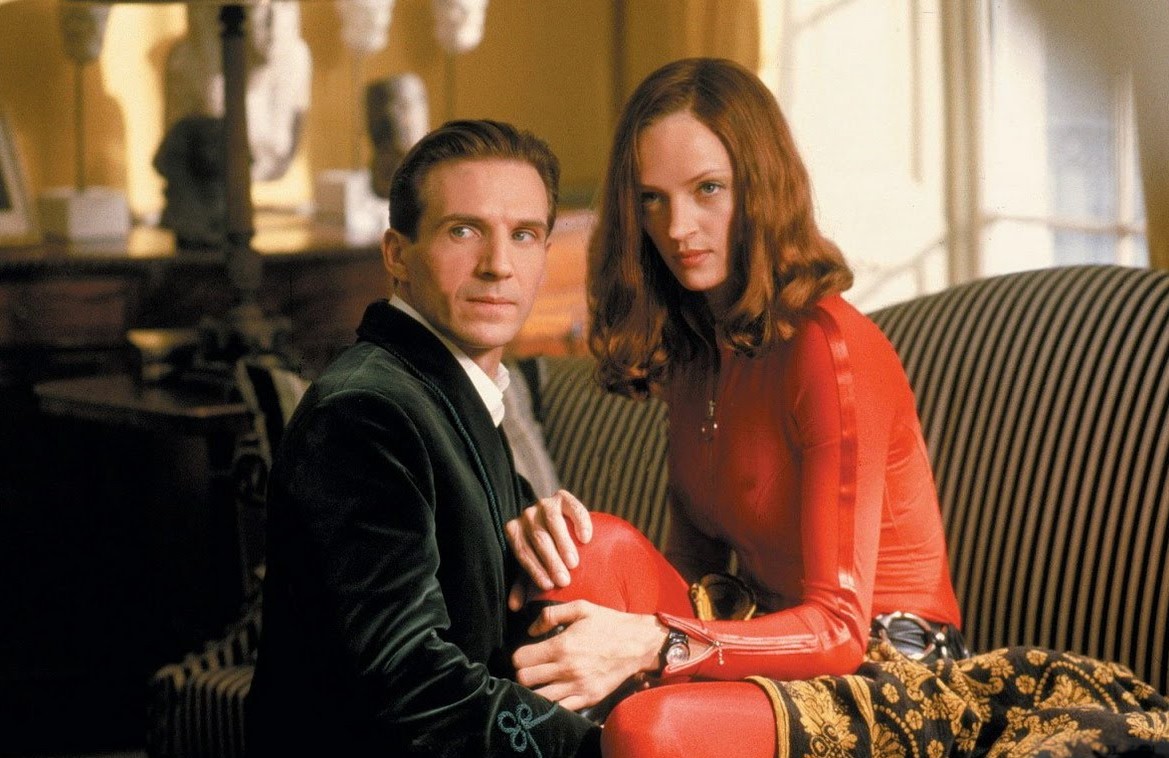 And then there was the assignment of Jeremiah Chechik to the director's chair. Jeremiah Chechik made his debut with National Lampoon's Christmas Vacation (1989) and has yet to make a good film. Chechik's previous genre outings consisted of Tall Tale (1995), a film about Western legends like Pecos Bill and John Bunyan that fell flat because it seemed scared of and ended up trying to be everything else except a tall tale, while Chechik's next effort Diabolique (1996) disastrously tried to remake the classic French thriller Les Diaboliques (1955) with an upbeat ending. [Intriguingly at one point, the Avengers film passed through the hands of David Fincher of Se7en (1995) and Fight Club (1999) fame, which certainly would have been interesting to see]. Chechik took the failure of The Avengers to heart and did not direct anything outside of series tv for the next fifteen years.
Even the distributors of The Avengers could see the film was going to be a disaster before it opened and conducted the (back then) almost unprecedented desperation measure of refusing critics any preview screenings on the grounds that "they didn't want the film unfairly compared to the original series". (I do hate to puncture the reality these guys seem to live in but you are selling a remake – you cannot revive a tv series and then not expect critics, let alone an audience, to compare it to the original). Needless to say, The Avengers was pilloried by critics and audiences alike and was considered one of the biggest disasters of its year.
Certainly, The Avengers is technically a well made film. The photography is lush and sumptuous and there is some fine model effects work and dazzling sets. The film has certainly done its homework when it comes to studying the series and copying everything from Mrs Peel's costumes to outfitting Steed with his vintage Bentley and steel-capped bowler hat and Mrs Peel with her MGB. The film even gets full marks for quoting the series' explanation of what happened to Mr Peel. For all that, it is a sad effort. The droll British understatement comes far too posed. The jokes about Steed's impeccable coiffure, tea drinking, macaroons and brollies, the unflappable cool in the midst of danger are set up as obvious gags. The effect is less one of droll wit than it is of affected retro-chic – it is like a funny incident that loses its spontaneity in the retelling.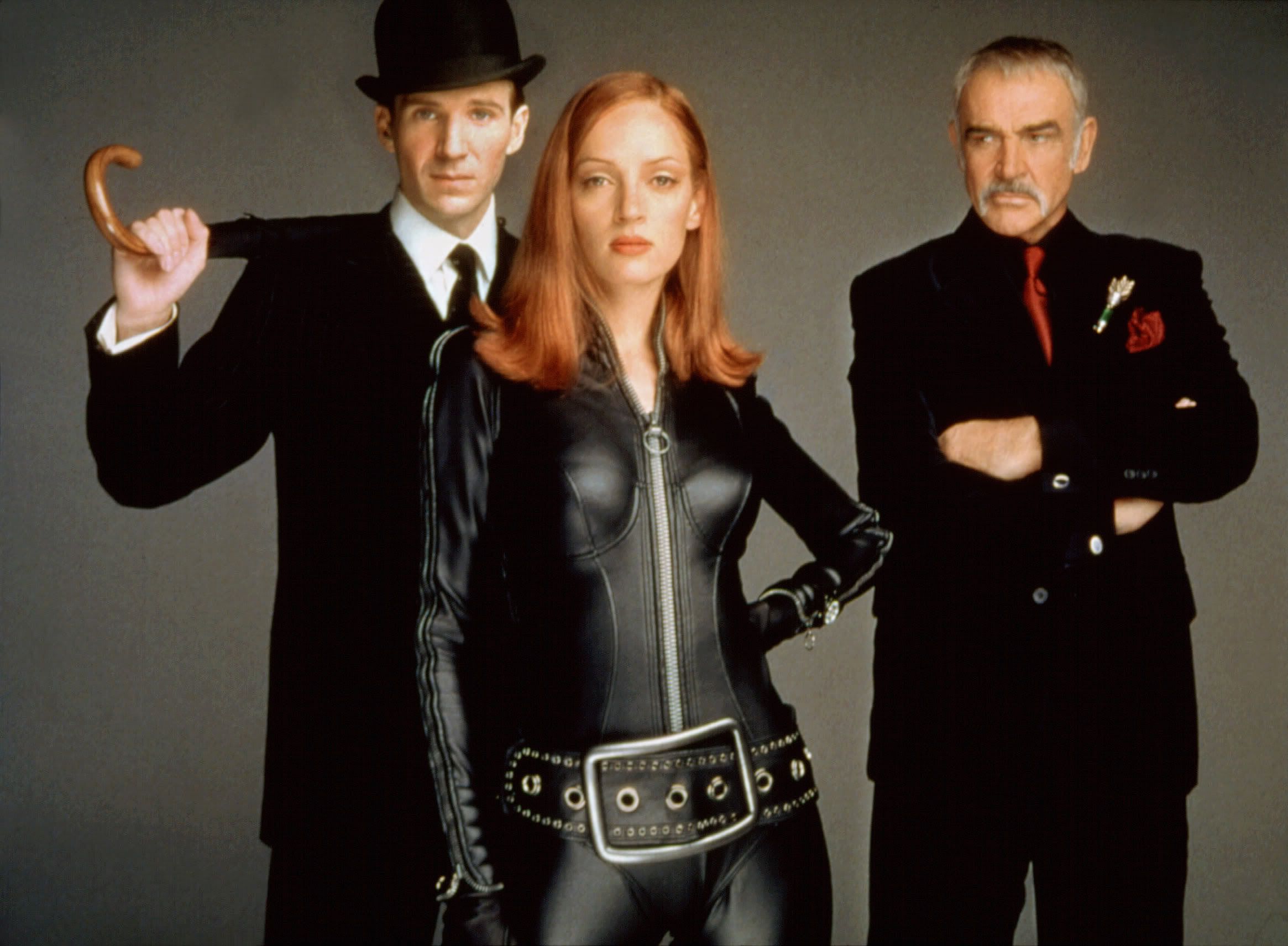 The casting has tried hard but ends up a complete disaster. Ralph Fiennes tries to do a droll John Steed but comes out more like a bland, colourless Oxbridge fop, while Uma Thurman's Mrs Peel is wooden and vapid, lacking in any of Diana Rigg's teasing flirtatiousness. Sean Connery delivers one of the worst performances he has ever given, reduced to slavering and lusting over Uma Thurman.
The plot is so disjointed it verges on the completely incomprehensible. It seems to have been constructed out of sequences that somebody thought was cool – Mrs Peel trapped in an M.C. Escher-modelled house (clearly an echo of the episode The House That Jack Built), an attack by robot insects, an incredibly daft scene where a group of conspirators meet dressed as teddybears. However, they are incidents that seem to happen without any connecting sensibility. A clone of Mrs Peel runs about for half the film without even any explanation as to what she is doing there. Even the initial assignment Steed is given has a thorough vagueness to it – he is merely assigned to keep an eye on Mrs Peel and this somehow instantly becomes an investigation into Sean Connery's super-villain. It is sad that the film, for all the technical care that has been clearly lavished on it, can miss the mark so widely when it comes to the fundamentals and above all capturing the panache that made the original series so memorable.
(Winner in this site's Worst Films of 1998 list. Nominee for Best Production Design at this site's Best of 1998 Awards).
---
---