aka Cyclotrode X
USA. 1946.
Crew
Directors – Fred C. Brannon & William Witney, Screenplay – Alfred De Mond, Basil Dickey, Jesse Duffy & Sol Shor, Producer – Ronald Davidson, Photography (b&w) – Bud Thackery. Production Company – Republic Pictures.
Cast
Charles Quigley (Duncan Richards), Linda Stirling (Diana Farnsworth), Bud Geary (The Crimson Ghost), I. Stanford Jolley (Voice of The Crimson Ghost), Clayton Moore (Ashe), Kenne Duncan (Professor Henry Chambers)
---
Plot
Criminologist Professor Duncan Richards goes into action to stop a criminal mastermind known as The Crimson Ghost who is trying to steal Professor Henry Chambers' new invention, The Cyclotrode, which can block electrical transmissions.
---
As serials go, The Crimson Ghost is a humdrum affair. As always, the action remains the best part about the film. Some of the cliffhangers are quite good – especially one where the hero chases the villain down a set of power-lines which the villain then cuts.
Best of all are the fight sequences – no fight sequences anywhere else in filmdom ever manage to match the sheer enthusiasm of those in the serials. Here the participants dive right across rooms into the fray, sliding across tables and rebounding off walls – they feel like real men going head to toe with one another not the endlessly choreographed and edited scenes of modern fight coordinators.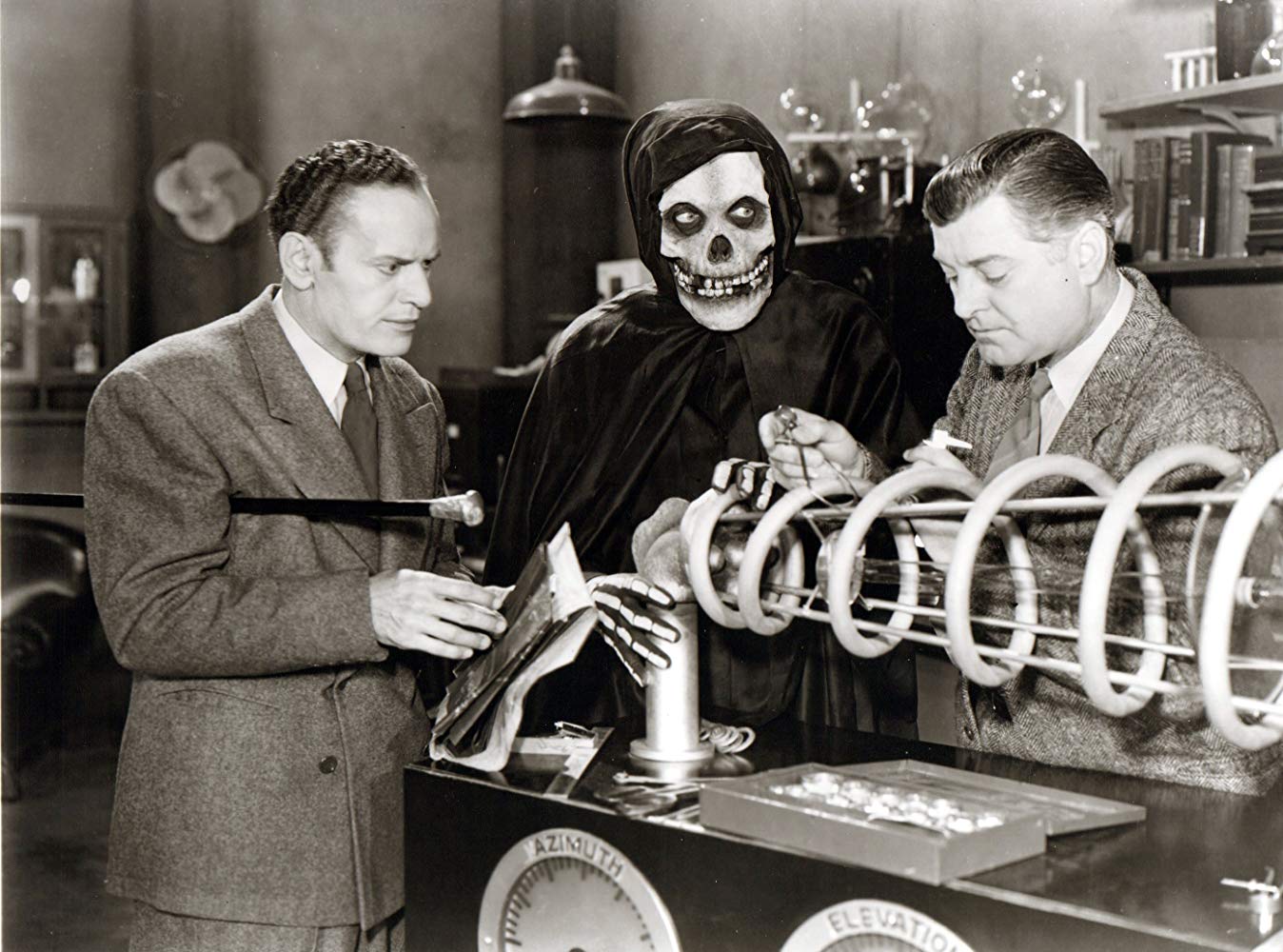 Despite such, there is the overall feeling of a film that never goes anywhere. It is a fault common to all serials. The Crimson Ghost's drama is strung out in pedestrian ways with an inordinate number of components that have to be stolen for the central device, plots on the part of the hero to track the villain to his laboratory hideout and, of course, the tediously drawn-out whodunnit between the string of suspects as to which of them is the villain.
The Crimson Ghost was original released in twelve chapters, although can also be found as a cut-down feature-length version for television known as Cyclotrode X (1966).
---
Trailer here
Full serial available online (Chapter 1 here):-
---