---
Crew
Director/Screenplay – Ben Falcone, Producers – Ben Falcone, Melissa McCarthy, Marc Platt & Adam Siegel, Photography – Barry Peterson, Music – Fil Eisler, Visual Effects Supervisor – Dave Morley, Visual Effects – Method Studios, Special Effects – Innovation Workshop, Production Design – Bill Brzeski. Production Company – On the Day Productions.
Cast
Melissa McCarthy (Lydia Berman), Octavia Spencer (Emily Stanton), Jason Bateman (The Crab), Taylor Mosby (Tracy), Bobby Cannavale (William 'The King' Stevens), Pom Klemebtieff (Laser), Melissa Leo (Ellie), Marcella Lowery (Grandma Norma), Ben Falcone (Kenny), Mia Kaplan (Teenage Lydia), Tai Leshaun (Teenage Emily), Kevin Dunn (Frank), Melissa Ponzio (Rachel Gonzales), Tyrel Jackson Williams (Jessie), Nate Hitpas (Walter), Vivian Falcone (Young Lydia), Bria D. Singleton (Young Emily)
---
Plot
In 1983, a massive burst of cosmic rays causes some people to develop superpower mutations but only those with psychopathic personalities. These are named Miscreants. In Chicago in 1988, Emily Stanton's parents are killed in a Miscreant attack. In school, the nerdy Emily is befriended by Lydia Berman who stands up to defend her from bullies. After drifting away in later life, the two reconnect with the announcement of their school reunion. Lydia goes to the technology corporation that Emily owns to drag her along to the event. While waiting for Emily, Lydia sits down on a couch only to accidentally activate a device that injects her with a serum. Emily is shocked to find that Lydia has just received a superpower serum she has spent years devising. She reasons that Lydia should take the entire 33 doses otherwise it might kill her. Lydia moves into the facility over the course of the treatment, gradually developing super-strength, at the same time as Emily takes a serum that allows her to become invisible. The two name themselves Thunder Force and set out to fight crime. This gets them attention but they soon come up against the Miscreants, led by mayoral candidate William Stevens, nicknamed The King, who determines to stop them.
---
Melissa McCarthy has emerged as a comic name ever since appearing in Bridesmaids (2008), which netted her an Academy Award nomination. Although she had been appearing on screen since the late 1990s, this launched her as a comedy star and she has since gone onto appear as the headline name in a string of comedies with the likes of Identity Thief (2013), The Heat (2013), Tammy (2014), Spy (2015), Ghostbusters (2016), The Boss (2016), Life of the Party (2018), The Happytime Murders (2018) and Superintelligence (2020).
McCarthy makes much of her work in collaboration with husband Ben Falcone. He has made supporting appearances in everything she has been in since Bridesmaids. He has also directed several of Melissa's films – Tammy, The Boss, Life of the Party and Superintelligence – with Thunder Force marking his fifth film in the director's chair. Falcone can also be seen on screen as one of the henchmen – he's the one who gets tasered by Octavia Spencer during the convenience store robbery and later turns up with a burn scar on his face. (Falcone and Melissa's daughter Vivian also appears – she's the first of the actresses playing the younger version of Melissa's character near the start of the film).
After reviewing the not-particularly-funny Superintelligence and now Thunder Force, my liking of the McCarthy-Falcone partnership is going steadily downwards. McCarthy is a talented comic no denying but, like Eddie Murphy and Whoopi Goldberg, her being shuffled around in a series of comedies that are well beneath her seriously degrades the brand name. As in a few of the recent films, McCarthy has been carrying the show solely by her presence but oh boy does her talent feel thinly strained here.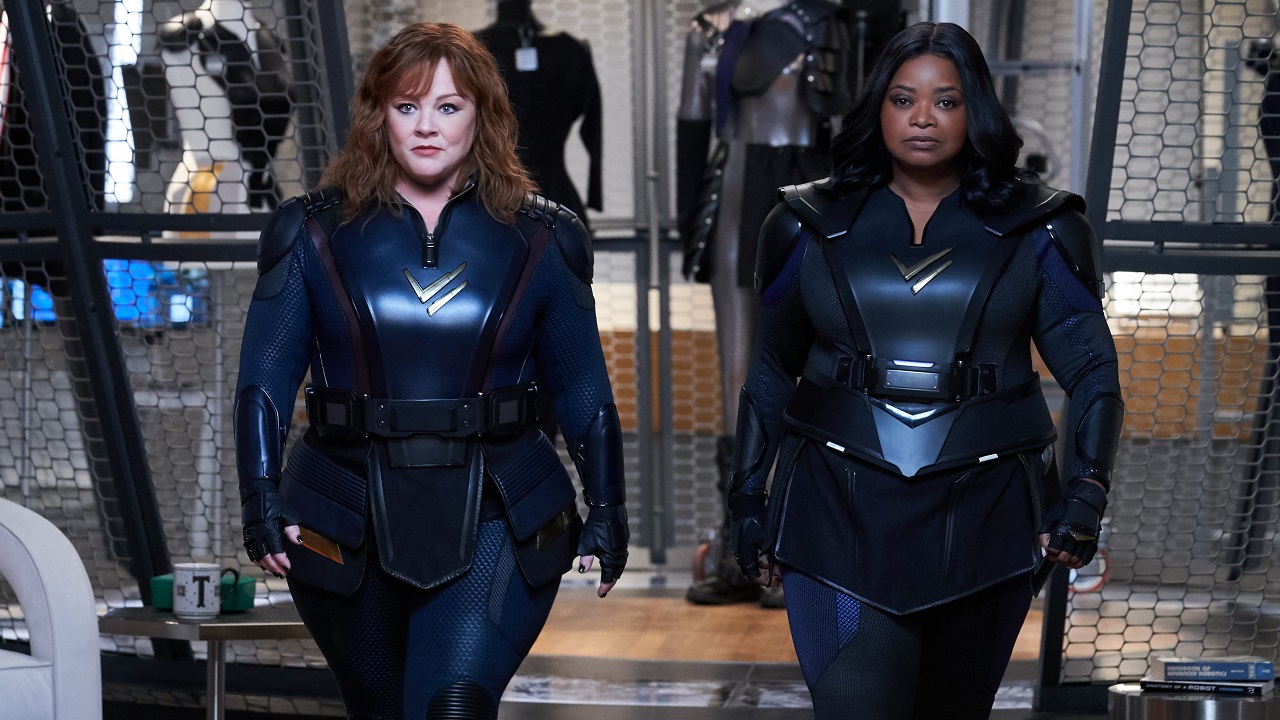 The Superhero Film has taken over the box-office in the 2010s and there have been a few comedy variations. These include some not very funny ones like Superhero Movie (2008), My Super Ex-Girlfriend (2006) and the far more amusing likes of The Incredibles (2004) and Super (2010), although none quite with the devastating wit of tv's The Boys (2019- ). Somehow amid this I didn't think a superhero film that had Melissa McCarthy's comic routines grafted onto it was going to do anything to redefine the genre.
As a superhero film, Thunder Force does little more than engage with stock elements of the genre in the most minimal ways. There's Melissa as a comic screw-up who is given powers; Octavia Spencer in a thankless role as the long-suffering friend (who also gets powers); the most nominal of explanations involving cosmic rays mutations, pharmaceuticals and training; a generic villain and a line-up of comic henchmen, although this does include Pom Klemienteff who holds attention with fiercely lethal effect whenever she turns up as a henchperson throwing around energy bolts.
Even lowered expectations fail to clue you in to how flat Thunder Force feels. It is a film first and foremost predicated around Melissa McCarthy's presence. However, you sit during some of the routines with her doing imitations of Steve Urkel from tv's Family Matters (1989-97) or about various Jodie Foster roles that fall flat on their face with a squirming embarrassment. Whole gags seem to be set up for the purpose of watching her throw a bus the length of a city block. You realise halfway through that what she gives is actually an Adam Sandler performance – she's cast in Sandler's favoured role of the slob who makes snide or sarcastic asides to indicate he is the smartest person inhabiting the show, while every other actor around does their best to cater to this and stay out of the limelight.
Certainly, the film does perk up with the introduction of Jason Bateman as the Miscreant with crab claws. The scenes with he and Melissa engaged in a romance are the funniest the film has. There is a particularly hilarious restaurant scene with Bateman berating a waiter for his insensitivity in offering a seafood tower and a rather hilarious coda to the scene that involves Melissa seducing him by rubbing butter on his claw.
---
Trailer here
---