---
UK/Japan. 1995.
Crew
Director/Screenplay – Stephen Norrington, Producer – Dominic Anciano, Photography – John de Borman, Music – Crispin Merrell, Digital Effects – Lost in Space (Supervisor – Christina Hogue), Image Manipulation – The Computer Film Company, Miniature Effects Supervisor – Roy Scott, Mattes – Mattes and Miniatures (Supervisor – Leigh Took), Special Effects Supervisor – Peter Hutchin'son, Makeup Effects – Creature FX and Dave Elsey, Animatronic Effects'– Animated Extras & Nik Williams, Production Design – Chris Edwards. Production Company – Entertainment Film Distributors/Victor Company of Japan/Fugitive Features.
Cast
Ely Pouget (Hayden Cale), Brad Dourif (Jack Dante), William Hootkins (John Carpenter), John Sharian (Sam Raimi), Martin McDougall (Yutani), Richard Brake (Scott Ridley), Andreas Wisniewski (Weyland)
---
Plot
The Chaank Armaments Corporation is under heavy criticism by protesters and the media for conducting unauthorized weapons research. At the Chaank board meeting, the new CEO Hayden Cale wants the rogue research lab of Jack Dante shut down. She steals the Vice President's swipecard to get into Dante's ultra-secure Vault 10 but Dante responds by activating The Warbeast, the killer robot he has hidden there, and sending it to kill the Vice President. When Hayden blocks out Dante's access codes, he responds by activating The Warbeast against she and three protestors that have broken into the corporate offices. They are forced to flee for their lives as the machine comes through the building after them.
---
Death Machine has a remarkable number of similarities to Hardware (1990). Both are films made by young novice British directors – Hardware's Richard Stanley was 24, Death Machine's Stephen Norrington was 31. Both stories feature non-humanoid killer robots pursuing a resourcefully tough heroine through a single building. Both make strong and assured use of Cyberpunk tropes in a way that allows each killer robot film to stand head and shoulders above the rest of the slavish clones of The Terminator (1984).
Both films were made on minuscule budgets and achieve genuine miracles in consideration. Both directors demonstrate a strong and aggressive flair for action with a real hard edge and style to spare. Both films also feature William Hootkins. There is an even more direct connection between the two films too – Death Machine director Stephen Norrington was previously a special effects technician and worked on the crew for the robot effects in Hardware. Both films were showcases for directors clearly destined to go onto greater things.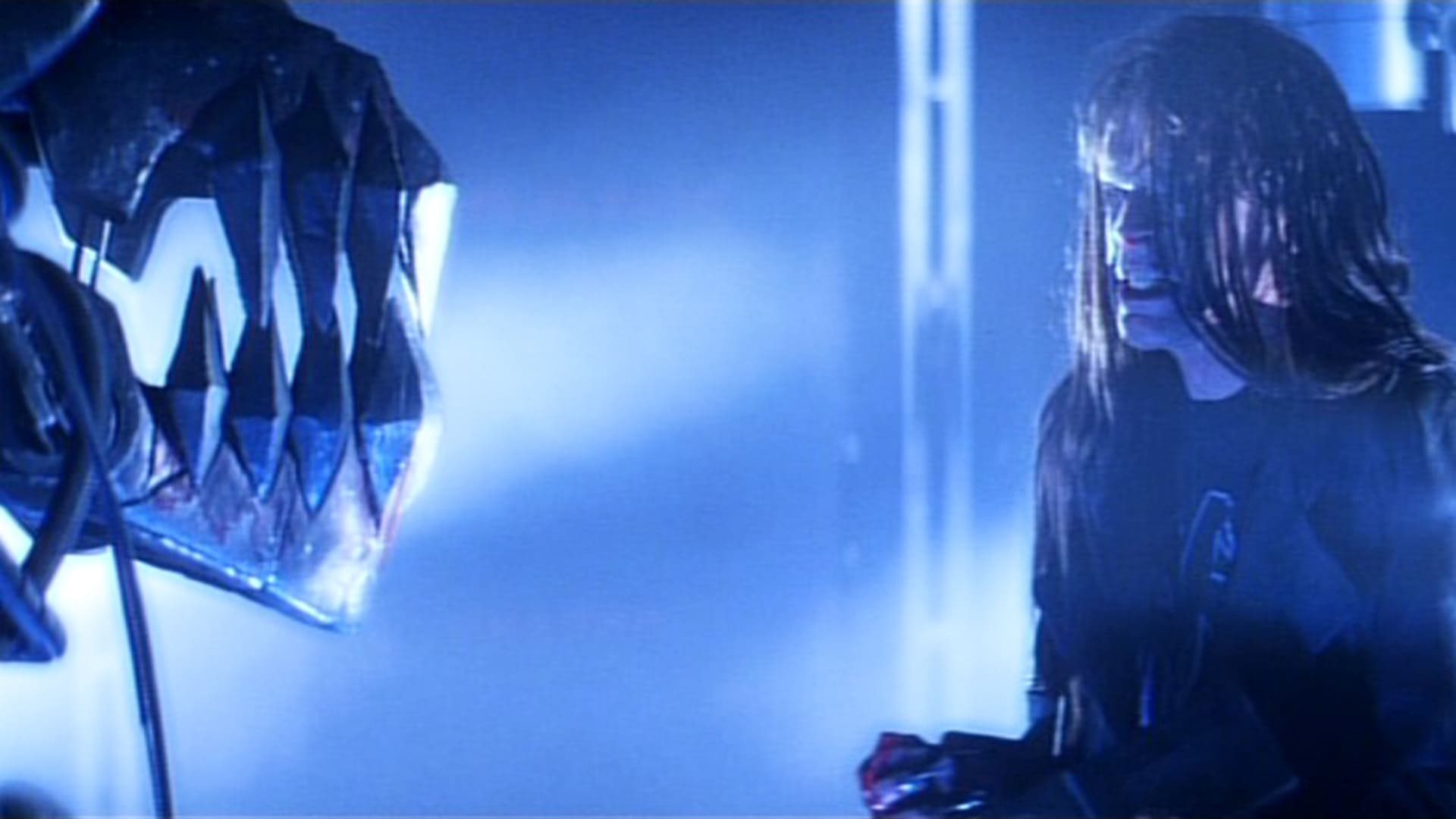 Death Machine hits in from its first scene. Stephen Norrington throws us into the midst of a hostage situation at a remote diner in the desert that is surrounded by cops, armed troopers and the burning wrecks of cars. Heavily armed SWAT teams enter the diner, finding it littered with bodies and small fires and finally go into the bathroom where a screaming woman cowers in one corner while a cyborg soldier stands over her mechanically punching holes in the wall. William Hootkins shuts him down and shrugs it off, "Override problem – happens all the time." It is a great opening that presages all manner of exciting things to come.
Stephen Norrington sustains the rest of the film almost as well. The climax with the robot pursuing the group through the building, with John Sharian entering into hand-to-hand combat with it is exceptionally well sustained – as easily as good as anything James Cameron did with The Terminator. The scene with the robot attacking the group in the lift has a breathless, seat-edge tension – with the robot only briefly glimpsed as a frightening creation of writhing high-speed claws and jagged clomping jaws, while the degree of blood spilt is both shocking and realistic. Brad Dourif is on top OTT form and acts his head off once again, while Norrington gives him full stage to do his thing.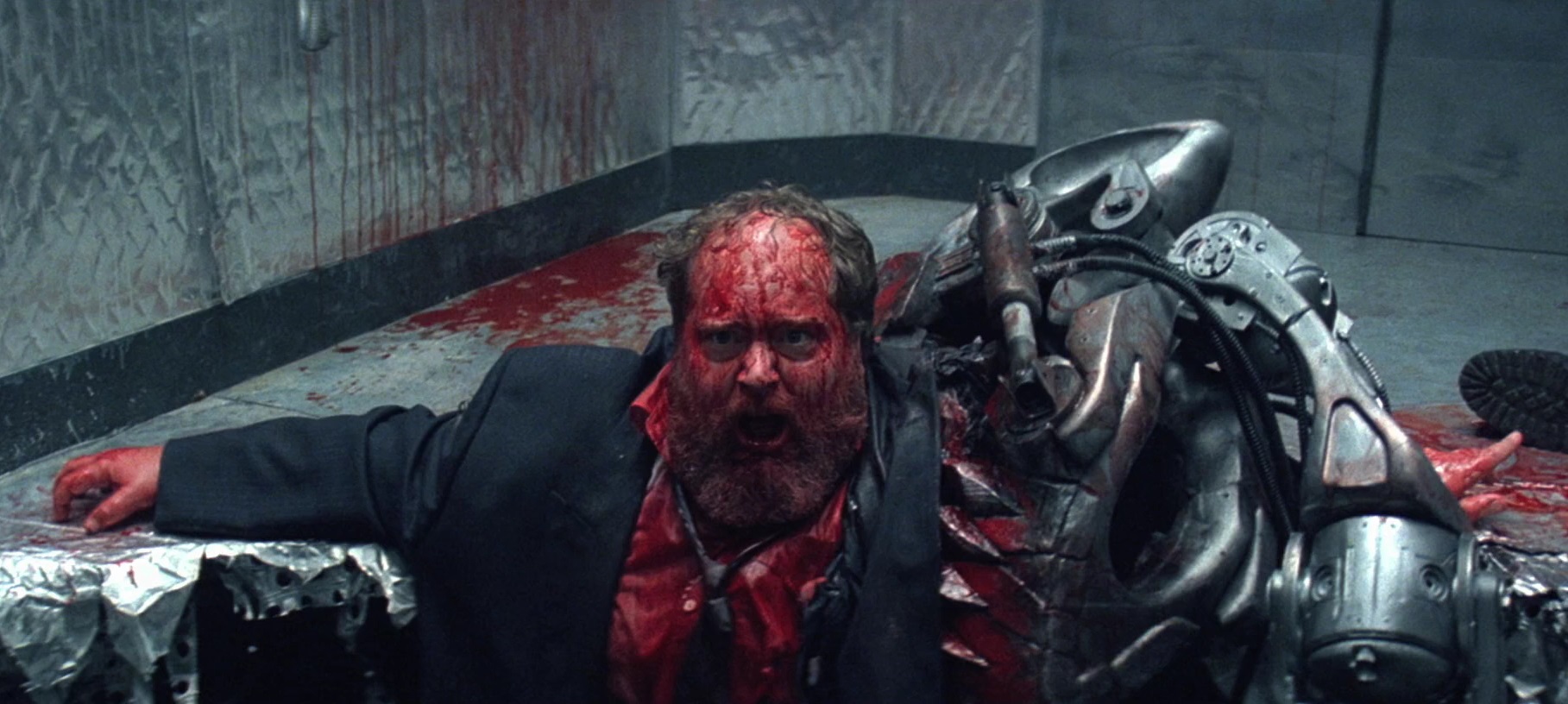 The only thing that fails to work is Stephen Norrington's use of in-jokes names, naming various characters after genre film directors – Sam Raimi, John Carpenter, Joe Dante and a Scott Ridley [Ridley Scott]. Having in-jokes in a film is one thing but naming the major characters such rapidly becomes belaboured. Furthermore, such repetitive in-jokiness is constantly detracting from the credibility of an otherwise wholly realistic film. Death Machine is a film that works well on its own merits and does not need such slavish fanboy enthusiasm.
Stephen Norrington began working in the British film industry, usually as an effects technician, specializing in animatronics and creature effects. He has a number of big-budget British-shot productions to his credit, including Return to Oz (1985), Young Sherlock Holmes (1985), Aliens (1986), The Witches (1990) and Alien3 (1992). Following Death Machine, Norrington went on to direct the big-budget adaptation of the Marvel comic book Blade (1998) and followed this with the little-seen, quasi-fantastic The Last Minute (2001), a philosophical journey of one man's moral fall, and the deeply problem-ridden but worthwhile adaptation of the Alan Moore graphic novel The League of Extraordinary Gentlemen (2003) concerning a team-up of characters out of Victorian fiction. Although he has been associated with Clash of the Titans (2010) and the remake of The Crow (1994), he has not made any films subsequent to that.
---
---