---
Crew
Director – Steve Barron, Screenplay – Rusty Lemorande, Producers – Rusty Lemorande & Larry De Waay, Photography – Alex Thomson, Music – Giorgio Moroder, Video Graphics – Tim Boxell, Mechanical Effects – David Harris, Production Design – Richard MacDonald. Production Company – Virgin Pictures.
Cast
Lenny Von Dohlen (Miles Harding), Virginia Madsen (Madeline Roberstadt), Bud Cort (Voice of Edgar)
---
Plot
Architect Miles Harding buys a personal computer to help organise his life. He chooses a machine that takes over and manages all his electrical appliances, lighting, cooking and home security. After Miles spills champagne on the computer in a foolish attempt to cool it down during an overload, it starts to develop a mind of its own. Hearing cellist Madeline Roberstadt rehearsing in the apartment above, the computer electronically accompanies her on its synthesizer. Thinking that this is Miles, she is touched. The two of them quickly fall in love. Not telling Madeline about the computer, Miles starts teaching it about love in order to get it to write love songs for her. However, as the computer's intelligence begins to grow, it starts to become jealous of him, wanting to love Madeline for itself.
---
Electric Dreams is a sweet little film. The playful computer-styled credits promisingly announce it as a "fairy-tale for computers". After all, at the time that Electric Dreams came out we had had films about computers and robots with sexual needs – Demon Seed (1977), Saturn 3 (1980) – why not romantic ones as well? Although the romantically inclined computer had first appeared in The Twilight Zone episode From Agnes– With Love (1964) where a female-personalitied computer develops feelings for its programmer and interferes in his love life, which has a surprising number of similarities to Electric Dreams, while just before this there had been the robot romance comedy Heartbeeps (1981), although that had proved a flop.
What follows though is a little too po-faced towards its subject to work. Electric Dreams lacks the promised effervescence, it is merely earnestly enthused when it should be colourfully tongue-in-cheek. And what should have been dizzy slapstick emerges as only heavy-handed. The romance is pleasant but bland – Virginia Madsen is, as always, fine but Lenny Von Dohlen, of unsettlingly piercing eyes, is played as an incredible drip.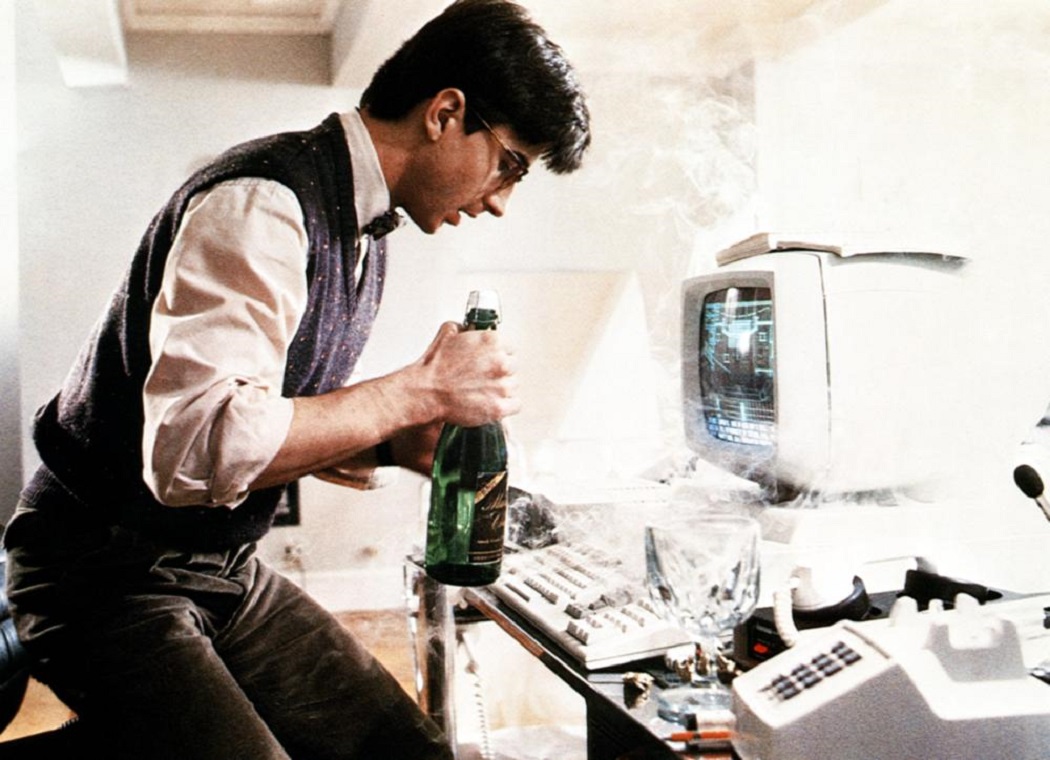 Electric Dreams ultimately feels more like an extended promo for its soundtrack album (it was after all made by the film subsidiary of Virgin Records) than a film. Director Steve Barron's background was in MTV and it seems he has never left it – the film is staged around the songs, a series of three-minute set-pieces where everything often stands still and Barron throws up a series of pleasantly disconnected visual montages while waiting for the song on the soundtrack to end. Elsewhere, Barron's camera is never still, craning and Steadicam zooming through the interiors to frame everything in stylish perspective. It's energetic but is there much point? Electric Dreams is a nice film but is hard to take seriously when one is asked to take the bland warblings of Boy George or the flat inflectionless voice of Phil Oakey as all that is representative of beautiful love music.
Electric Dreams was the first film from Steve Barron. Barron went onto direct a number of other genre works including Teenage Mutant Ninja Turtles (1990), Coneheads (1993), The Adventures of Pinocchio (1996), Rat (2000), Supervized (2019) and the tv mini-series' Merlin (1998), Arabian Nights (2000), Dreamkeeper (2003), Delete (2013) and Around the World in 80 Days (2021). Barron was also co-founder of Canada's Mainframe Entertainment, the world's first commercial computer animation studio who have produced the likes of the ReBoot (1994-8) and Beast Wars: Transformers (1996-9) tv series. Writer-producer Rusty Lemorande went onto direct Cannon's disaster-laden Journey to the Center of the Earth (1988) and an adaptation of the classic ghost story The Turn of the Screw (1992).
---
Trailer here
Full film available online here:-
---