---
Crew
Director/Screenplay – Andrew Bowler, Producers – Raymond Mansfield & Matthew Rhodes, Photography – Luke Geissbühler, Music – Andrew Lockington, Special Effects Supervisor – Ryan Roundy, Production Design – Tom Lisowski. Production Company – QC Entertainment/Rhodes Entertainment/Beach Pictures.
Cast
Asa Butterfield (Stillman), Sophie Turner (Debbie), Skyler Gisondo (Evan), Will Peltz (Ryan), Aubrey Reynolds (Blue Ribbons), Joseph Park (Andy), Jillian Joy (Carly)
---
Plot
Stillman is distraught after his girlfriend Debbie decides to break up with him. A genius physics student, he perfects a time travel device. He introduces it to his best friend Evan and tells of his plan to travel back to what he has identified as the biggest problem spots in the two years he was with Debbie and fix the issues. He and Evan go back and inhabit their own bodies during these points in time as Stillman makes multiple attempts to change events for the better.
---
Time Freak comes from Andrew Bowler, previously a producer on various documentary tv series. Bowler had earlier written and directed The Descent of Walter McFee (2002), another relationship drama, but this does not appear to be widely seen. Bowler had made the genesis of this as the earlier ten-minute short film Time Freak (2011), which was nominated for an Academy Award for Best Short Film, leading to him gaining funding to expand it to full length.
Time Freak is a time travel romance. We have had various films on the topic before with the likes of Somewhere in Time (1980), Happy Accidents (2000), Kate & Leopold (2001), The Lake House (2006), Cyborg She (2007) and The Time Traveler's Wife (2009). With its plot about editing time to create the perfect relationship, what Time Freak most resembles is a film like Twice Upon a Yesterday (1998) or The Butterfly Effect (2004), which featured people going into the past to fix their relationships. In particular, Time Freak resembles the romantic comedy About Time (2013) where Domhnall Gleeson had a mental ability to travel in time and used to perfect his relationship with Rachel McAdams. (For more detail see Time Travel Films).
During the initial scenes here, I never connected with the relationship between Asa Butterfield and Sophie Turner. The problem is that Andrew Bowler introduces us to them as they are breaking up so we get no insight into what it is that Asa is so obsessed with recapturing. Certainly, Sophie Turner, the British actress best known for tv's Game of Thrones (2011-9) (she shot this during the hiatus between seasons of the series), does a perfectly creditable job of imitating an American accent and coming across as the quintessential girl next door.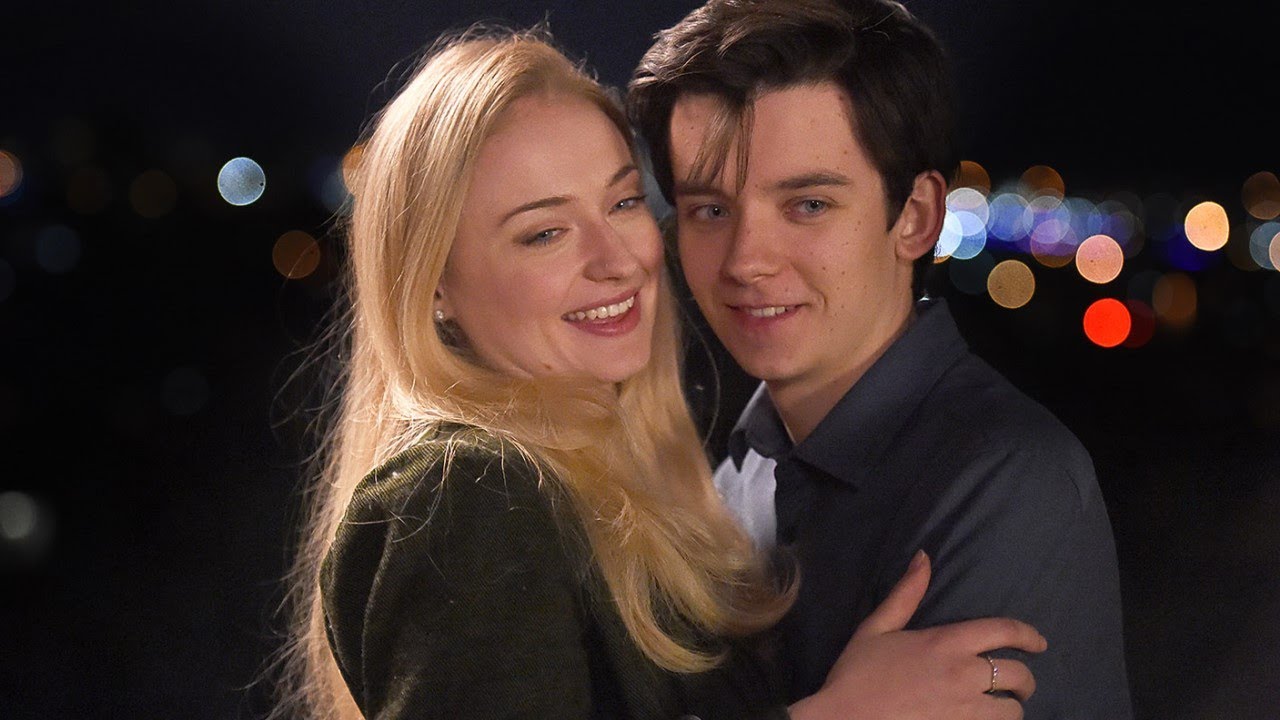 Eventually some of her and Asa's scenes together start to work reasonably well. Although what got me was the term 'time freak' – you could describe Asa as a nerd but in all respects he is a decent kid, hardly a freak, a term that suggests someone outside the social norm if not a deviant.
The film is also the conceptual problem you get in any light treatments of scientific innovation – that someone makes an incredibly world-shattering discovery like time travel and all they can put it to is not changing the world and receiving acclaim but bettering their romantic chances. This is also film that steps around many of the more interesting conceptual possibilities that time travel offers and what changes to the timeline would entail. We do get some of this in the comic scenes where Skyler Gisondo is stuck in the same scene in an elevator because Asa Butterfield wants to replay a perfect moment between he and Sophie Turner on a rooftop.
Things get more substantial during the second half where Andrew Bowler expands out beyond making merely a romantic comedy and features some more imaginative scenes like where Skyler Gisondo skips forward in time and finds he is moving in with Aubrey Reynolds, a girl he hit on at the athletics track, but has no memory of the ensuing relationship, which did not occur in the primary timeline. The latter sections abandon the romantic aspect and have an interesting plot about how Asa Butterfield has edited the timelime to remove all conflict, meaning that Sophie Turner feels bored and aimless with her domesticated life. The final scenes of the film are ones where the romantic element eventually clicks into place quite nicely.
---