aka Cyborg Girl
(Boku no kanojo wa Saibogu)
---
Crew
Director/Screenplay – Kwak Jae-young, Producers – Hidemi Satani & Matachiro Yamamoto, Photography – Junichiro Hayashi, Music – Naoki Otsubo, Visual Effects Supervisor – Masaru Tateishi, Production Design – Tomoyuki Maruo. Production Company – Gaga Usen/Amuse Soft Entertainment/Tristone Entertainment Inc. Production/Bear Entertainment, Inc./Centurion Movie & Knowledge-Based Service 3rd Investment.
Cast
Keisuke Koide (Jiro Kitamura), Haruka Ayase (Cyborg), Kenta Kintane (Kenta Sato)
---
Plot
Tokyo, Christmas, 2008. Jiro Kitamura is a lonely university student. While in a department store, he observes a girl stealing clothes and shoes. She joins him as he sits down to treat himself to a birthday dinner in a restaurant. They flee without paying the bill and go on an adventure. Before departing, she tells him that she came back in time from a hundred years in the future. One year later, the same girl appears on the same day and goes through the same thing meeting Jiro. She reveals to Jiro that she is a cyborg and was built by himself after he became a renowned scientist. She is unworldwise and he tries to train her in human ways. Throughout this, an affection grows between them.
---
Cyborg She was a Japanese film that comes with the rare distinction of being shot by a non-Japanese director – in this case the South Korean Kwak Jae-young. Kwak has mostly specialised in romantic comedies. A surprising number of these have fantastic elements including the ghost romance Windstruck (2004), My Mighty Princess (2008) about a superpowered college student, Crying Out in Love (2016) about messages from the future, plus the thriller Time Renegades (2016) about two people sharing dreams of other's lives in different time periods.
Japan produces teen romantic films by the bucketload. They are sweet, mawkish and unashamed about what they are. Indeed, Kwak Jae-young has made a career not only making them in South Korea but also in Japan and China. Cyborg She feels less like a science-fiction film than it does one of these romantic films. In the opening scenes, you could write Haruka Ayase being a cyborg out and let everything play out as a regular teen romance between a shy, lonely guy and a quirky, unconventional, rule-breaking girl.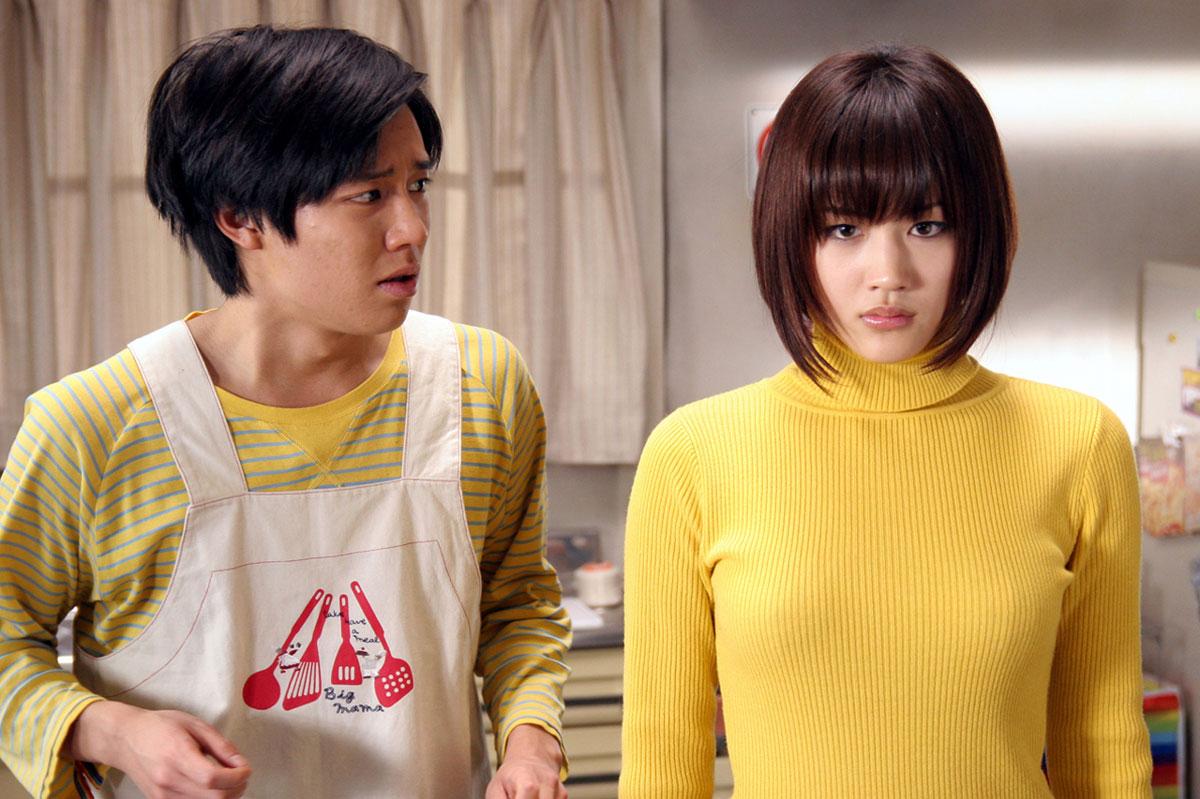 If the sappy, mawkishness of the romance doesn't switch off, then much of the film also comes with a simple-minded comic slapstick. Here all the figures that the two characters defy – the restaurant owner whose bill they flee from without paying, the bakery owner they steal from, the cop pursuing them – are buffoonish characters who are constantly on the receiving end of pratfalls. Jiro's professor throws his piece of chalk at them and when Haruka Ayase throws it back at him with a force that penetrates the blackboard, the professor just stands there for a couple of minutes making a series of facial contortions.
And then there are scenes where the cyborg deals with thugs in an alley and a shooter in a restaurant. These come directed in terms of absurdly unrealistic action moves that feel as though they have accidentally strayed in from a cartoonish superhero film. There is also an interlude going back in time to visit Jiro's hometown and wandering about while a sentimental song plays on the soundtrack that drags things out way longer than the film's 120-minute runtime.
The one thing I will commend about the film is the fact that it has a script that is rigorous about following the time travel logic. The last section of the show takes the story in surprising directions that one didn't expect at all, using time travel perspectives to reveal an entirely different story that the one we thought had occurred.
---
---