---
Crew
Director – Michael Powell, Screenplay – Emeric Pressburger, Photography – Christopher Challis, Music – Patrick Gowers & David Vorhaus, Art Direction – Bernard Sarron. Production Company – Roger Cherrill Ltd./Children's Film Foundation Ltd.
Cast
Mark Dightam (John Saunders), Robert Eddison (Nick), Helen Weir (Mrs. Saunders), Brian Worth (Ted Saunders), Laurence Carter (Schoolteacher), Lem Kitaj [Dobbs] (Munro), Esmond Knight (Dr Shaw)
---
Plot
On a class trip to the Tower of London, schoolboy John Saunders loses Alice, one of his pet white mice. John is on the Underground when suddenly he, the carriage and the other passenger turn yellow. He is one among several people in the same area of the city that have also been turned yellow. Authorities and doctors are baffled as to the cause. That night, John receives a visit from a mysterious alien who calls himself Nick, short for 'electronic'. Nick demonstrates to John how he can travel along electrical waves and use these to move through the tv. Together the two of them return to the Tower of London to search for Alice only for John to be arrested by the Beefeaters and sentenced to execution.
---
Michael Powell (1905-90) was one of the great Wartime and post-War British film directors. Powell's stature is something that has been underrated in subsequent years but he made a series of classic films with the likes of The Life and Death of Colonel Blimp (1943), A Canterbury Tale (1945), A Matter of Life and Death/Stairway to Heaven (1946), Black Narcissus (1947), The Red Shoes (1948) and Peeping Tom (1960), among others. These were extraordinary Technicolor fantasies in a time when the majority of films were still being made in black-and-white. Powell made a number of these in collaboration with his co-writer and frequent co-director Emeric Pressburger. He also made a number of works that fall into genre territory (see below for which).
The Children's Film Foundation was a UK non-profit organisation set up in 1951. Up until the mid-1980s, The Foundation produced a series of films for children intended to serve nominal educational purpose. Most of these are under one-hour in length – The Boy Who Turned Yellow, for instance, comes in at 55 minutes. There are several among these that were of genre note, most notedly Professor Popper's Problem (1975), The Glitterball (1977), A Hitch in Time (1978) and Haunters of the Deep (1984).
The Boy Who Turned Yellow was Michael Powell's last film, apart from Return to the Edge of the World (1978), a documentary where he and his cast and crew revisited one of his earlier films. By this point, Powell had reportedly fallen out of favour among the British film establishment and could not command the resources he did during his heyday. The Boy Who Turned Yellow was made on one of the typically lesser budgets The Children's Film Foundation preferred and is a far cry from the lavish painterly studies of colour and screen that Powell was known for in his heyday. None of that however explains what a bizarre experience the film is.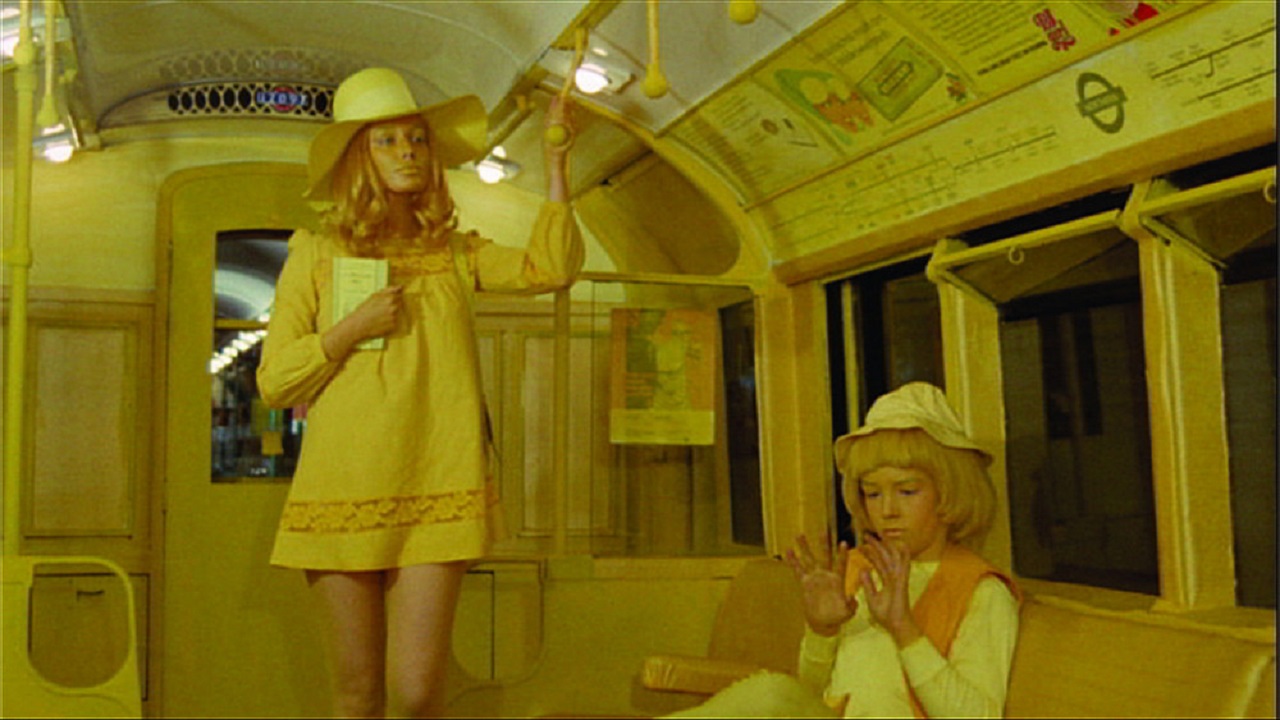 It is quite possible that the film took some inspiration from The Boy With Green Hair (1948), an anti-War fable in which a young Dean Stockwell wakes up with green hair. Mark Dightam undergoes a similar colour-based transformation here but that is about the end of comparisons. Being made for the Children's Film Foundation, the film does come with the apparent requirement that it serve some educational function. Thus we get classroom discussions about how electricity travels in waves and some facts dropped about the Tower of London. Powell and Pressburger then forget about any educational value and get weird.
Things get decidedly strange from about the point that Mark Dightam is on the London Underground – where he, an underage schoolboy, is making eyes at a beautiful woman seated nearby! – before both he, the woman and entire subway carriage abruptly turn yellow. It becomes apparent that some 400 people in the general area have been affected, although attempts to explain what is going on come to no avail. Aliens are speculated as being a possible cause.
After everyone goes to bed, Dightam receives a visit from the alien (Robert Eddison) – a man also all in yellow who wears a set of skis indoors, along with a motorcycle helmet that has a rotating yellow siren light on top. The man, who calls himself Nick (short for electronic), talks some nonsense about how he travels on electrical waves and then proceeds to take Mark Dightam with him as they travel through the broadcast waves of the tv set – at one point, he and Dightman materialise on the pitch in the midst of a live televised soccer game.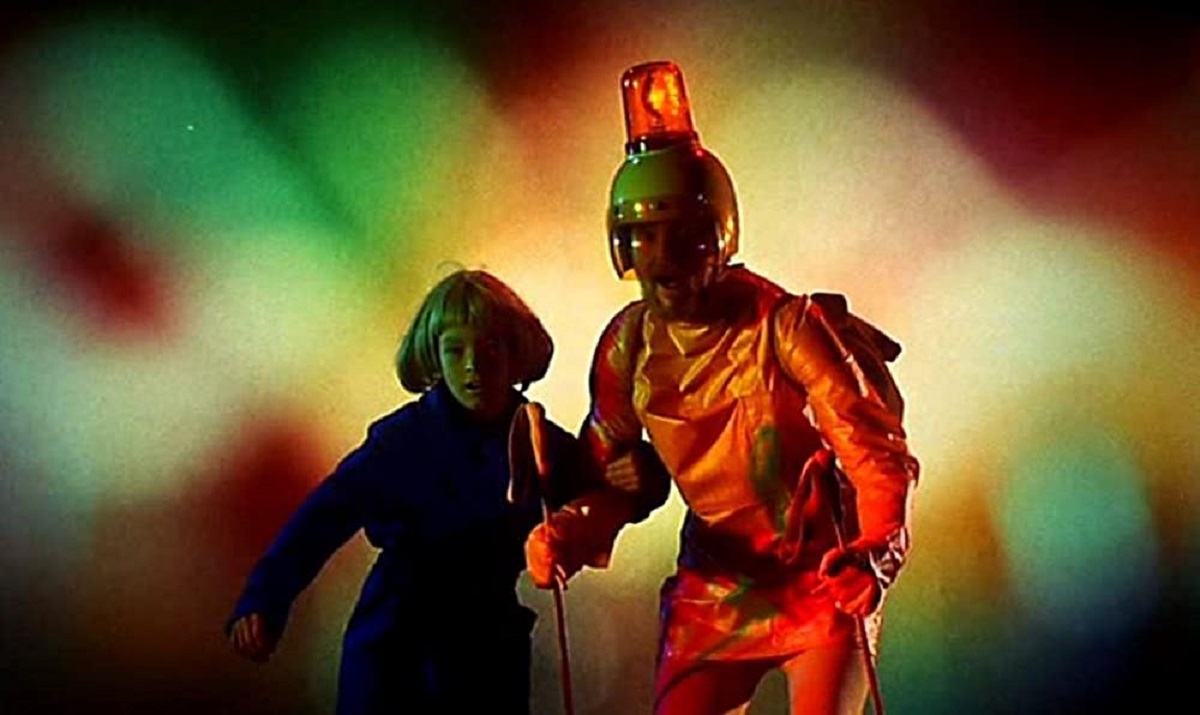 They then emerge out of the tv at the Tower of London and attempt to find the missing mouse. This ends up with the Beefeaters running around after the mouse and then pursuing Dightam, something that looks absurdly cramped when conducted in the constricted confines of the Tower's stone staircases. (The film was shot in the actual Tower of London and the end credits thanks the real Beefeaters for allowing themselves to be painted yellow!) Dightman is then arrested and sentenced to be executed (all without the benefit of any law courts and despite the death penalty having been abolished in the UK in 1965) before he asks for a last request and has a tv brought to him whereupon Eddison helps him disappear into it.
In the strange and unusual connections department, Lem Kitaj, who plays the role of Mark Dightam's bespectacled school friend, grew up to become a screenwriter. Kitaj later adopted the name Lem Dobbs where he wrote scripts for the likes of Hider in the House (1989), Dark City (1998), Gotti (2018) and several Steven Soderbergh films including Kafka (1991), The Limey (1999) and Haywire (2011).
Michael Powell's other films of genre note are:– The Phantom Light (1935), a little-seen comedy-thriller set in a supposedly haunted lighthouse; as co-director of The Thief of Bagdad (1940); the afterlife fantasy A Matter of Life and Death/Stairway to Heaven (1946); the ballet fantasy The Red Shoes (1948); the ballet fantasy portmanteau The Tales of Hoffmann (1951); and the classic psycho film Peeping Tom (1960).
---
Clip from the film here
---