---
Crew
Director – John Hayes, Screenplay – Ray Frank Perilli, Producer – Charles Band, Photography – John Huneck, Music – Andrew Belling, Electronic Music Programmer – Joel Goldsmith, Special Video Effects – Sunrise Canyon Video, Special Effects – Harry Woolman, Makeup Design – Steve Neill, Art Direction – Serge Krizman. Production Company – The Irwin Yablans Company/Charles Band Ltd.
Cast
Kirk Scott (Professor Andrew Boran), Christopher Lee (Father Pergado/Zindar), Sue Lyon (Sylvia Boran), Lew Ayres (Commander Joseph Beckerman), Dean Jagger (Ray Collins), MacDonald Carey (John Davis)
---
Plot
Professor Andrew Boran is part of a NASA communications program. He picks up strange messages from space and decodes these to find that they predict disasters before they happen and moreover that they are being replied to from Earth. He and his wife Sylvia set out to trace the source of the signals and find that they appear to be coming from a convent. Investigating the convent, they are captured by the priest Father Pergado and the nuns. They reveal that they are aliens who have been stranded on Earth and have cloned themselves from the bodies of the original priest and nuns. Father Pergado now holds Sylvia a hostage and demands that Boran steals a Variance Crystal from the lab so that they can return home before the coming destruction of Earth.
---
End of the World is a film of reportedly fascinating badness. I have been trying to find a copy of it for years. It was one of the earliest films produced by Charles Band (the fourth by all good accounting) who went onto become the principal force behind Empire and Full Moon Productions, producing numerous low-budget genre films such as Re-Animator (1985), the Ghoulies, Trancers, Prehysteria, Subspecies and Puppetmaster series. Director John Hayes also made Dream House (1971), Garden of the Dead (1972) and Grave of the Vampire (1972) but elsewhere appears to have made only pornographic films. Screenwriter Ray Frank Perilli wrote a number of other films produced by Band and his father Albert, including Mansion of the Doomed (1976), Cinderella (1977), Laserblast (1978), Zoltan – Hound of Dracula (1978), and later went onto Alligator (1980).
It is amusing to read interviews with Christopher Lee from the 1970s in which he stated that he gave up wanting to work with Hammer Films, where he came to fame as a horror icon in the late 1950s, because the quality of the films he was being offered were beneath him – and to then, only a matter of 2-3 years after that point, go onto make films like End of the World, Starship Invasions (1977) and Captain America II (1979). In Lee's defence, he claims that the producers of End of the World lied to get him to sign on – although one cannot help but think that the quality of the exercise is something that would surely have been evident to him from say about the point that he read the script. From the very opening scene where he runs into a diner like a madman, surrounded by exploding coffee machines and telephone booths, you hang you head in shame and think "Oh, Christopher".
The film itself is extremely dull – emphasis on the extremely. After the opening scene where Christopher Lee is introduced at the diner, we have half-an-hour of near-torpid activity that consists of Kirk Scott at work, mysterious computer printouts (most of which are impossible to read), scenes of Kirk Scott with his wife Sue Lyon, them at a party then going to visit the convent. Nothing happens during this period. The film then proceeds to unveil a plot that is utterly bizarre in its melange of elements, involving aliens stranded on Earth, predictions of disaster before they happen, mysterious communications to and from space, and aliens inhabiting the cloned bodies of a priest and several nuns.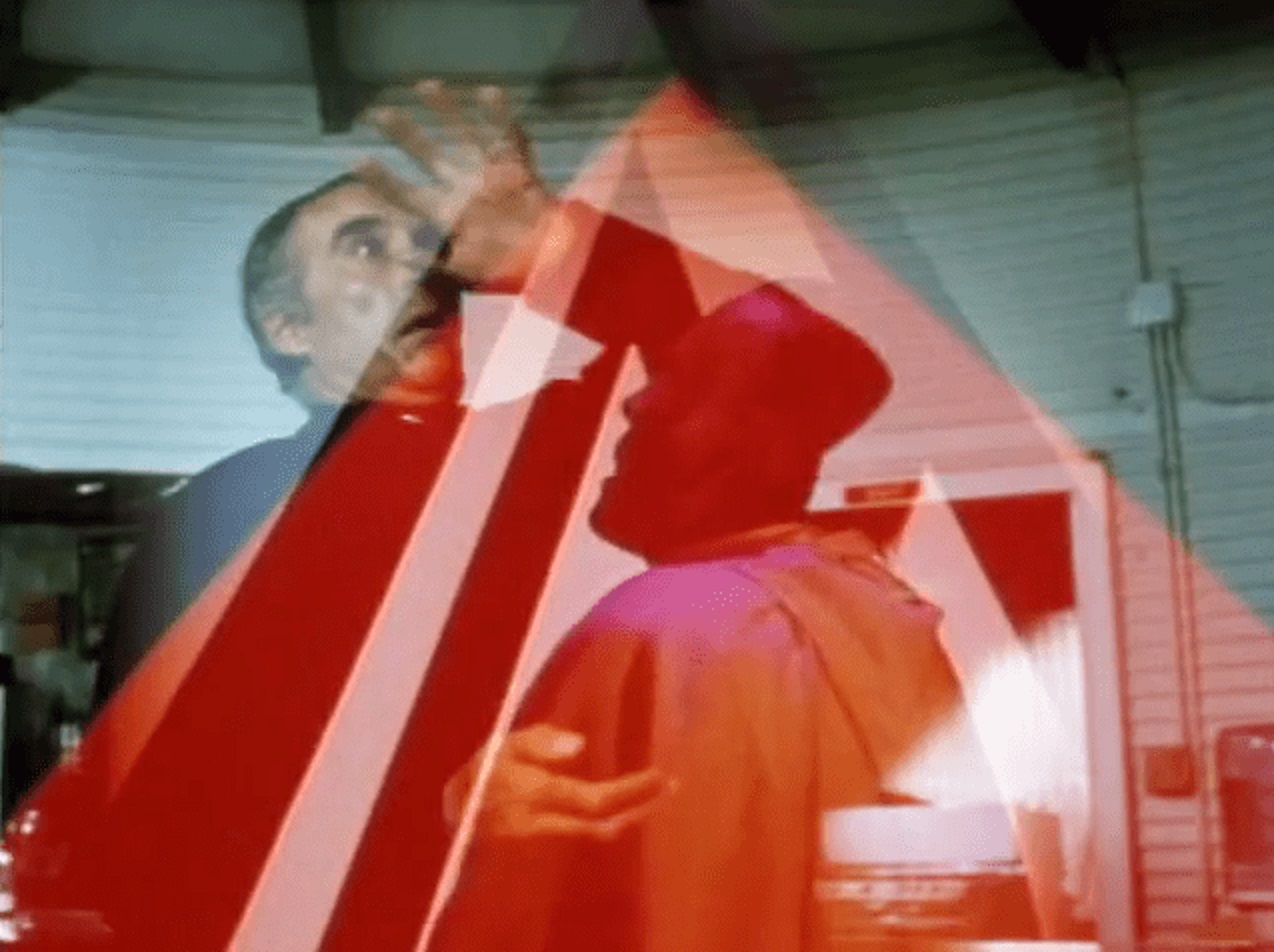 Most of the concepts dealt with are ones that the script only seems to half understand. The scientific terminology bandied around is completely nonsensical as witness terms like: "There has been a disturbance in the negative velocity." It is never fully explained why there are predictions of disasters about to happen encoded in signals to space – moreover, the signals are forgotten about altogether once we reach the convent. The convent scenes do lead to some laughable images – like those of nuns standing around pretending to activate alien computer technology. The film arrives at a bizarrely abrupt ending where the aliens activate the Earth's destruction and disappear through the portal back home, where husband and wife Kirk Scott and Sue Lyon, after initially declining the offer, shrug and disappear through the portal too. There is a cheap model explosion of the Earth being destroyed. The End. What seems considerably lacking is any struggle and effort made to turn back the destruction, let alone any consternation on the couple's part about the end of the world and abandoning their families and friends.
The pacing is incredibly dull and even when the aliens are introduced, still not very much happens. To its credit, the same plot, minus the convent angle and with the addition of a whole lot more coherence, also served as the basis of the much better The Arrival (1996). Through it all, Christopher Lee plays with customary booming gravitas and gives an entirely silly role far more than it deserves. Joel Goldsmith, the son of celebrated, Oscar-winning composer Jerry, delivers a score made up of early electronics. The production at least appears to have gotten permission to go and film at some real NASA facility, or at least a hi-tech industrial control centre, as the laboratory scenes look a good deal more convincing here than they do in most science-fiction films. Sue Lyon, who is cast as the scientist's wife, once played the teenage title role in Stanley Kubrick's Lolita (1962).
---
---