aka Alien Encounters; Alien Wars
---
Canada. 1977.
Crew
Director/Screenplay – Ed Hunt, Producers – Ed Hunt, Norman Glick & Ken Gord, Photography – Mark Irwin, Music – Gil Melle, Special Effects/Technical Design – Warren Keillor, Makeup – Maureen Sweeney Agencies, Art Direction – Karen Bromley. Production Company – Hal Roach Studios.
Cast
Robert Vaughn (Professor Allan Duncan), Christopher Lee (Captain Ramses), Daniel Pilon (Anaxi), Tiiu Leek (Phi), Helen Shaver (Betty Duncan), Henry Ramer (Malcolm), Kate Parr (Diane Duncan), Victoria Johnson (Gezeth)
---
Plot
Telepathic aliens belonging to the Legion of the Winged Serpent from the planet Alpha invade Earth in UFOs and begin abducting humans and conducting breeding experiments. They decimate the members of the peaceful League of Races who guard Earth from inside a pyramid beneath the Bermuda Triangle. As the Legion triggers an orbiting weapon that drives humanity to commit suicide en masse, survivors of the League contact astronomer and noted UFO debunker Professor Allan Duncan, imploring his help in repairing their damaged ship and defeating the Legion.
---
This Canadian sience-fiction film, generally looked down upon by most genre commentators, is a fascinatingly bizarre affair. If its release had not been sandwiched right between the two, it could be accused of being an attempt to exploit the twin science-fiction successes of 1977 – namely Star Wars (1977) and Close Encounters of the Third Kind (1977). Indeed, two of the previous titles that the film was tried out under – Alien Encounters and Alien Wars – give indication that the producers were only too aware of the territory they were starting to get close to. Whether such is the case or not, Starship Invasions gives indication of trying to combine both Star Wars and Close Encounters in one – and the results are outlandishly entertaining.
The plot seems to be trying to pack as much Age of Aquarius and UFO mysticism in as possible. It touches obvious bases with Erich von Daniken, locating the aliens in pyramids beneath the Bermuda Triangle and giving them Graeco-Egyptian names like Ramses and Phi. The film seems a wonderful concoction of all that is bad science-fiction played in absolute deadpan – alien women in bikini costumes and white spandex jumpsuits; pyramid interiors with blinking esoteric lighting schemes; bald aliens of coolly aloof superiority; a robot that is clearly an extra dressed in a crinkly grey spandex jumpsuit, gloves and a diving helmet with long metal spikes of no discernible function; an amazing series of UFO abductions, including the proverbial one where a dim-witted yokel is forced to have sex; UFO shootouts in outer space; mind-control devices that cause anarchy and suicide on the streets. What more could one possibly want?
It is all played with a remarkable sense seriousness. What is more it works – the mysticism is conveyed with such a sense of solemnity that it achieves its own level of colourfully spectacular naivete. The plot, of course, verges on the almost totally incoherent. Indeed it is a plot that would not have been amiss as that of a serial – it even has the structure of a serial plot – and indeed some of the costumes, particularly that of the robot, look as though they have been dug out of the Republic costume warehouse.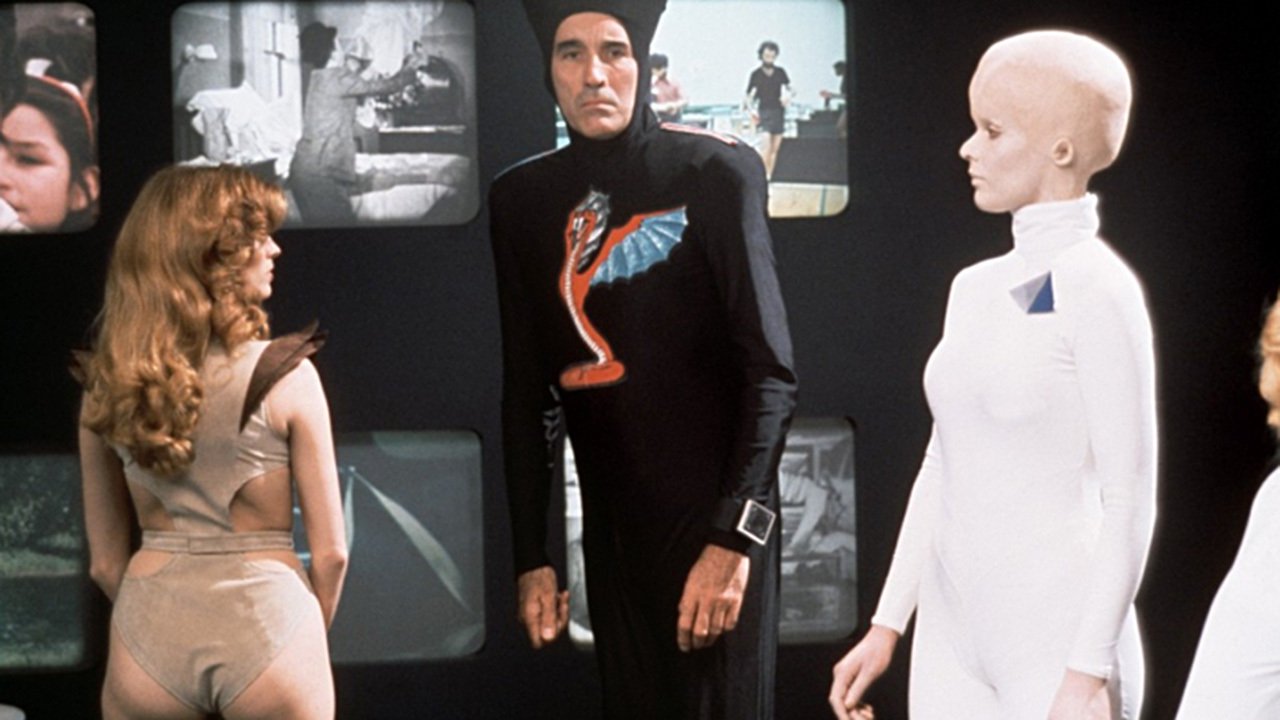 The only people who seem to be regarding the exercise with derision are the name actors – Christopher Lee and Robert Vaughn – who both seem to be sleepwalking through with grim determination. Christopher Lee has called Starship Invasions the worst film he has ever made. Throughout he is ignominiously decked out in black robes and clerical mitre, while having to deliver all his dialogue as dubbed-over telepathy, but he nevertheless plays with a poker-faced professionalism. Robert Vaughn on the other hand plays with a totally stiff lack of expression.
The quality of the special effects is surprisingly good – the UFOs zip about in three-dimensional trajectories, the camera does some nifty pans around and past the moon, and the climactic war between various alien fleets is quite exhilarating. There is at least one shot of a fleet of UFOs coming out of perspective and flying past a sun on one side of the screen and a planet on the other that is superb.
Starship Invasions was the most entertaining film made by Canadian director Ed Hunt. His other films were the plague outbreak thriller Plague/M3: The Gemini Strain (1978), the evil children slasher film Bloody Birthday (1981) and the cheesy The Brain (1988).
---
---