---
USA. 1991.
Crew
Director – Duncan Gibbins, Screenplay – Duncan Gibbins & Yale Udoff, Producer – David Madden, Photography – Alan Hume, Music – Philippe Sarde, Visual Effects Supervisor – Dale Fay, Graphic Effects – Light and Motion (Supervisor – Robert Ryan), Special Effects Supervisor – Steve Galich, Makeup Effects – Art & Magic (Supervisor – R. Christopher Biggs), Production Design – Peter Lamont. Production Company – Nelson Entertainment/Interscope Communications.
Cast
Gregory Hines (Colonel Jim McQuade), Renee Soutendijk (Dr Eve Simmons/Eve VIII), Michael Greene (General Curtis), Kurt Fuller (Bill Schneider), John M. Jackson (Peter Arnold), Ross Malinger (Timmy Arnold), Kevin McCarthy (Bill Simmons)
---
Plot
Dr Eve Simmons takes Eve VIII, a female military surveillance android she has designed in her own likeness, on test maneuvers in the downtown area. However, Eve VIII is damaged while trying to foil a bank robbery and goes amok, trapped in Battlefield Mode. Anti-terrorist specialist Jim McQuade is brought in to stop Eve VIII as it goes on a spree, trying to eliminate the hurts it has inherited from its creator's past. Their efforts to stop it are hampered by the fact that Eve VIII has a built-in nuclear weapon that can be detonated at the slightest threat.
---
Eve of Destruction is construed as of the numerous copies of The Terminator (1984) that came out in the late 1980s/early 90s. It is probably one of the dullest and certainly the most brainless of these.
Director Duncan Gibbins' action slams and bangs with as much routine excitement as the film's medium budget can muster. However, the things that one is asked to find credible programming and design for an android are impossible to believe – one can perhaps ignore the ridiculousness of taking a military defence robot into a downtown bank on test maneuvers but to build a robot with built-in thermonuclear capacity that can be set off by a good bump and with no off-switch or override commands defies so much common sense as to verge on the laughable. The scenes with the android coming on to guys and biting their dicks off, or ramming drivers on the highway are ludicrous. Eve of Destruction is a super-dumb film.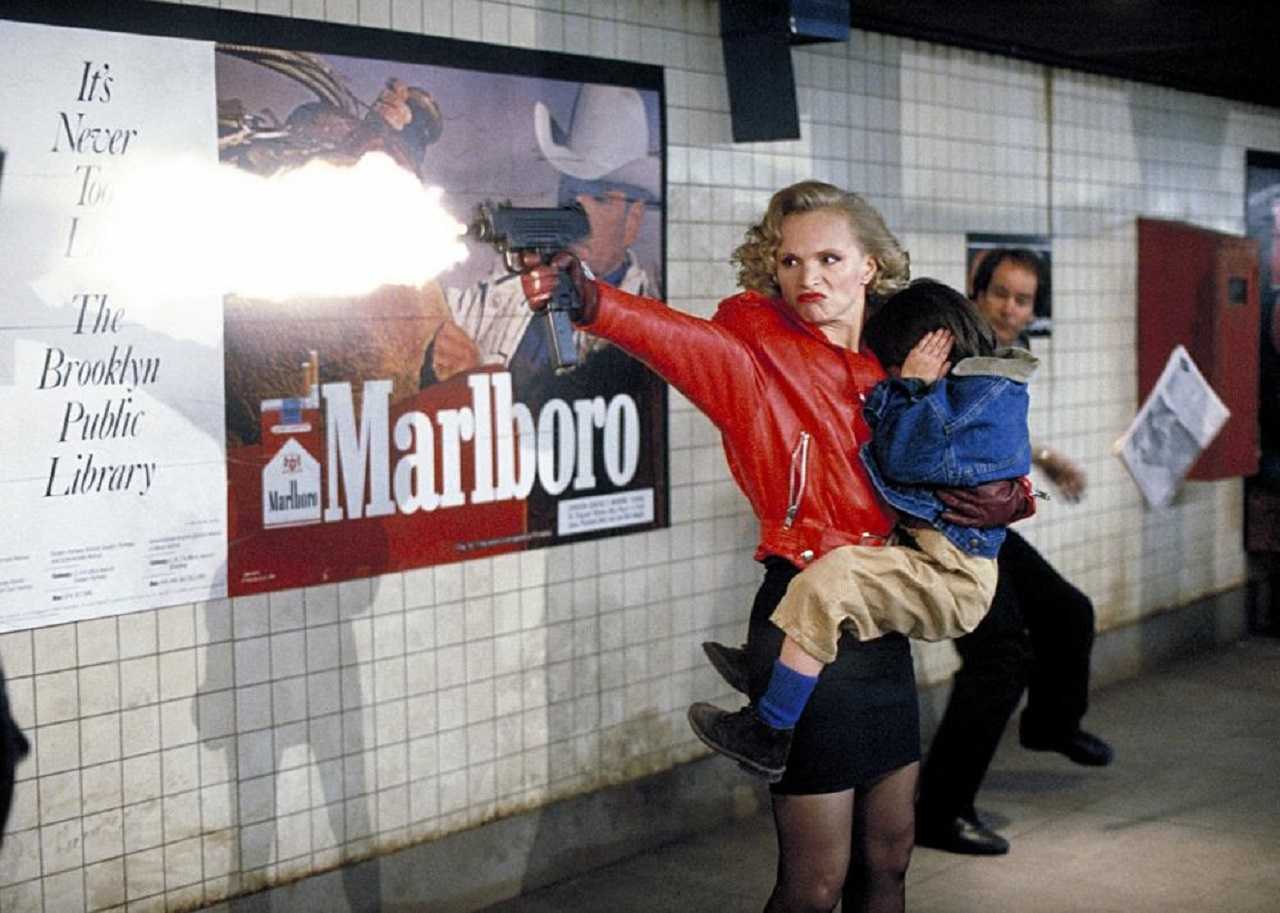 Dutch actress Renee Soutendijk is okay in her American debut, although a clearly miscast Gregory Hines, who spends most of his time yelling at her, comes across amazingly dopily.
Eve of Destruction was only the second of two films that director Duncan Gibbins would make. Having come from a number of acclaimed music videos for 80s artists like ABC, Eurythmics and Wham, Gibbins was killed two years after this when he was burned inside his home by a Malibu wildfire.
---
Trailer here
Full film available online here:-
---