aka Shadowchaser
---
USA/UK. 1992.
Crew
Director – John Eyres, Screenplay – Stephen Lister, Producers – John Eyres & Geoff Griffiths, Photography – Alan M. Trow, Music – Gary Pinder, Model/Special Effects Supervisor – Brian Smithies, Prosthetic Effects Supervisor – Chrissie Owens, Makeup – Anna Cobley, Production Design – Mark Harris. Production Company – NAR-EGM/Prism Entertainment.
Cast
Martin Kove (Michael DaSilva), Meg Foster (Sarah), Paul Koslo (Trevanian), Frank Zagarino (Romulus), Joss Ackland (Joseph Kinderman), Ricco Ross (Jackson)
---
Plot
Terrorists led by Romulus, an out-of-control military android, burst in and take over a midtown office building/hospital, taking several people, including The President's daughter, hostage and demanding $50 million. The FBI bring the building's designer, currently doing time in a cryo-sleep prison, out of suspended animation. However, thanks to a stoned technician, they instead retrieve Michael DaSilva, a pro-footballer who was convicted after killing a redneck in a barroom brawl. Da Silva pretends to be the architect in order to get out. When the FBI plan goes wrong, DaSilva is left having to take on the rogue android single-handedly.
---
For once, the advertising on the video cover does not lie when it describes Project: Shadowchaser as Die Hard (1988) meets The Terminator (1984). Project: Shadowchaser is a film that has been construed solely as an exercise in compounding two previously successful commercial ideas. As such, one cannot slight it as being perfectly honest in doing exactly what it sets out to be.
In almost every other respect however, Project: Shadowchaser is an amazingly silly film. The killer android serves no purpose in the film – the android could have been cast as an ordinary terrorist without making any difference to the plot. However, that is hardly a complaint when played against the bizarre improbabilities that the plot requires. First of all, there is the notion of an android taking the President's daughter hostage in a hospital that is for some reason located in a downtown office building. (What use an android might have for fifty million dollars is never broached either). However, this hardly seems to matter as we later learn that this has all been a set-up so that the android's creator can assassinate the liberal The President for having weakened the Great American Nation. (This also makes a pre-credits sequence where the android escapes into a cheat on the audience).
Then there is the FBI's response, which is get the building's architect out of a cryo-sleep prison, where a stoned technician accidentally unfreezes a pro-footballer who has been imprisoned on a manslaughter charge who pretends to be the architect in order to get out and then inadvertently ends up becoming the hero of the hour. Martin Kove's hero is of course able to go straight from several years in cryogenic suspension to fighting fit readiness and conducting acrobatics stunts without even the slightest pause to exercise or refamiliarise himself with his muscles after several years inaction.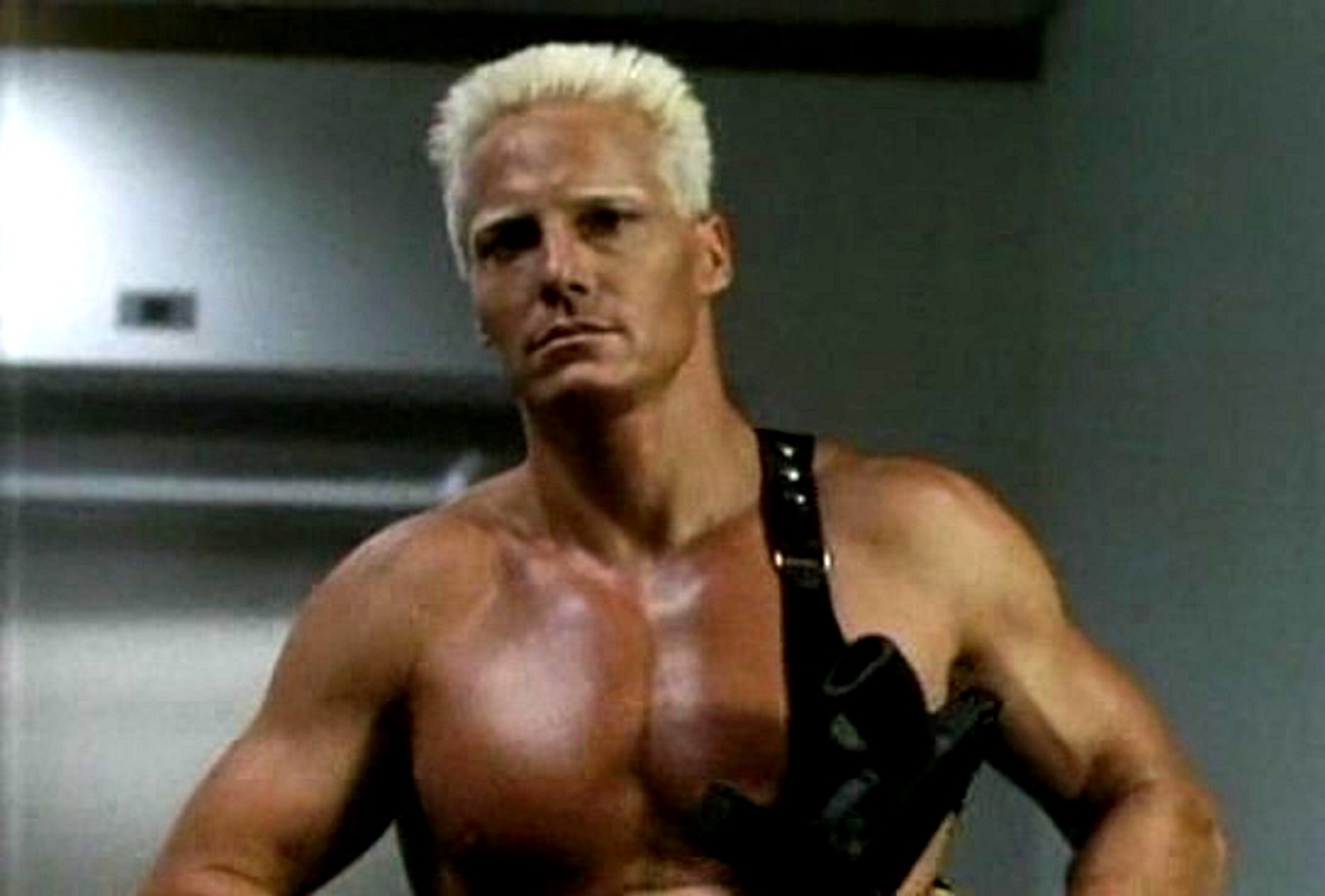 All of this is conducted in straight-face by everybody except lead actor Martin Kove who treats the exercise with clear contempt. The highlight of Martin Kove's career was playing the macho cop in tv's Cagney & Lacey (1982-8). Kove's subsequent parts in B-grade action films have shown that that was the entire limitation of his acting range and that it was basically the quality of the scripts on Cagney & Lacey that carried his otherwise limited acting abilities. Here he plays with a smugly assured cockiness that irritates – his first comment upon being woken up out of the freezer is "Anybody got a beer?" Others in the supporting cast are better with decent performances from Paul Koslo and Joss Ackland. With handsome looks, bulging bare chest and white blonde hair, Frank Zagarino makes a good emotionless android.
Project: Shadowchaser was followed by two sequels – Project Shadowchaser II/Night Siege: Project Shadowchaser (1994) and Project Shadowchaser III (1995). Both were directed by John Eyres and feature Frank Zagarino as a killer android – in the first invading a nuclear base, in the second taking over a spaceship. There was a fourth film Project Shadowchaser 4/Alien Chaser/Orion's Key (1996) without John Eyres directing but featuring Frank Zagarino as an alien android awakened from a pyramid
Director John Eyres has made a number of other action/genre hybrids including the UFO/action film Monolith (1994), the executed killer returns from the grave/action film Judge and Jury (1996), Octopus (2000) and Ripper: Letter from Hell (2001) about a series of modern-day Jack the Ripper killings. Eyres also produced Dark Planet (1996), The Apocalypse (1997) and Spoiler (1997).
---
Trailer here
---