---
Crew
Director/Story/Producer – Mark L. Lester, Screenplay – C. Courntey Joyner, Photography – Mark Irwin, Music – Michael Hoenig, Visual Effects – All Effects Co (Supervisor – Eric Allard), Mechanical Effects Supervisor – Joe Ramsey, Android Graphics – R/Greenberg Associates Inc, Makeup Effects Supervisor – Rick Stratton, Production Design – Steven Legler. Production Company – Lightning Pictures/Original Pictures Inc.
Cast
Bradley Gregg (Cody Culp), John P. Ryan (Mr Hardin), Patrick Kilpatrick (Coach Bryles), Pam Grier (Ms Connors), Traci Lin (Christie Langford), Stacy Keach (Dr Bob Forrest), Malcolm McDowell (Dr Miles Langford), Joshua Miller (Angel Culp), Darren E. Burrows (Sonny Culp), Jimmy Medina Taggert (Hector)
---
Plot
In the year 1999, the gang problem has become so rampant that some cities are in anarchy. In Seattle, a school principal employs three decommissioned military androids to act as teachers. However, the androids' attempts to enforce discipline become increasingly more extreme. They soon go out of control and start killing pupils.
---
Director Mark L. Lester made a violent unofficial remake of Blackboard Jungle (1955) called Class of 1984 (1982) about a schoolteacher singlehandedly taking on and retaliating against gangs that threatened he and his wife. Class of 1984 put forward a clear stand in favour of vigilante justice as the only option when the system started to break down. Moving on eight years in the real world and fifteen years in the US education system, Mark L. Lester reworks the basic story here. Indeed, Class of 1999 often parrots scenes directly from the first film.
In the interim, The Terminator (1984) had premiered and Class of 1999 now ends up as Class of 1984 … with killer androids. In trying to meld the two films, Mark L. Lester ends up muddling and completely reversing the message he had first time out. On one hand, he plays at being shocked at the way social disorder is increasing and seems to say that the only answer to the anarchy in the school system is to employ armed force.
On the other hand, it becomes apparent that Lester is only interested in the spectacle of the violence and watching the hero and androids shoot it out – the stance the film ends up endorsing is in fact a crude loner-against-the-system message. In actuality, the film's message (completely unintentionally it would seem) comes closer to A Clockwork Orange (1971) than Class of 1984's pro-vigilantism – that to allow crime and violence its free reign may have to be the price society has to pay unless it wants to become wholly authoritarian.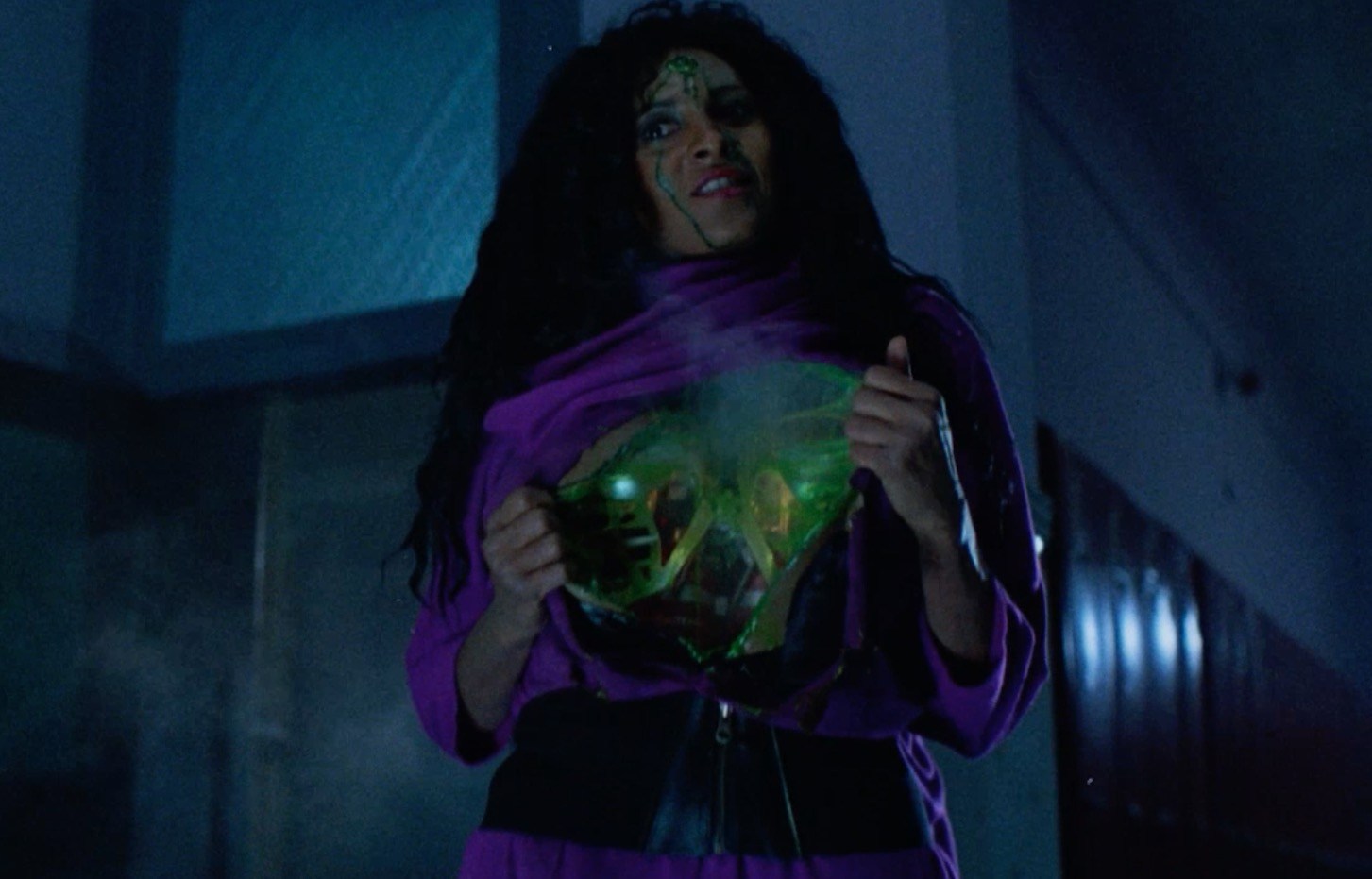 Mark L. Lester does not appear to care about social subtext. In Class of 1984, Lester gave the appearance of doing so but in Class of 1999 all that he produces is a crude and thudding action thriller. He tries to develop a cynical street attitude but it only seems like someone posing (rather badly) at being punk. The android teachers become completely unconvincing once they start developing human personalities and quoting campy one-liners. The makeup and stop-motion effects used to represent the less human side of the androids are poor.
Class of 1999 II: The Substitute (1994) was a sequel.
Mark L. Lester's other films of genre interest are the Stephen King adaptation Firestarter (1984), the psycho-thriller The Ex (1996), the hilarious psycho sperm donor film Misbegotten (1997), the psycho-thriller Sacrifice (2000), the monster movie Pterodactyl (2005), Groupie (2010) about murders on a band's comeback tour, the monster movie Poseidon Rex (2013) and the Arthurian adventure Dragons of Camelot (2014). Lester has also produced Devil's Prey (2001), Instinct to Kill/The Perfect Husband (2001), Bad Karma/Hell's Gate (2002), The Wisher (2002), Wraiths of Roanoke (2007), Yeti: Curse of the Demon (2008), Beauty and the Beast (2009), Jabberwock (2011), Sinbad and the Minotaur (2011), Dragonwasps (2012), Jurassic Attack (2013) and Toxin (2015).
---
---