---
Crew
Director – Jon M. Chu, Screenplay – Rhett Reese & Paul Wernick, Producers – Lorenzo di Bonaventura & Brian Goldner, Photography (3D) – Stephen Windon, Music – Henry Jackman, Visual Effects Supervisor – James Madigan, Visual Effects – Base FX, Digital Domain (Supervisor – Thad Beier), Industrial Light and Magic (Supervisor – Bill George), Luma Pictures (Supervisor – Vince Cirelli), Lola Visual Effects (Supervisor – Edson Williams) & Method Studios (Supervisor – Ollie Rankin), Special Effects Supervisor – Mike Meinardus, Makeup Effects – Illusion Industries, Production Design – Andrew Menzies. Production Company – di Bonaventura Pictures.
Cast
Dwayne Johnson (Sergeant Marvin 'Roadblock' Hinton), Adrianne Palicki (Jaye 'Lady Jaye' Burnett), Byung-hun Lee (Storm Shadow), Jonathan Pryce (President), Bruce Willis (General Joe Colton), Channing Tatum (Conrad Hauser/Duke), D.J. Cotron (Flint), Ray Park (Snake Eyes), Luke Bracey (Cobra Commander), Ray Stevenson (Firefly), Elodie Yung (Jinx), RZA (Blind Master), Joseph Mazzello (Mouse), Joe Chrest (Chief of Staff), Walton Goggins (Warden Nigel James), Matt Gerald (Zandar), Arnold Vosloo (Zartan)
---
Plot
After the President of Pakistan is assassinated, the G.I. Joe team is ordered into action by The US President to prevent nuclear warheads from falling into the hands of rebels. They successfully complete the mission but then their own extraction team turns and fires on them. Only three G.I. Joes, Roadblock, Lady Jaye and Flint, survive the massacre. In actuality, The US President has been replaced by Cobra agent Zartan using a nanotech mask to resemble him in all ways. He now has Cobra Commander sprung out of suspended animation in a prison in Germany. Roadblock and the others make it back to the US where they recruit a team of others and set out to prove The President is an impostor. Meanwhile, Zartan has called a summit of all nuclear nations where he has launched a plan to destroy their nuclear arsenals and activate Cobra's deadly Zeus Initiative.
---
Transformers (2007) paved the way for a series of big-budget films based on popular toy franchises. Transformers series producer Lorenzo di Bonaventura then employed director Stephen Sommers to make G.I. Joe: The Rise of the Cobra (2009) based on the popular action figure (known as Action Man outside the US). This proved a reasonable success and G.I. Joe: Retaliation was promptly announced. Many of the actors from the first film are back – Channing Tatum, Jonathan Pryce, Byung-hun Lee, Ray Park, Arnold Vosloo, while other characters such as Joseph Gordon-Levitt's Cobra Commander and Christopher Eccleston's Destro have been recast with other actors (usually behind masks). This film emerges nine months after its original release schedule where it was abruptly pulled from release without any explanation, even after posters and lobby stands had been released and toys were waiting in shops.
Rise of the Cobra's director Stephen Sommers has dropped back to an executive producer role and this is now inherited by Jon M. Chu, an American director of Chinese descent. Chu's choice as director seems frankly baffling as his previous work in the director's chair has consisted only of the likes of Step Up 2: The Streets (2008), Step Up 3D (2010) and Justin Bieber: Never Say Never (2011), as well as one Chinese-language film, the children's fantasy The Secret of the Magic Gourd (2007). Elsewhere, Chu has worked as a producer for several reality tv dance competition shows. The script for G.I. Joe: Retaliation comes from the duo who wrote Zombieland (2009) and have worked as producers on various reality tv shows (although to their credit did subsequently go on to wrote Deadpool (2016) and sequel). None of which exactly seems promising for an action film.
I cannot really complain. I didn't go into G.I. Joe: Retaliation with huge expectations and I cannot say that the film disappointed any of these. It proved to be exactly what I expected it would be before I sat down – two hours of mindless action entertainment in which the brain never engaged. At which, when you view the film in those terms, it succeeds in delivering just what it promises.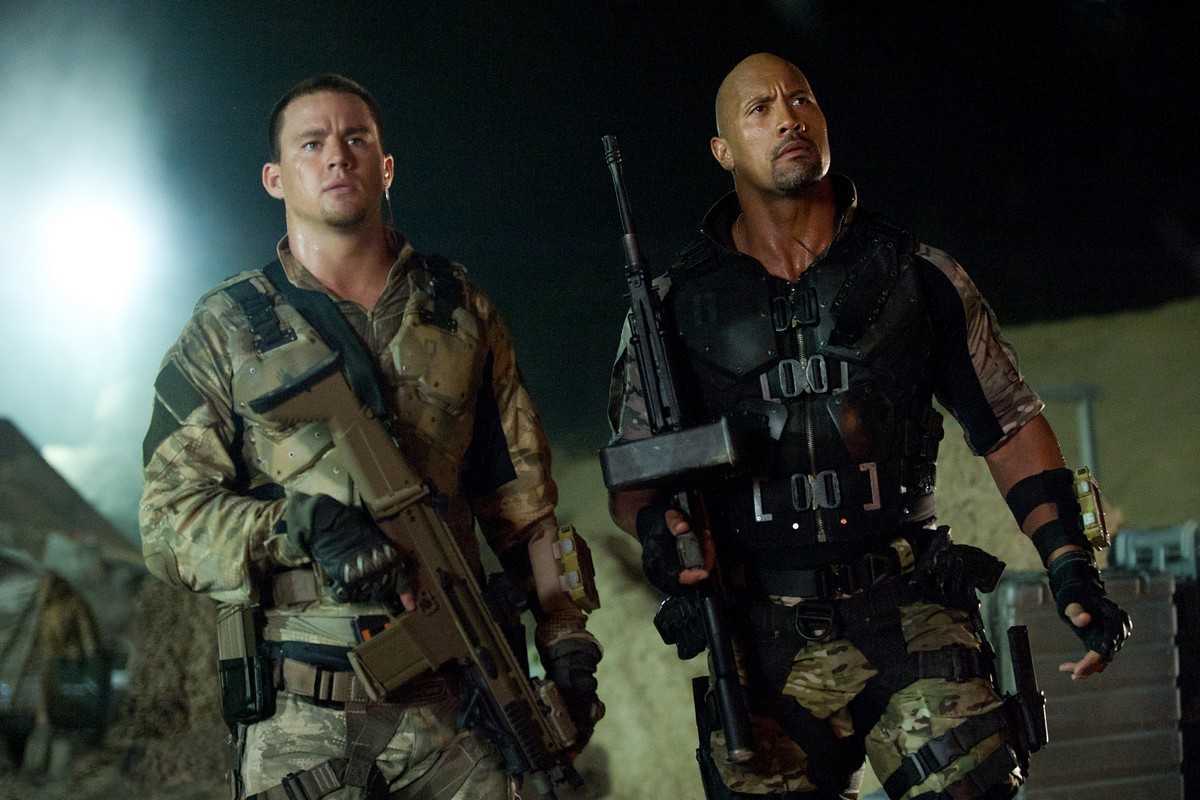 Despite one's initial misgivings about a dance director taking on a big-budget action film, Jon M. Chu delivers a film that is in exactly the same vein as the first G.I. Joe with a good deal in the way of people shooting, things blown up, muscular hand-to-hand combat, ninja action and an arsenal of hi-tech gadgets that would fuel a decade's worth of James Bond films. All of it passes the time in the disengaged way that the choreography of most action movies does. Rise of the Cobra had one standout scene – the race through the streets of Paris – and Retaliation similarly has one standout action set-piece – a combat scene fighting on ziplines on the side of a mountain in the Himalayas that feels exhilaratingly vertiginous when seen in 3D.
The plot of the film is generic as might be expected. The writers have appropriated the basic plot set-up of every Mission: Impossible sequel – the G.I. Joe operation eliminated/shut down meaning that the heroes of the show have to go rogue to root out the traitor. There is some type of vague nuclear threat and the unleashing of a satellite weapon at the end (the major logic hole of the film has the satellite super-weapon, which involves the perfectly credible idea of dropping projectiles from orbit onto targets on Earth, being blown at the end of the film, whereupon it is said the menace is over with nobody seeming to realise that this is also likely to result in a good deal of orbiting space junk that is likely to rain down on the Earth by exactly the same gravity-based method they were planning to do with the tungsten projectiles).
The one thing that G.I. Joe: Retaliation is is far less embarrassed about being about a fantasy of US warmongering and celebrating the joys of military might. The first film seem embarrassed by this to the extent that it downplayed the military angle and tried to tell people to regard it as a James Bond-type film, making the G.I. Joes into an international organisation. Here their international affiliation has been written out and the G.I. Joes exist within the US military chain of command, at the orders of The President and seeming to act as a CIA Black Ops unit, while the film seems completely unapologetic about being a big boy's fantasy of flag-waving militarism. This at least ends up not being as mind-numbingly bone-headed and jingoistic as that other toy/game adaptation of recent Battleship (2012).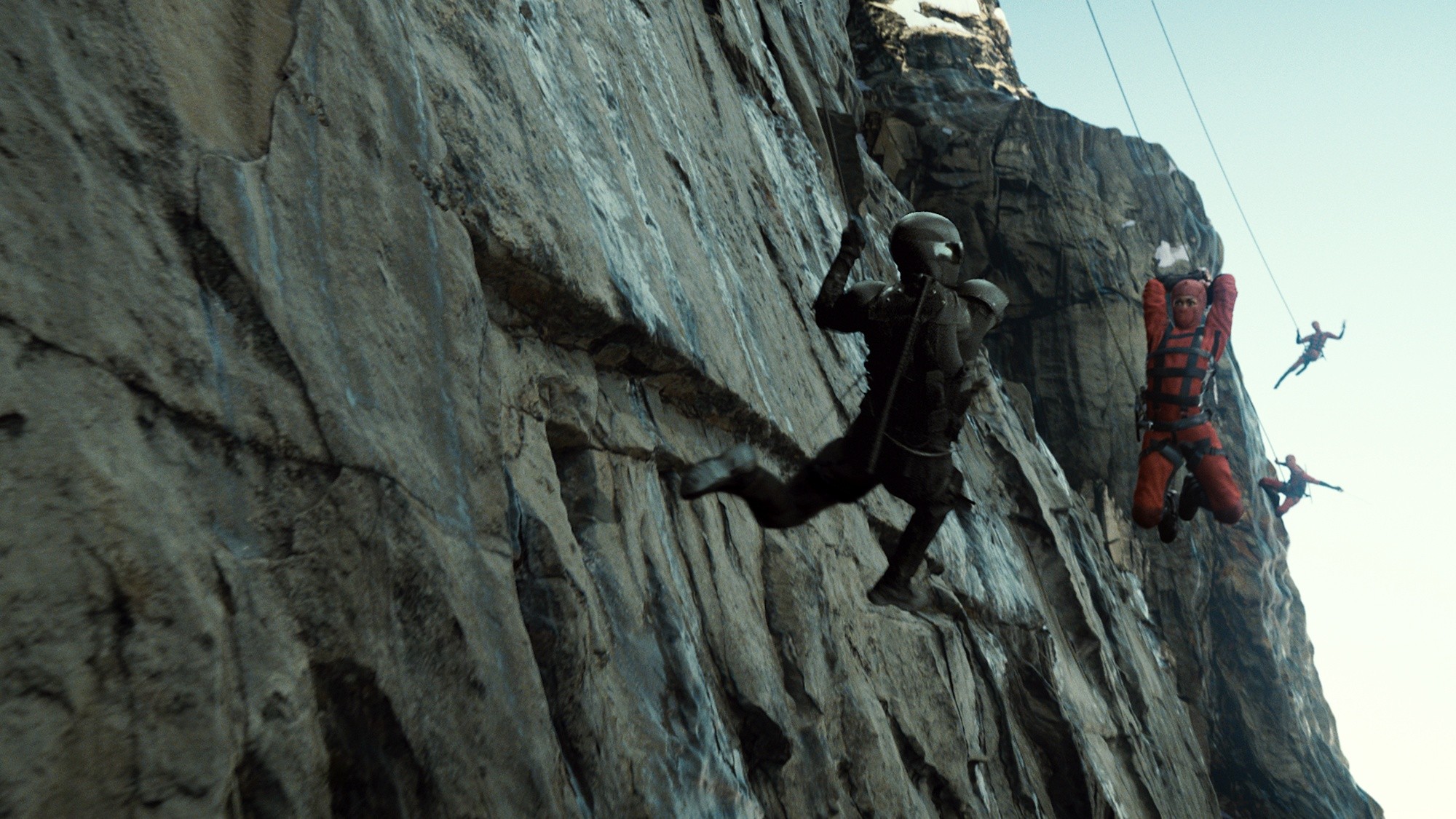 The film ostensibly takes an apolitical stance in all of this – when Jonathan Pryce's President makes jokes about Fox News and its (absurd) claim to be "fair and balanced," you are not sure after the smile fades whether it was a jibe against or a high five to Fox News. We also get jibes about waterboarding and North Korea's nuclear ambitions, although in the context of the film what they seem more like is the sort of camaraderie and bonhomie you might get around a military mess hall – a group assured of their own superiority mocking the enemy and the critics of their own methods.
The biggest downer about the film is in fact its star. Channing Tatum was a relative unknown when Rise of the Cobra came out. By the time of Retaliation, his profile rose through roles in 21 Jump Street (2012) and especially Magic Mike (2012), which propelled him to recipient of People magazine 'Sexiest Man Alive' title. Although prominently featured in the promotion, his character is killed off only fifteen minutes into the film. This ends up offsetting the rest of the film as you keep wondering if it is going to find someone method to bring him back – only it never does. Why bring a lead actor back at all and then eliminate him? Why not recast the part? (Apparently all of this was due to Tatum hating the part and being contractually obligated to reappear in a sequel). The only time one can think that a show has continued on after killing off (as opposed to recasting) its lead character was tv's Blake's 7 (1978-81). The rest of the show is inherited by Dwayne Johnson as Roadblock, one of the supporting characters from the animated series. Johnson carries the part capably – he is certainly starting to feel much more at with the humour and animated as a screen presence than previously, while the film milks a good deal of fun out of the early scenes between he and Channing Tatum.
This was followed by the reboot/prequel Snake Eyes: G.I. Joe Origins (2021).
Jon M. Chu subsequently went onto make the disastrous live-action film version of Jem and the Holograms (2015), followed by Now You See Me 2 (2016) and the huge hit of Crazy Rich Asians (2018).
---
---