---
Crew
Director – Stephen Sommers, Screenplay – Stuart Beattie, David Elliott & Paul Lovett, Story – Stuart Beattie, Michael B. Gordon & Stephen Sommers, Producers – Lorenzo di Bonaventura, Bob Ducsay & Stephen Sommers, Photography – Mitchell Amundsen, Music – Alan Silvestri, Visual Effects Supervisor – Boyd Shermis, Visual Effects – CSI Group (Supervisor – Bryan Hirota), Digital Domain (Supervisor – Bryan Grill), The Moving Picture Company (Supervisor – Greg Butler) & Prime Focus VFX (Supervisor – Chris Harvey), Additional Visual Effects – Cafe FX, Framestore, Frantic Films, Pixel Playground & V-Dome (Supervisor – Joseph Grossberg), Special Effects Supervisor – Daniel Sudick, Live-Action Accelerator Suits Effects – Stan Winston Studio (Supervisor – Shane Mahan), Production Design – Ed Verreaux. Production Company – Paramount/Spyglass Entertainment/Hasbro/di Bonaventura Pictures.
Cast
Channing Tatum (Conrad Hauser/Duke), Sienna Miller (Ana Lewis/Baroness Anastacia de Cobray), Marlon Wayans (Wallace Weems/Ripcord), Christopher Eccleston (James McCullen/Destro), Rachel Nichols (Shana O'Hara/Scarlett), Dennis Quaid (General Clayton Abernathy/Hawk), Joseph Gordon-Levitt (Rex Lewis/The Doctor), Byung-hung Lee (Thomas Arashikage/Storm Shadow), Saïd Taghmaoui (Abel Shaz/Breaker), Adewale Akinnuoye-Agbaje (Hershel Dalton/Heavy Duty), Ray Park (Snake Eyes), Jonathan Pryce (US President), Arnold Vosloo (Zartan), Gregory Fitoussi (Baron Daniel de Cobray), Leo Howard (Young Snake Eyes), Brandon Soo Hoo (Young Storm Shadow), David Murray (James McCullen 1641), Gerald Okamura (Hard Master), Kevin J. O'Connor (Dr Mindbender), Karolina Kurkova (Courtney Krieger/Cover Girl), [uncredited] Brendan Fraser (Sergeant Stone)
---
Plot
Sometime in the near future. James McCullen, head of the powerful weapons manufacturing corporation M.A.R.S. (Military Armament Research Syndicate), announces their construction of a nanomite warhead, capable of disintegrating any metal it is fired at. Four nanomite warheads are moved in a military convoy commanded by US soldier Conrad 'Duke' Hauser. The convoy comes under attack by a group armed with advanced weaponry. Duke is startled to find the attacking team is led by his former fiancee Ana Lewis who is now the Baroness de Cobray. They are saved by another hi-tech military group, the top-secret G.I. Joe Team, which is comprised of the top soldiers recruited from the militaries of every country. Duke and his one surviving comrade Wallace 'Ripcord' Weems are escorted back to The Pit, the G.I. Joe Team's headquarters beneath the Egyptian desert. Behind Ana's attempt to snatch the warhead is McCullen who is angling to start an international incident that could make him the most powerful man in the world. Duke and Ripcord join the G.I. Joes and set out to stop Ana and McCullen's Cobra team as they attempt to detonate one of the warheads in Paris.
---
With the massive worldwide success of Transformers (2007), other studios quickly announced projects based on popular toy and game lines. This has included the subsequent Battleship (2012) film and The Lego Movie (2014), as well as the announcement of a Cluedo film and Ridley Scott's Monopoly that have yet to come about. G.I. Joe: The Rise of the Cobra was one of the first of these films to emerge. It comes from Hasbro, the same company that makes the Transformers toys, and is co-produced by Lorenzo di Bonaventura and his production company, who were behind all of the Transformers films.
G.I. Joe, known as Action Man in the UK and other countries, was a toy line created by Hasbro in 1964. Hasbro were desiring to create a doll that could be marketed for boys in the same way that Mattel was having great success among girls with their Barbie doll line. The G.I. Joe line, offering up a soldier toy and various military accessories, became an instant hit. One of the notable features of the G.I. Joe dolls was they came with buttons on their back that could make their hands conduct karate chops and grip objects. Various supporting characters were introduced over the next decade or so, including a number of figures based on real-life soldiers such as Generals MacArthur and Eisenhower.
During the 1970s, with the unpopularity of the Vietnam War, the military emphasis was played down and G.I. Joe and comrades were rebranded as the Adventure Team who were now facing alien invaders known as The Intruders, while later they were reworked as superheroes. The G.I. Joe line underwent another makeover in 1982, this time being accompanied by a Marvel comic-book G.I. Joe: A Real American Hero (1982-94). The relaunch created the Cobra Organization and most of the characters and villains from which the film version here draws itself. There was a subsequent animated tv series G.I. Joe: A Real American Hero (1985-6), which also saw a video-released film spinoff with G.I. Joe: The Movie (1987).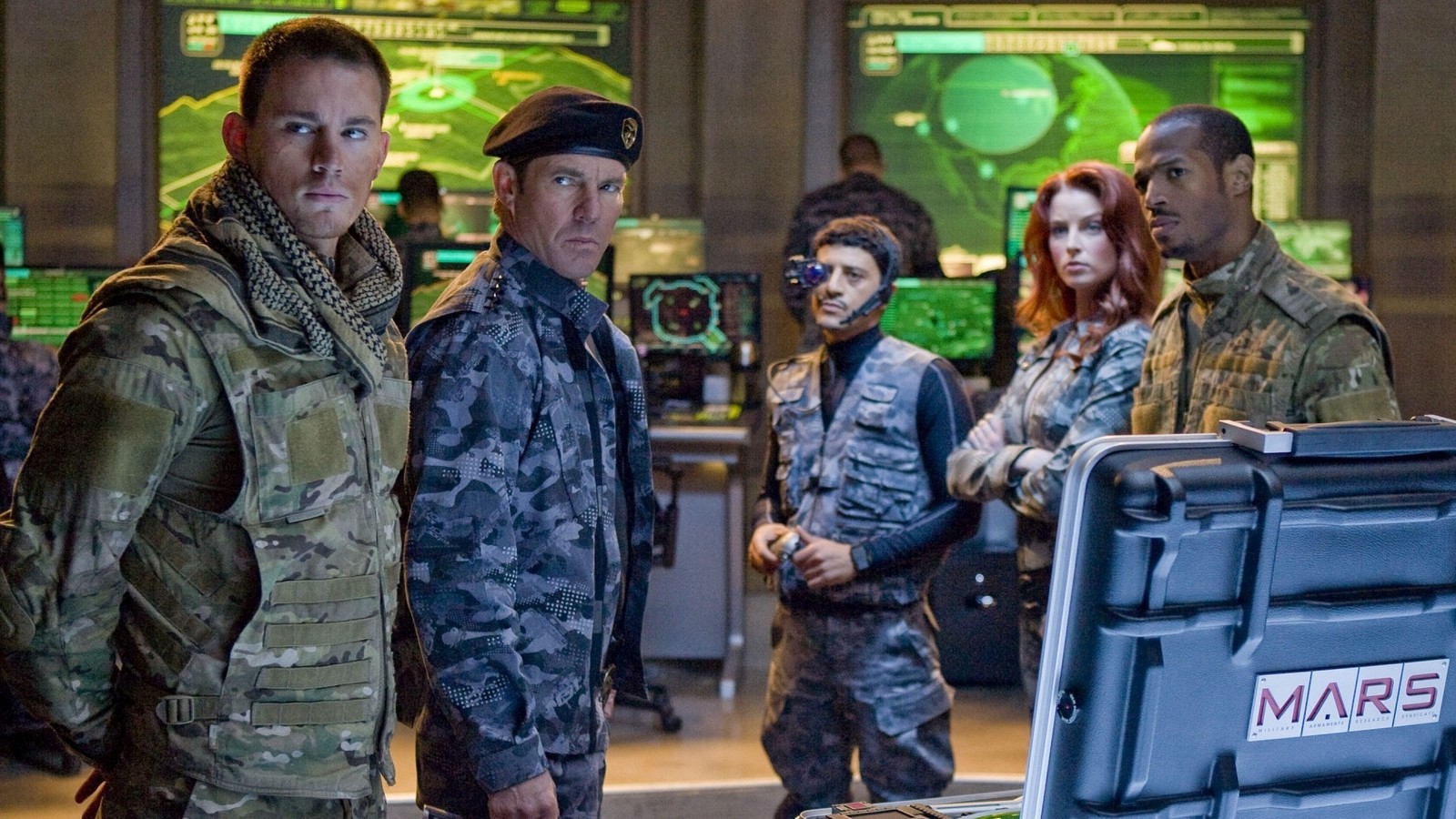 G.I. Joe: The Rise of the Cobra was made by director Stephen Sommers. Sommers first appeared with two films Catch Me If You Can (1989) and an adaptation of The Adventures of Huck Finn (1993), before making his entry on the genre stage with Disney's live-action remake of The Jungle Book (1994). Since then Sommers has specialised in loud, noisy and CGI effects driven vehicles with the likes of Deep Rising (1998), The Mummy (1999), The Mummy Returns (2001) and Van Helsing (2004). As Sommers' name gained box-office credibility with The Mummy films, one can note a diametric decrease in the intellectual content of his films and in the opposite direction a dramatic increase in the effects budgets and amount of CGI overkill that he has continued to pile on with each film.
2009 is probably the worst time in the world to be making a film entitled G.I. Joe due to the overwhelmingly negative reputation that the US Army has internationally over the Iraq War. Thus, while Duke is an American soldier, the film is careful to make sure that the G.I. Joe Team is an international operation with G.I. Joe (which was originally a nickname for American soldiers during World War II) now stretched to become an acronym for the organisation. In promotional interviews, Stephen Sommers even tried to persuade audiences that G.I. Joe: The Rise of the Cobra was more of a James Bond adventure than a film about military heroism.
To me this sounds more like the type of marketing department sophistry that tries to rebrand films under different labels to avoid certain undesirable categorisation ghettos. Let's stop trying to pretend a spade is a fork – G.I. Joe: The Rise of the Cobra is a film about military action. Certainly, there is an emphasis on science-fictional gadgetry more so than there is warfare. However, you could hardly call G.I. Joe a James Bond film – unless perhaps you wanted to regard it as being say the street chase sequences in A View to a Kill (1985) having been extruded to become the whole film, maybe combined with a climax modelled on the space station attack in Moonraker (1979). If there is any film that you might want to compare G.I. Joe: The Rise of the Cobra to, it is the flop adaptation of Street Fighter (1994) with its team-up of international soldiers going into action against a comic-bookish villain. (Ironically, the characters from the Street Fighter game were at one point incorporated into the line of G.I. Joe toys).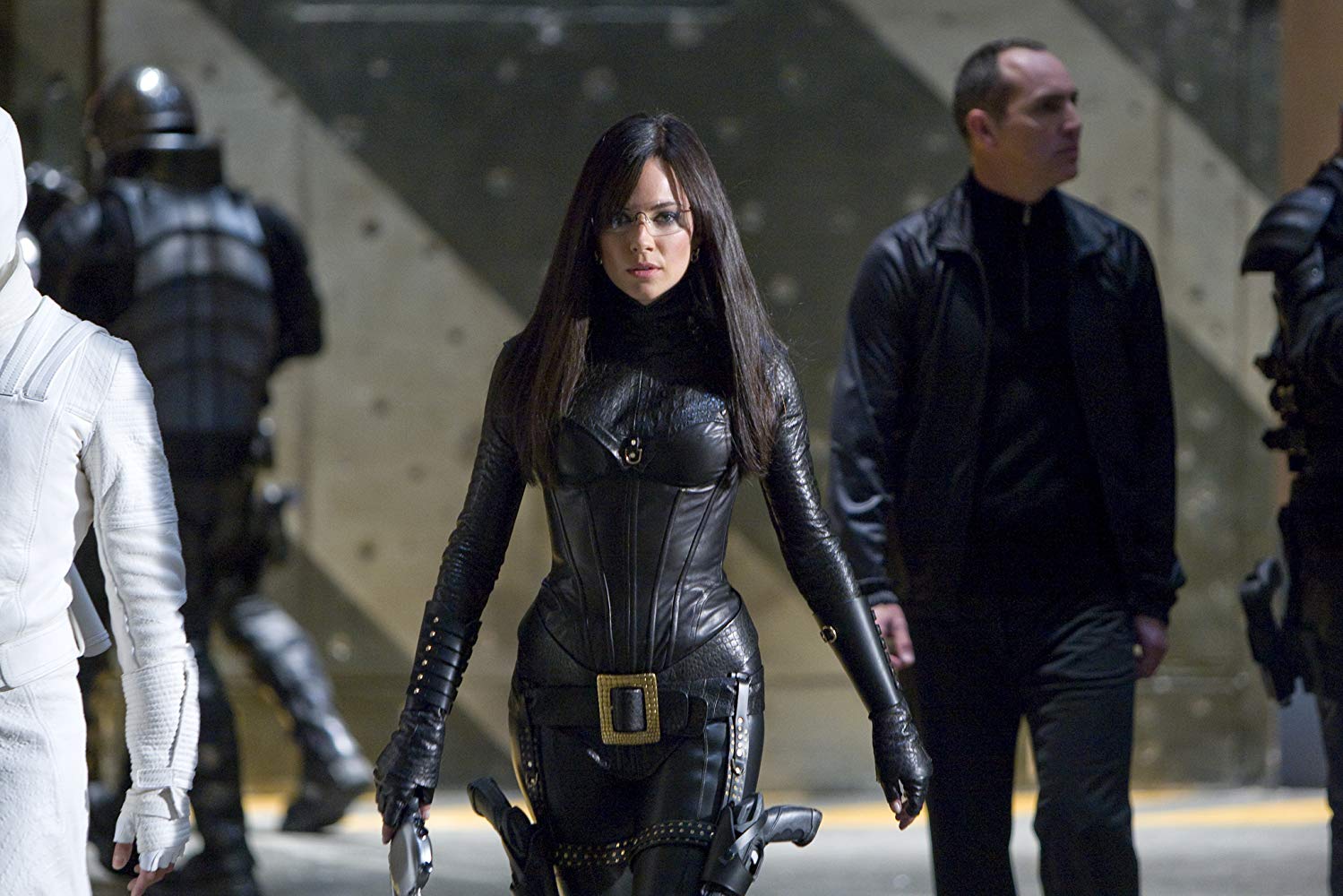 I must admit I found G.I. Joe: The Rise of the Cobra more watchable than Stephen Sommers previous two movies, The Mummy Returns and Van Helsing, both of which seemed to be in competition to try and batter the audience into submission with visual effects. Sommers is relatively restrained in the visual effects department here. G.I. Joe: Rise of the Cobra is still a film heavily dependent on CGI effects but they do not feel so much in your face and in defiance of probability and the general laws of physics to the point that you just tune them out as having no more effect than the glitterball in a nightclub.
The opening military raid and the attack on The Pit pass you by indifferently – you can appreciate some of the moves but Stephen Sommers fails to get the pulse pumping much above a gentle stroll in the park. Similarly, there is a big climactic set-piece with a submarine attack on the Cobra base under the Polar ice cap and Marlon Wayans trying to shoot down the warheads in a fighter plane, which feels exactly like one is watching a series of videogame graphics.
The one point where Stephen Sommers does get the film together is the exhilarating sequence with various of the G.I. Joes running through the streets of Paris in accelerator suits that allow them to move at the pace of a car while being forced to duck missiles being fired at them and other vehicles flung over the top of the truck they are pursuing, even a sequence with they and the pursuit vehicle crashing through a Metro train, and Channing Tatum racing across a collapsing glass roof, before the missile is fired, causing the Eiffel Tower to disintegrate and collapse. It is a genuinely exciting set-piece where Stephen Sommers excels himself for once.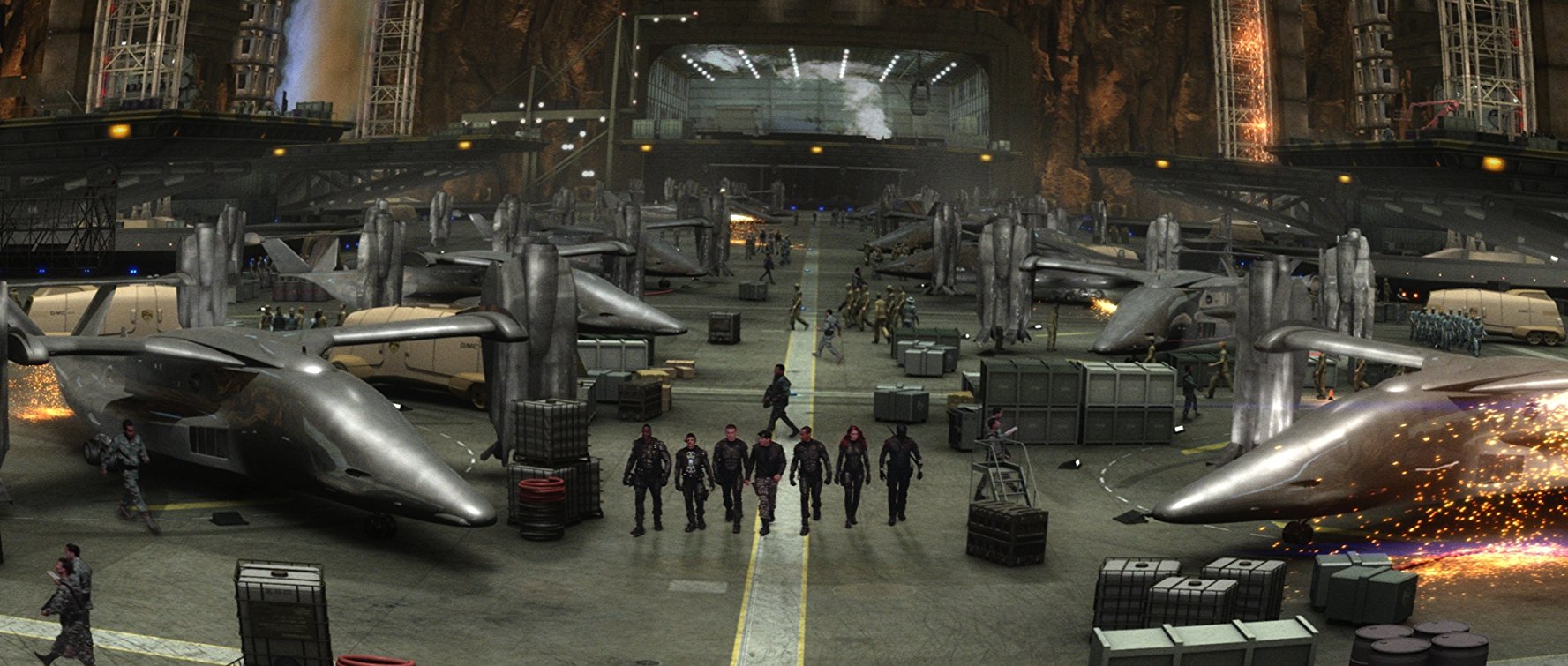 Outside of that one sequence, G.I. Joe: Rise of the Cobra is routine. Even if it is paying more than reasonable continuity to the original tv series and comic-book characters, the plot is strictly average. Channing Tatum passes through the film with handsome profile and occasional intent seriousness. Sienna Miller is hamstrung with having been cast to play to the substantial part of the audience that consists of fourteen year-old boys ie. is frequently outfitted in low necklines or skin-tight vinyl. (This is a film that operates on the logic that says it is perfectly normal to wear a fashionable ankle-length black leather coat, high-heeled boots and sunglasses into hand-to-hand combat).
Christopher Eccleston is cast in a role that is defined in single dimensions where he plays broadly and loudly with a comic-book Scottish accent. I find almost anything the entire Wayans family does incredibly annoying and Marlon's presence here is no exception – he has been cast solely in the role of the Smartass Black Comic Relief Sidekick. I have admired Joseph Gordon-Levitt's maturation as a serious actor in recent years in films like Mysterious Skin (2004), Brick (2005) and The Lookout (2007) but Gordon-Levitt is not the actor who can do a larger-than-life super-villain – cast here as Rex (who is supposed to become the head of the Cobra organisation), he only seems weedy.
G.I. Joe: Retaliation (2013) was a sequel, featuring many of the players and characters here, and was followed by the reboot/prequel Snake Eyes: G.I. Joe Origins (2021).
Stephen Sommers next made the Dean R. Koontz adaptation Odd Thomas (2013). Sommers has also produced The Scorpion King (2002), The Mummy: Tomb of the Dragon Emperor (2008), The Scorpion King: Rise of a Warrior (2008), The Scorpion King 3: Battle for Redemption (2012), G.I. Joe: Retaliation (2013), The Scorpion King 4: Quest for Power/The Scorpion King: The Lost Throne (2015) and Scorpion King: Book of Souls (2018).
---
---