---
Crew
Director/Photography – Robert Rodriguez, Screenplay – Kyle Ward, Story – Marcel Rodriguez & Robert Rodriguez, Producers – Sergei Bespalov, Aaron Kaufman, Iliana Nikolic, Alexander Rodnyansky, Robert Roderguez & Robert Schwartz, Music – Rebecca Rodriguez & Robert Rodriguez, Visual Effects – [hy*drau*lax] (Supervisor – Bill Kunin), Prime Focus, Rhythm & Hues Studio (Supervisor – Todd Shifflet) & Troublemaker Digital Supervisor – Joe Montenegro, Makeup Effects – KNB EFX Group (Supervisors – Howard Berger & Greg Nicotero), Production Design – Steve Joyner. Production Company – Aldamisa Entertainment/1821 Pictures/Quick Draw Productions/Demarest Films/Overnight Films.
Cast
Danny Trejo (Machete Cortez), Michelle Rodriguez (She), Mel Gibson (Luther Voz), Demian Bachir (Marcos Mendez), Amber Heard (Miss San Antonio), Carlos Estevez [Charlie Sheen] (President Rathcock), Cuba Gooding Jr (El Chameleon #2), Sofia Vergara (Madame Desdemona), Antonio Banderas (El Chameleon #4), William Sadler (Sheriff Doakes), Walt Goggins (El Chameleon #1), Lady Gaga (El Chameleon #3), Marko Zaror (Zaror), Tom Savini (Osiris Amanapour), Vanessa Hudgens (Cereza), Jessica Alba (Santana Rivera), Alexa Vega (Killjoy), Samuel Davis (Deputy Clebourne), Electra Avellan (Nurse Mona), Elise Avellan (Nurse Lisa)
---
Plot
After the death of his partner Santana Rivera during a raid on the drug cartels, Machete Cortez is directly recruited by the US President. Because of Machete's expertise in matters Mexican, they want to send him to eliminate Marcos Mendez, a revolutionary who is threatening to launch a nuclear warhead at Washington D.C. Machete is parachuted into Acapulco and finds his way to Mendez, who has personality swings that go between a peaceful revolutionary and crazed megalomaniac. He has had the trigger of the nuclear warhead wired to his heart, meaning that it will fire if he is killed. Rather than kill Mendez, Machete takes him prisoner and heads back to the US border to find the one person that can defuse the trigger. Mendez's men respond by putting out a multi-million dollar bounty for both of them dead. Fending off the bounty hunter El Chameleon and others on their trail, Machete falls into the hands of the arms manufacturer Luther Voz who has sponsored Mendez's scheme. Machete discovers Voz's even larger scheme – to fire nuclear warheads that will eliminate all life on Earth while moving himself and a select few to safety aboard a space station.
---
Robert Rodriguez is a Mexican-American director who first emerged as someone to watch out with his micro-budgeted self-financed spaghetti Western homage El Mariachi (1993). This did amazing things and Rodriguez reworked the film on a bigger-budget with a charged dynamism as Desperado (1995). He then made the first of several collaborations with Quentin Tarantino on From Dusk Till Dawn (1996). Other works followed with the likes of The Faculty (1998), Spy Kids (2001), Once Upon a Time in Mexico (2003), Sin City (2005) and Grindhouse (2007). Throughout these, Rodriguez has revealed himself as a workaholic one-man band, frequently fulfilling multiple tasks behind the camera on one film. He has built his own studio Troublemaker Studios in Texas, which comes even with its own in-house digital effects facility. Rodriguez hits all cylinders when he gets there although some of his more recent ventures into children's films, Spy Kids 2: Island of Lost Dreams (2002), Spy Kids 3D: Game Over (2003), The Adventures of Sharkboy and Lavagirl in 3D (2005), Shorts (2009) and Spy Kids: All the Time in the World (2011), have been straining that a good deal thinner.
With Grindhouse, Rodriguez and his best friend Quentin Tarantino created a pulp idiom – one that was based on a mutual love of 1970s films and a stylistic effect that mimicked the look of old 35 mm prints. (This faux grindhouse style has been imitated by a number of other filmmakers since to the point it is now starting to seem a cliche). In his segment Planet Terror (2007), Rodriguez conducted a zombie film that came with a fast cynicism, over-the-top gore effects and action scenes, a killer guest cast line-up and tongue planted entirely in cheek. It was here that you could sense Rodriguez discovering a uniquely wacky pulp absurdism that had been building through his previous films and was finally finding expression.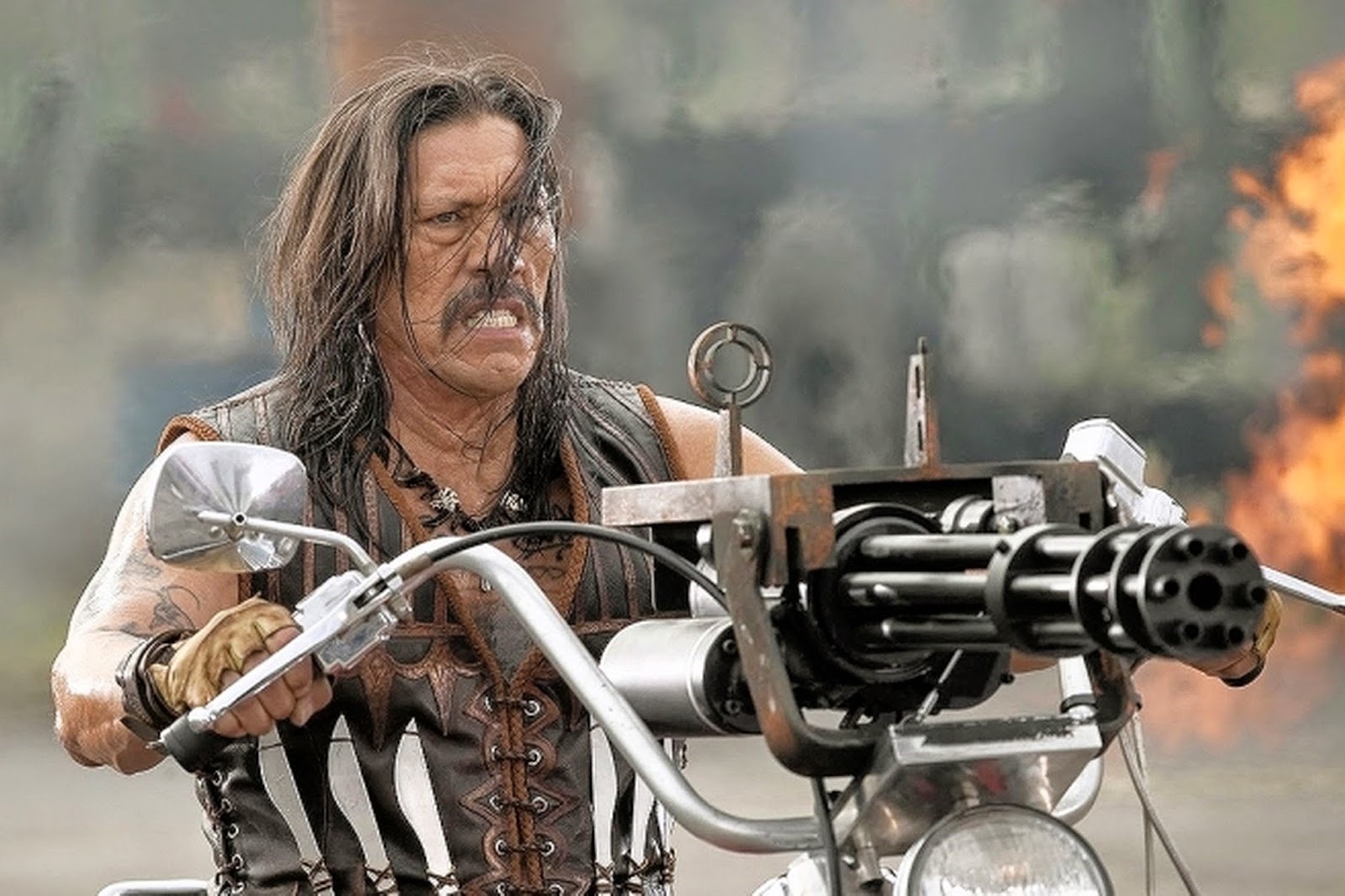 Rodriguez next took his pulp absurdism onto Machete (2010). Machete had in fact started as one of the fake trailers for Grindhouse, which Rodriguez had shot using Danny Trejo, who has been a regular actor in everything he has made since From Dusk Till Dawn. (The idea of Machete was apparently one that Trejo had suggested to Rodriguez back during the shooting of From Dusk Till Dawn, while Trejo plays an Uncle Machete in the Spy Kids films).
Machete had everything – a tough and lethal Danny Trejo, an eye-patched Michelle Rodriguez never looking better, and a superb guest cast line-up including Robert De Niro as a corrupt senator, Don Johnson as the leader of a redneck militia group, Steven Seagal as the villain of the show, Lindsay Lohan as a gun-toting nun, Cheech Marin as a gun-toting priest and cult makeup effects artist Tom Savini as a hitman. Rodriguez's pulp action style was hilarious, yet at the same time Rodriguez managed to wind in serious topical Mexican-American issues like illegal immigration and border vigilantism. (Prior to the releaseof Machete Kills, Rodriguez sent out a fake trailer for the film in protest against the construction of the wall separating Mexico and Texas).
Rodriguez loves not to just create films but entire series – indeed, the Machete series is the third concurrent one he has running at the moment. This is the first of two sequels – the trailer for Machete Kills Again … in Space that we get at the beginning and end has been announced as a real film. With Machete Kills, Rodriguez puts the nonsensical absurdism of Machete into overdrive. Case in point being the opening, which is construed as a fake trailer replete with faded film mocked up to look like a B-budget 1980s Star Wars (1977) copy, including among the cast list "Lady Gaga as whoever she wants to be" and supposedly introducing Justin Bieber as Bleep, a robot modelled on Twiki from Buck Rogers in the 25th Century (1979-81).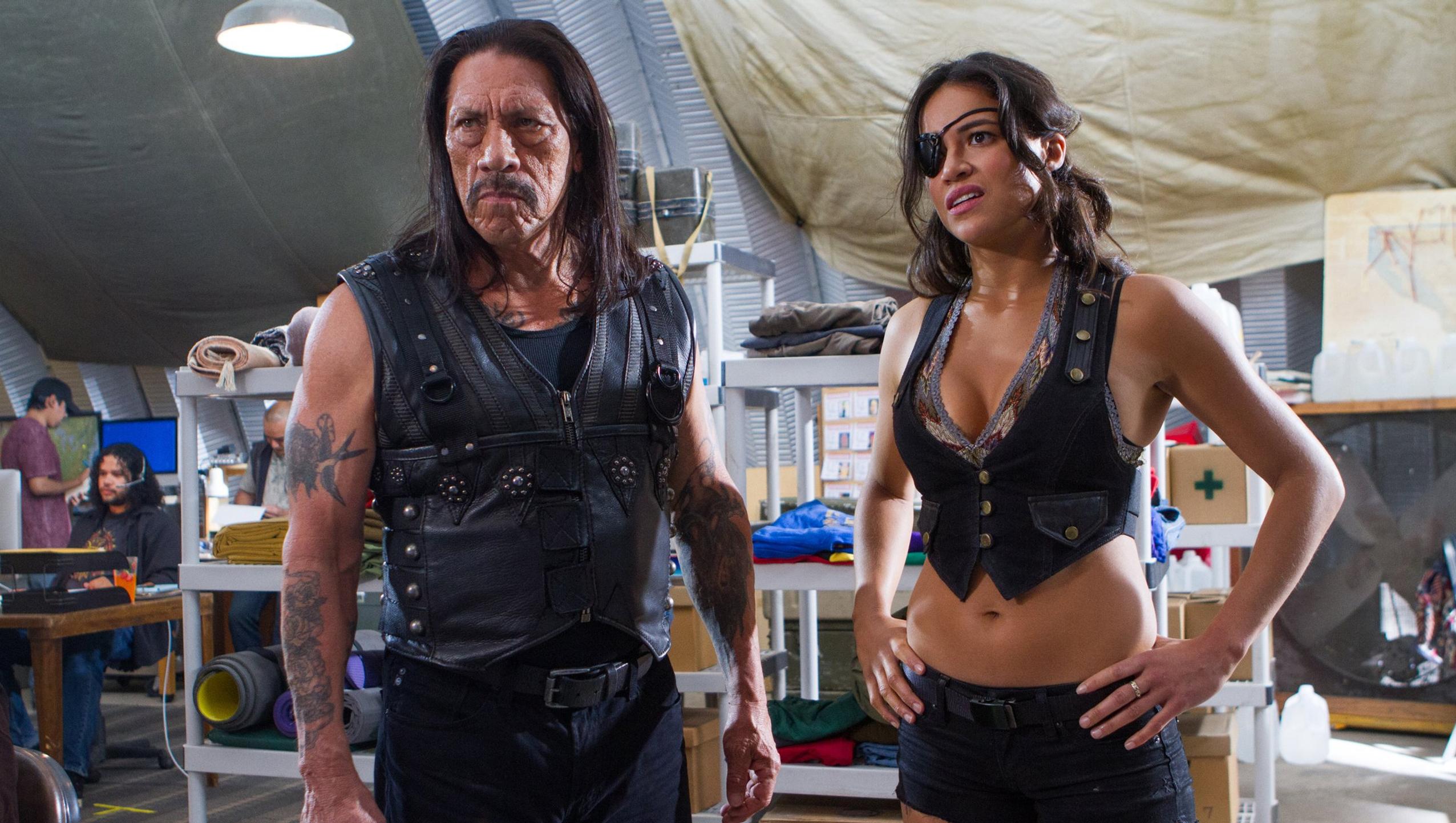 Where Machete could be said to exist within the realms of relative realism, Machete Kills abandons this and throws in all manner of science-fiction devices – clones, teleportation, rayguns and disintegrators, and Mel Gibson as a James Bond-styled super-villain with a scheme that seems to have been borrowed from the Bond film Moonraker (1979) to eliminate everybody on Earth and relocate in a space station. The film comes with a plethora of genre in-jokes – Mel Gibson gets to drive a vehicle modelled on Luke Skywalker's Landspeeder, while Michelle Rodriguez is cryogenically frozen just like Han Solo at the end of The Empire Strikes Back (1980).
Rodriguez's action scenes come with an incredible kinetic kick. Rodriguez pitches the action as fast and violent, always in a completely over-the-top comic-book way. He goes one beyond the helicopter mass beheading in Planet Terror, repeating variants on that twice here and even having Danny Trejo managing to flip a cigarette boat on its end to come up the dock and splatter assailants with its propeller. We get repeats of the crotch gun from From Dusk Till Dawn, while Amber Heard also wears a miniature Gatling gun version of the bra gun that Ursula Andress wielded in The Tenth Victim (1965). The slickness of the film and the pitch perfect tongue-in-cheek tone is utterly hilarious. The action does slow down somewhat during the latter half with the introduction of Mel Gibson's villain but this is the more pure and outright fun I've had at the box-office all year.
As he is increasingly doing with each film, Rodriguez corrals an amazing cast. Machete Kills is just as much fun for the action scenes as it is for the dexterously twirling plot that manages to wind all manner of parties into the equation, all of whom come with their own unique over-the-top quirks or fashion sense. Mel Gibson, whose career has been on a downward spiral in recent years, has the fun of his life playing his first ever super-villain. An equal amount of fun is being had by Charlie Sheen, a figure of as equal controversy as Gibson, who in going with the film's Mexican theme is rather hilariously billed by his birth name of Carlos Estevez and plays the President of the US. Amber Heard is luscious as the Miss San Antonio who is just at home wielding a machine-gun as she is in a ballgown "that costs more than you [Michelle Rodriguez] are worth."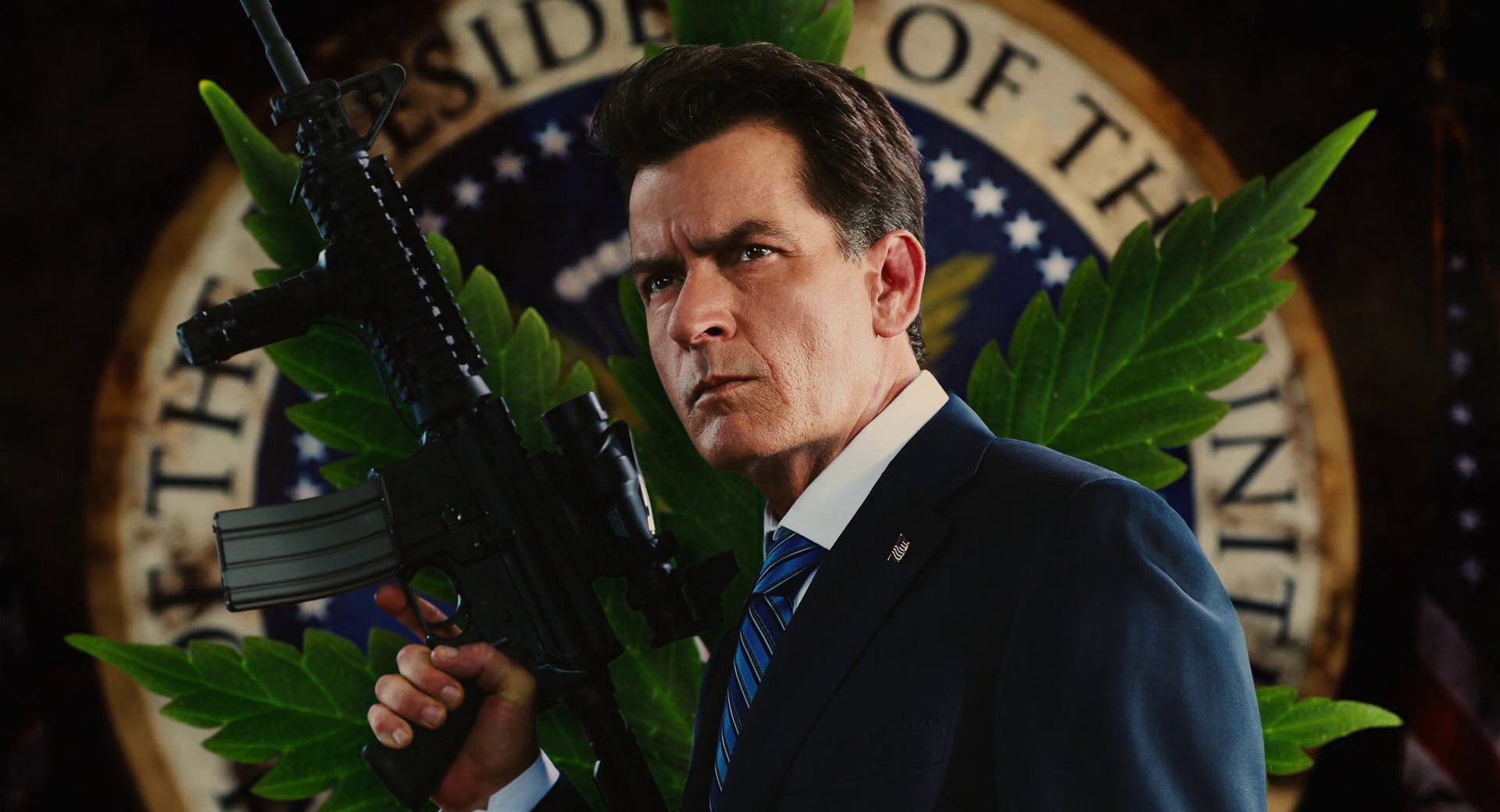 Some of the most fun in the film is the assassin known as El Chameleon who is always changing his face, ranging from a redneck Walton Goggins, a badass Cuba Gooding Jr, a gun-toting Lady Gaga draped in scarlet red negligee and not a lot else, and an amusingly cast Antonio Banderas as truck driver struggling to speak Spanish. Of course, the show is owned by Danny Trejo who radiates a dangerous macho lethality without even saying a thing, while his constant barrage of monosyllabic one-liners "Machete don't smile … Machete don't tweet," prove hysterical.
Robert Rodriguez's other films of genre interest are the vampire/getaway thriller From Dusk Till Dawn (1996); the witty teen body snatchers film The Faculty (1998); the juvenile spy adventure Spy Kids (2001) and sequels Spy Kids 2: Island of Lost Dreams (2002), Spy Kids 3-D: Game Over (2003) and Spy Kids: All the Time in the World (2011); the graphic novel adaptation/film noir pastiche Sin City (2005) and Sin City: A Dame to Kill For (2014); the children's film The Adventures of Sharkboy and Lavagirl in 3-D (2005); the zombie film Planet Terror (2007), half of the Quentin Tarantino collaboration Grindhouse (2007); and the children's film Shorts (2009); the manga adaptation Alita: Battle Angel (2019); Red 11 (2019), a mind-bending work set during an experimental drug trial; and the kid superheroes film We Can Be Heroes (2020). Rodriguez has also produced From Dusk Till Dawn 2: Texas Blood Money (1999), From Dusk Till Dawn 3: The Hangman's Daughter (2000) and Predators (2010), as well as developed the tv series From Dusk Till Dawn (2014-6).
(Winner in this site's Top 10 Films of 2013 list. Nominee for Best Director (Robert Rodriguez) at this site's Best of 2013 Awards).
---
---