aka Mind Warp: An Infinity of Terror; Planet of Horrors
---
Crew
Director – Bruce D. Clark, Screenplay – Bruce D. Clark & Mark Siegler, Producers – Mark Siegler & Roger Corman, Photography – Jacques Haitkin, Music – Barry Schrader, Special Effects – Tom Campbell & Dennis & Robert Skotak, Makeup Effects – Al Apone, Kenny Meyers & Thom Shouse, Production Design – James Cameron. Production Company – New World Pictures.
Cast
Edward Albert (Cabren), Erin Moran (Alluma), Zalman King (Baelon), Ray Walston (Kore), Sid Haig (Quuhod), Bernard Behrens (Ilvar), Robert Englund (Ranger), Grace Zabriskie (Trantor), Taafee O'Connell (Damera), Jack Blessing (Cos), Mary Ellen O'Neill (Mitri)
---
Plot
The space cruiser Quest is dispatched to the planet Morganthus to rescue survivors of the crashed starship Remus. However, as soon as The Quest emerges from hyperspace, a mysterious force pulls it down to a graveyard of ships on the planet's surface. A psychic among the crew detects a presence in the wreck of the Remus, although everybody aboard is found dead. Investigating a vast pyramid nearby, the crew find a plethora of strange forces lurking in the interior waiting to kill them, including monsters that seemingly embody their greatest fears.
---
Amid the host of films that came out attempting to exploit the success of Alien (1979), Galaxy of Terror, from Roger Corman's New World Pictures, is one of the more interesting. It is only Alien – or even more so Planet of the Vampires (1965) – crosshatched with Forbidden Planet (1956) where the familiar slime-drooling monsters and wrecks of alien spaceships have been combined with some confused but fascinating ideas about monsters from the unconscious.
While generic in most regards, the film does create a constantly eerie atmosphere – the ever-present suggestion of something enigmatic and mysterious waiting inside the pyramid. The production design adds to immeasurably to this, creating a marvellously gloomy, perpetually dark atmosphere. If nothing else, similar ideas were later combined in the more high profile Sphere (1998).
Ultimately though, Galaxy of Terror is only a film that has been contrived to provide pop-up scares and novelty dispatches. It has a high splatter quotient – Sid Haig has a shard of metal force its way up his nostril and down his arm, then cuts his arm off, only to then be attacked by the severed arm; later-to-be online film critic Taaffee O'Connell is stripped and raped by a giant alien worm in one spectacularly tacky scene (which at least takes the sexual proclivities of the creature in Alien to their logical conclusion); and Erin Moran has her intestines squeezed out by coils of wire. It is certainly a more interesting film than Corman's other Alien copy Forbidden World/Mutant (1982).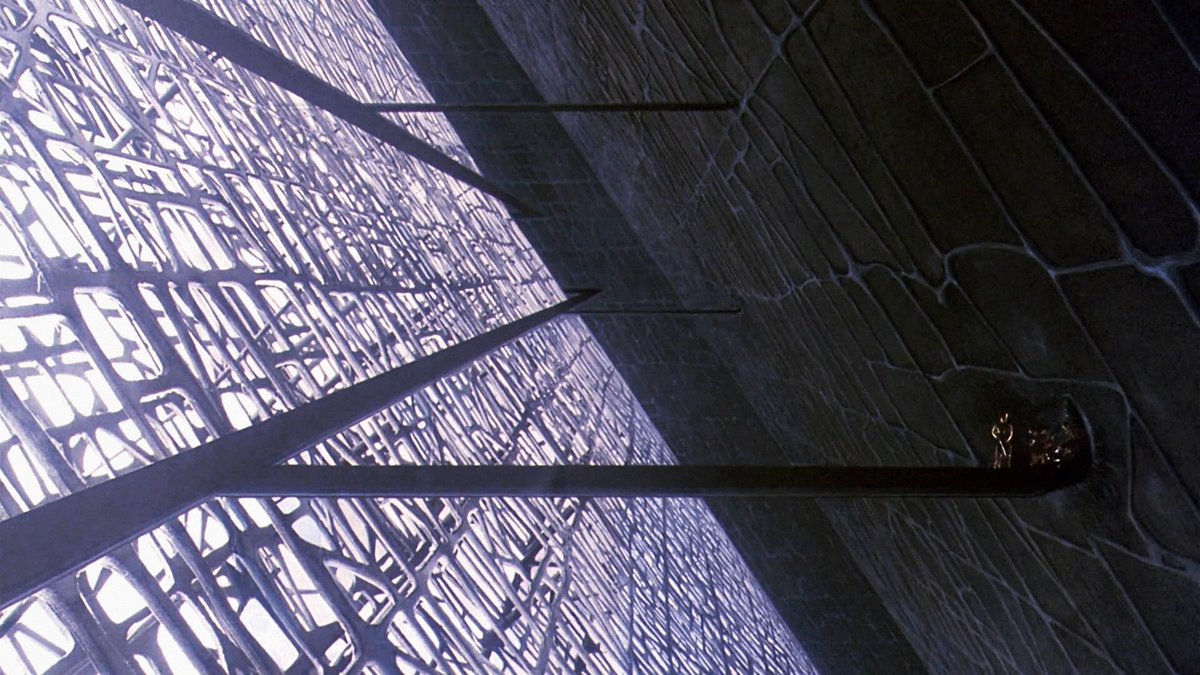 Galaxy of Terror certainly has an interesting case including Erin Moran from Happy Days (1974-84) as the principal female character, not to mention Freddy Krueger himself Robert Englund, David Lynch favourite Grace Zabriskie, and erotica director Zalman King in a rare acting appearance.
Of course the name on the credits that catches the attention is that of James Cameron, later the director of The Terminator (1984), Aliens (1986), Titanic (1997) and Avatar (2009) who, as the production designer here, manages to do miracles with the usual cheapness of Roger Corman's production values.
---
---