---
Crew
Director – Richard Clabaugh, Screenplay – Paul J.M. Bogh, Gary Hershberger & Chris Neal, Story – Phillip Roth, Producers – Jeffrey Beach, Kenneth Olandt & Phillip Roth, Photography – Patrick Rousseau, Music – Daniel J. Nielsen & Red Bus, Visual Effects Director – Andrew Hofman, Visual Effects Supervisor – Marc Perrera, Special Effects – The Action FX Company (Supervisor – Lee W. Connell), Makeup Effects – Sota FX (Supervisor – Roy Knyrim), Production Design – David Huang. Production Company – United Film Organization/Python Productions, Inc.
Cast
Frayne Rosanoff (John Cooper), William Zabka (Deputy Greg Larston), Dana Barron (Kristin), Robert Englund (Dr Anton Rudolph), Sara Mornell (Theresa), Casper Van Dien (Special Agent Bart Parker), Wil Wheaton (Tommy), Sean Whalen (Deputy Lewis Ross), Gary Grubbs (Sheriff Griffin Wade), Chris Owens (Brian Cooper), Scott Williamson ('Kenny the Closer' Summers), Jenny McCarthy (Francesca Garibaldi), LoriDwan Messuri (Lisa Johnson), Kathleen Lambert (Roberta Keeler), David Bowe (Boone), Keith Coogan (Lenny), Ed Lauter (Pilot)
---
Plot
A sealed shipment being carried by a military transport plane manages to break loose in mid-air, causing the plane to crash outside the small town of Ruby, California. A team of FBI agents is assembled to deal with the threat. Herpetologist Anton Rudolph is brought in and warns the agents what they are hunting is a giant python 129 feet long that has phenomenal intelligence. The giant python starts killing people around the town. John Cooper, a professional cyclist who has just moved back to town, is suspected of the killings by police. This is not helped by the fact that John has taken Deputy Greg Larston's girl Kristin. As the FBI are massacred, John, Greg, Kristin and various locals are brought together and try to fight back as the giant python claims victims across the county.
---
Python was one of a heap of low-budget CGI monster movies that came out in the late 1990s/00s following the success enjoyed by Jurassic Park (1993). See also the likes of Bats (1999), King Cobra (1999), Komodo (1999), Octopus (2000), Spiders (2000), Fangs (2001), New Alcatraz/Boa (2002), Attack of the Sabretooth (2005), Cerberus (2005), Mansquito (2005), Pterodactyl (2005), Kraken: Tentacles of the Deep (2006), Mammoth (2006) and Minotaur (2006). The CGI giant snake film had earlier been conducted in the much bigger budgeted Anaconda (1997) and there have been subsequent B-budget CGI snake efforts such as Snakeman (2005), Silent Venom (2009) and various Anaconda sequels.
The B-budget CGI monster movie is not a particularly distinguished genre but Python surprises as one of the better entries. For one, it is played with a sense of humour that lifts the show considerably over any rough technical patches. There are a number of witty character scenes packed around the edges of the action – Wil Wheaton getting excited about a sales guru, or the sales guru himself (Scott Williamson) flirting with Jenny McCarthy as she thinks about buying a house. A large part of the film is stolen by an unrecognisable Sean Whalen who gives an hilarious performance as a dim-witted deputy who keeps trying to get tough without many clues of how.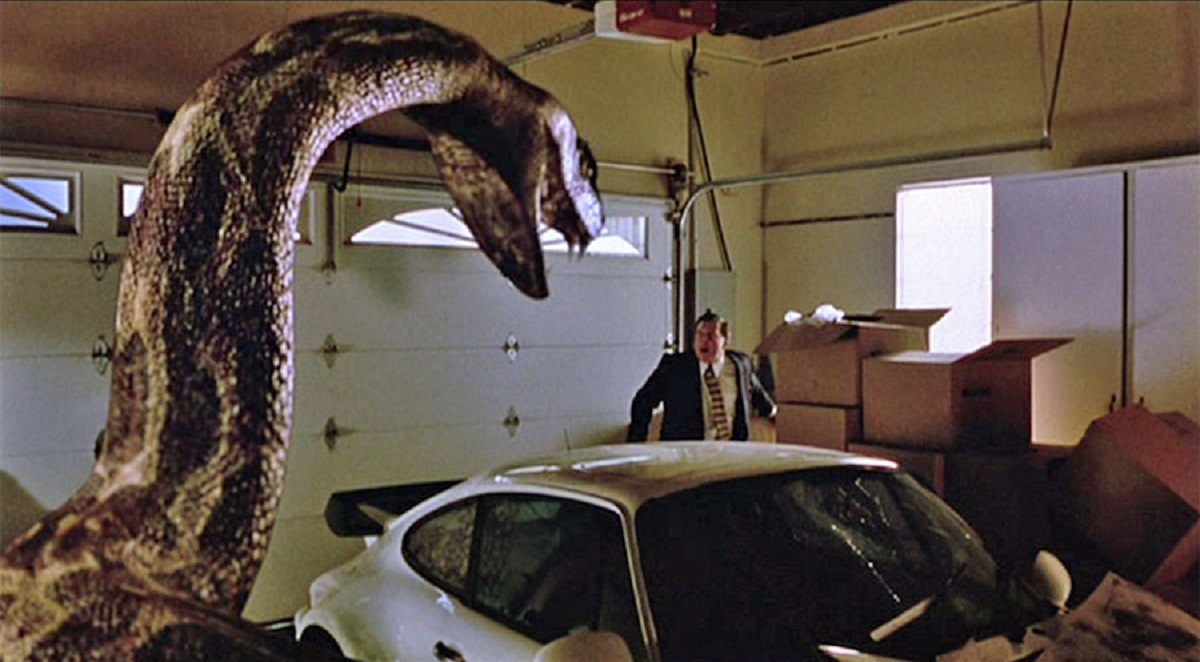 The first major appearance of the snake is considerably undercut by humour as Sara Mornell takes a shower, the snakes bursts in and she is reduced to throwing the rubber duck and shampoo bottle at it, before racing upstairs to get Wil Wheaton who grumbles "You got me out of bed for a snake?" only to be snatched the moment he opens the cellar door to investigate.
As with many of these low-budget CGI monster movies, the CGI effects are somewhat variable and spotty. To compensate, Python holds off showing us anything of the snake until a good third of the way in. Certainly, once the snake emerges proper, the film provides some well staged sequences – the snake scaling the struts of a bridge and then forcing its way into a Jeep; hurtling through the underground bunker in pursuit of Frayne Rosanoff; the fight through the factory as it crushed down into a vat of acid with Frayne Rosanoff caught in its jaws. These scenes are only weakened by the occasional spottiness of the effects.
There is some amusing casting. There is Wil Wheaton, undergoing probably what will be his lifelong task of trying to shake typecasting as a teen idol on Star Trek: The Next Generation (1987-94). With purple hair dye, manically idolising sales gurus and even proudly revealing a pierced nipple, Wheaton seems to be going some way down the path – at least more than the other non-Star Trek roles one has seen him in. Apart from the perpetually awful Robert Englund, the biggest name in the cast is Casper Van Dien, although his is only a supporting role and he is killed off mid-film. Playing a hard-ass military commander at the same time as being outfitted with an unconvincing mustache and trying badly to enact a Texan accent, Van Dien is cast in one of the few (quasi-)villainous roles one has seen him in.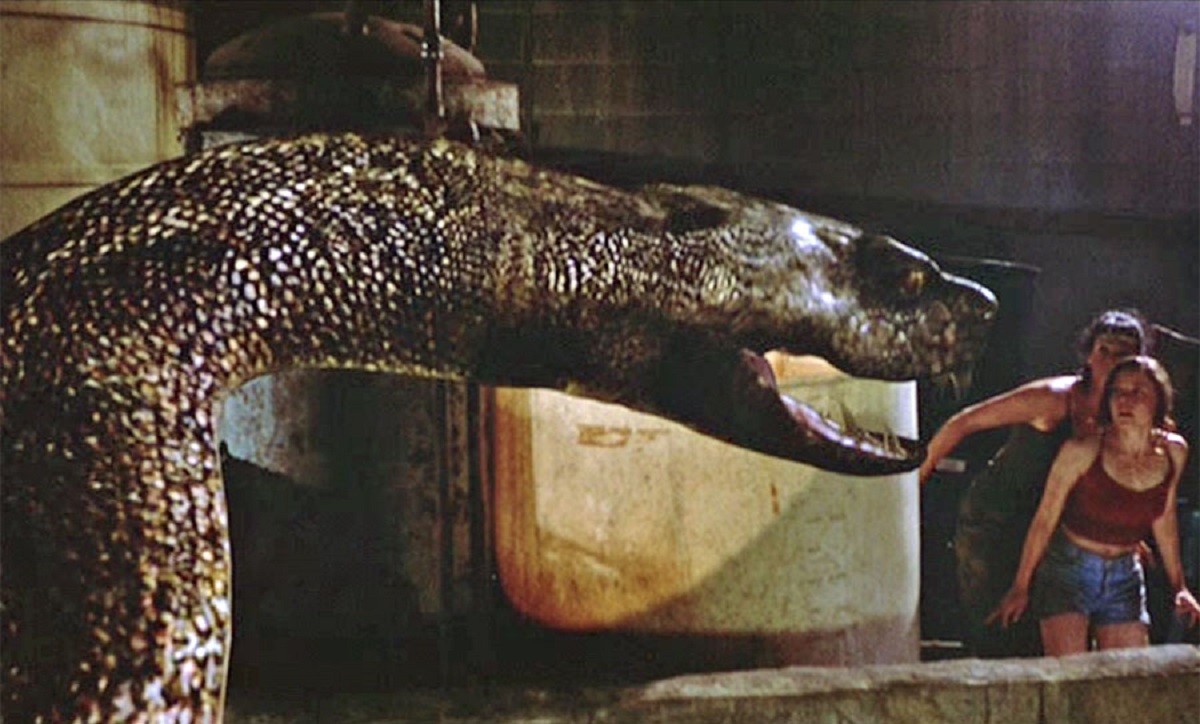 As the ostensible hero of the show, Frayne Rosanoff gives a singularly flat and uncharismatic performance. He is considerably surpassed in the charisma stakes by William Zabka as the deputy whose girl Rosanoff has stolen. At the outset, it seems that William Zabka is shaping up to be the bully of the show but surprisingly the film never lets the character go in that direction and instead lets Zabka develop out with a handsome solidity and trustworthiness – possibly to compensate for the relatively uncharismatic performance given by Frayne Rosanoff.
Pythons/Python 2 (2002) was a sequel, featuring a return performance from William Zabka, while the same production company later mounted Boa vs Python (2004).
Python comes from United Film Organization (UFO), the production company of director Phillip Roth. UFO have also made other genre films such as Darkdrive (1996), Total Reality (1997), Interceptors (1999), Storm (1999), Deep Core (2000), Epoch (2000), Falcon Down (2000), Mindstorm (2000), Lost Voyage (2001), Shark Hunter (2001), Antibody (2002), Dark Descent (2002), Hyper Sonic (2002), Interceptor Force 2 (2002), Dark Waters (2003), Deep Shock (2003), Dragonfighter (2003), Maximum Velocity (2003), Warnings/Silent Warnings (2003), Darklight (2004), Dragon Storm (2004), Phantom Force (2004), Post Impact (2004), Alien Siege (2005), Crimson Force (2005), Locusts: The 8th Plague (2005), Manticore (2005), Path of Destruction (2005), S.S. Doomtrooper (2006), Reign of the Gargoyles (2007), Copperhead (2008), Ghost Voyage (2008), Doomsday (2009), Ghost Town (2009), The Grudge 3 (2009), Star Runners (2009), Arctic Predator (2010), Elimination (2010), Lake Placid 3 (2010), Triassic Attack (2010), Cold Fusion (2011), Miami Magma (2011), Morlocks (2011), Rage of the Yeti (2011), Super Eruption (2011), Super Tanker (2011), Black Forest (2012), Boogeyman (2012), Lake Placid: The Final Chapter (2012), True Bloodthirst (2012), Wrong Turn 5: Bloodlines (2012), Deadly Descent (2013), Invasion Roswell (2013), Jet Stream (2013), Robocroc (2013), Super Collider (2013), Crystal Skulls (2014), Firequake (2014), Wrong Turn 6: Last Resort (2014), Lake Placid vs Anaconda (2015), Roboshark (2015), Death Race: Beyond Anarchy (2018). The Car: Road to Revenge (2019) and Doom: Annihilation (2019).
---
Trailer here
Full film available online here:-
---