---
Crew
Director/Screenplay – Leon Ford, Producer – Nicole O'Donohue, Photography – Simon Chapman, Music – Kids at Risk, Visual Effects – FSM (Supervisor – Phil Stuart-Jones), Production Design – Sophie Nash. Production Company – Fortissimo Films/Screen Australia/Screen NSW/FSM/Green Park Pictures.
Cast
Ryan Kwanten (Griff), Maeve Dermody (Melody), Patrick Brammall (Tim), Toby Schmitz (Tony), Marshall Napier (Benson), Heather Mitchell (Bronwyn), David Webb (Gary), Anthony Phelan (Detective Stone), Kelly Paterniti (Gina)
---
Plot
Griff is a socially awkward 28-year old man in Sydney, Australia. At the office where he works, he is made fun of and ridiculed by the bullying Tony. However, Griff has a secret identity as a masked and costumed superhero where he ventures out into his neighbourhood to fight crime. His older brother Tim who introduces Griff to his new girlfriend Melody. Melody also has a social awkwardness and constantly thinks of strange things, including trying to perfect the art of shifting the spaces between the molecules of her body so that she can walk through walls. She is attracted to Griff far more than she is to Tim because he has a like mind. She repeatedly comes back to see Griff. While she is there, Tim turns up and Griff is forced to hide her in the closet where she discovers his superhero costume. She then becomes determined to help him perfect his gadgets and invisibility suits.
---
The superhero film has become massively popular within the 00s. There were the inevitable parodies, particularly images of superheroes in domestic situations, following the success of Pixar's The Incredibles (2004). One of the more recent fads amid the parodies has been for films about superheroes with no powers, usually individuals that are delusional about being costumed crime-fighting avengers. This sporadically began with the likes of Special (2006), the Disney animated talking animal film Bolt (2008) and the South Korean A Man Who Was Superman (2008) and took off in 2009-10, a period that produced the Canadian-made Defendor (2009), the mainstream release of Kick-Ass (2010), Griff the Invisible and James Gunn's Super (2010), even Superheroes (2011), a documentary concerning true-life instances of people who dress up as superheroes to fight crime.
Griff the Invisible is an entry in these no-powers superhero comedies that hails from Australia. It is a directorial debut for actor Leon Ford. The film gained reasonable exposure and a played a number of theatres in the US. Top-lining the show is Ryan Kwanten, who has become a hot name in the last couple of years as Jason Stackhouse in tv's True Blood (2008-14). The role of Griff is one that allows Kwanten to play with his natural Australian accent rather than with the Southern drawl he affected on True Blood. Female lead, the delightful Maeve Dermody, had previously appeared as one of the people trapped in a tree in the killer crocodile film Black Water (2007).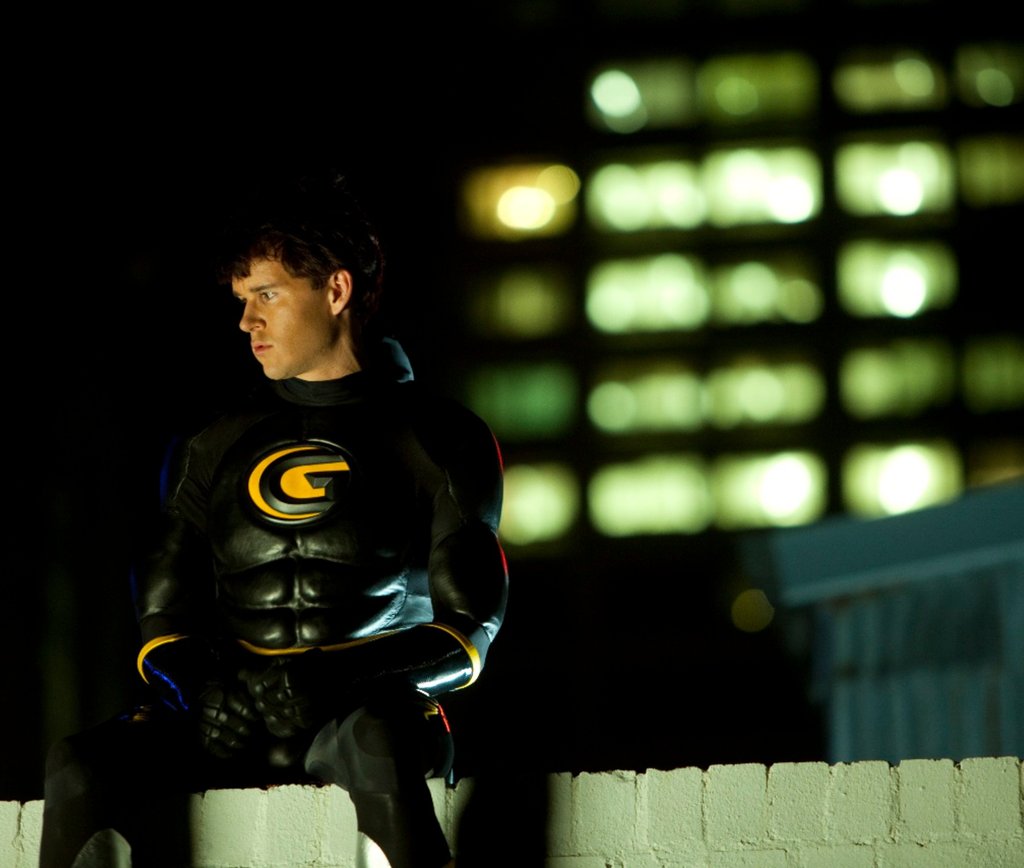 After having watched Defendor, Kick-Ass, Super and now Griff the Invisible all within the space of a year, one wondered what treatment of the no powers superhero there is left that these other films have not covered. The answer is not that much. Griff the Invisible treads the same general territory that these others do – the idea of someone who is socially awkward verging on mental illness and is downtrodden, overlooked and taken advantage of in everyday life who creates an alter ego as an all-powerful costumed crime-fighting superhero. All of these films make pointed contrast between the unreal world of costumed comic-book superheroes and the less than glamorous actuality when people try to enact these things in mundane reality. In most of these films, there is an attraction between the deluded superhero and a good-hearted girl who jumps in with enthusiasm to help after she discovers his true identity.
Griff the Invisible's particular spin on all of this is to play everything out more as a romance between two socially awkward individuals. This travels in fairly predictable areas. Maeve Dermody has some appealing quirks – the idea borrowed from The Men Who Stare at Goats (2009) of trying to rearrange one's molecules to move through walls, or of asking curious meta-questions about polls "What's your favourite poll question?" and the like – but most of this is vaguely amusing without being particularly funny.
There is a hurried series of scenes at the end where Ryan Kwanten renounces his superhero guise and tries to live a normal life before reconciling with her but this takes place so quickly and in ways that are never less than completely obvious so that there is no emotive frisson as we join the characters. There is also a running subplot about Ryan Kwanten's travails in the workplace dealing with a bullying jerk (Toby Schmitz) and how he uses a series of gadgets to get comeuppance – which brings Griff the Invisible into the same territory as other great Australian comedy Malcolm (1986) – although this is not played up sufficiently to be any more than another vaguely amusing quirk that the film wheels out.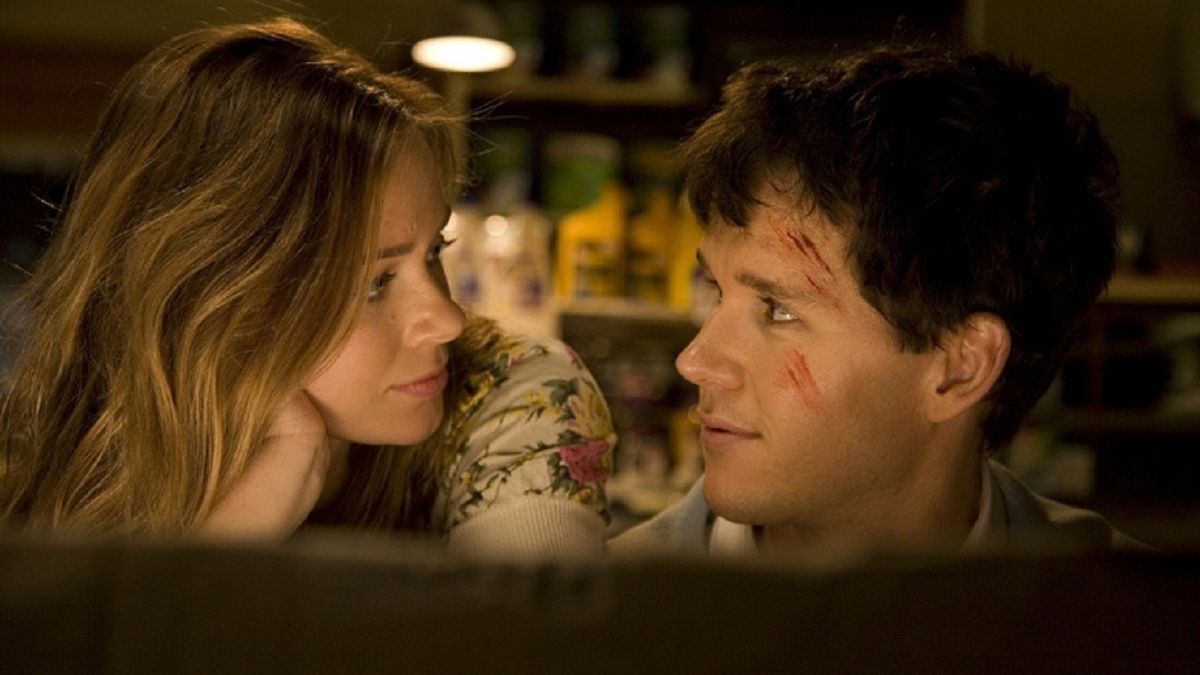 One oddity that Griff the Invisible does more than any of these other no powers superhero films is to show that the world that Ryan Kwanten and Maeve Dermody inhabit is a peculiar kind of shared madness. The world is given an often stylised look not unlike the one in Dick Tracy (1990) with people in primary coloured costumes and the ordinary Sydney back streets and alleys highlighted in backlit mists and with pastel lighting schemes, although it is not clear for much of the film that this is a subjective world.
We see the two of them creating fascinating sounding science-fictional costumes but these are abruptly revealed to be mundane in nature when others are there – after the application of an invisible ink solution, the Invisibility Suit shows Ryan Kwanten as digitally blanked out but when the security guard comes it is just him running around in a white contamination suit; the Magnetic Invisibility Suit has similar effects but shows up on camera as Kwanten in blackout gear and a football helmet; The Universe Suit is full of digitally shimmering starscapes and renders Ryan Kwanten invisible when he puts it on and, while Maeve Dermody is unable to see him unless he wears a hat, it would appear that his brother (Patrick Brammall) and her father (Marshall Napier) can do so, although this is always ambiguously represented so that you are not sure. The film reaches an ending not unakin to Harvey (1950) that serves as a shrug of the shoulders to say that people who have weird delusions are happiest when put together and left to perceive the world in whatever way they do.
---
---