USA. 2011.
Crew
Director/Screenplay – Kevin Smith, Producer – Jonathan Gordon, Photography – David Klein, Visual Effects – Cantina Creative (Supervisor – Stephen Lawes), Special Effects Supervisor – Charles Belardinelli, Prosthetic Makeup Effects – MastersFX (Designer – Todd Masters), Production Design – Cabot McMullen. Production Company – Harvey Boys/NVSH Productions/Smodcast Pictures.
Cast
Michael Parks (Abin Cooper), John Goodman (Agent Joseph Keenan), Michael Angarano (Travis), Kyle Gallner (Jarod), Kerry Bishé (Cheyenne Cooper), Melissa Leo (Sara Cooper), Nicholas Brain (Billy-Ray), Stephen Root (Sheriff Wynan), Matt Jones (Deputy Pete), Kevin Alejandro (Harry the Tactical Agent), Patrick Fischler (Agent Hammond), Kevin Pollak (Agent Brooks), Deborah Aquila (Mrs. Vasquez), Anna Gunn (Travis's Mother), Damian Young (Agent Carol)
---
Plot
Teenager Travis accompanies two high school friends Jarod and Billy-Ray who have answered a Craigslist ad from a woman in her thirties who wants to have sex with all three of them. They head to her trailer home in Cooper's Dell and are invited in for some beers but these proved to be drugged. The boys come around in the compound of Five Points Trinity Church headed by Abin Cooper. Cooper leads a vicious crusade against homosexuality, which he blames for all the ills in modern America. As the boys watch, a suspected homosexual is tied to a cross and shot. They learn that they are next to be executed because of their sexual licentiousness. Just then a sheriff's deputy comes to the compound, looking for the boys' vehicle that sideswiped Sheriff Wynan's car on the way there (while the sheriff was parked on the roadside having sex with another man). The boys break free and start shooting whereupon Cooper's men kill the deputy. The sheriff is told by Cooper to do nothing or they will release photos of him engaged in gay sex. He instead calls in Alcohol Tobacco and Firearms agent Joseph Keenan. ATF agents surround the compound but this abruptly escalates into an armed standoff. Moreover, Keenan has received orders from his superiors that those inside the compound are to be regarded as a terrorist cell and everybody eliminated.
---
Director Kevin Smith emerged in the 1990s, creating an instant cult hit with his low-budget independent feature Clerks. (1994). He went onto a string of other hits in a similar vein with Mallrats (1995), Chasing Amy (1997), Dogma (1999) and Jay and Silent Bob Strike Back (2001) – films filled with a wry overgrown adolescence, frat boy humour suffused with nerdish in-jokes and characteristically witty and sarcastic dialogue. Come the mid-00s, Smith had built a solid cult audience as filmmaker, comic-book author, Twitter correspondent, live raconteur and occasional actor. However, his most recent films – the likes of Jersey Girl (2004) and Cop Out (2010) – have the overall feeling that he had started to lose direction or that he was just rehashing material as with Clerks II (2006) and that audiences seemed to be tiring of the same old Kevin Smith film.
Red State seems to be Kevin Smith trying to rebrand himself as a serious filmmaker. Smith's promotional schemes for the film were as characteristically showoffy and individualistic as ever – he caused ire by holding a highly publicised bidding auction for distributors at Cannes and then gave everybody the middle finger by selling the rights to himself for $20, followed by his touring the North American continent personally introducing the film in each city. Despite this being a strategy that makes a play for the Kevin Smith name and cult, Red State is a very different film to anything that Smith has made before. It is a serious drama that plays out in its tough dramatic tensions with none of the usual Kevin Smith sarcastic humour or long fanboy in-joke monologues to be found. It is certainly a film that shows Smith having discovered an impressive newfound maturity.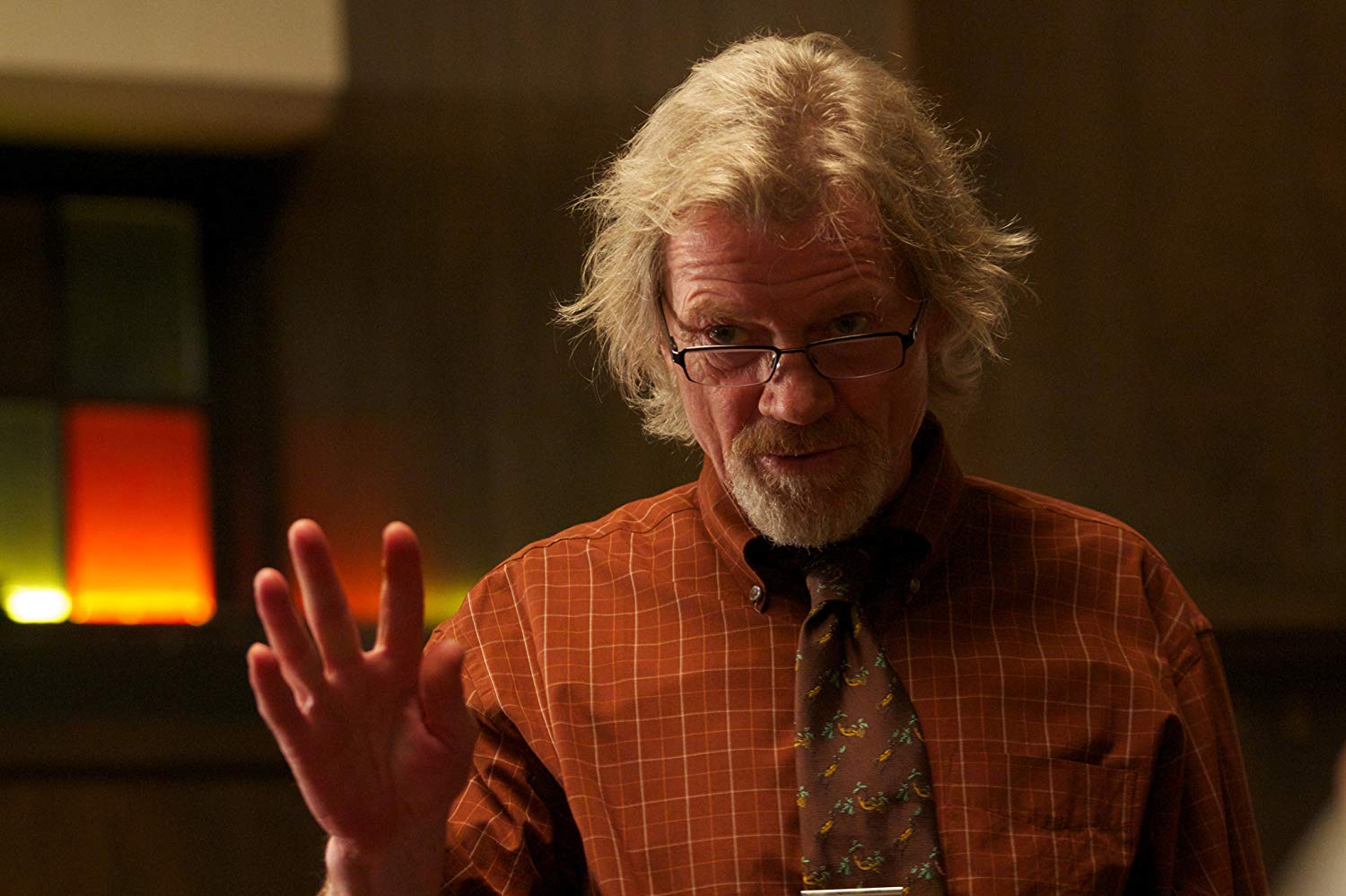 Red State is Kevin Smith addressing religion again – although in very different ways to his advocacy of Catholicism in Dogma. It is him taking on board in all but name the vicious hate-mongering anti-gay agenda of Fred Phelps of Westboro Baptist Church and their disgusting campaign of picketing the funerals of fallen soldiers to proclaim judgement on America for its acceptance of homosexuality. That and a series of climactic scenes that have clearly been borrowed from the FBI/ATF siege against David Koresh and the Branch Davidian followers at Waco in 1993.
Nor is Smith afraid of getting in and tackling big political issues in America – the film is pointedly called Red State, a term that refers to US states that vote Republican, the voting party most associated with Christian fundamentalism. In such a wilful choice of titles, Smith very much politicises the film. Smith should be commended for tackling a contentious subject that many mainstream studio-backed filmmakers would surely shy away from. (The difference can surely be measured by pointing to Martha Marcy May Marlene (2011), another film about a cult that came out around the same time as and managed to entirely avoid any mention of religion whatsoever). This becomes particularly pointed during John Goodman's end soliloquy that becomes an attack on Patriot Act madness, followed by Agent Patrick Fischler's parable of calm, well-behaved dogs reduced to fighting over a turkey bone as a metaphor for the bitter rivalry between Red and Blue States.
Red State is never more captivating than when Smith is exploring the mindset of the cult and its leader. Smith gives Michael Parks centre stage for almost twenty minutes in a captivating soliloquy that lets Parks voice the cult's burning hatred of homosexuality with a genuinely captivating fire. Smith has clearly read up on his Bible verses and gets inside the psychological nuances of the character with an unerring accuracy. Parks gives a genuine tour-de-force performance in the role – both a mix of laidback Southern charm and flinty canniness – that holds the film spellbound.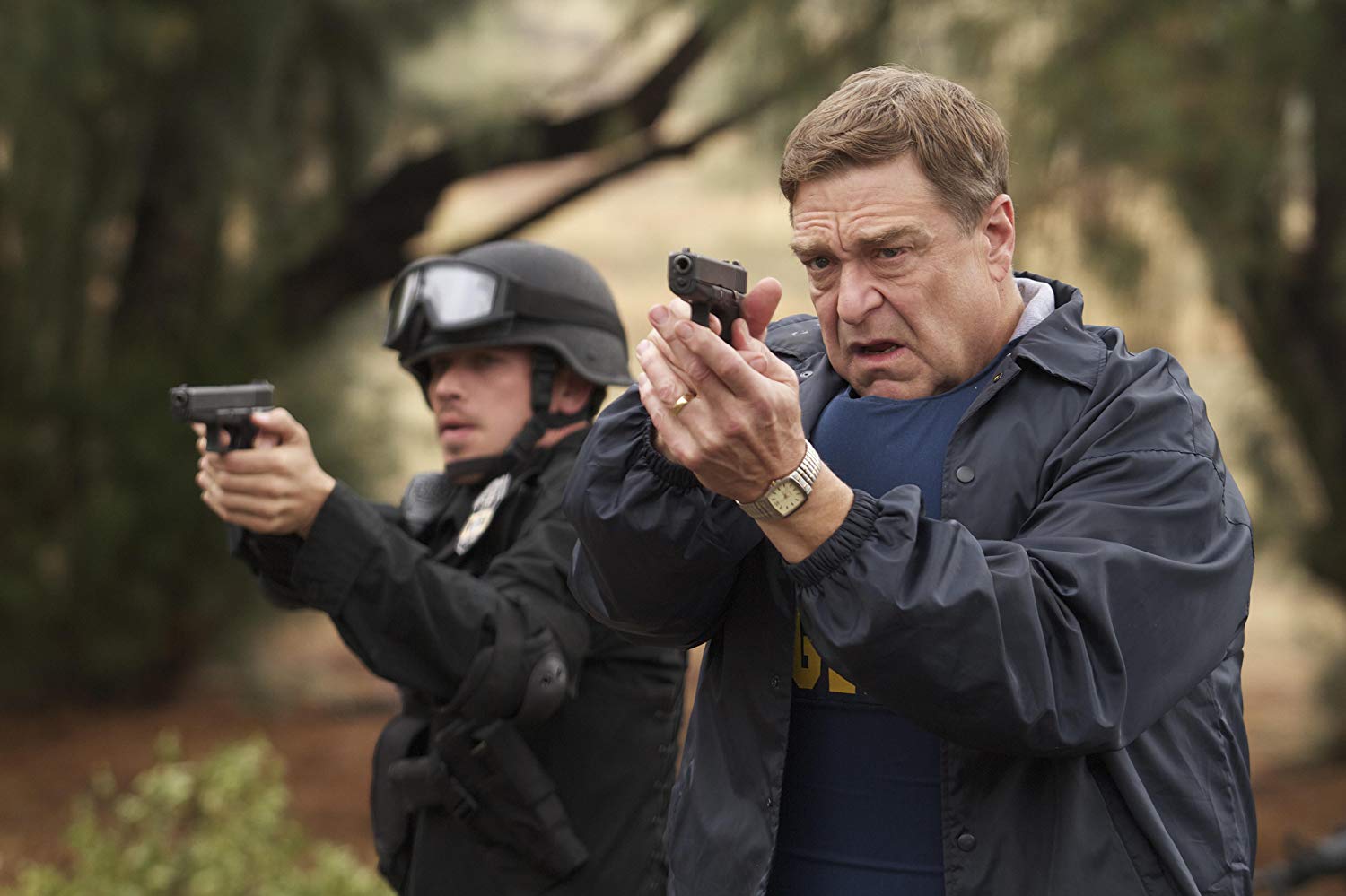 Smith was adamant that Red State is a horror film. Although as a horror film reviewer, I am less sure about such a classification than he is. To me, while it has some horrific moments during the first half, Red State works more as a siege film that I would classify in the thriller or drama section of a videostore. Having stripped out all his witty one-liners, Smith still leaves us with some bristlingly wry and sharply aware dialogue and several dark and unexpected whiplash surprises. One of these is a jolt that is almost as much of a shock as the shooting of Duane Jones by the sheriff's posse at the end of Night of the Living Dead (1968) where [PLOT SPOILERS] the film, having stayed with Michael Angarano as the nominal identification figure for 47 minutes of running time, has him make an escape, only to be shot by the ATF agents as he flees the compound holding a shotgun. While we are still reeling from that, Smith then cuts to discussion among ATF agents John Goodman and Kevin Pollak about what just happened, only for Pollak to abruptly get a bullet in the eye. When a film kills off a recognisable name actor within a couple of minutes of introducing him, we know that the filmmakers are determinedly out to fuck with our preconceptions and upset everything we bring to the film. From that point on, Kevin Smith turns Red State into a genuine Waco-styled pressure cooker situation as we contrast the deluded hate-filled individuals inside the compound thinking that The End has come with the supposed good guys, the ATF agents, who are given orders to regard those inside as a terrorist cell and exterminate all of them.
The wildest left field twist that Kevin Smith produces [PLOT SPOILERS] is as the siege comes to a showdown between the two rival leaders Michael Parks and John Goodman, only for a series of stentorian trumpet blasts to sound out with the clear implication that it is the Last Trumpet Call. It is an abrupt WTF spin that leaves us wondering where on Earth Smith is possibly going with this one. Is this a twist like something out of The Rapture (1991), Breaking the Waves (1996), Frailty (2001) or Where the Devil Hides (2014) where we are led to be horrified throughout about the cruelty of the beliefs of religious extremists, only for the final codas of these films to reveal that they have been right all along? Can Kevin Smith's final darkly ironic twist be that a sect of gay-hating fundamentalists are the only ones that have the sanction of The Almighty all along? It seems such a bizarre twist to throw in in an otherwise perfectly rational and non-fantastical film as to be utterly bewildering. The scene then cuts to an ATF panel examining John Goodman's actions where this is then given a somewhat contrived mundane explanation. [Apparently though, Kevin Smith did want to end the film with a genuine apocalyptic vision of angels arriving but his final budget did not allow the realisation of such].
The performances in the film are all top-notch with Michael Parks dominating the show in a performance of amazing charisma. An initially almost unrecognisable John Goodman also holds the show up with an extremely solid and credible performance. Both of these are exceptional and awards worthy performances. Elsewhere, Kevin Smith fills the show out with an excellent cast, including the always excellent Melissa Leo as Michael Parks's daughter who lures the guys in the first place and the unknown Kerry Bishé in a pained performance as the young clan member who pleads to spare the children.
Kevin Smith subsequently returned to the horror genre with Tusk (2014) about a man who is surgically transformed into a walrus, followed by the comedy Yoga Hosers (2016) featuring some of the same characters against miniature cloned Nazi soldiers and the Halloween episode of the horror anthology Holidays (2016). Also of interest is The Death of "Superman Lives": What Happened? (2015), a documentary in which Smith recounts his work as scriptwriter on the aborted Tim Burton-Nicolas Cage Superman film Superman Lives during the late 1990s.
(Winner for Best Actor (Michael Parks) and Best Supporting Actor (John Goodman), Nominee for Best Original Screenplay at this site's Best of 2011 Awards).
---
Trailer here
---