---
Crew
Director – Jon Favreau, Screenplay – Justin Theroux, Based on the Comic Book Created by Don Heck, Jack Kirby, Stan Lee & Larry Lieber, Producer – Kevin Feige, Photography – Matthew Libatique, Music – John Debney, Visual Effects Supervisor – Janek Sirrs, Visual Effects – Industrial Light and Magic (Supervisor – Ben Snow, Animation Supervisor – Marc Chu), Additional Visual Effects – Double Negative, The Embassy, Evil Eye Pictures, Fuel VFX, Goat Visual Effects, [hy*drau*lx], Lola/VFX, Perception, Pixel Liberation Front, Pixomondo, Prologue Films & Svengali Visual Effects, Special Effects Supervisor – Daniel Sudick, Costumes & Makeup Effects – Legacy Effects, Production Design – J. Michael Riva. Production Company – Marvel Studios/Fairview Entertainment.
Cast
Robert Downey Jr (Tony Stark/Iron Man), Gwyneth Paltrow (Virginia 'Pepper' Potts), Mickey Rourke (Ivan Vanko/Whiplash), Sam Rockwell (Justin Hammer), Don Cheadle (Lieutenant-Colonel James Rhodes/War Machine), Scarlett Johansson (Natalie Rushman/Natasha Romanoff/Black Widow), Samuel L. Jackson (Nick Fury), Jon Favreau (Happy Hogan), Clark Gregg (Agent Phil Coulson), Garry Shandling (Senator Stern), John Slattery (Howard Stark), Paul Bettany (Voice of Jarvis), Kate Mara (Marshal)
---
Plot
Tony Stark is brought before a Senate hearing where he refuses to accede to demands that he turn over the Iron Man suit to the US military. At the same time, Tony has realised that the palladium that powers his artificial heart is fatally poisoning his bloodstream. Becoming increasingly more erratic as he tries to deal with this, he makes Pepper the CEO of Stark Industries. Meanwhile, the Russian Ivan Vanko, the embittered son of a former colleague of Tony's father, appears at a Monaco car race and causes chaos with giant electrified whips before Tony apprehends him in the Iron Man suit. However, Vanko is broken out of jail and his death faked by Tony's rival Justin Hammer, the head of Hammer Industries, who wants Vanko to build something more powerful than Iron Man. After Tony gets drunk in the Iron Man suit, James Rhodes dons a backup suit to stop him. Rhodes then flies away with the suit and into the service of the US military. Nick Fury inspires Tony to search for the secrets of his father, which may offer a cure to the palladium poisoning. As Tony regains his form as Iron Man, he realises that Vanko has built an army of killer drones.
---
Adaptations of Marvel Comics superheroes have become massive in the 00s with film adaptations of Blade (1998), X-Men (2000), Spider-Man (2002), Daredevil (2003), Hulk (2003), The Punisher (2004), Elektra (2005), Fantastic Four (2005), Ghost Rider (2007), Captain America: The First Avenger (2011), Thor (2011), Guardians of the Galaxy (2014), Ant-Man (2015), Deadpool (2016), Doctor Strange (2016), Black Panther (2018), Venom (2018), Captain Marvel (2019), Black Widow (2021), Eternals (2021), Shang-Chi and the Legend of the Ten Rings (2021) and various sequels to most of these, as well as the tv series' Agents of S.H.I.E.L.D. (2013-20), Daredevil (2015-8), Agent Carter (2015-6), Jessica Jones (2015-9), Luke Cage (2016-8), The Defenders (2017), Inhumans (2017), Iron Fist (2017-8), The Punisher (2017-9), Runaways (2017-9), WandaVision (2021- ), The Falcon and the Winter Soldier (2021- ), Hawkeye (2021- ) and Loki (2021- ), all having become big box-office hits throughout the decade.
Iron Man (2008) was one of the most successful and critically praised among these. Iron Man 2 is a direct sequel. Marvel have shown an extraordinary wide-ranging ambition in their film adaptations. Recent Marvel adaptations around this time started to build into a grand united design that converged with the adaptation of The Avengers – Samuel L. Jackson has signed up to appear as Nick Fury in no less than eight films, for instance. It is something that you wish DC would catch up with rather than having spent most of the preceding decade with properties like Green Lantern (2011), The Flash and Wonder Woman in perpetual development.
Iron Man 2 suffers from the same dictum that most superhero sequels do – that the first film be an introduction story where the superhero faces a single villain and with that out of the way the next film(s) set out to top what has gone before by upping the number of super-villains or superheroic associates. Examples of this might include Batman Returns (1992) and Spider-Man 3 (2007) and reaches a point of absurdity in the likes of Batman Forever (1995) and Batman & Robin (1997) or X-Men: The Last Stand (2006) and X-Men Origins: Wolverine (2009), which upped the comic-book characters on the screen until the films became almost like three-ring circuses that felt like they were trying to advertise the maximum number of attractions under one roof.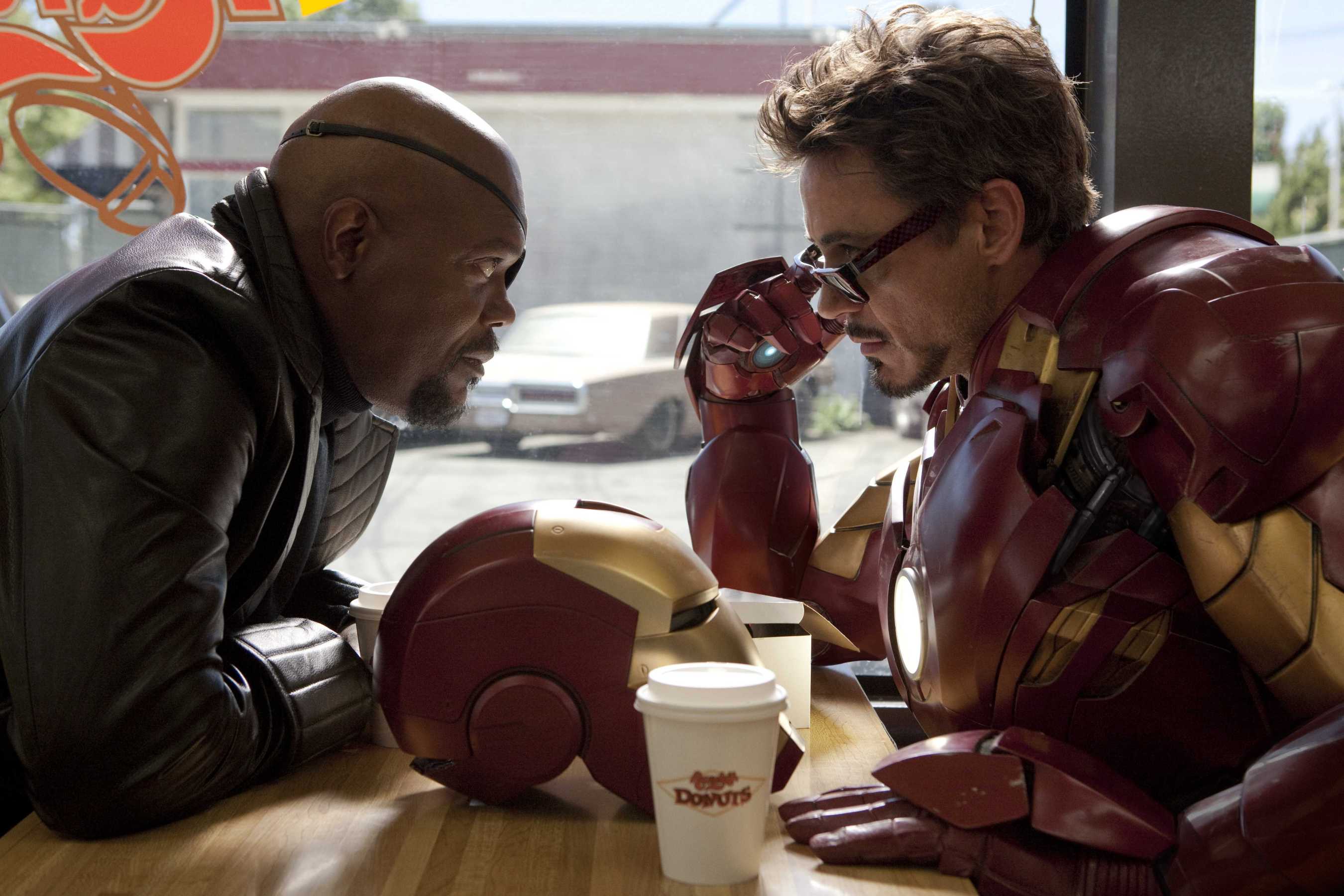 Iron Man was largely concerned with the establishment of Tony Stark and Iron Man as characters, while the villain Iron Monger was a distinctly supporting character in the story. To typical sequelaic form, things get more complicated here. James Rhodes, who was introduced in the first film (but is now played by Don Cheadle, purportedly because Terrence Howard either bowed out or was fired by Marvel after making higher pay demands) becomes the character of War Machine, who has at various times been an enemy and an associate of Iron Man, even having operated as Iron Man for some time. Samuel L. Jackson's Nick Fury, who started as a post-credits in-joke at the end of Iron Man, has now become a major supporting character. Scarlett Johansson appears as Natalia Romanova/Black Widow, a character who first appeared in the 1960s as a Soviet spy nemesis of Iron Man but later gained superpowers and variously became a S.H.I.E.L.D. agent, joined The Avengers and became Daredevil's girlfriend.
Mickey Rourke's Ivan Vanko/Whiplash is an amalgam of two different Iron Man super-villains – Anton Vanko, a Soviet scientist who built his own armoured powersuit to operate as The Crimson Dynamo and has been succeeded by thirteen other incarnations (all Russian), and Mark Scarlotti, an ex-Stark Industries employee who donned a mask and cape and wielded electrified titanium whips to become Whiplash, alternately known as Blacklash. There is also the introduction of Justin Hammer, a non-super-powered corporate rival of Tony Stark from the comic-books who usually outfits rival villains with armoured gear of his own devising.
Most of these abovementioned films that toss multiple superheroes and villains into the mix end up as a narrative juggling act where the screenwriter is constantly flipping between origin stories for each of the new characters, character development of the hero and various combat encounters/team-ups between heroes and villains. In the best of these – both Batman Returns and Spider-Man 3 made it work – the plot becomes extremely busy trying to keep all the balls in the air; in the worst of these – the Joel Schumacher Batman films, the X-Men sequels – characters whip by so fast that the film feels like little more than a primer to check out the comic-books.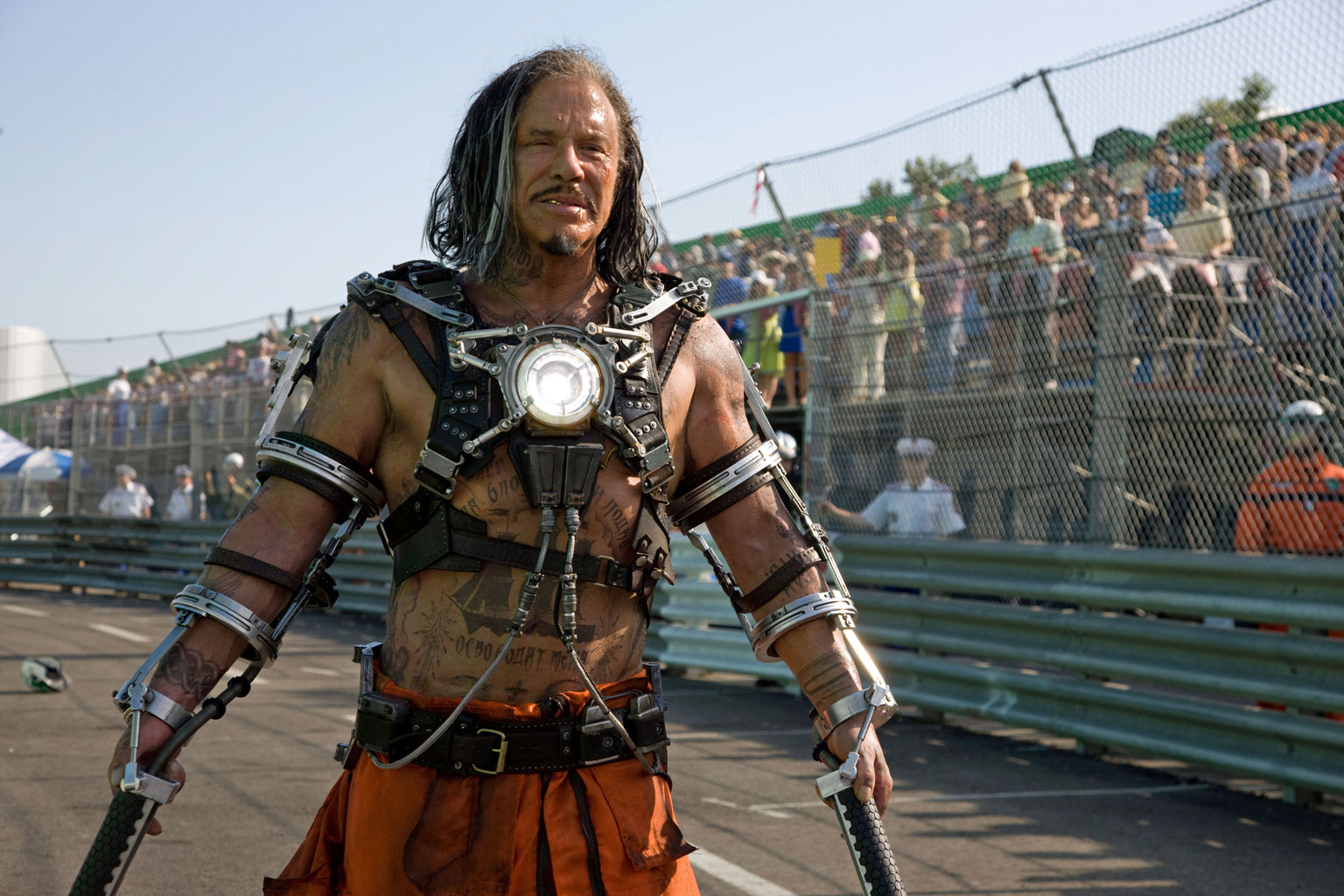 Iron Man 2 at least falls generally towards the Batman Returns/Spider-Man 3 side of things. It is busy and jam-packed with incident but never entirely leaves all of its balls up in the air. The downside of this is that it is a story that is a little too filled with incident. The first film was much cleaner in that it was largely an origin story with a clearcut character arc and did not give over equal time to focus on developing its super-villain or any of its supporting characters.
The other surprising thing about Iron Man 2 is that it seems too busy with its juggling of plot elements and variety of new characters to take the time to be superheroic. It is also the dictum of a sequel to have to be more spectacular in this regard. Certainly, when Iron Man 2 does produce the superheroic goods, it achieves this – it is just that there is surprisingly little in the way of superheroic conflict on screen. There are only two major sequences – a fine sequence where Mickey Rourke disrupts the Monaco car race smashing up vehicles in the middle of the racetrack with his electric whips, and the climactic scenes with Robert Downey Jr and Don Cheadle battling against an army of drones. And that is it, apart from a couple of minor fight scenes – between a drunken Robert Downey Jr and Don Cheadle, and one with Scarlett Johansson going into action. Certainly, the superheroic combat the film does produce is exciting as it should be, although even then Mickey Rourke's villain is defeated relatively quickly and with little in the way of a dramatic battle to the death.
The cast are a mixed bag this time. After acing the role of Tony Stark in the first film, Robert Downey Jr seems bored a second time around. His playing is less that of a charismatic genius playboy than a fey leprechaun. If one didn't believe the gossip headlines about Downey having given up his hard drinking and drug-taking ways, you would swear he had turned up for shooting in the role wired in some scenes. Gwyneth Paltrow does much the same as she did the last time around, although seems to have taken the pepper part of the role seriously and spends most of the time delivering withering expressions in Robert Downey Jr's direction.
Mickey Rourke has undergone a major career resurrection in recent years but looks as though he never underwent any costume change in between stepping off the set of The Wrestler (2008) and onto Iron Man 2. Nevertheless, Rourke evinces a certain gravely lethality in the role – although his best comic-book role still remains Marv in Sin City (2005). He tends to be upstaged by Sam Rockwell in an amusingly nerdy villainous performance.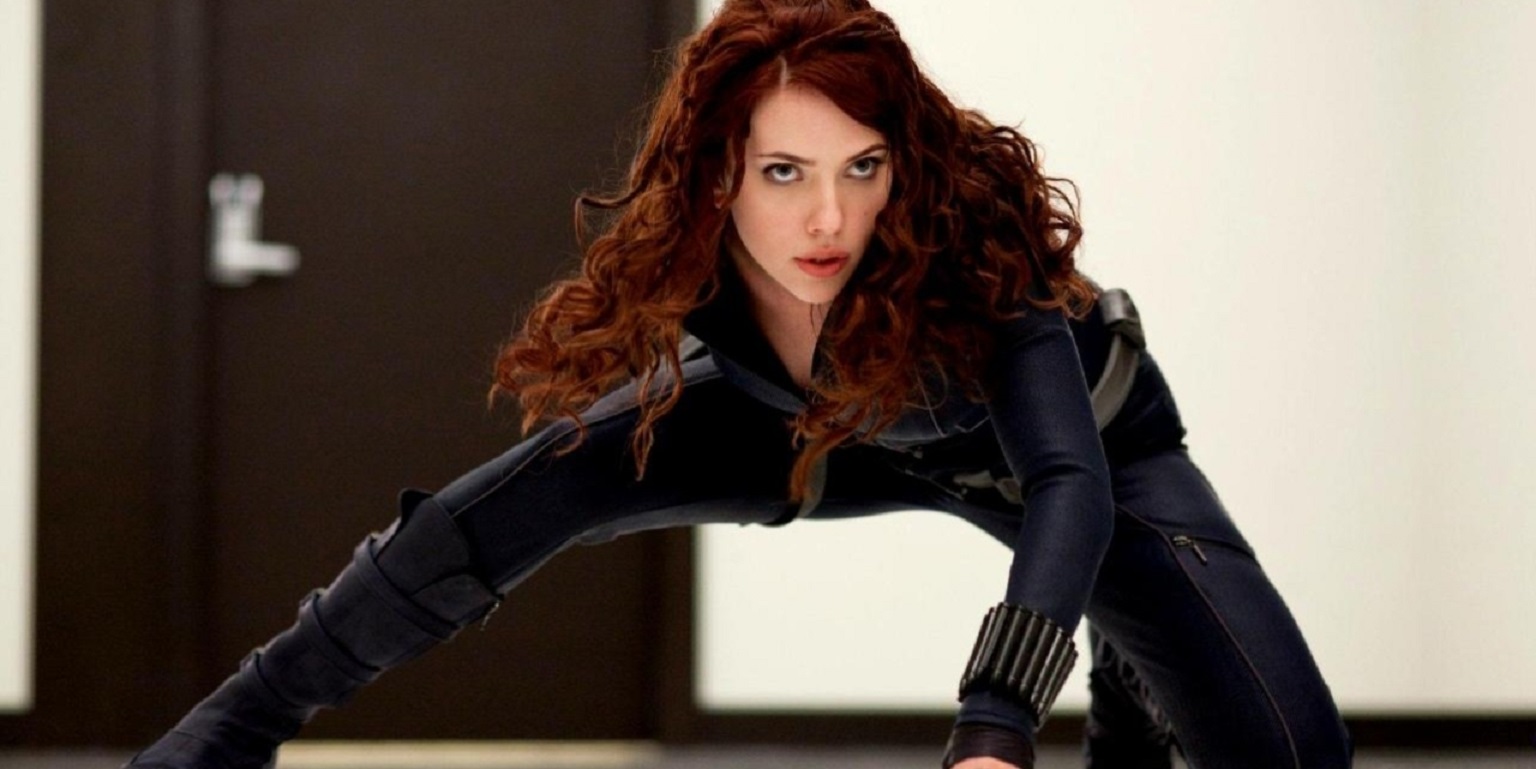 The biggest disappointment comes from Scarlett Johansson. This is a role that Johansson apparently went out of her way to get. She clearly cannot have read the script, which has her as a secretary for most of the film and about two scenes where she turns up in skintight costume. Admittedly, one of these is a nifty fight sequence, but I was fully expecting her to emerge with the seductive dangerousness of say Sienna Miller in G.I. Joe: The Rise of the Cobra (2009) but her performance and the role remains largely uninteresting.
As with the joke that Jon Favreau included at the end of Iron Man, there is another post-credits gag in which S.H.I.E.L.D. agent Clark Gregg turns up in New Mexico where what appears to be Thor's hammer has been unearthed in what is clearly a lead-in for the Thor film. There is also a cameo appearance from Captain America's shield during the scene where Robert Downey Jr is building the particle accelerator and looking for something to prop up the unit. There is also much emphasis on Nick Fury recruiting for The Avengers project as  lead-in for The Avengers.
Robert Downey Jr and Gwyneth Paltrow but not Jon Favreau as director next returned in Iron Man Three (2013). Downey subsequently appeared as Tony Stark in The Avengers (2012), Avengers: Age of Ultron (2015), Captain America: Civil War (2016), Spider-Man: Homecoming (2017), Avengers: Infinity War (2018) and Avengers: Endgame (2019).
(Nominee for Best Special Effects at this site's Best of 2010 Awards).
---
---