---
Crew
Director – Bernard Shakey [Neil Young] with Dean Stockwell, Screenplay – James Beshears, Jeanne Field, Bernard Shakey [Neil Young], Dean Stockwell & Russ Tamblyn, Producer – L.A. Johnson, Photography – David Myers, Visual Effects – Computer Camera Services, Special Effects – Marty Bresin, Art Direction – Michael Minor. Production Company – Shakey Pictures.
Cast
Neil Young (Lionel Switch/Frankie Fontaine), Russel [Russ] Tamblyn (Fred Kelly), Dean Stockwell (Otto Quartz), Dennis Hopper (Cracker/Stranger), Charlotte Stewart (Charlotte Goodnight), Sally Kirkland (Kathryn), Devo (Themselves), Geraldine Bacon (Irene), Mickey Fox (Mrs Robinson), David Blue (Earl Duke)
---
Plot
A day in the life of the people of Linear Valley who work in a small nowhere garage and diner unaware that it is their last day on Earth. Otto Quartz had just inherited the business in his late father's will and starts making cost cuts. The simple-minded mechanic Lionel brings his best friend Fred in to get him a job, which Fred eagerly accepts even though he agrees to work for the first week free. Among the workers there, various thwarted desires come to the fore. At the same time, the limo of rock star Frankie Fontaine stops by. While repairing it, Lionel gets a bump on the head and has a dream of being a rock star.
---
I have a huge amount of respect for Neil Young as a musician. Some of his albums such as Harvest (1972) and Rust Never Sleeps (1979) would count on my list of personal favourites. He has had an astonishing career that has lasted nearly fifty years from the release of his first album in 1968 and has ventured through a great many styles from folk, country, rock, even earning him the nickname 'The Godfather of Grunge'. He remains outspoken on a great many issues, all the way from albums that directly address the 2003 US invasion of Iraq to the most recent The Monsanto Years (2015).
Human Highway was a product from a peculiar period in the late 1970s when Star Wars (1977) had just come out and science-fiction was big worldwide and musicians started jumping aboard the fad. One suspects that most of these musicians regarded science-fiction as just another facet of the expanded consciousness hallucinogens that were popular in the era. A few years earlier, David Bowie had led the way with Space Oddity (1969) and commanded the field with hit sf-themed albums such as The Rise and Fall of Ziggy Stardust and the Spiders from Mars (1972) and Diamond Dogs (1974), while other artists such as The Alan Parsons Project, Blue Oyster Cult, Genesis, Jefferson Airplane, John Foxx, Kiss, Pink Floyd and Yes readily delved in. There were even science-fiction concept bands/artists of the period such as Kraftwerk, Devo, Gary Numan and the later Daft Punk.
Human Highway was a product of this experimentalism. Neil Young had previously dipped into science-fiction hallucinogenics in the song After the Gold Rush (1970) with its lyrics about silver spaceships coming to deliver the chosen from the despoliation of Mother Nature, while his Rust Never Sleeps world tour featured his road crew made out as Jawas.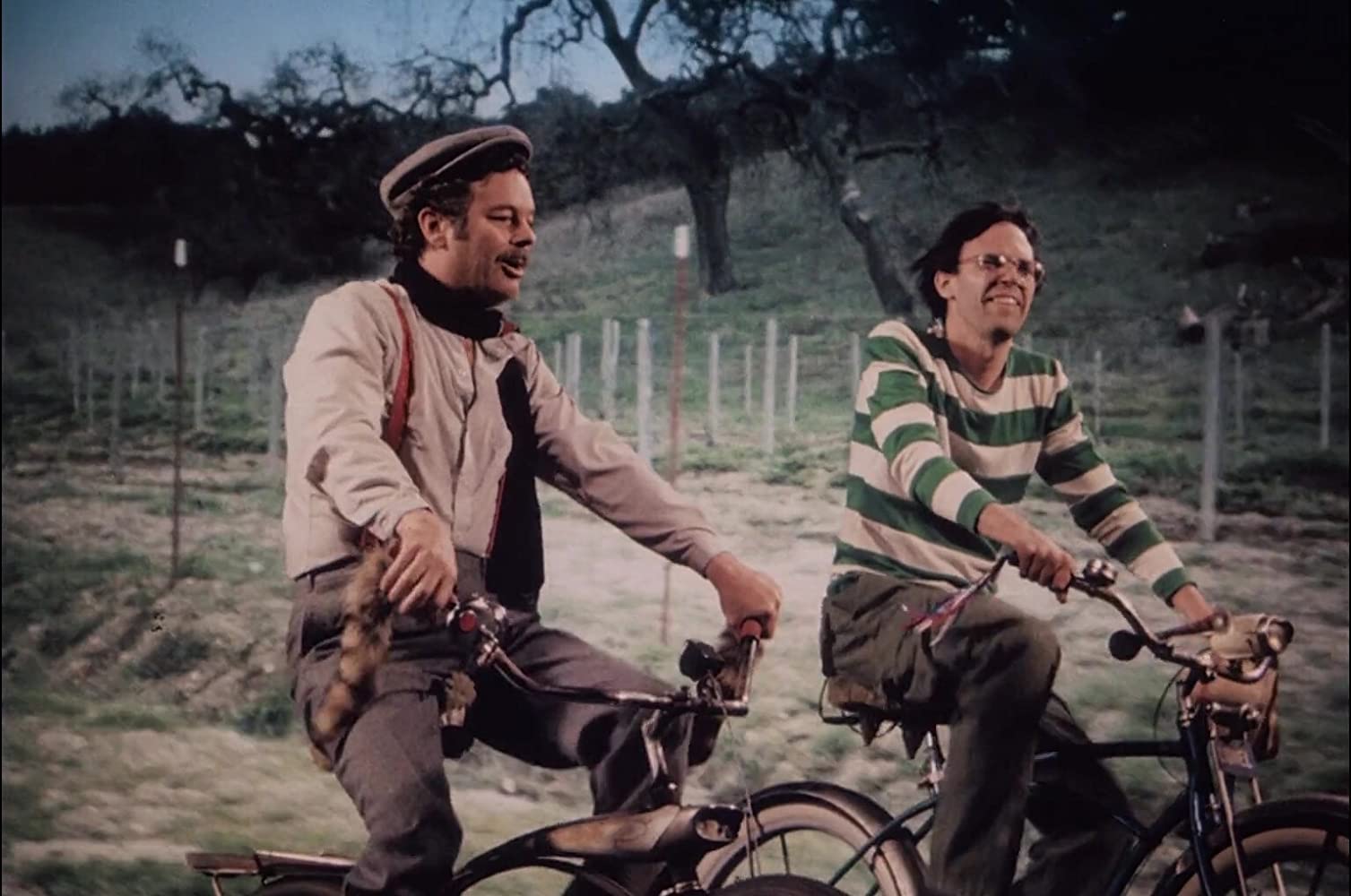 This would reach its full flowering in the album Trans (1982), which made around the same time as this film and featured Young experimenting with electronic music and voice altering equipment for the first time. It saw Young being influenced by groups like Kraftwerk and Devo and addressing the coming computer age and science-fiction themes. The album was not liked by most reviewers of the day or Young's rock/folk fanbase, although has been slowly more recognised in the years since. While not Young's best work, it is certainly eminently listenable. Most of the songs from the album also turn up in the background of Human Highway (although are very poorly placed when it comes to soundtrack music).
Young started making Human Highway in 1978, using three million dollars of his own money to finance the film. Young had directed several films all under the pseudonym Bernard Shakey – works of obscurity like the equally bizarre documentary/fantasy trip Journey Though the Past (1974) and the concert film Rust Never Sleeps (1979), as well as the subsequent Greendale (2003). He was hanging out with Devo at the time whose work must have influenced him here. Devo do a fascinatingly strange jam version of Hey, Hey, My, My (Into the Black) (1979) with Young accompanying on guitar. Human Highway barely screened when it came out and received only bad reviews. It was not released to video until 1996, although Young oversaw a digitally restored release in 2014.
I went into Human Highway expecting something akin to the gonzo trippiness of another Repo Man (1984) – instead, what we get is more down around the level of the papier-mache amateurishness of Repo Chick (2009). The result is an incoherent mess. Young has built the garage and diner set with a very fake-looking city and nuclear power plant in the background and everything takes place there. You get the impression that the film never had a script – it is credited to most of his cast and the impression left is it was improvised between them.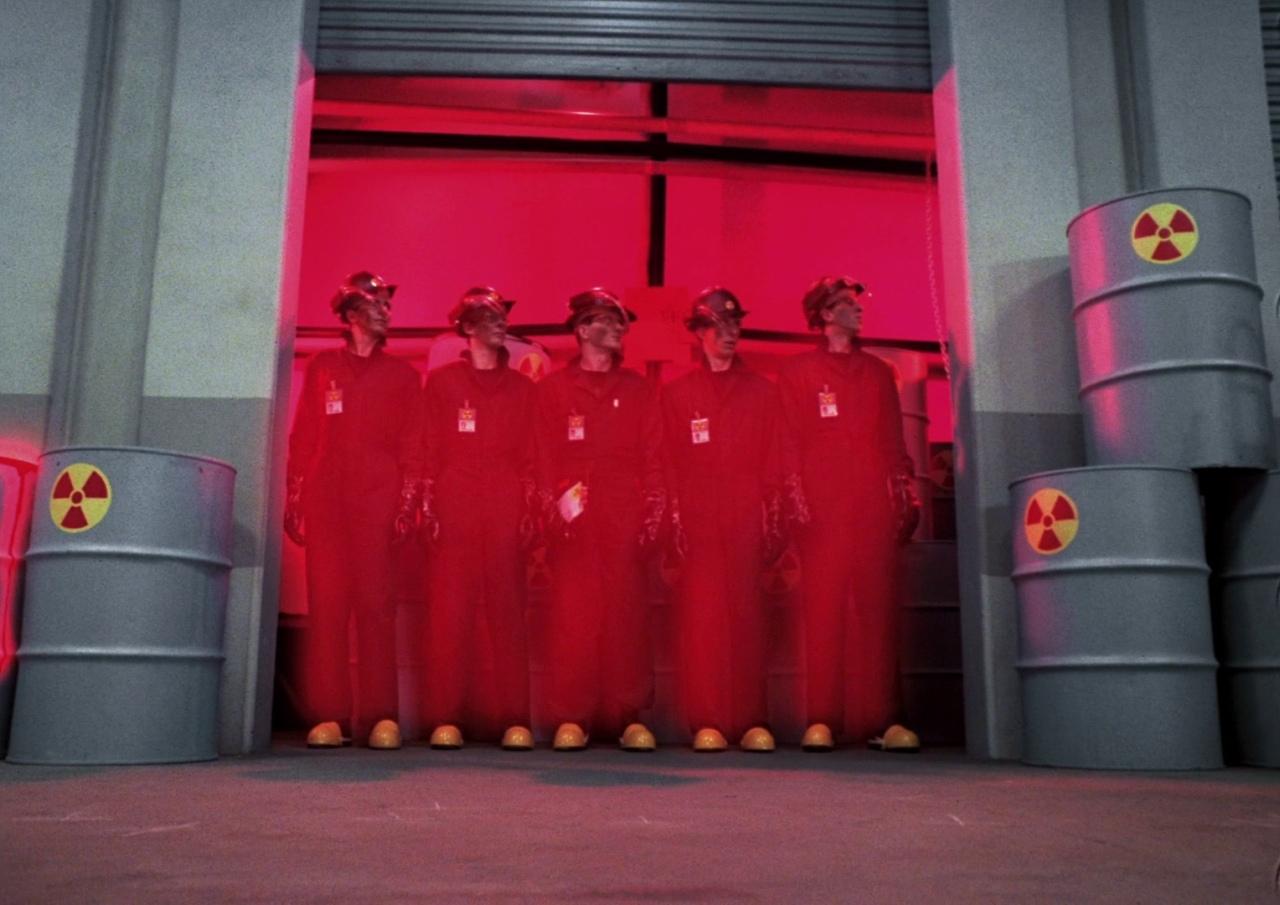 Everything seems pitched as a series of caricatures – Young plays a bespectacled nerd, Russ Tamblyn (credited as Russel Tamblyn) his eager friend, Dean Stockwell as the boss of the outfit, a clearly under the influence Dennis Hopper as the diner's cook feeding raccoons, while Devo turn up as nuclear waste disposal men who glow red in every scene they appear. Most of them – especially Sally Kirkland and Hopper – give the impression that they have no idea what they are doing there. For no apparent reason, Young's wife Pegi turns up in a few scenes riding a motorcycle.
The film is a jumble of random science-fiction concepts – a spaceship flies by in several scenes, there are glowing radioactive insects, Devo's Mark Mothersbaugh turns up wearing a mask and making a series of incomprehensible subtitled pronouncements. Everything goes up in a nuclear mushroom cloud at the end, while the coda shows Mothersbaugh's masked figure pottering among the ruins and everybody else arriving at an Indian casino in the sky. It feels like random science-fiction elements inserted by someone who is not native to the genre solely for their wackiness value rather than engaging with them conceptually.
The best scenes are actually the ten-minute or so montage of scenes as Young's Lionel gets a bump on the head from a wrench and imagines he is a rock star. These are largely a series of scenes that show Young and his entourage on the road, visiting an Indian reservation and creating a bonfire there. Young wanders around playing guitar and harmonica and seems far more naturally in his element and relaxed than when playing the bespectacled nerd. These scenes as a whole have a lyrical freshness and naturalism that seem like a utopian hippie vision of communing with nature and the freedom of the road.
---
---