---
Crew
Director/Additional Scenes and Dialogue – Peter Watkins, Screenplay – Norman Bogner, Story – John Speight, Producer – John Heyman, Photography – Peter Suschitsky, Music – Mike Leander, Songs – Mike Leander & Mark London, Art Direction – Bill Brodie. Production Company – World Film Services Limited
Cast
Paul Jones (Steven Shorter), Jean Shrimpton (Vanessa Ritchie), Mark London (Alvin Kirsch), William Job (Andrew Butler), Max Bacon (Julie Jordan), Jeremy Child (Martin Crossley), Frederick Danner (Marcus Hooper), James Cossins (Professor Tatham), Victor Henry (Freddie K), Malcolm Rogers (Reverend Jeremy Tate)
---
Plot
In the near future, England is ruled by a coalition government that uses popular entertainment as a means to quell youth violence. Steven Shorter is the most popular rock star in the world. Before thousands of adoring fans, he enacts a stage performance in which he is jailed and beaten by police before finding freedom. A vast industry has formed around Steven that uses his name to sell merchandise and advertising. The corporation agrees to work with the government to channel Steven's appeal to make youth more conformist. To this extent, they get Steven to perform at a Christian crusade and sway youth to become believers as a means of control. In the midst of this, Steven starts to become unhappy with the demands made of him. As he is drawn to artist Vanessa Ritchie, she pushes him to leave this life and get away.
---
I am of the opinion that Peter Watkins is the most underrated director of the 1960s and the finest political director of that era – far better than the thoroughly overrated Jean-Luc Godard. Watkins first gained attention with the BBC tv movie Culloden (1964), which offered up a mockumentary-like depiction of the historical battle. He then went on to The War Game (1965), a documentary-like imagining of the event of a nuclear war that proved so disturbing the BBC refused to air it on television and it was screened theatrically instead where it went on to win the Academy Award for Best Documentary.
After this, Watkins went on to a series of dramatic films with Privilege, The Gladiators/The Peace Game (1969) and Punishment Park (1971), all science-fiction works that wave highly confrontational political placards in no uncertain terms. After the release of Punishment Park was curtailed because of its political content, Watkins left the UK and relocated in Sweden where he has made a number of other films over the years, including Edvard Munch (1974), Evening Land (1977), The Journey (1987), The Freethinker (1994) and La Commune (2000), although no other genre works.
Privilege was Peter Watkins' first feature film and his first work to receive a commercial release. Determined to do no less than challenge the establishment of the day, Watkins takes on the Brit pop wave of the 1960s that was spearheaded by The Beatles. He offers a darkly satiric underside to this world that shows it being commercially and politically manipulated. Watkins says striking and amazing things, many of which have become even more relevant watching the film over four decades later. Indeed, it is hard to think of any equivalent filmmaker today who is so potently on the nose and hard-hitting in their attack on the establishment as Watkins is here and in successive films.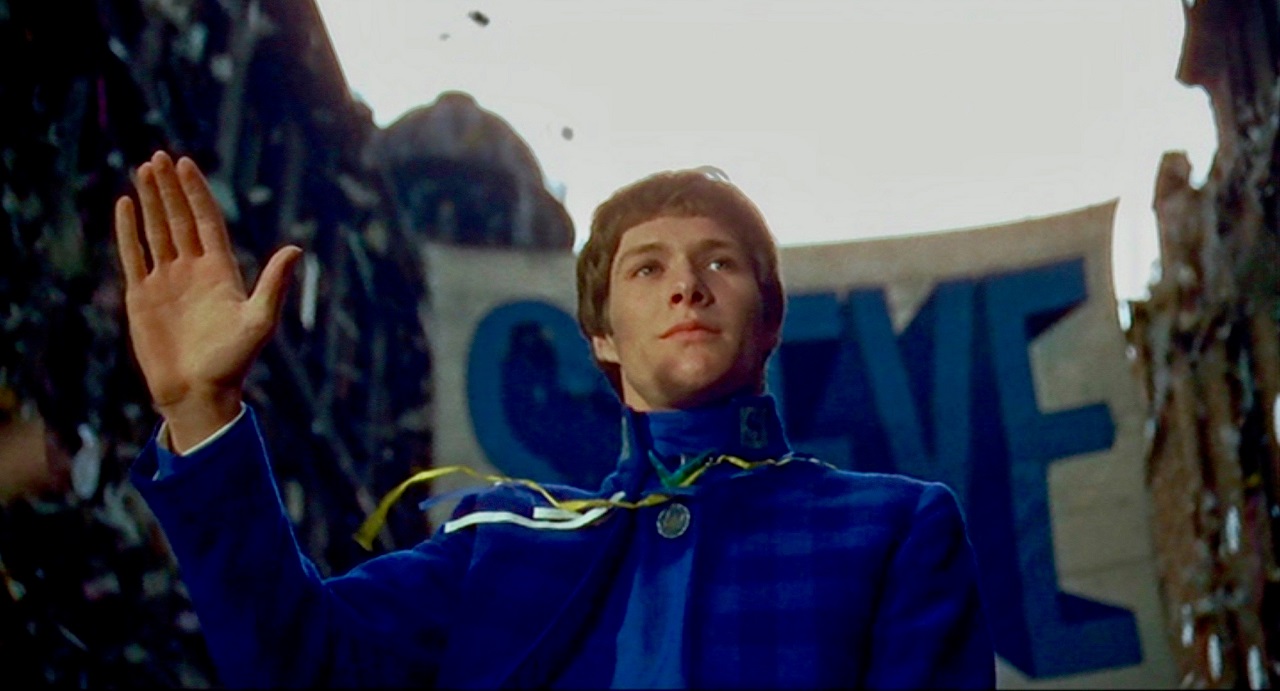 The starkness of the imagery and ideas that Watkins is playing with is never more than effectively relayed in the opening scene – all shot mockumentary-like (as most of Watkins' films are) – as singer Paul Jones is (we are told) re-enacting an incident in which he was jailed wherein he is brutally tossed onto the stage cuffed and placed into a cage by baton-wielding policemen who stand around smugly smiling and running their clubs along the bars of the cage as Jones bursts into a song begging to be let free as hundreds of adoring fans in the audience scream their heads off. The scene culminates in a riot as the audience burst onto the stage and tackle the police. All the while, the narrator tells us "There is a coalition government in Britain, which has secretly asked all entertainment agencies to divert the violence of youth, keep them happy, off the streets and out of politics." It is an extraordinary piece of politicised musical theatre.
Much of the film feels like it has taken from the headlines of the day. Part of this is due to Watkins' then novel Mockumentary approach as well as the casting of names who were prominent in the era – such as Paul Jones, who was an actual pop star and the lead singer of Manfred Mann, and Jean Shrimpton, who was one of the top models in Britain during the Swinging Sixties movement.
Watkins offering chilling insight into the marketing of a pop star – of constant cuts back to the board room, a manager (Jeremy Child) who seems indifferent to his star's exhaustion and others who casually refer to him as "a gilt-edged investment." Perhaps some of Peter Watkins' most barbed satire comes in the scenes at the Christian revival rally where the clergy appear amid images of goose-stepping believers – in images like this and the stark one of Paul Jones outlined behind a massive banner of his own face, it is clear that Peter Watkins is tapping into the Nazi iconography of Leni Riefenstahl's pro-Hitler documentaries, as well anticipating the contemporary fascism of England's National Front, which was formed at the same time as the film came out – all before Jones comes on, does his song and the clergy afterwards happily announce that he has brought several thousand people to Jesus. Paul Jones' blank performance has been criticised but it is perfect for the film – that of the detached and innocent, boy-like singer who drifts through a spectacle centred around him without comprehension of what it all means.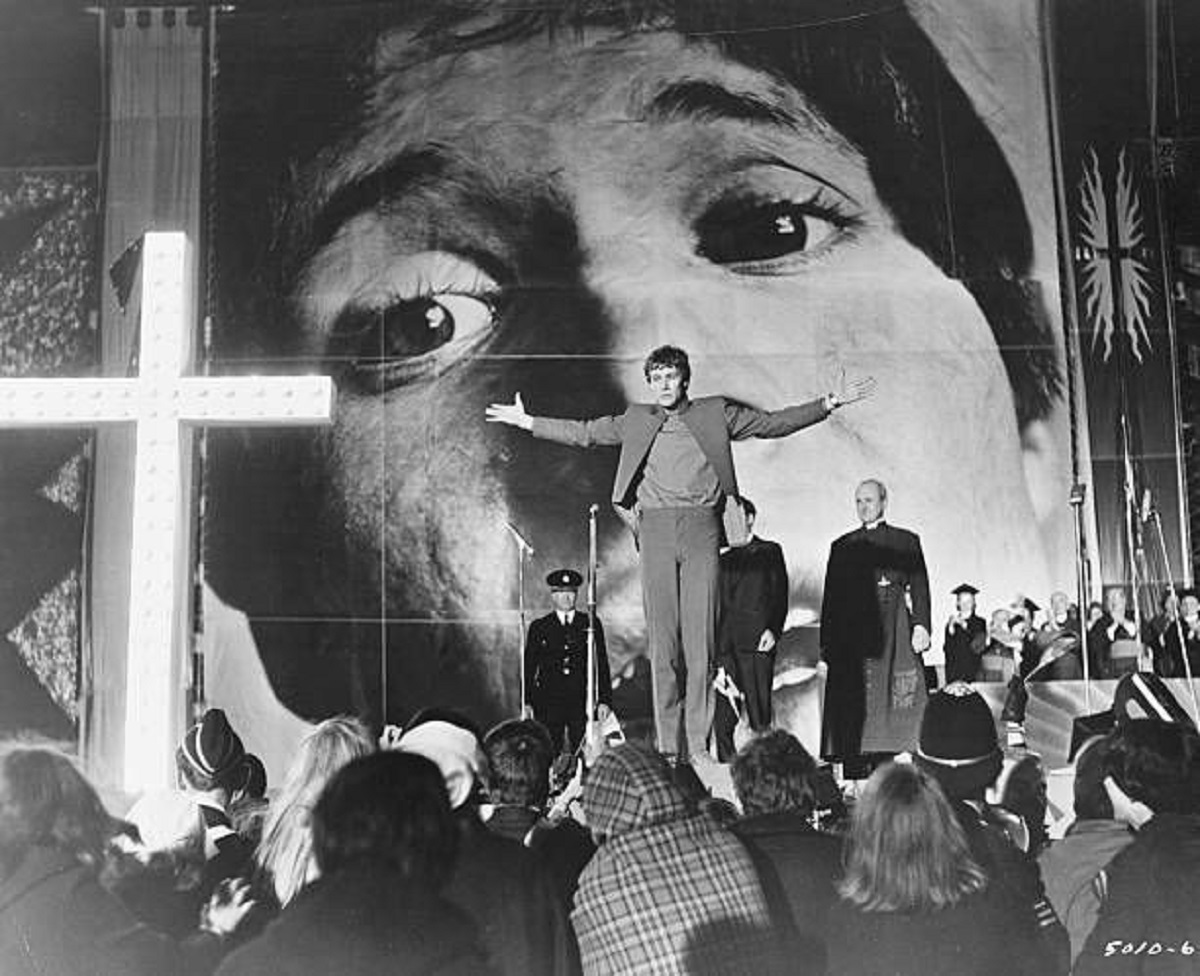 There are things that the film intended as satire back in the 1960s that have become even closer to reality now. The Dream Palace scene where we see the sale of things like Steven Shorter dogfood or where Paul Jones is brought in to film a commercial to promote people eating more apples so as to deal with a market glut rings even more true today amid celebrity endorsements and the use of their name to sell things like fragrances, sunglasses and T-shirts.
Even the idea of a popular singer switching to Christianity and putting out religious music feels like a prefiguring of Bob Dylan's high-profile conversion to Christianity in the decade ahead, while the images of singers channelling politics through their songs can be seen in message-heavy groups like U2 or indeed any celebrity who has jumped aboard a bandwagon issue, while the opening performance featuring Jones's arrest prefigures the heavy anti-police lyrics that turn up in rap.
It would be interesting to see Privilege remade today – perhaps even with a rap artist recast in the Paul Jones role. The only thing the film doesn't seem to anticipate or be aware of is the associated lifestyle – Paul Jones seems rather gormless and there is a remarkable lack of groupies, free sex and drug-taking among he and his entourage.
---
---