---
China. 2016.
Crew
Director – Vincent Zhou, Screenplay – Peter Cameron & Vincent Zhou, Producers – Jon Chiew, Ma Jun, Wu Youjian & Vincent Zhou, Photography – Scott Winig, Music – Alec Puro, Visual Effects Supervisor – Moon Byung Yong, Visual Effects – Art and Technology Co, Ltd, CGToon Creative (Supervisor – Tho Semin), Momoto, UFO, Venture 3D, Visual Icon & Zenith S40, Special Effects Supervisor – Yau Pak Ching, Production Design – Ian Bailie. Production Company – Hongliang Film Studio/Yanshang Group/Tronfund Management Co., Ltd./Forever Pictures/MQ Media Group/Good Take Media Culture Limited/BHM [Beijing] Film Group., Co Ltd./Goldann Holding Group., Ltd./Shenzhen Qianhaihuaxia Investment Management Co,, Ltd./Haiyu Capital.
Cast
Brandon Routh (Mike), Zhang Yuqi (Ruoxin), Russell Wong (Gary Gao), Bernice Jan Liu (Nikki Lee), Kaiwi Lyman (Vincent Rigs), Sunny Wang (Colin), Tim Parrish (Peter), Jiang Menjie (Mia Ren), Dai Xiangyu (Xiang), Tazito Garcia (Prince Khadsa), Vincent Ward (Rodman), Bobby Tonelli (Jason), Natasha Lloyd (Kelly), Yu Yonglin (Monica), Lu Siyu (Kim Woo Nam), Gary Dean (Dr Han)
---
Plot
It is the year 2020. The new luxury airbus from Ocean Airlines takes off on its maiden flight from Brazil to Hong Kong. In reality, Ocean Airlines' stock is falling and CEO Gary Gao has gambled everything on the new plane being a success. Various reporters and celebrities have been invited to come aboard, although Gao is not happy when he finds his assistant has invited Colin, the son that Gao has disowned and is now a successful pop star. The plane is caught in a storm. Gao insists they keep going rather than detour and miss the gala landing in Hong Kong. The engine is then damaged and they are forced to put down on tiny Fortune Island in the middle of the Pacific. On the ground, they are abruptly attacked by mutant cats. They also take on board two soldiers fleeing from the cats who say they are part of a UN exploratory sortie. As they return to the air, the substitute chef Mike, who used to be a former marine, has doubts about the two soldiers' story and is proved right when they take over the plane at gunpoint.
---
Chinese cinema has become the new boom audience of the 2010s. While Hollywood seems to be doing everything it can to appeal to the Chinese box-office from the casting of Chinese actors to shooting scenes on the mainland, Lost in the Pacific is a Chinese film that goes the other way and seeks to appeal to the American box-office. To this extent, it has been shot in English – sometimes awkwardly so with many of the Chinese actors, especially Zhang Yuqi as the woman pilot, giving the impression that they are speaking English phonetically or else it is a distant second language to them. The film has also sought to bring in American actors in order to carry itself to US appeal, although the only one name of any profile to board the flight is Brandon Routh, not exactly a star name since the critical flop of his breakout vehicle Superman Returns (2006).
Lost in the Pacific sets out to be a disaster movie. The film takes a slight near-future setting and concerns the maiden flight of a big hi-tech airplane – you cannot help but compare the set-up with the one that was spoofed in The Big Bus (1976). Aboard are a cross-section of characters – a famous footballer, an Arabic prince/financier, a double-dealing assistant, a blind cellist, the CEO of the company forced to reconcile with his estranged son who is now a famous pop star, the female pilot who is frustrated with corporate sexism that has forced her to act as a hostess when she can actually fly the plane, and Brandon Routh as the chef who is actually a former marine, which kept reminding me of Steven Seagal in Under Siege (1992).
We follow this group's various dramas as they play out. We also get a bunch of other tensions thrown into the mix, including the plane being damaged in a storm and forced to put down on a small island, two armed soldiers who are not who they claim to be taking the plane over at armed force, various attempts to overthrow them and the plane forced to land on an aircraft carrier that is too small for it.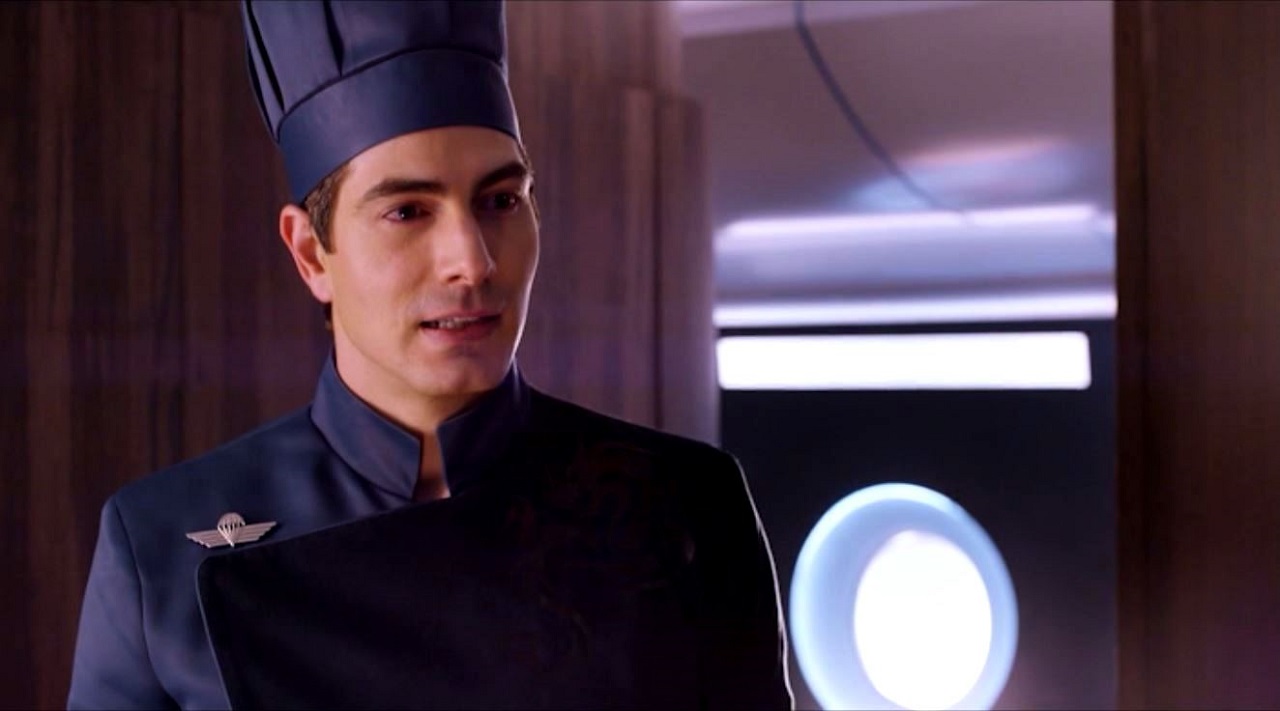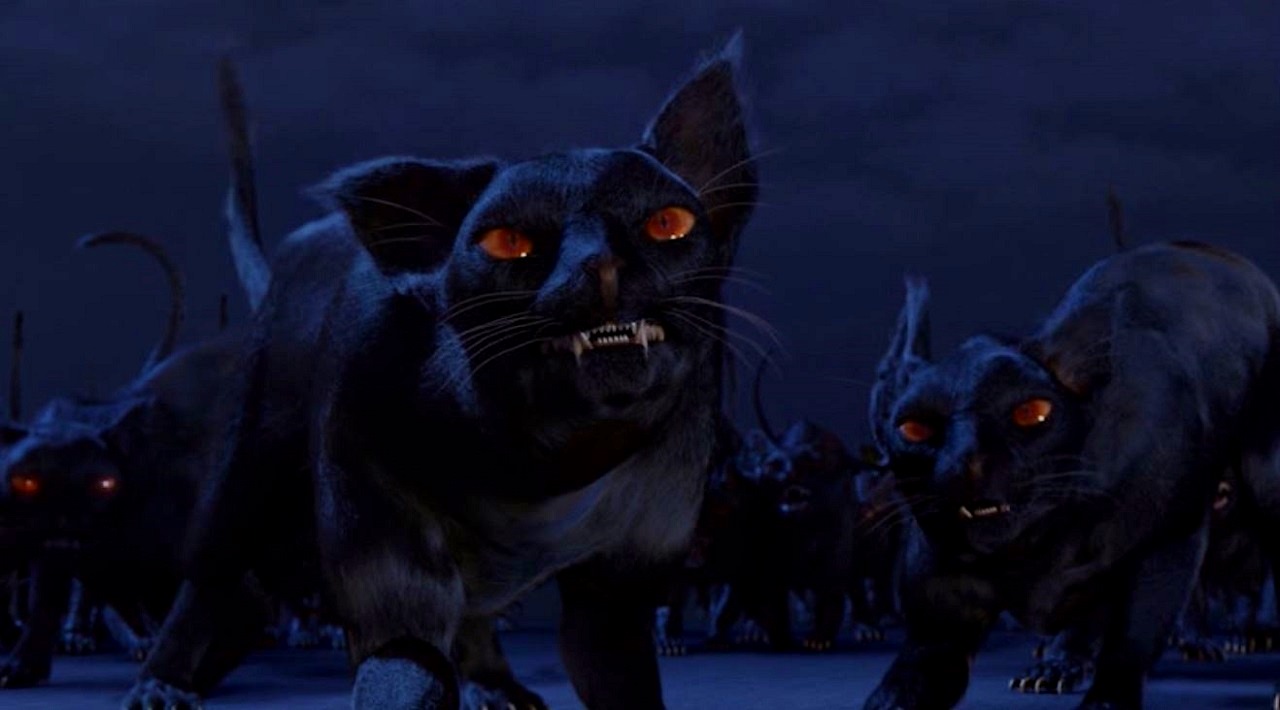 A few years ago we had Snakes on a Plane (2006), a parody of a disaster movie wherein the writers decided to combine the most ridiculous thing they possibly could with a standard disaster movie. This inspired a variety of disaster movie/horror movie crosshatches with various things loose aboard a plane or a train. See the likes of Flight of the Living Dead: Outbreak on a Plane (2007) and Quarantine 2: Terminal (2011) with zombies on a plane, Swarm (2007) with ants on a plane, Silent Venom (2009) with snakes on a submarine, Howl (2015) with a werewolf on a train and Train to Busan (2016) with zombies on a train. In some of these cases, it is difficult to tell whether they are meant as parody or not.
Lost in the Pacific promptly becomes one of the most unintentionally ridiculous of these with the introduction of a horde of ferocious mutant cats. The moment the cats, represented by shabby and obvious CGI, appear, you end up laughing the entire film off the screen. Perhaps in recognition of the absurdity of the idea, the film keeps the mutant cats out of the way for the bulk of the show. You suspect if Lost in the Pacific was made as more of a B movie – say for the Syfy Channel – it would have been more identifying as a work of horror and the latter half of the film would have been taken up less by the hijacking plot than with the passengers and crew fighting off the mutant cats. Even so, the film reaches a ridiculous ending that has the survivors trying to escape while the blind cellist holds the cats spellbound with his playing and Sunny Wang then leaps in to serenade them with his singing.
---
Trailer here
---