---
Crew
Director – Adam Randall, Screenplay – Joe Barton, Mark Denton & Jonny Stockwood, Based on the Novel by Kevin Brooks, Producers – Nate Bolotin, Emily Leo, Gail Mutrux Oliver Roskill & Lucan Toh, Photography – Eben Bolter, Music – Max Aruj & Steffen Thum, Visual Effects Supervisor – Dave Sadler-Coppard, Visual Effects – Outpostvfx, Special Effects Supervisor – Alex Gunn, Production Design – Catrin Meredydd. Production Company – XYZ Films/Wigwam Films/Pretty Picture Productions.
Cast
Bill Milner (Tom Harvey), Maisie Williams (Lucy Walker), Miranda Richardson (Nan Wendy Harvey), Rory Kinnear (Ellman), Charley Palmer Rothwell (Eugene), Jordan Bolger (Danny), Aymen Hamdouchi (Cutz), Shaquille Ali-Yebuah (Cass), Armin Karima (Ant), McKell David (Hazzard), Leon Annor (Keon)
---
Plot
Tom Harvey is an average teenager living with his grandmother in London. He has an unfulfilled crush on Lucy Walker but has been unable to bring himself to say anything to her. One evening, he goes to Lucy's place only to encounter a group of masked thugs in the process of attacking her. He flees, trying to call the police on his cellphone at the same time as the gang shoot at him. He comes around in hospital to find that one of the bullets fired impacted with his cellphone, causing the phone to become embedded in his head. Recovering, Tom discovers that he can now hear phone conversations, see internet traffic and mentally hack into systems everywhere. Realising that the attack on Lucy was conducted by a group of boys in his class, he takes revenge against them. This leads him to the wider group of drug dealers who were pressuring them. Tom becomes a vigilante, using his ability to mentally read and affect all cellular, internet traffic and electrical devices to punish those responsible. However, as the gang begin to realise what is happening, this brings reprisals.
---
iBoy was the second film for British newcomer Adam Randall. Randall had previously appeared with the thriller Level Up (2016) in which a man is forced to undergo a series of deadly challenges by text message and the vampire film Night Teeth (2021). Subsequent to this, Randall went to the US and made the horror film I See You (2019). Randall adapts iBoy (2010), a novel by British Young Adult writer Kevin Brooks. In the US, the film premiered on Netflix.
iBoy has a novel central idea – that of someone who suddenly gets the superpower of being able to tap into all cellular broadcast and internet transmissions, even it would appear all electrical devices. The basic rationale of someone getting an entire cellphone embedded in his head (and surviving) is medically nonsensical but the idea is novel. It is, if you like, a version of the old Disney film The Computer Wore Tennis Shoes (1969) in which a young Kurt Russell had the contents of a computer transferred into his head, albeit modernised for the era of the smartphone and social media. It is a surprise that such an idea has not turned up as the basis of one of the superheroes in a DC or Marvel comic-book – indeed, you can predict that the further adventures of iBoy will continue in their more logically suited medium, the comic-book.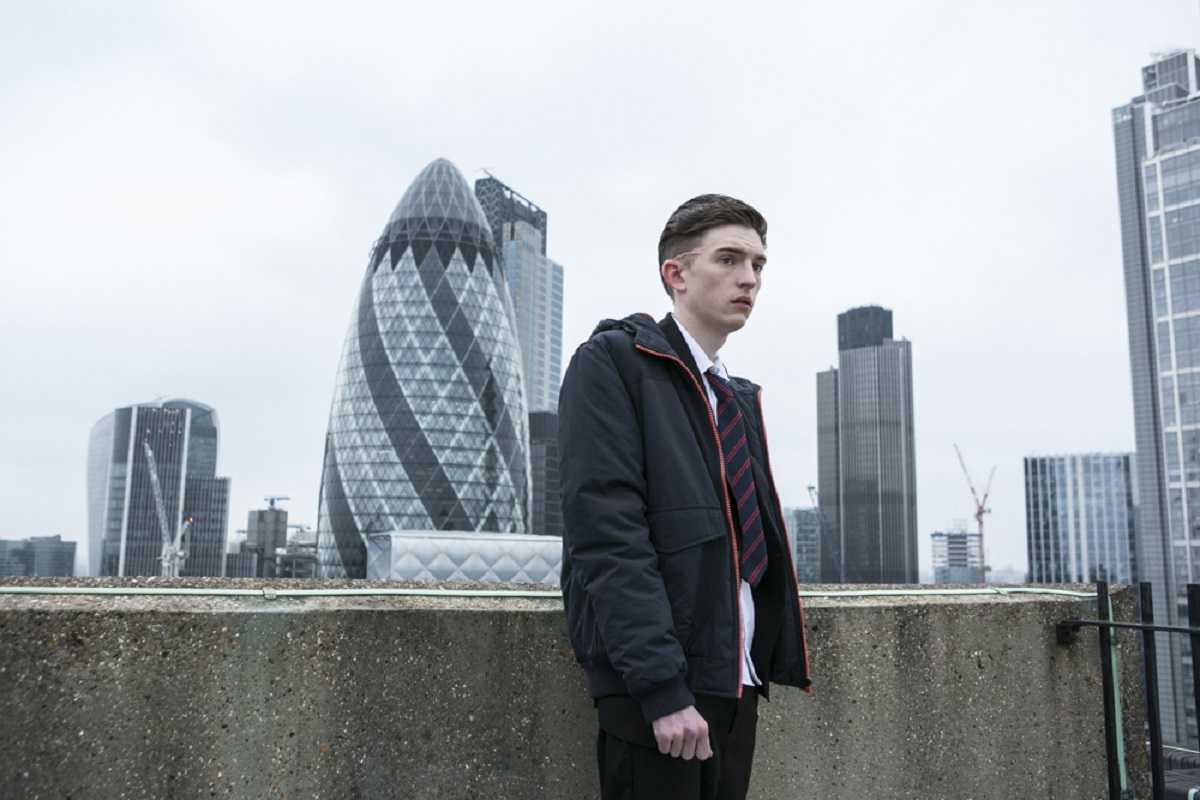 iBoy works effectively. It is not a film that pretends to a big message but works well in letting the central idea play out. It would have been perfectly easy for this, which is after all based on a Young Adult novel, to go the other way and play out as a light fantasy for the pre-teens probably with a comedy focus a la The Computer Wore Tennis Shoes or sundry Disney Channel films. Rather it has been made with an adult focus and a harsh edge that roots it in a socially realistic contemporary London amid street gangs and drug dealers. Adam Randall is not afraid of the violence as we see Bill Milner move over into increasingly vigilante actions.
In the title role, lead actor Bill Milner emerges as somewhat drippy and anonymous on screen. That's the way the character is meant to be but you wish that he had at least evolved throughout the course of the film. Opposite him, Maisie Williams, the great find of tv's Game of Thrones (2011-9), is a sparkly and vivacious presence. In the supporting roles, there is the always welcome Miranda Richardson who tones her customary caustic bite down as the grandmother. Especially good is Rory Kinnear, normally a milquetoast actor who usually gets cast as ineffectual middle-class men in British tv shows and was also the Frankenstein monster in tv's Penny Dreadful (2014-6). Kinnear plays the head villain who only appears in the third act where his genial soft-spoken manner is used to convey an understated threat that works with effective chill.
---
---