---
USA/Germany/Canada. 2008.
Crew
Director – Lexi Alexander, Screenplay – Matt Holloway, Art Marcum & Nick Santora, Based on the Marvel Comic-Book Created by Gerry Conway, Producer – Gale Anne Hurd, Photography – Steve Gainer, Music – Michael Wandmacher, Music Supervisor – Dan Hubbert, Visual Effects Supervisor – Robert Short, Visual Effects – CIS London Ltd. (Supervisor – Paddy Eason), Pixel Magic (Supervisor – Ray McIntyre), 2G Digital Post, Inc., & XY&Z Visual Effects (Supervisor – Mike Uguccioni), Special Effects Supervisor – Ryal Cosgrove, Makeup Effects – Adrien Morot, Production Design – Andrew Neskoromny. Production Company – Lionsgate/Marvel Studios/Valhalla Motion Pictures/MHF Zweite Academy/SGF Entertainment Inc.
Cast
Ray Stevenson (Frank Castle/The Punisher), Dominic West (Billy Russoti/Jigsaw), Doug Hutchison (James Russoti/Loony Bin Jim), Colin Salmon (Paul Budiansky), Wayne Knight (Linus 'Microchip' Lieberman), Dash Mishok (Detective Martin Soap), Julie Benz (Angela Donatelli), Stephanie Janusaukas (Grace Donatelli), Mark Caramico (Pittsy), Keram Malicki-Sanchez (Ink), Carlos Gonzalez-Vio (Carlos), Larry Day (Agent Miller), David Vadim (Cristu Bulat), John Dunn Hill (Cesare), T.J. Storm (Maginty), Aubert Pallascio (Tiberiu Bulat)
---
Plot
Frank Castle alias The Punisher continues his wave of vigilante killings against organised crime. After eliminating mob boss Cesare and his gang, Frank throws rising gangland member Billy Russoti into a glass crusher. However, Billy survives but with his face badly disfigured. Renaming himself Jigsaw, he springs his insane brother James from a psychiatric institution and determines to raise an army to eliminate Frank. Meanwhile, FBI agent Paul Budiansky determinedly follows Frank's trail but is pushed into an unusual alliance with him.
---
Punisher: War Zone is the third film version of the Marvel Comics vigilante avenger known as The Punisher. Originally created back in 1974, The Punisher is one of Marvel's few non-superpowered heroes and operates as an ultra-violent vigilante eliminating members of the underworld. The Punisher first appeared on film with The Punisher (1990), an amusingly tongue-in-cheek and highly enjoyable action film that cast Dolph Lundgren as Frank Castle, albeit without his characteristic skull costume. Amid the spate of Marvel Comics revivals of the 00s that came about with the huge successes of Blade (1998), X-Men (2000), Spider-Man (2002), Daredevil (2003), Hulk (2003), Elektra (2005), Fantastic Four (2005), Ghost Rider (2007), Iron Man (2008), Captain America: The First Avenger (2011), Thor (2011), The Avengers (2012), Guardians of the Galaxy (2014), Ant-Man (2015), Deadpool (2016), Doctor Strange (2016), Black Panther (2018), Venom (2018), Captain Marvel (2019), Black Widow (2021), Eternals (2021), Shang-Chi and the Legend of the Ten Rings (2021) and various sequels to most of these, as well as the tv series' Agents of S.H.I.E.L.D. (2013-20), Daredevil (2015-8), Agent Carter (2015-6), Jessica Jones (2015-9), Luke Cage (2016-8), The Defenders (2017), Inhumans (2017), Iron Fist (2017-8), The Punisher (2017-9), Runaways (2017-9), WandaVision (2021- ), The Falcon and the Winter Soldier (2021- ), Hawkeye (2021- ) and Loki (2021- ), The Punisher was revived in another film version with The Punisher (2004). There the role was cast with Thomas Jane and the film proved a reasonable box-office success. However, The Punisher 2004 was one of the lesser among the spate of Marvel Comics adaptations where director Jonathan Hensleigh's approach watered down the comic-book's violence and frequently caused the film to teeter over into campiness.
Punisher: War Zone was originally intended as a sequel to the 2004 film but ended up being more of a reboot. It still comes from producer Gale Anne Hurd and it had been planned that Thomas Jane reprise the role of Frank Castle but Jane declined after deciding that the script was too violent and comic-bookish. (It is disappointing when someone like Thomas Jane takes up a role in a comic-book adapted film, the series returns to a more faithful depiction of the comic-book than any of the other Punisher films to date, whereupon Jane departs dismissing it as "too comic-bookish". It could be a textbook definition of the phrase "being out of touch with your target audience"). The central role of The Punisher/Frank Castle has now been recast with British actor Ray Stevenson who had come to notice internationally after a small role in King Arthur (2004) and then as one of the leads in tv's Rome (2005-7).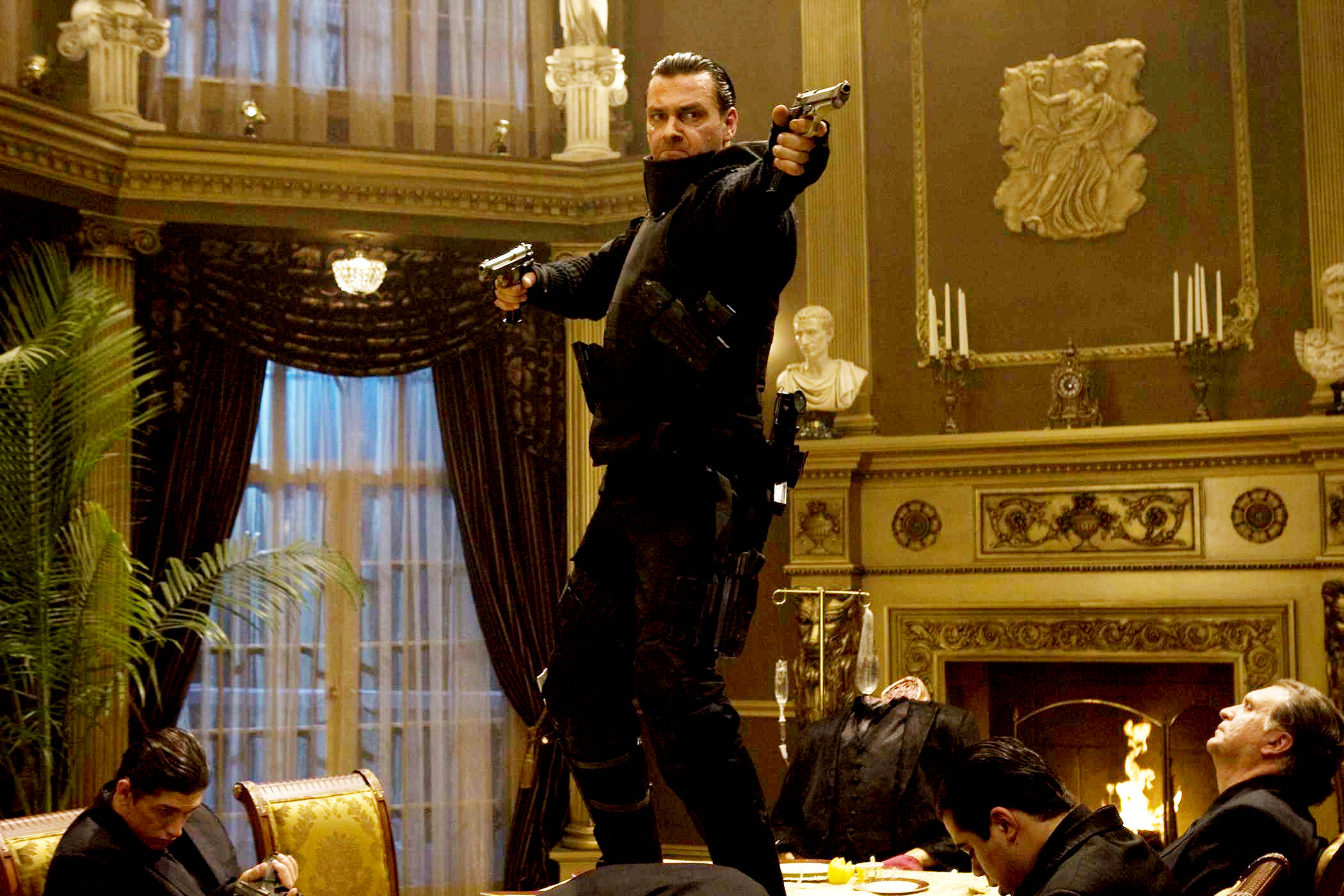 Jonathan Hensleigh has been replaced by German director Lexi Alexander, a karate and kickboxing champion who had previously worked as a stuntwoman before making her directorial debut with Green Street/Hooligans (2005), a testosteronally fired up film about soccer hooliganism. Lexi Alexander gives Punisher: War Zone a great energy – there is a wonderful opening scene in the midst of a mob meeting where the lights abruptly go out and Ray Stevenson appears standing on the dinner table lighting a flare, before abruptly beheading the mafia boss, despatching others with knives thrown into their faces and a chair impaled in someone's head, before he hangs suspended upside down from the chandelier by his feet spinning around in a circle as he eliminates everybody else with an uzi. It is a scene that comes with a great visceral kick that has more of The Punisher to it in five minutes than the previous film had in its entire running time.
Unlike Jonathan Hensleigh, Lexi Alexander is not afraid to hold back on the violence – Dominic West is despatched by being thrown into a crunching machine filled with glass; a criminal gang are bazookaed by Ray Stevenson as they conduct mid-air acrobatics; others are dropped from buildings to be impaled on spiked railings; and we see faces shot off and fingers impaled in eyeballs.
The script, which comes from the duo that co-wrote Iron Man the same year, pays much more respect to the comic-book source and introduces a number of supporting characters and villains from the comic-book. (The film is notedly produced under the Marvel Knights banner, a Marvel comic-book imprint that was designed to deal with more adult material). Punisher: War Zone is even a different film to the original visually – much darker in tone, much more richly vibrant in its lighting schemes. It has the feel of a real Punisher film at last.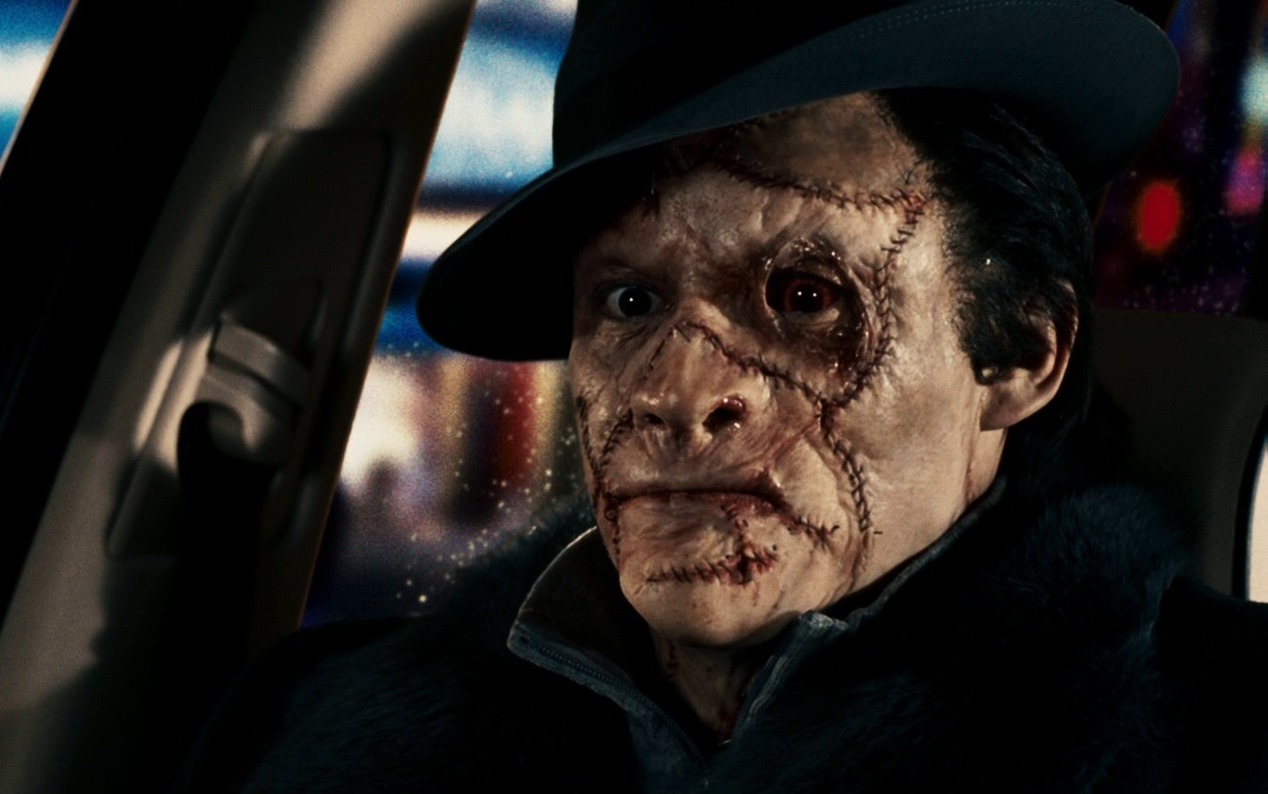 One feels somewhat dubious about Ray Stevenson in the title role. The 6'4″ Stevenson looks more like a British bouncer than a comic-book superhero. He seems too dour to fill out a larger than life role like The Punisher. Unfortunately, in that Ray Stevenson looks like a big lunk in the role, he fails to bring much emotional depth to the scenes where Castle visits Julie Benz's widow, expressing regret for the killing of an innocent.
Dominic West, a British actor who has gained a reasonable profile on American screens ever since tv's The Wire (2002-8), plays the super-villain Jigsaw. West seems to regard comic-book adaptation as meaning an opportunity to give a thoroughly broad and over-the-top playing. The one who stands out in his performance is Doug Hutchinson. He has a chilling deadliness in his presence and Lexi Alexander gives him full opportunity to play to the gallery killing people everywhere. It is he more so than the over-acting Dominic West who becomes the real villain of the show.
There have been no further Punisher films .The Punisher next appeared in the second season of the tv series Daredevil (2015-8) played by Jon Bernthal and was subsequently spun out in his own tv series with The Punisher (2017-9).The second seasons of the series offered a new version of Jigsaw played by Ben Barnes. Frank Castle also makes a cameo appearance in the animated Iron Man: Rise of Technovore (2013) voiced by Norman Reedus.
---
---