---
Crew
Directors – Aaron Horvath & Peter Rida Michail, Screenplay – Aaron Horvath & Michael Jelenic, Producers – Will Arnett, Aaron Horvath, Michael Jelenic, Peter Rida Michail & Peggy Regan, Music – Jared Faber, Visual Effects Supervisor – Eric Erickson, Animation – Big Jump Entertainment, Copernicus Studios Inc. (Animation Directors – Rob Doucet & Rebecca MacInnes), Hornet Inc.  (Director – Benjy Brooke), Slap Happy Cartoons (Director – Edwin Poon), Snipple Animation Studios & Titmouse Inc., Production Design – Dan Hipp. Production Company – Warner Bros. Animation.
Voices
Scott Menville (Robin), Greg Cipes (Beast Boy), Khary Payton (Cyborg), Tara Strong (Raven), Hynden Walch (Starfire), Will Arnett (Slade), Kristen Bell (Jade Wilson), Jimmy Kimmel (Batman), Nicolas Cage (Superman), Greg Davies (Balloon Man), Halsey (Wonder Woman), Lil Yachtry (Green Lantern), Stan Lee (Himself), Wil Wheaton (The Flash), Dave Stone (Challengers of the Unknown). Eric Bauza (Aquaman/Stan Lee's Assistamt), Fred Tatasciore (Jor-el)
---
Plot
After their latest battle with Balloon Man, the Teen Titans meet the Justice League and learn that they are off to the premiere of Batman's latest movie. The Titans are upset to find that nobody has invited them to the premiere because they are regarded as a joke. They manage to sneak in to the screening where Robin becomes upset because everybody else is getting a film but nobody has made a movie about him. Robin becomes obsessed with having his own movie, trying first to recruit Slade as an arch-nemesis to amplify his stature. The Titans travel to Hollywood to ask superhero movie director Jade Wilson to make a movie about them. Meanwhile, Slade plots to use Robin's obsession against him.
---
Teen Titans Go! (2013- ) is an animated series based on the DC Comics superhero team Teen Titans, who originally appeared on the comic-book page back in 1964. Teen Titans Go! was spun off from the previous animated series Teen Titans (2003-6) and employed the same voice cast in the same roles. The essential difference was that while the first series took itself seriously, Teen Titans Go! took nothing seriously and was pitched as a madcap comedy mocking the characters and other DC superheroes, while often breaking the fourth wall. Reception from fans of the original was mixed, nevertheless the series gained its own audience and has been on the air longer and put out three times as many episodes as the original.
This was a theatrically released film spinoff from Teen Titans Go! It was my first exposure to the series. Having grown up with the comic-books and seen some of the other filmed incarnations, the experience was a bewildering one to me. Rather than the familiar figures, the characters have all been designed in squat blocky shapes that looks like they have been drawn by marker pens. They start in with a manic barrage of action and one-liners – even their own rap theme song at various intervals accompanied by Cyborg who sprouts a ghetto blaster from his shoulders.
What I did enjoy was when the film started breaking the fourth wall and launching into parodying other DC movies and by extension the whole superhero phenomenon. There's the plot about Robin lamenting the fact that nobody has made a movie about him and wanting his to be bigger and full of more special effects. There's a rather funny scene where the Justice League turn up and Superman, Batman and Wonder Woman all cite their own movie appearances and it is noted "There was a Green Lantern movie but we don't talk about that" – a snide dig at the notorious flop of the Ryan Reynolds Green Lantern (2011). There's also a scene poking fun at the much ridiculed "Martha" line from Batman V Superman: Dawn of Justice (2016). There's even a cameo from Stan Lee and jokes about his straying into the wrong superhero universe.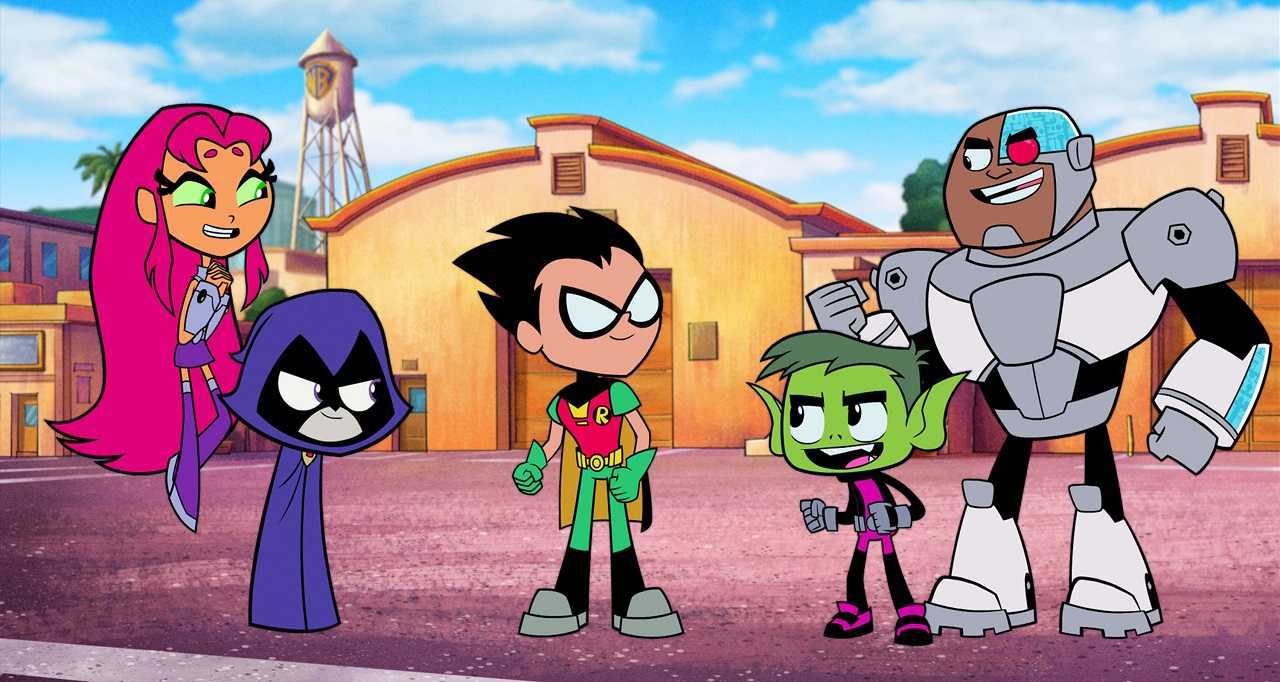 There are plentiful gags thrown into every corner of the film. The Titans travel back in time on tricycles and make complaints "Where are we going to find Libyan terrorist to give us plutonium at this hour?" In an effort to copy The Lego Movie (2014)'s Everything is Awesome, they get a song number called Upbeat Inspirational Song About Life. There are even gags about them pooping in a prop toilet on a film set. It all makes for an appealing silliness. And to be frank, superheroes have so overwhelmed movie and tv screens of late that something that takes them less than seriously is a welcome relief.
The premiere comes with all manner of throwaway gags and even cameos from Challengers of the Unknown (1958-77), a team created by the legendary Jack Kirby, and digs at their obscurity. There are also a number of sly in-references if own knows their DC history. Superman is voiced by Nicolas Cage who was once slated to play the role in Tim Burton's ill-fated Superman Lives project – see the The Death of "Superman Lives": What Happened? (2005) for the story – while his son Kal-el voices the young Bruce Wayne. And when the group travel back in time to eliminate the other superheroes, the version of Krypton they go to is the white crystalline one out of Superman (1978).
There were two follow-up films Teen Titans Go! vs Teen Titans (2019) and Teen Titans Go! See Space Jam (2021).
The Teen Titans also made an appearance in the animated The Superman/Aquaman Hour (1967-8) but did not get their own show until the animated tv series Teen Titans (2003-6). This had a film spinoff with Teen Titans: Trouble in Tokyo (2006). The DC Animated Universe Original Movies made two animated Teen Titans films with Justice League vs Teen Titans (2016) and Teen Titans: The Judas Contract (2017). The Titans subsequently made their live-action debut in the tv series Titans (2018– ).
---
---