---
Japan/France. 2003.
Crew
Director – Kazuhisa Takenuchi, Screenplay – Thomas Bangalter, Guy-Manuel De Homem-Christo & Cedric Hervet, Producers – Thomas Bangalter & Guy-Manuel De Homem-Christo, Music – Daft Punk, Visual Supervisor – Leiji Matsumoto, General Animation Director – Katsumi Tamegai. Production Company – Toei Animation/Daft Life Ltd.
---
Plot
The four members of a music band on an alien planet are abducted and taken to Earth by the sinister Earl de Darkwood where they are brainwashed and disguised as humans. As the band known as The Crescendolls, they go to massive success. A space pilot who loves the female lead singer sacrifices his life to free the group from Darkwood's brainwashing. The group must then get their memory recordings back and stop Darkwood's evil plan for dominating the galaxy.
---
Interstella 5555 is a collaboration between Japanese anime directors and the French dance music duo Daft Punk. Daft Punk consists of Thomas Bangalter and Guy-Manuel De Homem-Christo. Bangalter and De Homem-Christo started out as pop group Darling, which met with little success. They then reinvented themselves and started making house music mixes under the name Daft Punk, taking the name of the group from a review in British music magazine Melody Maker, which called their one and only Darling album "a bunch of daft punk." Their two albums, Homework (1996) and Discovery (2001), were top chart hits, with their single One More Time from the latter album becoming a No. 1 dancefloor hit.
Interstella 5555 is an idea expanded out from the videoclips for Daft Punk's Discovery album, each of which, as it was released, told part of an ongoing story about an intergalactic band. With the film, Daft Punk collaborate with Japanese anime director Leiji Matsumoto, one of the principal creative forces on the various incarnations of Space Cruiser Yamato/Star Blazers and the original creator/screenwriter of the Captain Harlock anime and manga. The film is essentially a feature-length videoclip for Daft Punk's album Discovery – each song is even played in album sequence – and there is no dialogue to the film, it is entirely relayed in animated images with the music pounding from the stereo soundtrack.
As a film, Interstella 5555 is a mixed bag. Leiji Matsumoto and director Kazuhisa Takenuchi, who has directed a host of Daft Punk's music videos since 2001, give the film a retro 1970s anime look – all the characters have elongated stylised features and oversized eyes. As anime, and especially as science fiction, Interstella 5555 is routine. The mix of anime and rock music film never gels.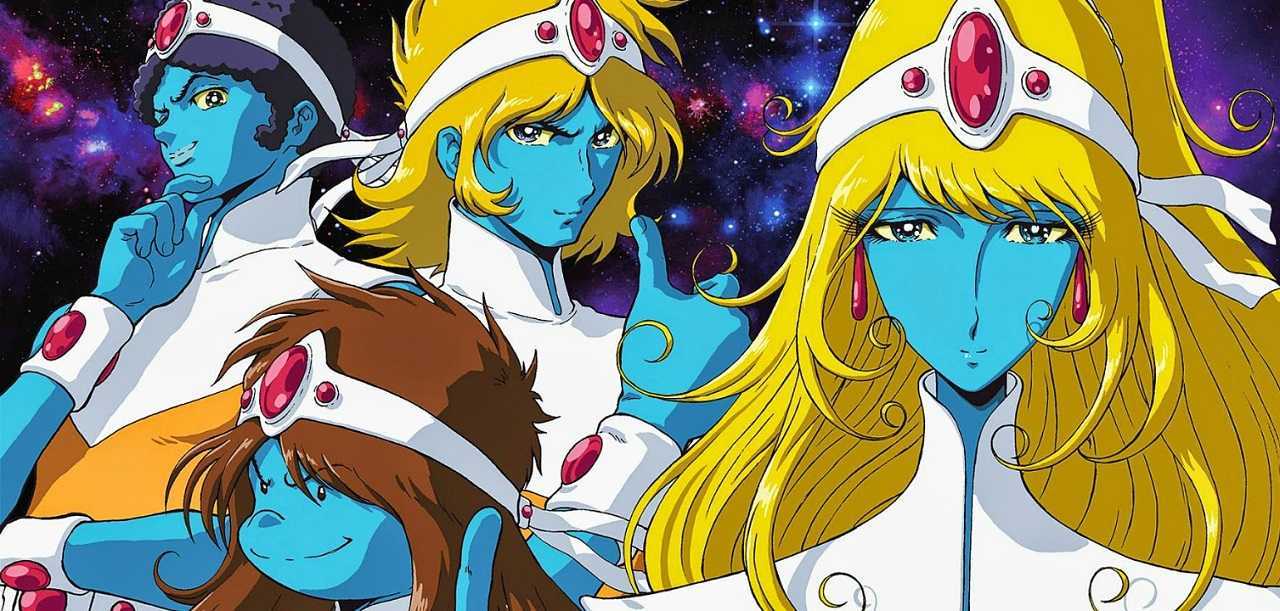 The film feels like it comes from a time in the 1970s when various artists and groups – David Bowie, Yes, Jefferson Airplane, Pink Floyd, Neil Young, ELO – created science-fiction concept albums and/or stage shows, upon some occasions even entire science-fiction acts (Gary Numan, Kraftwerk, Devo), not to mention Kiss who incarnated themselves as superheroes in a Marvel comic-book and a dire film Kiss Meets the Phantom of the Park (1978). Most of these employed science-fiction themes with routine affect – where aliens and UFOs were just another facet of 1970s altered states consciousness or thinly veiled political parables such as Jefferson Airplane's Blows Against the Empire (1970).
The film throws up various science-fiction tropes familiar to these 1970s sf/rock crossovers – evil dark lords, brainwashing, superheroics, the clear wish fulfillment fantasy of the band achieving worldwide public acclaim and mass adulation. There are various crossovers from music into science-fiction that seem silly – a spaceship shaped like an electric guitar, gold records as icons in the dark lord's occult rituals. As a science-fiction story, Interstella 5555 never achieves more than a routine shuffling of ideas and as anime it never reaches for the mind-expanding scale that makes Japanese animation such cult material.
Thomas Bangalter and Guy-Manuel De Homen-Christo went onto direct a live-action science-fiction film Electroma (2006), a wordless film about robots on a quest. In more recent years, Bangalter and De Homen-Christo have been known as soundtrack composers, including for films such as Irreversible (2002), Enter the Void (2009) and Tron Legacy (2010).
---
Trailer here
---