(Ginga Tetsudo Three-Nine)
---
Japan. 1979.
Crew
Director – Taro Rin, Screenplay – Shiro Ishimori, Based on the Comic Strip by Leiji Matsumoto, Producer – Saburo Yokoi, Music – Nozomi Aoki, Conducted by Hiroshi Kumagaya, Animation Director – Kazuo Komatsubara, Art Direction – Tadao Kubota & Mukuo Takamura. Production Company – Toei Animation Co.
Voices
Saffron Henderson (Tetsuro Hoshino), Kathleen Barr (Maetel/Tetsuro's Mother/Queen Prometheum), Janyse Jaud (Claire), Terry Klassen (The Conductor), Nicole Oliver (Emeraldas), John Payne (Toshiro Oyama), Scott McNeil (Captain Harlock), Paul Dobson (Count Mecha), Daphne Goldrick (Toshiro's Mother), Don Brown (Antares/Narrator), Jane Perry (Shadow)
---
Plot
Young Tetsuro Hoshino's mother is murdered by Count Mecha, a human who has had his entire body replaced by mechanical parts. Afterwards, Tetsuro swears vengeance on Mecha – although the only way he will be able to kill Mecha is to become mechanical himself. When Tetsuro tries to steal a pass aboard the intergalactic railroad Galaxy Express Three-Nine, he is caught but is then aided by the mysterious Maetel, who looks exactly like his mother, and takes him aboard on her pass. As they travel to Count Mecha's all-robot planet, they become embroiled in adventures at the Galaxy Express's various intergalactic stops.
---
When Star Wars (1977) came out, it gave a big boost to anime. Space opera was something that Japanese fantasy cinema and tv had been doing for a number of years – live-action films like Battle in Outer Space (1961) and animation like tv's Star Blazers (1974-6) – but Star Wars gave it added life. Soon Japan produced Star Wars-influenced anime such as Space Cruiser Yamato (1977), Space Adventure Cobra (1982), Crusher Joe (1983), Lensman (1984), tv series like Battle of the Planets (1978) and Captain Harlock (1978) and live-action equivalents such as Message from Space (1978), War in Space (1978) and Sayonara Jupiter (1984). Galaxy Express 999 is one of the better entries.
Galaxy Express 999 has a certain face-value silliness – like the technologically preposterous central idea of an interstellar railroad. Wisely, director Taro Rin doesn't concentrate too much on the believability of the notion and instead focuses on the grand poetry of the image of a train taking off into the air. Here the film has some glorious images of the train crossing the rings of Saturn, leaving planetary orbit and the like.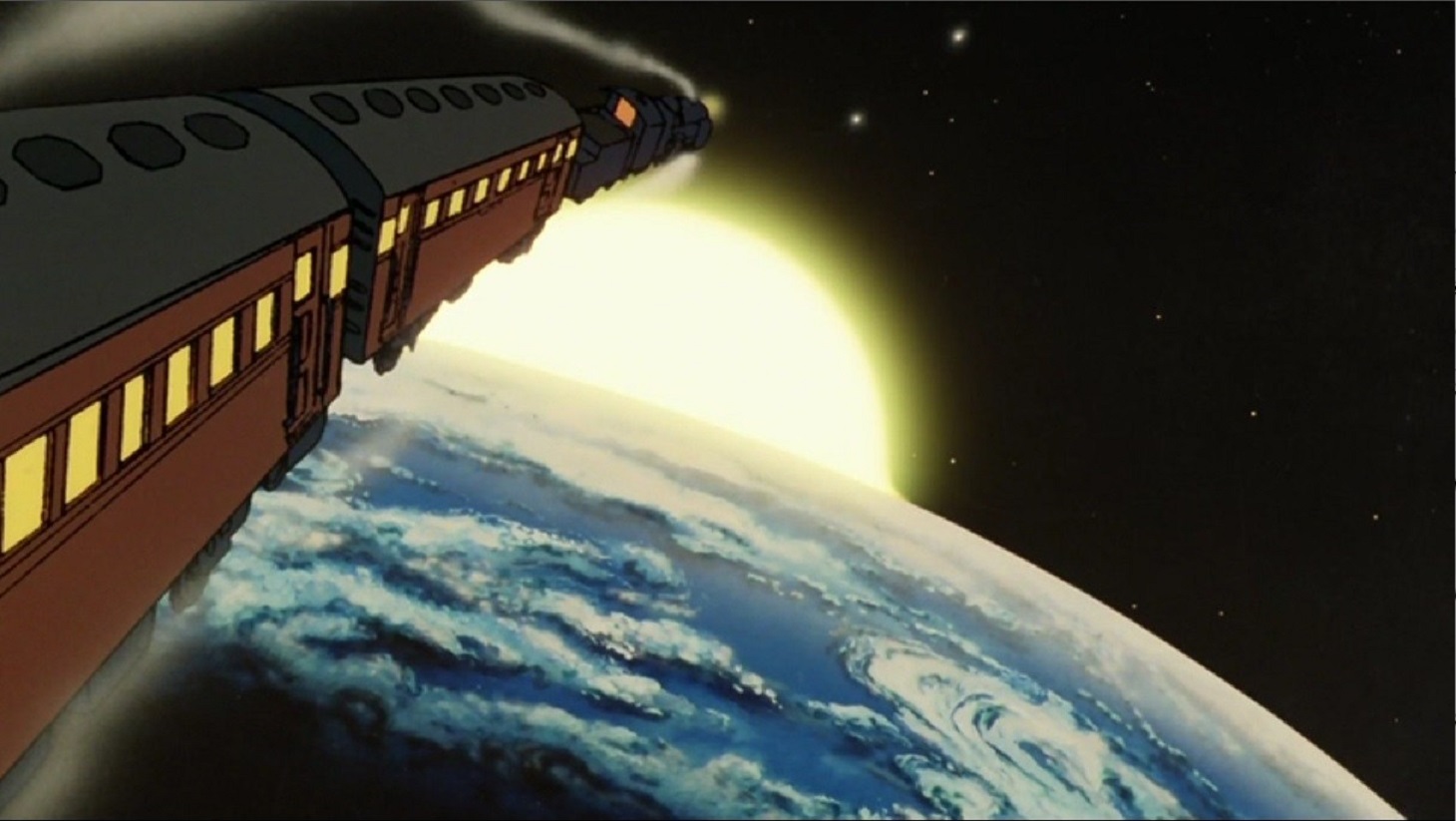 The film is filled with impressive visions – a giant series of frozen tombs on Pluto, a spacegoing dirigible/pirate ship, crystalline robots. There is a better story than most post-Star Wars space operas and the episodic adventure scenarios are interesting. Although the film does rely on clichés of mechanical person equals soulless thus evil, the central character is interestingly more driven than most and there is a worthwhile complexity to the characters surrounding him.
Adieu, Galaxy Express 999 (1981) was the sequel. The film here served as a pilot for a tv series Galaxy Express 999 (1978-81), which ran for 113 half-hour episodes. Galaxy Express 999 was later revived in two OVA films with Galaxy Express 999: Eternal Fantasy (1998) and Galaxy Express 999: To the Center of the Universe (2000).
Director Taro Rin, sometimes known as Rintaro and Rin Taro also made Harmageddon (1982), Revenge of the Ninja Warrior (1985), an episode of the anime anthology Neo Tokyo (1987), Doomed Megalopolis (1991), the superhero anime X (1996), the amazing Metropolis (2001), the 13-part OVA mini-series Space Pirate Captain Harlock: The Endless Odyssey (2002) and Yona Yona Penguin (2009).
---
Trailer here
---