aka Harlock: Space Pirate
(Kyaputen Harokku)
---
Crew
Director – Shinji Aramaki, Screenplay – Harutoshi Fukui & Kiyoto Takeuchi, Story Adaptation – Harutoshi Fukui, Based on the Manga by Leiji Matsumoto, Producers – Joseph Chou, Yoshi Ikezawa & Rei Kudo, Music – Tetsuya Takahashi, CG Supervisor – Kengo Takeuchi, Animation Supervisor – Tsuyoshi Tanaka, Art Direction – Hiroaki Ueno. Production Company – Toei Animation/Marza Animation Planet/Leiji Matsumoto-Captain Harlock Film Partners.
---
Plot
In the distant future, humanity has spread out and populated the galaxy. As many sought to return home, this resulted in The Homecoming War over who had the right to Earth's limited resources. The war was settled with the imposition of the Gaia Sanctions that classify Earth as a protected site. Throughout the galaxy, the immortal Captain Harlock is regarded with dread, defying the Gaia Fleet in his pirate ship The Arcadia. Now, Isola, the head of the Gaia Fleet, seeks to eliminate Harlock by getting his younger brother Yama to infiltrate Harlock's crew as a new recruit. There Yama discovers that Harlock's plan is to plant explosive devices on the one hundred Time Nodes throughout the universe – when detonated these will free the time bonds that hold the universe together and reset it to an earlier state. As Harlock sets out to break through the Gaia Fleet's cordon, Yama's loyalties are tested as he starts to learn the truth about what happened to the Earth.
---
Captain Harlock is one of the most famous characters in Japanese anime and manga. The creation of famous manga artist Leiji Matsumoto, Captain Harlock first appeared in a manga in Play magazine that ran from 1977-9. This was then adapted into the animated tv series Space Pirate Captain Harlock (1978-9), which ran for 42 episodes. That was badly dubbed into English where it appeared under the title Captain Harlock and the Queen of a Thousand Years (1985) and was edited together with another unrelated Matsumoto-adapted series Queen Millennia (1981-2) to reportedly incoherent results.
Harlock was revived in the animated feature film Arcadia of My Youth (1982), which was expanded out into a 22-episode anime series Arcadia of My Youth: Endless Orbit (1982-3). Matsumoto revisited Harlock with a new manga series Harlock Saga: Ring of the Niebelung (1998-9). Gun Frontier (2002) was another anime series, which incarnated Harlock in a Western setting. There was also Space Pirate Captain Harlock: Endless Odyssey (2002-3), a thirteen-episode OVA from Rintaro. Aside from that, Harlock crosses over into other Matsumoto creations and makes appearances in Galaxy Express 999 (1979) and the OVA Queen Emeraldas (1998-9). Though continuity changes considerably between versions of the story, Harlock is always a brooding interstellar pirate aboard the ship The Arcadia who wages a war against various authoritarian regimes.
Shinji Aramaki is a director who emerged first as a mechanical designer on various anime tv series of the 1980s and 90s. He made his directorial debut with the breathtaking feature film Appleseed (2004), another manga and anime adapted work. Aramaki went on create a sequel with Appleseed Ex Machina (2007) and a prequel Appleseed Alpha (2014). Elsewhere he also directed one of the episodes of the anthology Halo Legends (2010) and the full-length Starship Troopers: Invasion (2012) and its sequel Starship Troopers: Traitor of Mars (2017). Aramaki's films come with dazzling detail lavished on the military hardware and technology and a hand with science-fiction action that makes him at the forefront of modern anime directors.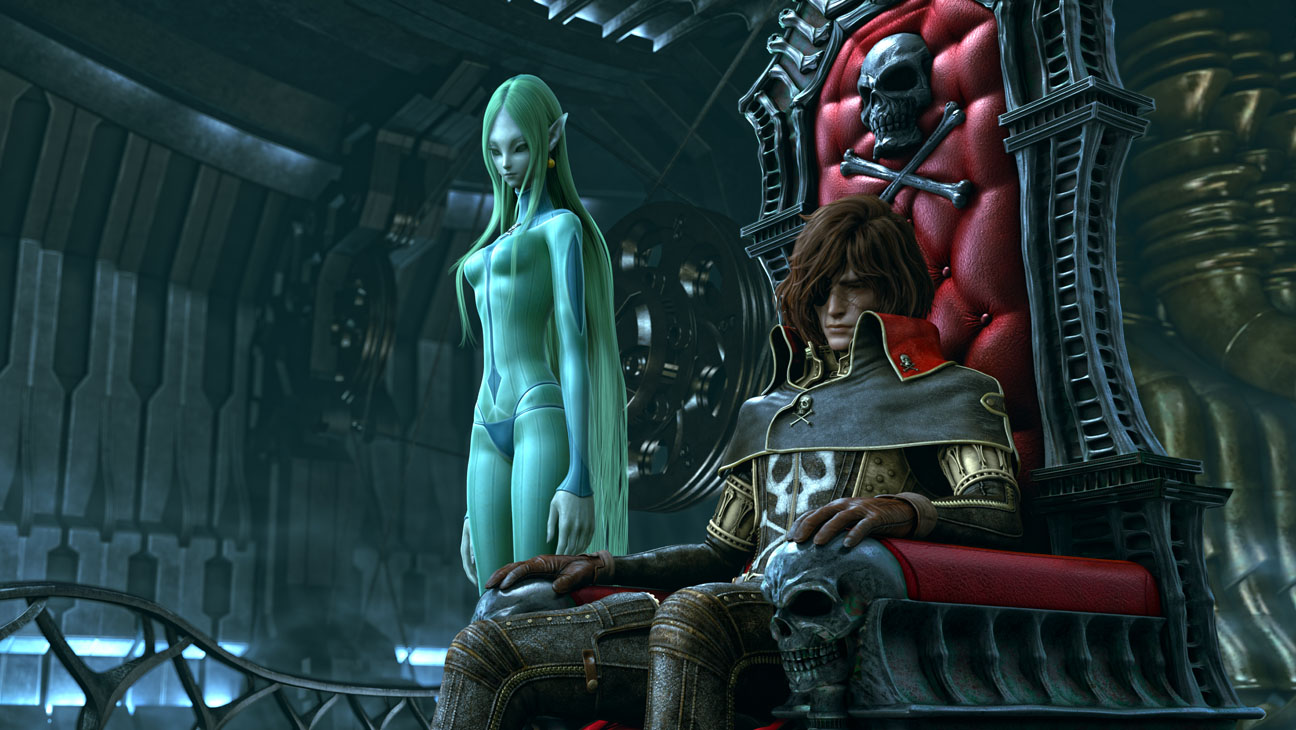 Shinji Aramaki's Space Pirate Captain Harlock has quite a different tone to the original tv series. This is most notable in the substantial backstory about Harlock's origins, the creation of the milieu of the Gaia Sanctions and the pursuing nemesis Isola and his brother Yama, which has all been invented for the film. The original anime series was fairly typical for the 1970s. It is a much lighter show with the characters being drawn in limited lines – Yattaran, for instance, is usually portrayed as a comic relief character but here is altogether more serious. The original series is typical of Japanese science-fiction of the 70s/80s, filled with fanciful imagery where sailing ships or old battlecruisers would take to the stars.
This seems at odds with Shinji Aramaki, a director who specialises in hard military science-fiction and exactingly detailed machines. Indeed, in Aramaki's hands this leads to an incongruous mix – where we have densely detailed fleets of ships combined with the more comic-bookish image of The Arcadia with a skull-shaped prow, always surrounded by a black cloud and sailing the Jolly Roger. Or images that improbably play on pirate imagery such as a laser gun that has been built to resemble a cutlass or of Harlock piloting the ship with an old-fashioned ship's steering wheel.
However, the virtue of any Shinji Aramaki film is the incredible detail and texture he places into the designs of the spacecraft, weaponry and the combat sequences. The spaceships here all feel as though they could fly and have some function. Aramaki creates space battles and images of fleets in combat on an epic scale like no other director – the sort that would cause E.E. 'Doc' Smith to cream in his longjohns. It is the space war as art. It is this that transforms Space Pirate Captain Harlock into something altogether unique and frequently beautiful.
---
---