aka Ghost in the Shell: The New Movie
(Kokaku Kidotai)
---
Crew
Director – Kazuya Nomura, General Director – Kazuchika Kise, Screenplay – Tow Ubukata, Based on the Comic Book by Shirow Masamune, Producers – Kengo Abe, Tetsushi Suzuki & Natsuko Tatsuzawa, Photography – Koji Tanaka, Music – Cornelius, General Animation Director – Toru Okubo, Special Effects – Masahiro Murakami. Production Company – Production I.G./Toho Animation.
---
Plot
Newport City, 2029. Major Motoko Kusanagi leads her assault team to stop a squad of cyborgised former soldiers who have taken people hostage at an embassy. They discover that this is just a feint to distract them from a bomb planted in a briefcase that kills the Prime Minister as he opens it. In that they reported directly to the Prime Minister, this now makes them a unit without mandate. They set out to investigate, coming up against their old nemesis of the Fire-Starter who can hack into people's brains and implant false memories. The trail leads Kusanagi back to the orphanage where she grew up as a fully cyborgised human.
---
The Ghost in the Shell series began as a manga Ghost in the Shell (1989-90) from Masamune Shirow, which appeared over eight months in Young magazine. This concerns the cyborg officer Motoko Kusanagi and her partner Batou as they deal with a series of threats in a cyberpunk future. Shirow later revisited the world with the sequels Ghost in the Shell: Man-Machine Interface (1991-7) and Ghost in the Shell 1.5: Human-Error Processor (1991-6). The first manga series was adapted by Mamoru Oshii as the anime Ghost in the Shell (1995), which proved a popular hit, and Oshii later made a sequel with the stunning Ghost in the Shell: Innocence (2004). There was also an anime tv series Ghost in the Shell: Stand Alone Complex (2004-5), which ran for twenty-six episodes and told a series of original stories, followed by a further anime tv series Ghost in the Shell SAC_2045 (2020- ). Ghost in the Shell (2017) was the much ridiculed live-action English-language remake starring Scarlett Johansson.
Ghost in the Shell: Arise (2014) was a further reboot of the series, consisting of four one-hour films that were released theatrically (often bundled together in English-language release). A fifth episode Pyrophoric Cult was added when it came to the tv airing of the films and creates continuity tie-in with this film, which is a theatrically released, feature-length film spinoff from Arise. This film is titled Ghost in the Shell on the opening credits but has been renamed Ghost in the Shell: The New Movie in promotion and posters so as not to cause confusion with the original.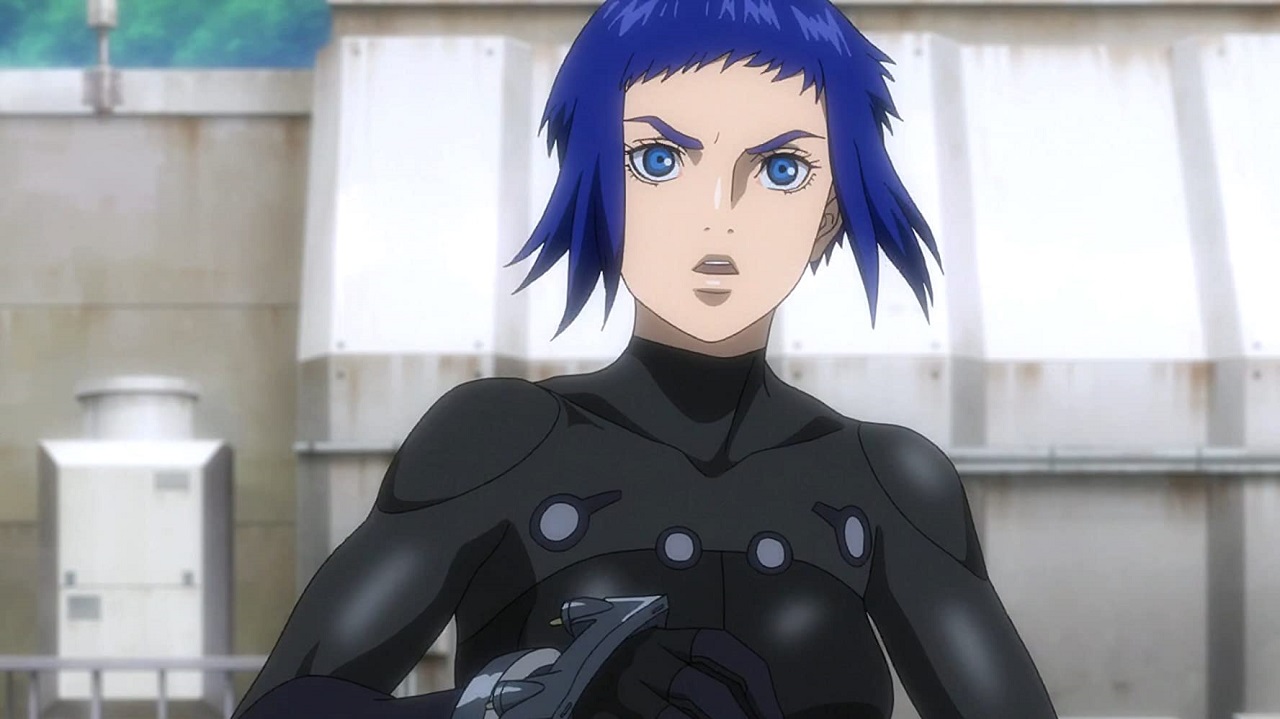 I was very impressed with Ghost in the Shell: Arise. Expecting more of the same here, I ended up disappointed. Well, it is more of the same and uses many of the same ideas that take place in the Arise films; it is just that it never does anything exceptional as you sort of expect it to. The pace here is a good deal slower. The action scenes are expectedly tough and gritty but there are never any of them that make you go wow.
Moreover, the film is burdened with an excessively complicated plot to the point where I was frequently not sure why people were doing anything, even who was responsible for the murder. This is also not helped by subtitles that are okay but leave room for improvement – the raid on the embassy is referred to as a 'domination', for instance. In this, which is largely a Cyberpunk murder mystery plot – something that you would imagine somebody like Raymond Chandler or Dashiell Hammett would turn out if they ever wrote science-fiction – what the film seems to lack is the dazzling array of ideas and haunting Cyberpunk meditations on human and machine that we had in the other Ghost in the Shell: Arise stories. This just becomes a dogged futuristic murder mystery.
---
---