---
USA. 1940.
Crew
Director – Joe May, Screenplay – Lester Cole & Kurt Siodmak, Story – Joe May & Kurt Siodmak, Photography (b&w) – Milton Krasner, Music – H.J. Salter & Frank Skinner, Music Director – Charles Previn, Photographic Effects – John P. Fulton, Art Direction – Jack Otterson. Production Company – Universal.
Cast
Vincent Price (Geoffrey Radcliffe), Sir Cedric Hardwicke (Richard Cobb), John Sutton (Dr Frank Griffin), Nan Grey (Helen Manson), Cecil Kellaway (Inspector Sampson), Alan Napier (Willie Spears), Forrester Harvey (Ben Jenkins)
---
Plot
Industrial research chemist Geoffrey Radcliffe is about to be executed for a murder that both he and all his friends insist he is innocent of. When appeals fail, his colleague Dr Frank Griffin gives him a dose of duocaine, the invisibility serum invented by his uncle, and Geoffrey is simply able to walk out of his cell. Invisible, he then sets out to track down the real murderer. However, his efforts are hampered by the drug's effects, which soon start giving him delusions of grandeur.
---
The Invisible Man Returns was the first of four sequels that Universal would make to James Whale's adaptation of H.G. Wells's The Invisible Man (1933). (See below for the other Invisible Man sequels). Throughout the 1940s, Universal maintained a steady bread and butter diet of Frankenstein, Dracula and Mummy sequels and then in an increasing desire to inject novelty into the proceedings started teaming the monsters up. All of these were impoverished shadows of their classic originals. Indeed, The Invisible Man Returns's screenwriter Curt/Kurt Siodmak found regular employment churning out the scripts for many of these. Among the thorough mediocrity and creative impoverishment of Universal's other monster sequels throughout the 1940s, one strains to think of a single sequel that rises above the mediocre. The sole exceptions might be some of the entries in the Invisible Man series.
The Invisible Man Returns is a modestly enjoyable little effort. It invariably falls in the shadow of the superior Invisible Man. Director Joe May tries to mimic some of of James Whale's sublime droll humour. There is a good deal of broad comic-relief with the gardener and Alan Napier's drunken nightwatchman. Occasional lines like "I'll only believe he's invisible when I see him" and images of the invisible man stealing a scarecrow's clothes hit the mark in attaining some of Whale's eccentricity.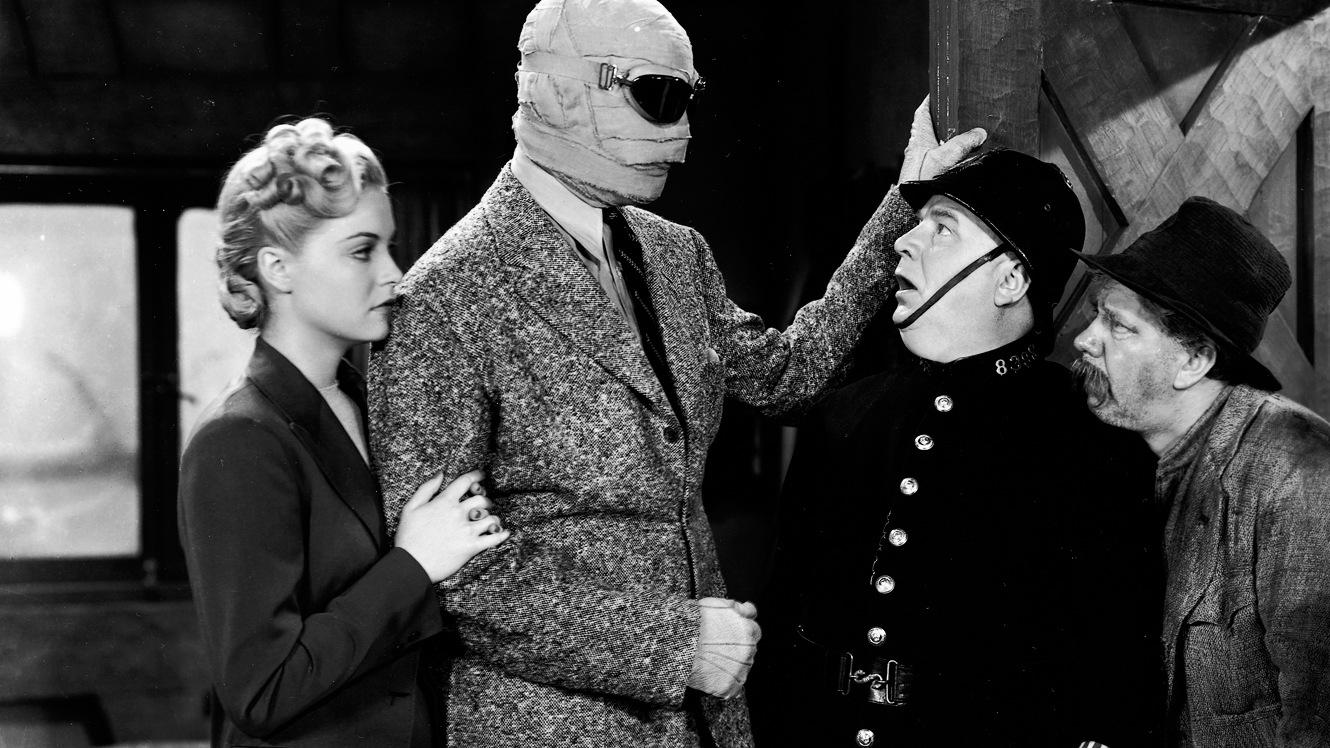 Joe May and Curt Siodmak conduct some good setups. There is a good opening with Vincent Price about to be hanged only to make an escape from his cell when John Sutton goes to visit him and injects him with the invisibility serum, he simply walking out once the police think he has vanished. There are some fine scenes during the police manhunt around the house – masked bobbies moving through the house spraying smoke only to have the Invisible Man emerge from a door and grab the last one in line and then emerge hidden behind the bobby's clothes and gas mask and walk out in the midst of it all carrying Nan Grey.
There is a fine scene with John Sutton and Nan Grey dining with Vincent Price where they suddenly realise that his ideas are becoming increasingly more maniacal and that his mind has been affected by the serum. All in all it is a surprisingly modest and clever little film. The effects where we see a lab animal and human gradually becoming visible from the skeleton to the epidermis predates similar effects on Hollow Man (2000).
The other Universal Invisible Man films are:– The Invisible Man (1933), The Invisible Woman (1940), Invisible Agent (1942), The Invisible Man's Revenge (1944) and Abbott and Costello Meet the Invisible Man (1951).
---
Trailer here
---