---
Crew
Director – Lambert Hillyer, Screenplay – Garrett Fort, Story – John L. Balderston, Suggested by Oliver Jeffries, Based on the Short Story Dracula's Guest by Bram Stoker, Photography (b&w) – George Robinson, Special Photography – John P. Fulton, Art Direction – Albert S. D'Agostino. Production Company – Universal.
Cast
Otto Kruger (Dr Jeffrey Garth), Gloria Holden (Countess Marya Zaleska), Marguerite Churchill (Janet Blake), Irving Pichel (Sandor), Edward Van Sloan (Professor Von Helsing), Gilbert Emery (Sir Basil Humphrey), Nan Grey (Lili), Billy Bevan (Albert), Halliwell Hobbes (Hawkins)
---
Plot
Two constables find Professor Von Helsing at Carfax Abbey just after he has staked Count Dracula, whereupon he is arrested for murder. When Vom Helsing starts talking about vampires, Scotland Yard thinks that he is mad. He demands that a colleague, psychologist Jeffrey Garth, be brought in to determine his sanity. Meanwhile, the mysterious Countess Marya Zaleska, Dracula's daughter, hypnotises the desk constable with her ring and steals Dracula's body. She then burns the body, hoping that this will free her from the vampire curse. Meeting Garth, she becomes fascinated with his claims that addictions can be overcome by willpower. She tries to put these into practice as she struggles against her vampiric nature.
---
Universal's production of Dracula (1931) starring Bela Lugosi was a massive success. Nowadays a sequel would be prepped and ready to go almost after the opening day grosses were in. However, it took Universal some time to grasp the idea that sequels could be made to their horror films. It was five years after the original before they got around to making their first Frankenstein sequel, Bride of Frankenstein (1935), a similar five years to make this, the first Dracula sequel, and another seven years before they would make a further Dracula sequel Son of Dracula (1943).
Into the 1940s, Dracula became a regular tag-team member in Universal's various monster bashes – first in House of Frankenstein (1944) and then House of Dracula (1945), before being played for laughs in Abbott and Costello Meet Frankenstein (1948). Unlike their Frankenstein series, Universal for some reason chose not to bring Dracula back as the continuing character (until the monster bashes) and instead tossed up a variety of his siblings. This might possibly have been due to Bela Lugosi's reluctance to return to the role until his descent into poverty in the 1940s forced him to have to be a little less disdainful of the parts he played. Another part of the problem was the widespread imposition of the Hays Code by Hollywood studios in 1934, which made the idea of Dracula seducing women taboo. Universal eventually decided to circumvent this by dropping Dracula in favour of a female vampire as lead.
In almost all ways, Dracula's Daughter is a better film than Dracula. It has a story that has been written directly for the screen, unlike the original, which was almost directly a filmed version of the 1927 stage adaptation of Dracula. (Dracula's Daughter does claim a slim basis in Dracula's Guest, a chapter from the Dracula novel (1897) that Stoker left out, which was not published until 1914, although there is almost nothing in common between the film and the chapter).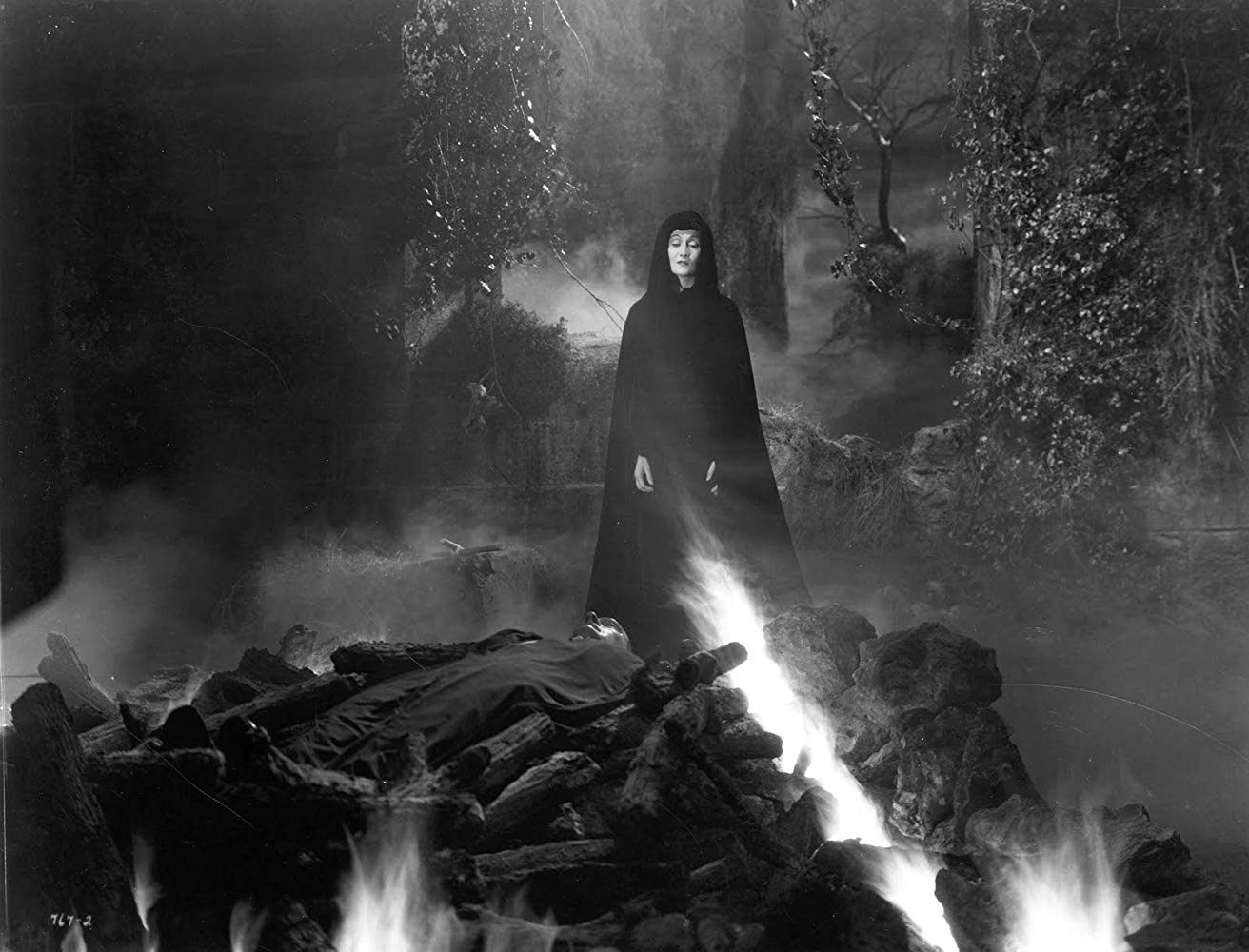 As a result, this film is not as stagy as the original and works much better as a film. An enormous advantage that the film has is the absence of the appallingly hammy Bela Lugosi. Furthermore, it is a much more sympathetic story – the vampire is not a black-and-white incarnation of evil as Lugosi was but a much more sympathetic character caught between a desire to shake their affliction and the constant need it brings.
Director Lambert Hillyer creates undeniable moments of atmosphere – the black-hooded Gloria Holden chanting arcane phrases beyond the fire as she burns the body; her appearance at the police station, seen only as a pair of eyes through a slit in the hood, hypnotising the policeman with the ring on her finger; the scene where Lili is brought to her and she advances on her, fighting between telling Lili she is just there as a model and her hunger, a scene that contains an undeniable undertone of sexuality (which arguably makes Dracula's Daughter the first lesbian vampire movie).
Lambert Hillyer makes a great deal out of the moon-faced presence of Gloria Holden. Holden does not seem that great an actress but Hillyer casts her for the way she looks and outfitted in black hood, black dress and with hair in a severely imprisoned bun. She drifts through the film with a wonderfully regal aloofness. Similarly so, Hillyer casts Irving Pichel – later a director himself, most famously with George Pal's Destination Moon (1950) – as the manservant for his threatening, heavyset swarthiness.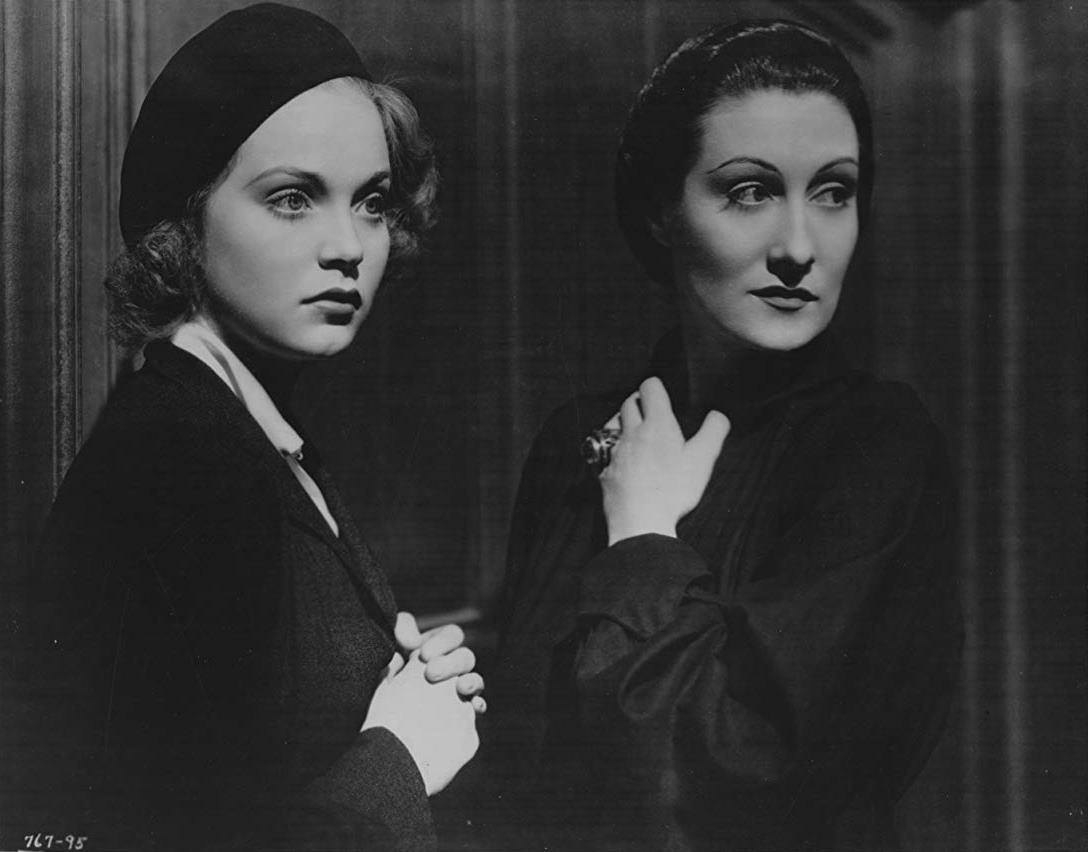 The film is surprisingly short – just over an hour long. Even so, it does feel talky. The middle of it is dragged down by a good deal of tedious drawing room banter and the silly scenes with secretary Marguerite Churchill making prank calls to Otto Krueger. This talkiness tends to drag down Hillyer's otherwise admirable creation of atmosphere. When Dracula's Daughter does work, it feels more like individual moments of inspiration in an otherwise dull set film. The ending comes surprisingly abruptly and is conducted with little drama. There is the sense it is there to bring the show to a quick close, not cap it off. Otto Krueger is thin, long-faced, prematurely balding and plays with a perpetually cross expression, which makes for a decidedly unromantic and unsympathetic hero.
Nearly 60 years later, the plot of Dracula's Daughter was uncreditedly remade as Michael Almerayda's Nadja (1994). The film is unrelated to and should not be confused with the softcore lesbian vampire film The Daughter of Dracula (1972) from Jess Franco.
Lambert Hillyer was an enormously prolific director – he made more than 150 films from the silent era until his retirement in the 1950s. More than 60 of these were B Westerns. He did stray into genre territory upon a handful of occasions:– Before Midnight (1933), a murder mystery with supernatural overtones; the Boris Karloff-Bela Lugosi mad scientist film The Invisible Ray (1936); and the serial Batman (1943), the first screen adaptation of the DC Comics superhero.
---
---