---
Crew
Director – Nimrod Antal, Screenplay – Michael Finch & Alex Litvak, Producers – Elizabeth Avellan, John Davis & Robert Rodriguez, Photography – Gyula Pados, Music – John Debney, Theme – Alan Silvestri, Visual Effects Supervisor – Robert Rodriguez, Visual Effects – Hybride (Supervisor – Daniel Leduc), Troublemaker Digital & Ubisoft Digital Arts, Special Effects Supervisor – Joe Montenegro, Makeup Effects – KNB EFX Group Inc (Supervisors – Howard Berger & Greg Nicotero), Production Design – Caylah Eddletube & Steve Joyner. Production Company – Troublemaker Studios/Davis Entertainment/Dune Entertainment.
Cast
Adrien Brody (Royce), Alice Braga (Isabelle), Topher Grace (Edwin), Walton Goggins (Stans), Oleg Taktarov (Nikolai), Louis Ozawa Changchien (Hanzo), Mahershalalhashbaz Ali (Mombasa), Laurence Fishburne (Noland), Danny Trejo (Cuchillo), Brian Steele (Berzerker Predator), Carey Jones (Tracker Predator), Derek Mears (Classic Predator)
---
Plot
A group of people wake up in mid-air, falling from the sky before their parachutes open and they land in a jungle. The eight have been heavily armed and have no idea how they came to be there. The group includes various soldiers from around the world, having been snatched from combat in places like Chechnya and Sierra Leone, an enforcer for Mexican drug cartels and a Yakuza hitman, as well as a doctor and a wanted serial killer. They soon realise that they are on another planet that is a game preserve for the Predator aliens and that they are the intended prey.
---
Predator (1987) was the most successful of the films in the 1980s that sought to climb aboard the enormous success of Alien (1979). This was sequelised as the halfway reasonable Predator 2 (1990). After this point, Predator's second life began – first in a series of novelisations but principally in comic-book form where the Predator was crossed over with numerous other comic-book characters including encounters with Batman, Superman, Judge Dredd, Tarzan, the Justice League, The Terminator but most of all with the Alien(s) series. Indeed, the Aliens vs Predator title, first published in 1992 by Dark Horse Comics, has become its own success story and continues to be a popular ongoing title. The popularity of the Aliens vs Predator comic-book and the fact that the copyright to both series was held under the same roof at Twentieth Century Fox led to a great deal of internet buzz and a number of spec scripts floating around. Eventually this culminated in the film version AVP: Alien vs Predator (2004) and its sequel AVPR: Aliens vs Predator Requiem (2007).
Predators offers an interesting collusion of talents. Producing the show and even supervising the visual effects is Robert Rodriguez, the director of El Mariachi (1993), From Dusk Till Dawn (1996), Spy Kids (2001) and sequels, Sin City (2005) et al. Rodriguez had originally written a Predator 3 script back in 1995 but this was rejected by 20th Century Fox as being too expensive. With Rodriguez's subsequent establishment as a maverick frontline director, that idea has been revived here and Rodriguez given creative control over the series. Rodriguez hands the actual reigns to Hungarian director Nimrod Antal who made an impressive debut with the festival acclaimed Kontroll (2003) about the life of Budapest train inspectors. This was enough to have Antal brought to work in the US with the Torture Porn film Vacancy (2007), the heist film Armored (2009) and the subsequent Metallica Through the Never (2013).
The announcement of Predators came as a left-field surprise. The series has been around so long that one almost expects Predators to be a remake of Predator, joining the mound of remakes of 1970s/80s films – The Texas Chainsaw Massacre (2003), Dawn of the Dead (2004) etc. However, in the words of Robert Rodriguez and Nimrod Antal, Predators is intended as a direct sequel to Predator. They have stated that their intention was to circumvent the continuity of Predator 2 and the Alien(s) vs Predator films and present it as an original sequel. (That said, there is nothing in Predators that would not allow it to slot into the continuity of the other four films).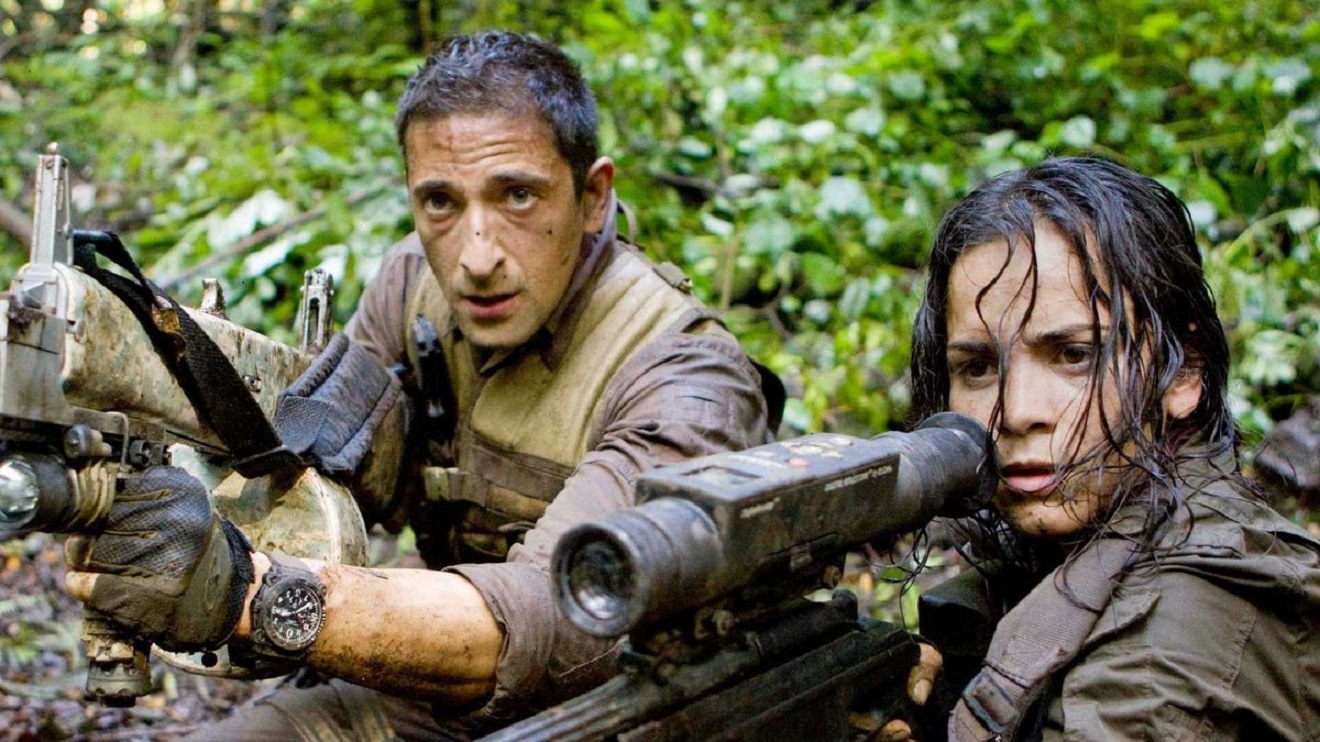 Having been reduced to little more than a novelty team-up in the Alien(s) vs Predator series, Predators proves that the series still has its own legs. Nimrod Antal captures one's attention from the opening scene with the team being parachuted into the midst of a jungle, baffled as to what they are doing there – their first encounters with one another in most cases being them attempting to shoot each other up. It is a classic conceptual puzzle box situation with a group of strangers thrust into a baffling situation and having to trust one another to stay alive – indeed, it could almost be considered an open-air version of Cube (1997).
Nimrod Antal's hand is immediately on the button with the action and rarely ever lets up. This is the only of the Predator sequels to take its leaf from John McTiernan's pounding style in the first film and maintain everything as an intensive bombardment of heavy artillery, brutal combat and eerie seat-edge tension. There is the odd scene that Nimrod Antal mishandles – the sword confrontation between Predator and Louis Ozawa Changchien is surprisingly wimpy – but other scenes like where Danny Trejo sits pitifully crying "help me" and they debate whether it is a trap, depart and Alice Braga shoots him out of mercy but the "help me'"s continue after he is dead are incredibly eerie.
None of the Predator films have particularly outstanding screenplays but Predators is probably the best written of these. It follows the original's plot closely – an approximation of the scenes with the military unit going into the jungle, pursuing an unknown enemy and then finding themselves hunted by the predators; the last survivors being the male hero and a Latino woman; even a scene where the hero of the piece finally confronts the Predator while bared to the chest and covered in mud.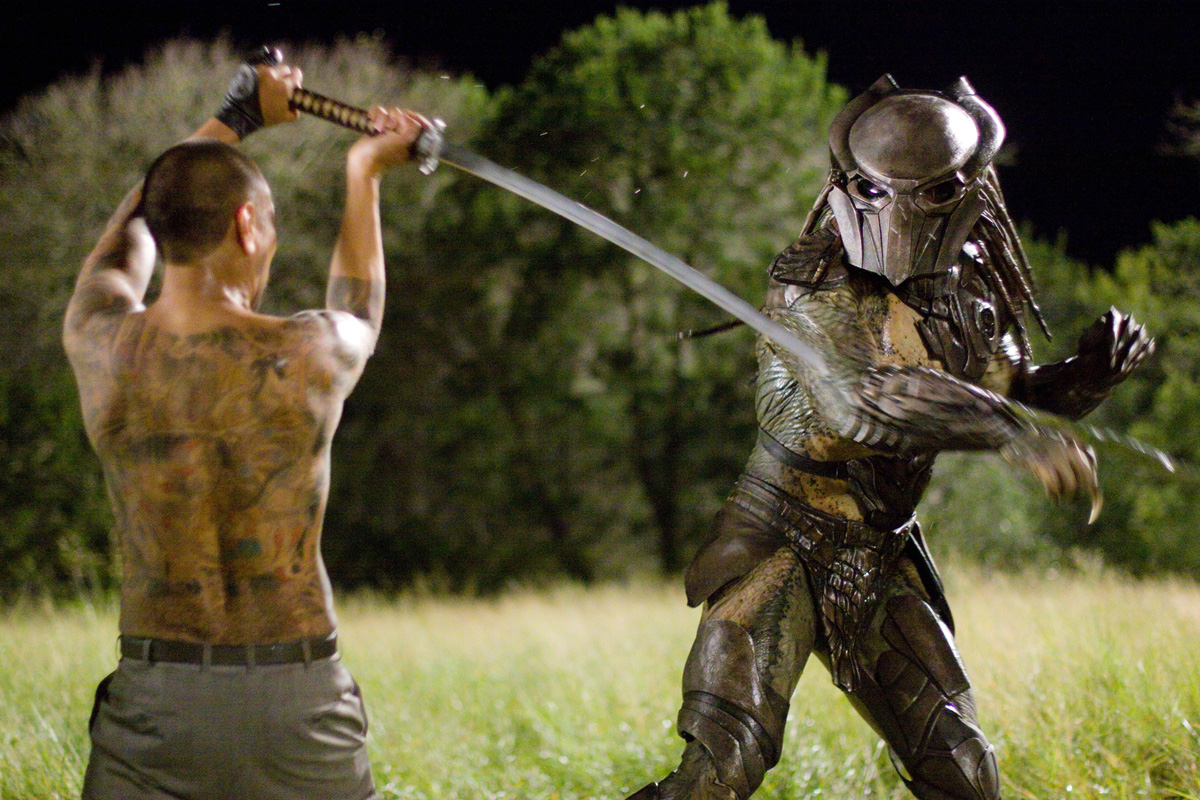 I liked Predators for its attempts to wring something new out of the premise. The characters are drawn with interesting edges such that you wish they had been granted more screen time. Not to mention that the script elevates itself by even managing to quote Ernest Hemingway – which offers the intriguing possibility of an intellectual Predator film!
The biggest problem I had going into Predators is the idea of Adrien Brody Action Hero. Brody can be a good character actor – see him in roles like The Pianist (2002) and Hollywoodland (2006) – but trying to play a classic leading man hero, as in King Kong (2005), he was a wimpy disaster. It seems a hard fit trying to push a character actor like Brody into the type of role that is usually inhabited by macho men to whom the ability to speak English without mangling the vowels is of lesser a consideration than brawn, muscles and testosterone. More to the point, the persona that Brody affects most of the time is of someone weak, watery and frequently effeminate. He is not the most immediate actor you go to searching for toughness and brutality. To his credit, he plays with a terse tightness and holds up passably well on screen. That said, almost any of the others in the supporting cast would have forged a much stronger leading presence than Brody does. I would love to have seen the film with Danny Trejo, whose character is disposed of far too soon, in the lead. Now that would have made for a showdown with the Predator worth seeing.
This was followed by The Predator (2018) and Prey (2022).
---
---