---
Crew
Director/Screenplay – Gregg Araki, Producers – Gregg Araki & Andrea Sperling, Photography – Sandra Valde-Hansen, Music – Robin Guthrie, Vivek Maddala, Mark Peters & Ulrich Schnauss, Visual Effects – Wes Cronk & Danny Newbro, Production Design – Todd Fjelsted. Production Company – Why Not Productions/Desperate Pictures/Wild Bunch/Super Crispy.
Cast
Thomas Dekker (Smith), Haley Bennett (Stella), Juno Temple (London), Chris Zylka (Thor), Roxane Mesquida (Lorelei), Andy Fischer-Price (Rex), James Duval (The Messiah), Jason Olive (Hunter), Nicole LaLiberte (Red-Haired Girl/Madeleine O'Hara), Kelly Lynch (Nicole), Brennan Mejia (Oliver), Michael James Spall (Smith's Dad)
---
Plot
Smith is a university student and is studying film. He has a crush on his straight surfer roommate Thor. Equally, Smith also dallies with girls and refuses to categorise himself as being either straight or gay. At a party, Smith hooks up with a girl London and they continue to meet for casual sex. Smith's best friend, the lesbian Stella, also hooks up the beautiful Lorelei who Smith thinks he saw in a dream. Smith meets a red-haired girl who was also in his dream and thinks he witnesses her being abducted by men in animal masks but cannot be sure if he dreamed it. Stella discovers that Lorelei is a witch who can use her powers to create amazing sex. However, Lorelei is also unbalanced and turns her powers against Stella when she tries to break up. As Smith puzzles over the disappearance of the red-haired girl, he finds himself drawn into the sinister activities of a doomsday cult and the mystery surrounding his late father.
---
Kaboom was the tenth film from American director Gregg Araki. Araki first attained attention with his third film The Living End (1992), a gay variation on Thelma and Louise (1991), before finding a modest cult with The Doom Generation (1995) and eventually a critical breakthrough with Mysterious Skin (2004). In between these, Gregg Araki has made a series of indie films that usually circle around issues of gay teenage sexuality and the angst of coming out and/or making decisions for which side of the fence one sits on with the likes of Three Bewildered People in the Night (1987), The Long Weekend (O'Despair) (1989), Totally F***ed Up (1993), Nowhere (1997), Splendor (1999) and Smiley Face (2007). Araki returned to genre material as director of the tv series Now Apocalypse (2019) centred around issues of sexuality against the backdrop of the possible looming end of the world.
When Gregg Araki's films hit (as in The Doom Generation), they have a smart and on-the-ball vibe to them, although some of his lesser works have only circled around trying to find that same thing again. Kaboom certainly falls into the latter. The impossibly handsome Thomas Dekker is a typical Gregg Araki hero, confused or undecided in his sexual orientation. The two central characters express themselves with modern irony and here Gregg Araki's dialogue is smart and cynically contemporary. Everything regarding their various sexual dalliances comes with a quirky amusement, although eventually I found the two central characters annoying – Thomas Dekker seems too whiny, while it was hard to connect with someone as cynical and mouthy as Haley Bennett. On the other hand, Juno Temple (daughter of director Julien Temple, known for films like The Great Rock'n'Roll Swindle (1980) and Earth Girls Are Easy (1989) and a great many music videos) hits just the right degree of appeal.
Unfortunately, while Gregg Araki sets the characters and their interactions up well, Kaboom is all over the place. It almost feels like it is two different films merged together. Araki throws in all manner of random elements – a witch (Roxane Mesquida) who takes supernatural revenge on Haley Bennett after she is jilted; Thomas Dekker obsessing over a girl (Nicole LaLiberte) who appears to be abducted by men in animal masks; he having dreams of events about to happen and people before he meets them; a sinister doomsday cult that may have ties to Thomas Dekker's dead father. All of these elements weave in and out with the standard ones about Thomas Dekker and Haley Bennett and their relationship issues.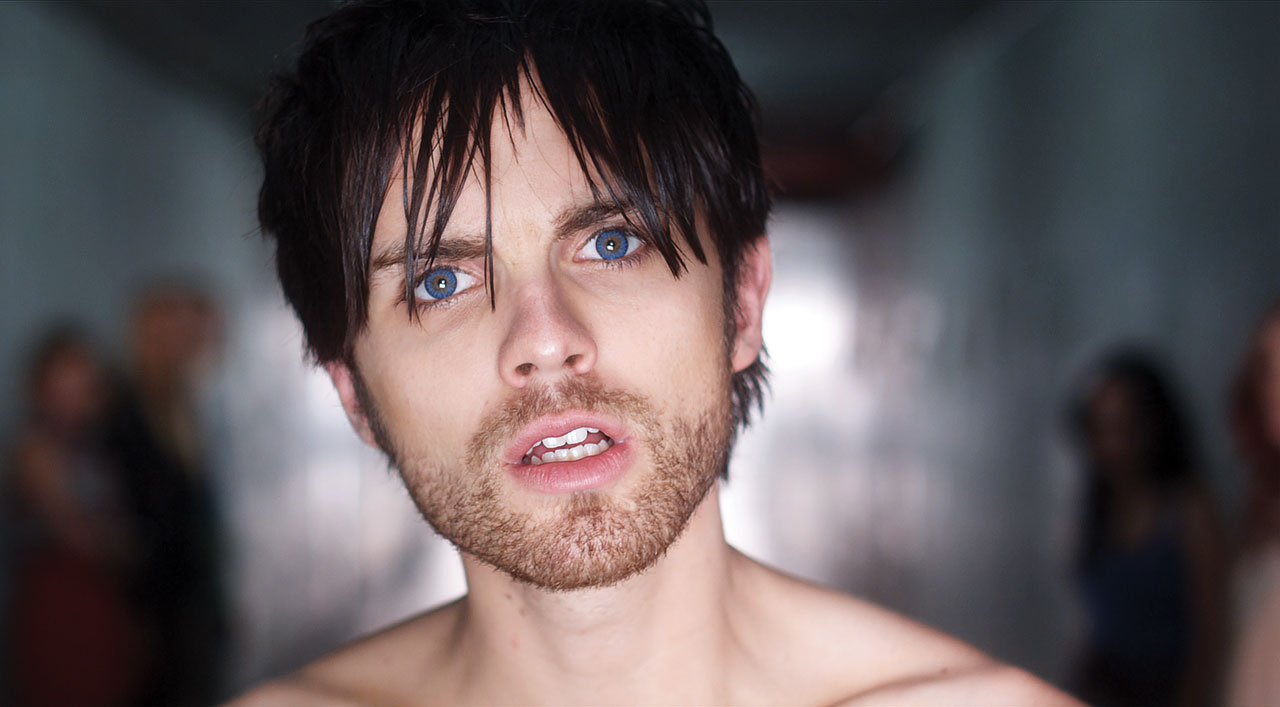 Some of these scenes are frankly bizarre like where Roxane Mesquida jumps out in a bathroom to psychically attack Haley Bennett in a cheap effects display and is then melted down like the Wicked Witch of the West in The Wizard of Oz (1939) when splashed with water from the hand basin – it is something that belongs more in a cheap schlock horror film rather than one that seems to be trying to say something about modern sexuality.
Kaboom reaches a totally off-the-page left field ending. [PLOT SPOILERS]. Here it is revealed that every character we have encountered throughout the film, including the surfer roommate, the campus hippie and the man Thomas Dekker has random sex with on the beach, is either a member of the cult headed by Thomas Dekker's father or else are undercover agents for a cult-busting operation. Thomas Dekker and Juno Temple, the girl he has been having casual sex with, are revealed to be brother and sister without either having known it. They have latent psychic powers that the cult seeks to tap – so too does Roxane Mesquida, explaining her witch-like abilities, although she is said to have gone rogue. In the last image, the father pushes the button that blows up the world – cue cheap effects of the Earth being consumed in a fireball.
It is as though Gregg Araki was trying to conduct his own variant on the ending of Repo Man (1984) or Takashi Miike's Dead or Alive (1999), although more than anything it signals that he had no idea where the story was going himself. Whichever way, it comes out as a film that appears to have only arrived at a big head-scratching "huh" for all audiences.
---
---