---
Crew
Director/Screenplay – Abel Ferrara, Producers – Brahim Chioua, Peter Danner, Juan De Dios Larrain, Pablo Larrain & Vincent Maraval, Photography – Ken Kelsch, Music – Francis Kuipers, Visual Effects Supervisor – David Isyomin, Production Design – Frank De Curtis. Production Company – Fabula/Funny Balloons/Wild Bunch/Bullet Pictures/So Suave, LLC.
Cast
Willem Dafoe (Cisco), Shanyn Leigh (Skye), Paul Hipp (Noah), Trung Nguyen (Delivery Boy), Natasha Lyonne (Tina), Anita Pallenberg (Skye's Mother), Triana Jackson (Cisco's Daughter), Dierdra McDowell (Cisco's Ex), Pat Kiernan (News Anchor)
---
Plot
The world is going to end at 4:44 am due to global warming having destroyed the ozone layer. Cisco and his artist girlfriend Skye spend the last day together in their New York City apartment, she spending her time painting and they saying their goodbyes to their families.
---
Abel Ferrara is one of the most iconoclastic voices in American cinema. Ferrara began in the 1970s with astonishingly nihilistic and angry films like The Driller Killer (1979) and Ms 45/Angel of Vengeance (1980), soon branching out into crime films such as Fear City (1984), China Girl (1987), King of New York (1990) and The Funeral (1996). The decade was capped by Ferrara's masterwork, the astonishingly raw Bad Lieutenant (1992). Since then Ferrara's career has been uneven – one has been waiting most of the 1990s and 00s for him to turn out something as raw as Bad Lieutenant but most of his work since then, particularly since the late 1990s and this side of the 00s – The Blackout (1997), New Rose Hotel (1998), R Xmas (2001), Mary (2005), Welcome to New York (2014) and Pasolini (2014) – has never quite hit the mark in one way or another, while more recent offerings such as Siberia (2020) and Zeros and Ones (2021) can be considered downright incomprehensible. (See below for Abel Ferrara's other genre films).
4:44 Last Day on Earth snuck out with almost no notice. It is hard not to see why. It is such a low-key film – a film about the end of the world that never leaves the protagonist's apartment for almost the entire running time. The basic idea – the way people confront the end in the last few hours before the end of the world – was done before in the far superior Last Night (1998) and the subsequent Australian These Final Hours (2013). 4:44 Last Day on Earth could be a minimalist version of Last Night – stripped of its multiple character strands and confined to fairly much two people and a single location.
It is in essence Abel Ferrara having discovered mumblecore. You could also compare 4:44 to Seeking a Friend for the End of the World (2012), which came out eight months later. Abel Ferrara and Seeking a Friend director Lorene Scafaria are almost complete poles apart – a harsh realist who makes works of grim urban nihilism versus a romcom director whose work gets labelled cute and quirky, but both films are similar – for one, they feature dull protagonists and proceed to avoid any big dramatics and concentrate on talking their way to the end of the world.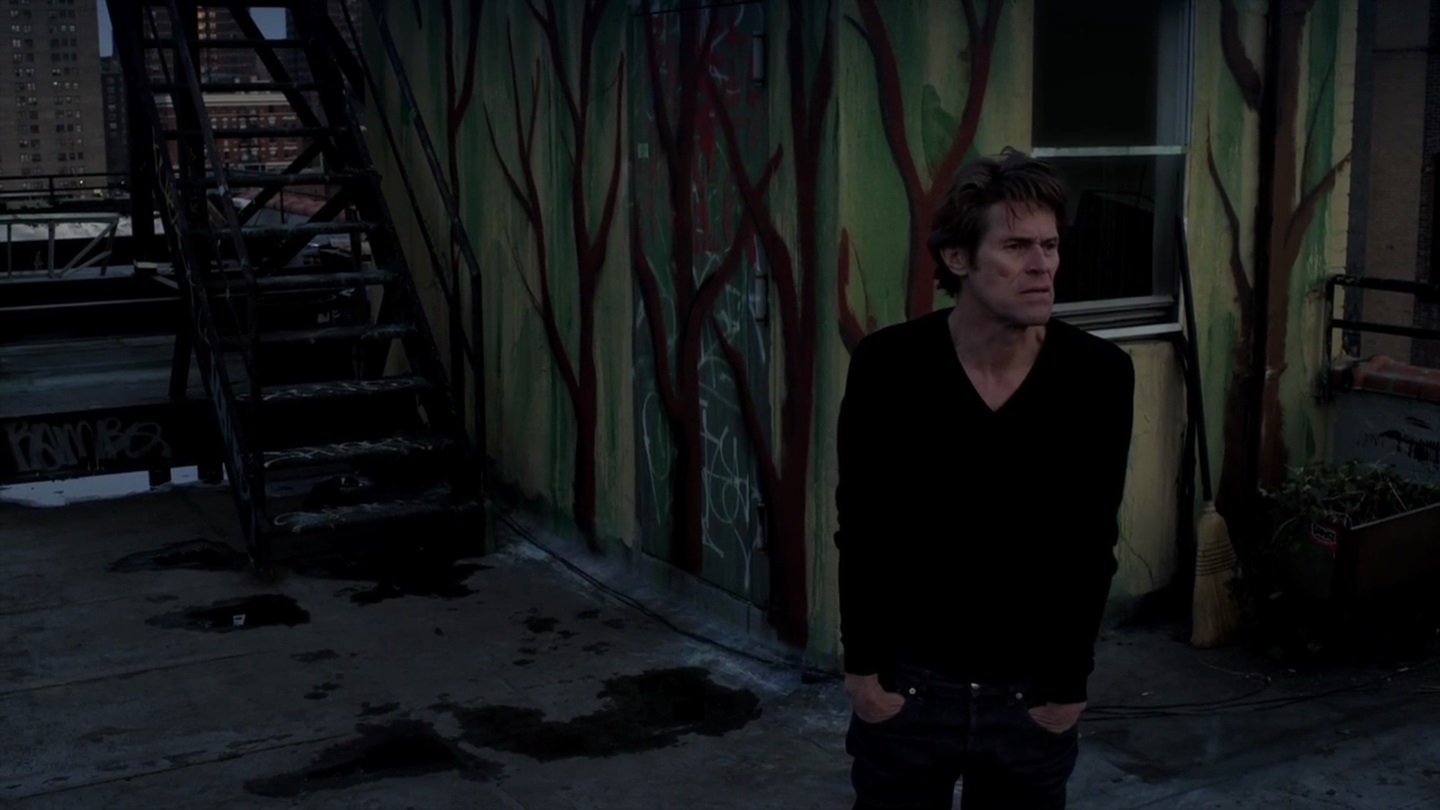 Abel Ferrara seems to want to make the End of the World as dull and ordinary an event as possible. Most of the film consists of scenes with Willem Dafoe and Shanyn Leigh having sex, watching tv, she painting, the two of them listening to music and dancing, they contacting family via Skype, watching more tv, ordering food and letting the Vietnamese delivery boy (Trung Nguyen) contact his family by Skype, Dafoe lying back and letting Shanyn Leigh fly by riding on top of his legs. I don't know about Abel Ferrara but I think I would try and find a more meaningful way to spend the last few hours on Earth than that.
It is 45 minutes before the film ventures out of the apartment and it is only in the scenes where recovering addict Paul Hipp has a speech where he explains that he is not going to get high just because it is the end of the world because it would be betraying who he has become that the film gains some well-written depth. You get the sense that much of the film is improvisational. Here some of Willem Dafoe's dialogue tends to the risible – lines like (in reference to people trying to move a body of a suicide who has jumped from the building opposite): "You leave that man alone. If you want to do something light a candle," yelled from the rooftop at the top of his voice.
As with Last Night and Seeking a Friend for the End of the World, Abel Ferrara makes the agency behind the end of the world deliberately vague. With cuts away to Al Gore in full environmental guru mode on tv and Willem Dafoe making a throwaway line about the acceleration of global warming, there is the impression it is something to do with a vanishing ozone layer, although Ferrara wisely does not expand beyond that as you expect this would take 4:44 Last Day on Earth into the same territory of nonsense ecological science as The Day After Tomorrow (2004).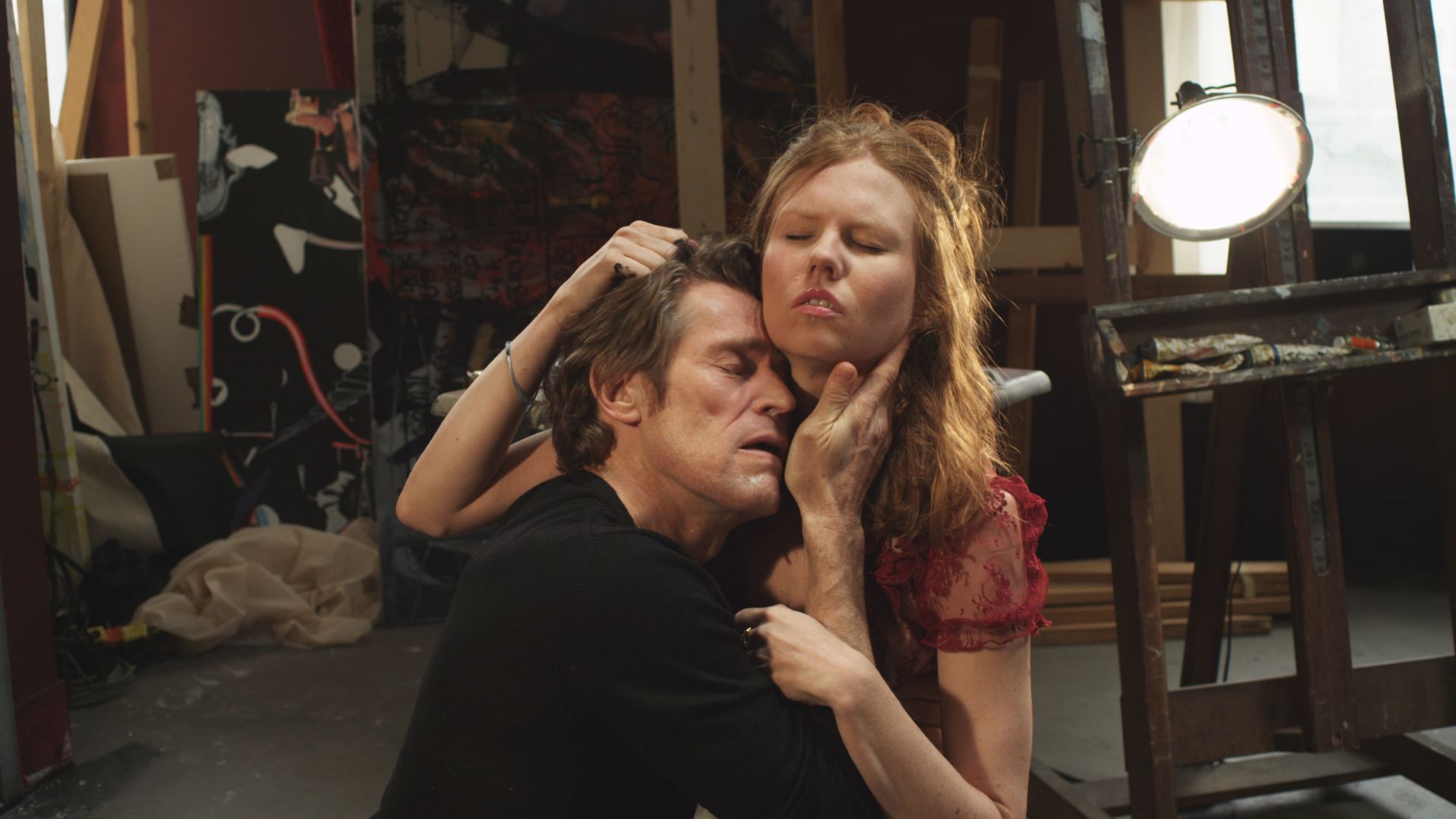 4:44 Last Day on Earth also feels as though Abel Ferrara has lost his mojo – Ferrara hits the age of sixty as the film comes out. This is the director of The Driller Killer and Bad Lieutenant making a film about the end of the world where he entirely sidesteps any depiction of social collapse that the Ferrara of his prime would have leapt at with great enthusiasm. In his heyday, Ferrara would surely have made a 4:44 that comes out resembling something like the incredibly bleak and barbaric The Divide (2011).
We have gone from a director who can make relentlessly hopeless works of social nihilism to someone observing the not very interesting lives of ordinary people, from a Ferrara who despaired of any hope for the human condition in The Addiction (1995) to Willem Dafoe merely ranting at the stupidity of the human race after watching tv clips of people chopping down all the trees on Easter Island.
Where in The Addiction, Ferrara took the time to write a philosophical treatise, here he boilerplates in tv clips from Al Gore, the Dalai Lama, Joseph Campbell and a very creepy Buddhist talking about how the physical world is an illusion to do it for him. It is a film that takes a long time to allow the End to arrive and leaves you feeling less that you have discovered something about the way people meet it than you feel glad that the film has finally gotten it over and done with.
Abel Ferrara's other genre films are:– The Driller Killer (1979) about a power drill-wielding psycho; the rape/revenge drama Ms 45/Angel of Vengeance (1981); Fear City (1984) about a serial killer stalking strippers; the worthwhile and underrated remake of Body Snatchers (1993); the vampire film The Addiction (1995); the William Gibson adaptation New Rose Hotel (1998); and Siberia (2020) with Willem Dafoe on a surreal journey in search of the meaning of life.
---
---