(Le Cité des Enfants Perdus)
---
Crew
Directors – Marc Caro & Jean-Pierre Jeunet, Screenplay – Marc Caro, Jean-Pierre Jeunet & Gilles Adrien, Dialogue – Gilles Adrien, Producer – Claudie Ossard, Photography – Darius Khondji, Music – D'Angelo Badalamenti, Special Effects – Jean-Baptiste Bonetto, Yves Domenjoud, Olivier Gleyze & Jean-Christophe Spadaccini, Digital Effects – Pitof, Computerised Images – Pierre Buffin, Set Design – Jean Rabasse. Production Company – Constellation/Lumiere/Le Studio Canal +/France 3 Cinema/Centre National de la Cinematographie/Cofimage 4/Cofimage 5/Studio Image Canal +/Procirep/Elias Querejeta/Tele Munchen/Fonds Eurimages du Conseil de l'Europe/Club D'Investissement Media (Programme Media de l'Union Europienne).
Cast
Ron Perlman (One), Judith Vittet (Miette), Dominique Pinon (The Diver/The Clones), Daniel Emilfork (Krank), Genevieve Brunet & Odile Mallet (The Octopus), Jean-Louis Trintignant (Voice of Uncle Irvin), Mireille Mosse (Marthe), Jean-Claude Dreyfus (Marcello), Joseph Lucien (Denree)
---
Plot
The slow-witted circus strongman One has adopted young Denree as his brother. Denree is then abducted by a religious cult known as The Cyclops whose members ritually blind themselves and replace their eyes with a single video camera. The Cyclops members take Denree to the scientist Krank who lives in a laboratory on a platform at sea in the midst of a minefield, where he is tended by six clones, a dwarf woman and a disembodied brain in a tank. Krank, being born genetically engineered, has no ability to dream so has to kidnap children and steal their dreams. One sets out to rescue Denree, joined by Miette, an orphan he rescues from an orphanage run by The Octopus, a pair of evil Siamese twins joined at the hip. Together, One and Miette take on The Cyclops and try to find the secret path that leads through the minefield to Krank's laboratory.
---
Marc Caro and Jean-Pierre Jeunet's Delicatessen (1991) was a pure delight – surely the freshest and most delightfully silly comedy of its year. It defied labelling, sitting somewhere between romance, black comedy, science-fiction and horror. Its setting was contrived with a deliberate atemporality – it appeared to be taking place in a decayed near-future setting, yet the costumes were all circa World War II.
Caro and Jeunet next returned with The City of Lost Children, which at least leaves no doubts about being a science-fiction film. This time Caro and Jeunet have an A-budget on hand. In fact, The City of Lost Children was the most expensive film ever made in France at the time – there are 13 different film companies bankrolling the production; haute couturier Jean-Pierre Gaultier designs the costumes; and when the film was released to English-speaking audiences, The City of Lost Children received one of the biggest promotional campaigns of any film in recent arthouse release.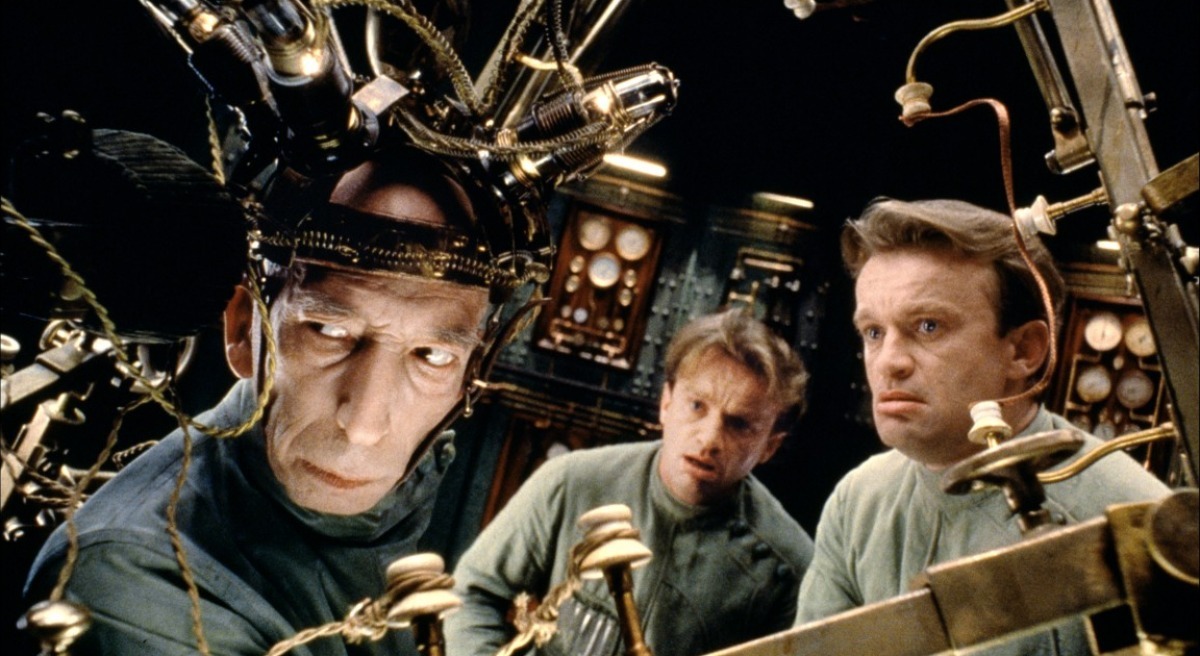 The whole of the budget certainly shows up on screen. The City of Lost Children is surely the most gorgeously designed film you will see in some time. Caro and Jeunet delight in the creation of almost-familiar worlds. Where Delicatessen seemed caught somewhere between post-War and post-holocaust, The City of Lost Children suggests a Victorian fantasy world. It is as though one of the period Jules Verne films of the 1950s such as Disney's 20,000 Leagues Under the Sea (1954) with its Victorian polished brass, metal boilerplates and wrought iron curlicues has been dirtied down and turned into a Dickensian urchin fantasy. Everything in the film gives the impression of having been crafted by hand. The City of Lost Children is also one of its year's most beautifully photographed films – all the work of Darius Khondji, the man who should have won the cinematography Oscar the same year for his stunning work on Se7en (1995).
The film has a wilful bizarreness. The characters include a mad scientist with a penchant for dressing up as Santa Claus who kidnaps children because he has lost the ability to dream; six bumbling clones, the original of whom has lost his memory and lives as a deep-sea diver who never surfaces; a pair of evil Siamese twins who run an orphanage, using their charges in a petty theft ring; an opium-addicted circus owner with a flea that is trained to conduct commando raids and inject mind control drugs into people's brains; a religious cult whose members have blinded themselves and replaced their eyes with cyclopean video cameras. It is too much to expect that any of this should make sense – The City of Lost Children is one of those films that delights in the stew of bizarre elements for their own sake. What one would have liked though is a plot.
The exercise tends to vanish into its own murkiness at times. It gives the impression that Marc Caro and Jean-Pierre Jeunet have become swamped by the size of the film, that the exquisiteness of the decor has cramped the natural freeness of their style. The design seems to occlude everything and missing somewhere in the proceedings is any of the sparkling insouciant delight of Delicatessen.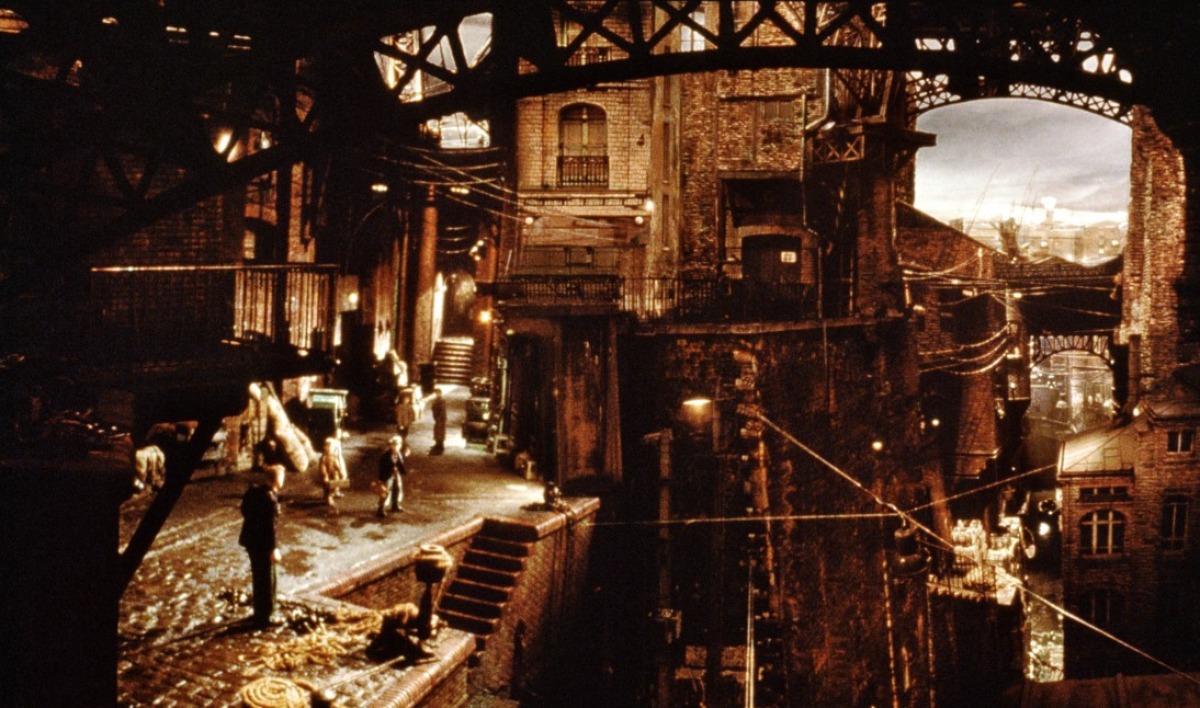 There is a standout scene where a single tear causes a progressive chain of accidents culminating in a ship crashing into a pier. However, The City of Lost Children also lacks the goofy delights that Delicatessen had. There is nothing here like the orchestra of sound effects, the hilarity of Sylvie Laguna's repeatedly failed suicide attempts, or the scene where short-sighted Marie-Laure Dougnac invites Dominique Pinon for morning tea. The City of Lost Children is in the end a disappointment – but certainly few films disappoint as beautifully as The City of Lost Children does.
Subsequent to The City of Lost Children, Jean-Pierre Jeunet came to America to direct Alien: Resurrection (1997) and then returned to France to direct the international arthouse hit Amelie/Amelie of Montmartre (2001), followed by the Wartime film A Very Long Engagement (2004), the slapstick caper film Micmacs (2009) about a wounded man taking revenge on weapons manufacturers, The Young and Prodigious T.S. Spivet (2013) about a bright boy's journey across a hyper-real US, and the A.I. rebellion comedy BigBug (2022). Marc Caro did not return to the director's chair up until the science-fiction film Dante 01 (2008).
(Winner for Best Production Design, Nominee for Best Cinematography at this site's Best of 1995 Awards).
---
Trailer here
English-dubbed trailer here:-
---